Want to win this car? See sweepstakes details below!
KC AirShow Charities has partnered with Children's Mercy Kansas City to offer you a chance to win this limited edition Mustang!
Click here for a chance to win a 2021 Shelby Super Snake "Snake Charmer" Mustang.
The close date for the draw is Aug 31, 2022 at 3:00 PM CDT.
The draw will occur on Aug 31, 2022 at 4:00 PM CDT.
We all know that in the Mustang world, something with the name Shelby attached is something special. It will either be ridiculously powerful, amazingly nimble to drive, lightweight, or any combination of the three. Carroll Shelby liked fast things of all kinds, but he was especially fond of cars and jets. As much as the man's name came to define speed and power, he also had a huge heart for children with health issues, and would slow down the world a little so that he could help them out.
It is because of all of these things that when the Kansas City (KC) Air Show "Wings of Pride" Series asked Shelby American if they wanted to be a partner for the KC Air Show Charities and build them a one-of-one special Shelby Mustang, they were only too happy to help. As with other cars that have appeared on MustangSpecs in the past little while, this is another chance to win an amazing car through a donation sweepstakes.
What Else Do You Get In The Sweepstakes?
Now, you would think that having a priceless, one-off Shelby Mustang would be enough of a prize, but KC Air Show Charities said no, it needs more, and they partnered up with Children's Mercy Kansas City medical center so that there would be more.
Breitling of Switzerland has provided a Super AVI B04 Chronograph GMT 46 P-51 Mustang, a handcrafted masterpiece of a watch that embodies the heart and soul of the Mustang of the Skies.
Cockpit USA provided a replica World War II Mustang A-2 flight jacket, the fighter pilot jacket back when cockpits didn't have heaters and you wore a flight jacket to stay warm.
You thought that was it? Nope! Icon Electric Vehicles decided to get in on the whole patriotic idea and has provided the Lil' Charmer, a golf cart using the same livery as the Shelby Mustang, and it even has customized wheels!
As if that wasn't enough, Shelby American has opened the checkbook and slapped down $20,000 to help with all the fees, registrations, and taxes that come with winning a sweepstakes!
How Do I Enter?
Seeing as this is one Shelby Mustang you don't want to miss your chance to win, Mustang Specs has been selected as a partner site for the sweepstakes. What that means for you is that when you enter using the banner below, you will automatically get 25% more entries for whatever donation level you choose!
By clicking on the banner below or right here, you will be taken to the donation page, and from there you can select how much you want to donate—from $25 for 10 entries to $2,000 for 2,600 entries.

Best of all, as the KC AirShow Charities organization is a 501(c) registered charity, your donation is fully tax deductible, and the donation will be split evenly between the KC AirShow Charities organzation for STEM education, and the Chlidren's Mercy Kansas City medical center to provide sick kids with the medical support they need. When you enter, the confirmation email you receive for your donation will also contain an official receipt that meets all the requirements for filing the deduction.
The base of this car is a stock Ford Mustang GT 5.0 with the 401A High Package that rolled off the factory line, took a left turn, and drove straight into Shelby American. Once there, behind closed doors, that Mustang GT was transformed.
2021 Snake Charmer Engine & Drivetrain
This started with attaching a Whipple 3.0 supercharger to the Coyote 5.0L V8, and then cranking that up to 11. As a result, the normal 460 HP is nearly doubled, to over 825 HP. Because squeezing that much air together heats it up, the standard radiator is removed, and a Shelby Extreme Cooling kit is installed, with a high-flow radiator, aluminum tank, and crucially a high flow intercooler.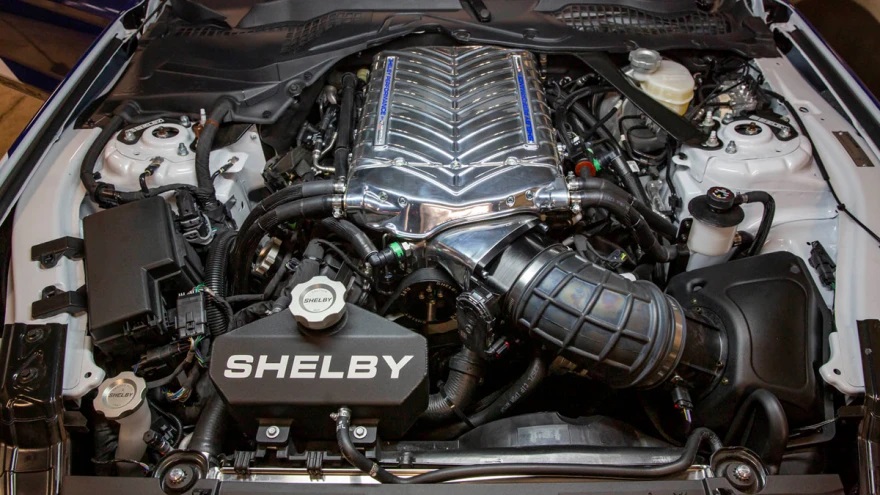 Because you need to balance the high pitched whine of a supercharger smashing air molecules tighter together with a low, bassy V8 growl, a Shelby By Borla full exhaust system is installed, from the headers all the way to the tailpipes. The transmission receives a full workover, gaining a Shelby Performance Cooling setup, and the standard Ford half-shafts are yanked out, with Shelby Performance half-shafts replacing them.
2021 Snake Charmer Exterior Styling
Now, since the engine and power delivery systems have been suitably bad-assified, you kind of need the right body to go with it. This is where this Mustang becomes a true one-of-one, as Shelby American designers and engineers have crafted a custom, one of a kind wide-body kit for the car, made entirely out of aluminum.
This wide body kit is so special, in fact, that it outperforms the standard Shelby wide body kit that you can have put on your Mustang. Whereas the standard kit is more about looks and adding some more muscle to the muscle car, the Snake Charmer kit was designed to be so much more. Using wind tunnel and simulation testing, the canards on in front of and behind the front wheel, and in front of the rear wheel with the lower skirt gap are not just for looks, but smooth and direct the airflow coming off the front splitter, over the wheel gap for the front wheel, and then down into the tunnel created by the widebody kit to direct air to the rear brakes for cooling.
The vent behind the front wheel in the three-quarter panel is fully functional too, as it vents out the air that has been directed over the front brakes from the side intakes on the front bumper. By extracting this air, both as a direct feed and using the Venturi effect of air passing over the flared wheel arches, this creates a small area of suction, pulling the front of the car down into the road. The same principle is what many supercars use for their brake exhausts, in combination with other aerodynamics, to make a car not just fast, but also handle as well as it looks.
The car then visited the paint shop, where it was sanded back to primer, and then built up in a patriotic theme penned by Shelby American Vice-President of Operations Vince LaViolette, who was a designer before he became an executive. Since Shelby was about as all-American as you can be, what other scheme would fit except the red, white, and blue? Instead of just making it a Stars and Stripes car, however, LaViolette gave the livery scheme a look of speed, even when the car is parked. It's a "subtle scream," just enough to grab your attention, but not in a garish or rude way. It's tastefully done, and makes the car just that much more appreciable.
A "Super Snake" ram-air hood is then placed on the car, with the air intake vents fully functional. Up front, a Shelby American custom front fascia is installed, with air managed grilles, ducting, and a dual level front splitter. This creates real downforce and directs air to ensure that all the hot bits up front of the car are sufficiently cooled to keep those 800+ horses running all day long. In true Shelby fashion, this is indeed a car that was designed to be run fast and run hard, and be able to take the punishment and ask for more.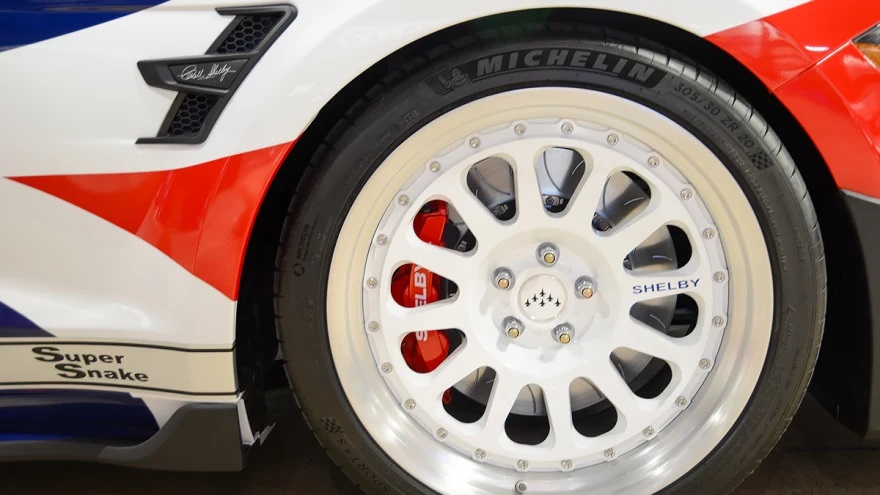 Of course, with so much Shelby American design and tech going into the car, a custom tail panel in black with the big, embossed words SHELBY lets others behind you know that you're driving something serious.
The rear spoiler is more of a half-spoiler, half-wing, and was designed to provide some downforce and isn't just there to look pretty (which it does, mind you). A full diffuser setup sits between the exhausts, completing the look of the rear end.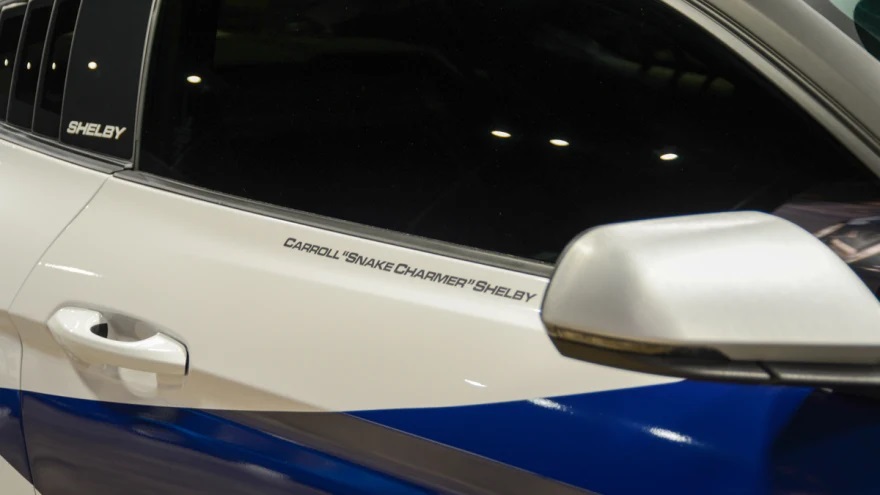 2021 Snake Charmer Interior Styling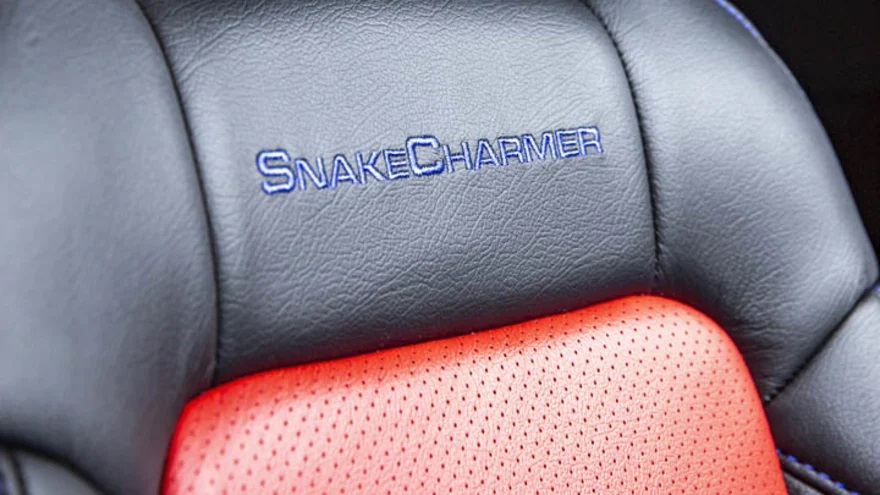 Inside the car, there are even more custom bits of kit. Katzkin Automotive Leather was brought in to provide a one-of-a-kind interior that continues the patriotic red, white, and blue theme.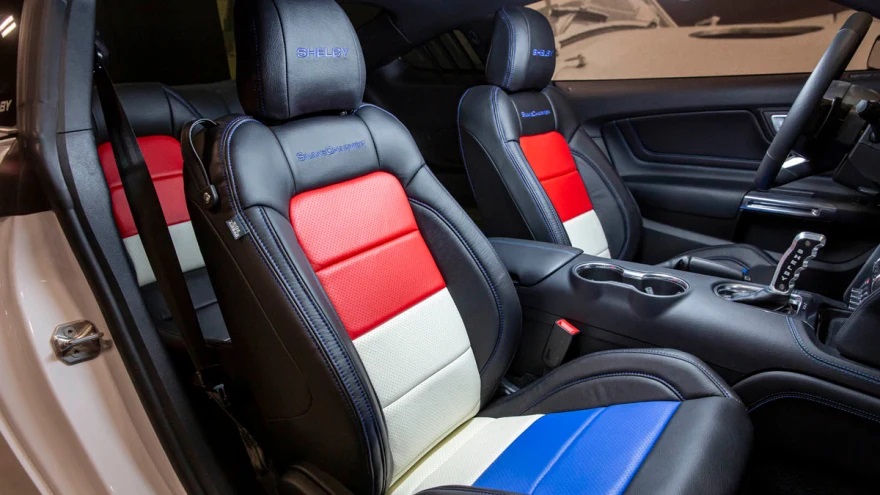 Shelby gauges, floor mats, shifter handle, and sill plates are all added, and as a finishing touch, the car has a special CSM badge attached to the engine and to the dash.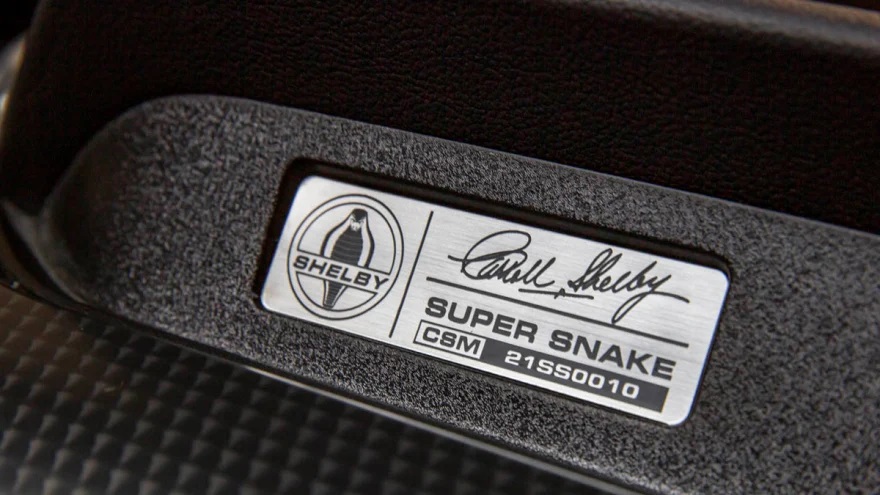 Putting It All Together
What you end up with is a one-off build, with 825 or more HP, a fully designed and engineered widebody kit with functional aerodynamics and cooling ducting, a ram air hood to keep the beast under it fed, and an interior that is about as American as you can get without being made out of apple pie. All around, we think that Shelby absolutely nailed the Pride part of Wings of Pride, because this badass Snake Charmer is ready to rock.