Prior to the 2018 model year, the Mustang underwent a facelift of sorts, in both a mechanical and cosmetic sense. However, Shelby American felt that the stock GT model could still benefit from a little additional modification. True to form, these modifications involved expanding upon the GT's staggering performance potential.
When the smoke settled, this custom creation was bestowed with the honor of becoming Shelby's newest Super Snake, complete with 800-plus horsepower on-tap. The 2018 Shelby Super Snake showcased a unique level of tenacity, posting 0-60 MPH times of only 3.5 seconds. For those craving far more than the mundane, there were few vehicles as capable of bestowing thrills in quite the same manner as this Shelby custom.
Unrivaled Performance
The 2018 Shelby Super Snake housed a 5.0-liter Coyote V8 beneath its hood, which was offered with a consumer's choice of two different superchargers. When equipped with a Ford Performance supercharger, the Super Snake's overall output was bolstered to 710 horsepower. However, those with a penchant for speed could choose to have their Shelby outfitted with a much larger Whipple supercharger, further increasing this output to a total of 800-plus horsepower.
Additional performance-oriented modifications included the addition of a bespoke radiator, high-flow heat exchanger, and a Ford Performance exhaust system, as well as specialty performance half-shafts. Additionally, the 2018 Super Snake could be ordered with either a manual or automatic transmission, each of a 6-speed make. Those Shelbys ordered with the optional automatic transmission also came equipped with a custom transmission cooler.
Shelby American also sought to improve the stock Mustang GT's handling and braking capabilities. Though the Super Snake came standard with a Ford Performance suspension kit, one could also opt for the addition of a Shelby track-suspension kit. Additionally, the Super Snake also featured Wilwood brakes, complete with 6-piston front calipers, 4-piston rear calipers, and drilled/slotted rotors.
Aggression Personified
The 2018 Super Snake also underwent a number of cosmetic revisions, on Shelby American's behalf. Some of the most notable of these revisions include the addition of a custom front fascia, hood, grille, rocker panels, and rear spoiler. Also standard was Shelby/Super Snake badging at multiple points along the vehicle's body, including to the rear of each front fender-well.
Not to be forgotten, the Super Snake's interior also received a dose of the Shelby treatment, which included the installation of signature-series floor mats and door sill plates. Additionally, the Super Snake featured Katzkin interior, with custom Shelby stitchwork, as well as a set of A-pillar gauges mounted to the left hand side of the driver's cockpit.
Each 2018 Super snake was also the recipient of a sequentially numbered dash placard. This fixture served as a declaration of each car's authenticity and resided in the void below the car's center console.
In A Class All Its Own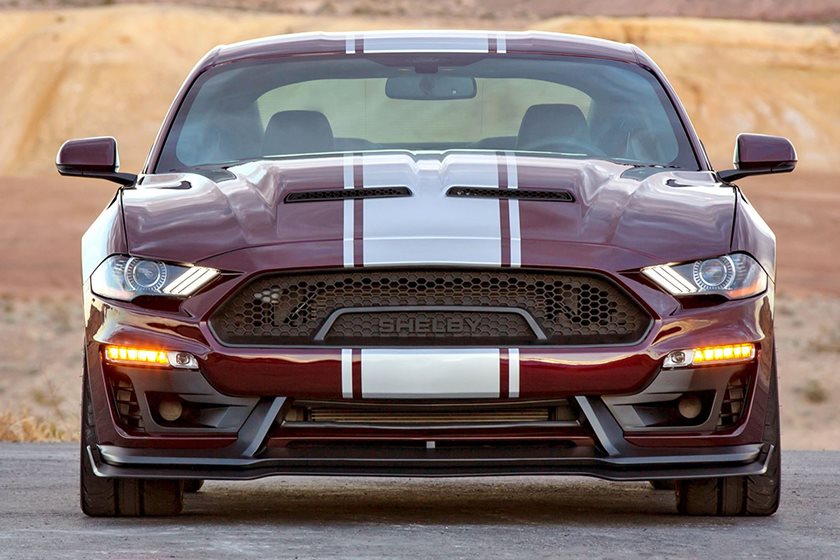 Today, the 2018 Shelby Super Snake is still regarded as one of the most formidable Mustangs to have ever seen the light of day. With enough horsepower to bury you in your seat upon acceleration and plenty of grace to handle even the most unforgiving of curves, it is quite easy to recognize the Super Snake's immense appeal.
2018 Shelby Super Snake Specifications
| | |
| --- | --- |
| Engine | 5.0L Coyote V8 |
| Horsepower | 710/800+ horsepower |
| Torque | 610/630 lb-ft torque |
| 0-60 MPH | 3.5 sec |
| Quarter Mile Time | 11.7 sec |
| Weight | 3,705 lbs |
| Base Price  | $113,445 |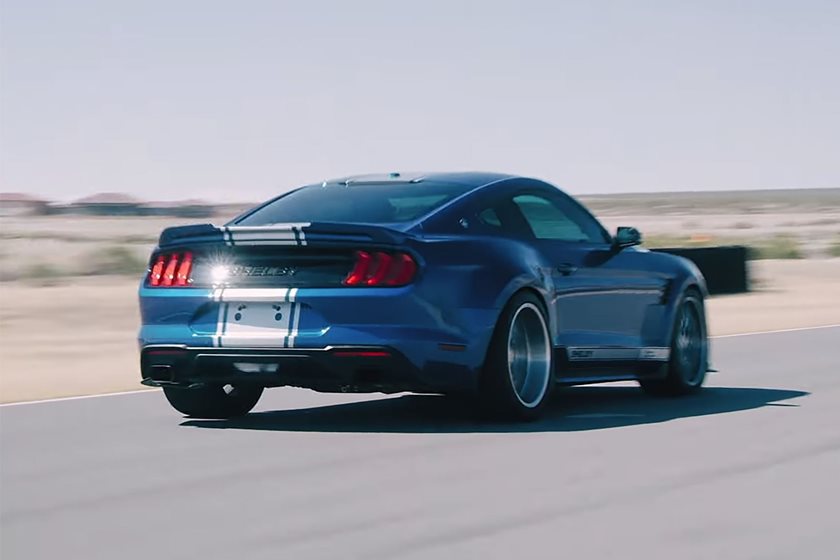 Available Exterior Colors
The 2018 Shelby Super Snake was available in Oxford White, Ingot Silver, Iconic Silver, Magnetic, Shadow Black, Race Red, Ruby Red, Royal Crimson, Rapid Red, Orange Fury, Twister Orange, Triple Yellow, Grabber Lime, Need For Green, Kona Blue, Blue Lightning, and Velocity Blue.
Available Interior Colors
The 2018 Shelby Super Snake interior was available in black with a choice of black, blue, red, and light or dark grey inserts.
2018 Shelby Super Snake Mustang Video
We found a great video of the 2018 Shelby Super Snake.