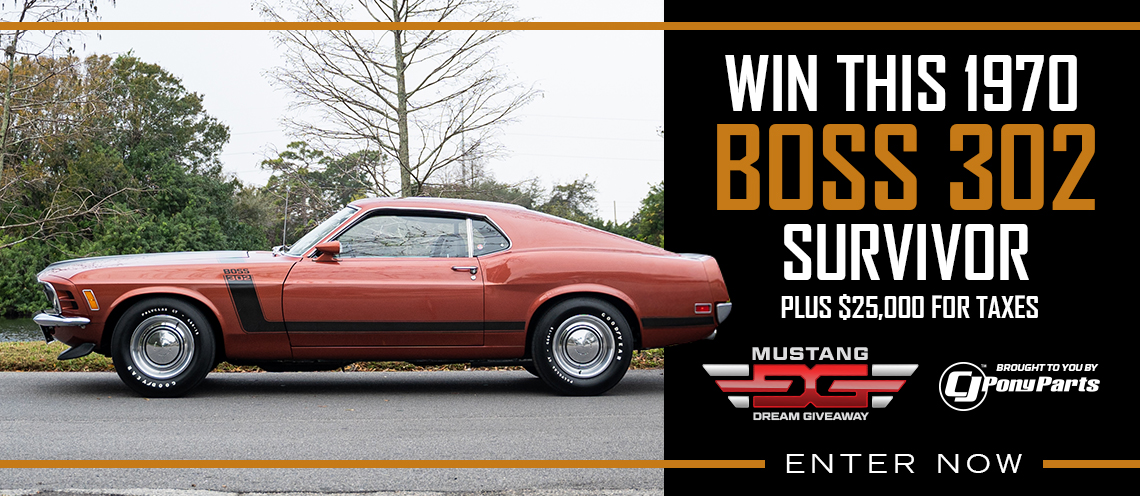 2015 Ford Mustang
2015 Ford Mustang Overview
2015 was the Mustang's 50th anniversary and also the first year of the sixth generation Mustang. Inside and out the 2015 edition of this historic model looks, feels, smells and sounds like a Mustang while being thoroughly updated across the board, a host of firsts that bring the Mustang range into the future. Most exciting for old-timers was the fact that the 2015 Ford Mustang brings the Fastback body style.
| | |
| --- | --- |
| Model: | 2015 Ford Mustang |
| Generation: | 6th Generation Mustang |
| Type: | 2 Door |
| Body Styles: | Fastback, Convertible |
| Engines: | 3.7L DOHC EFI V6, 2.3L Turbo 4, 5.0L DOHC V8 |
| Original Price: | $23,800 (Base Fastback), $29,300 (Base Convertible) |
| Units Produced: | 165,100 |
Additional 2015 Mustang Research: 2015 Research Center / Colors Details / Production Numbers / Prices & Options / Sales Brochures / Owner Manuals / Maintenance / Pictures / Videos / VIN Decoder / Special Editions
Background & Details
The 2015 Ford Mustang debut brought the Fastback body style back to the Mustang. The freshly updated styling changes created a lower and wider car (especially at the rear) that looks great. The front A pillar was moved back and the windshield raked backwards to make the Mustang more aerodynamic and sleeker looking.
The 2015 model year also saw Ford finally offer an Independent Rear Suspension (IRS), a huge improvement that we had been begging for for decades. For the front end, there were significant changes that when combined with IRS that made a huge difference in both handling and road feel. In addition to the aforementioned improvements unsprung weight is reduced, further improving response and handling capability. Ford's engineers told us they were benchmarking the 2015 Mustang against the best handling Mustang ever (the Mustang Boss 302) which says a lot about how serious they were.
The engine line up changed as well. The 5.0 liter V8 was upgraded, including things like direct port fuel injection. The trusty 3.7 L V6 was back largely unchanged. Most exciting however was the all new 2.3L EcoBoost inline four turbocharged engine. The transmission line up has not changed sporting either a 6 speed manual or automatic transmission.
A New Platform
The 2015 Mustang rides on an all new platform known internally as the S550. From the onset this new architecture was designed to be manufactured in either left or right hand drive configurations because Ford wanted to officially bring the Mustang to international markets such as Europe, China and Australia for the first time on a volume scale.
For the first time, gone was the ancient solid rear axle and instead all four wheel now have independent suspension on all Mustangs. In all, the new structure was 28 percent stiffer thanks to liberal with high-strength and ultra high-strength steels throughout the body structure of the 2015 Mustang giving the car a more rigid platform from which to attach that new suspension system. This allows engineers to precisely tune the suspension for significantly better handing and a more refined ride than could ever be possible in the previous model.
Although being stronger the new body is actually lighter than the previous version. These weight savings were achieved through the use of advanced technologies including hydroforming and laser welding and through the use of lightweight high-strength steels and aluminum for the front fenders and hood. This new structure also benefitted the convertible body style as torsional stiffness had increased by thirteen percent resulting in a convertible that had a solid, quality feel even over the roughest surfaces.
Style & Design
The 2015 Mustang retains the long hood. Also at the front the 2015 Mustang wears a shark-bite front nose with a large trapezoidal front grille. The look is contemporary and somewhat controversial. The headlamp housings are long and slim and are equipped with standard HID lighting for headlights and three vertical LED hash marks per side for the day time running lights. It looks modern and aggressive which we really liked, especially with the lower, wider stance with wider rear hips and track giving the car a more purposeful look.
For 2015 the coupe was rebranded as the fastback and the car was given a sleeker profile with a reduction in roof height with a more steeply raked windshield and rear glass. At the rear the Mustang is given a slight kick up of the rear decklid that acts as a built-in spoiler for better stability at higher speeds. And finally a Mustang would not be a Mustang without its tri-bar tail lamps and the 2015 model is no exception with its modern interpretation of the traditional tri-bar lights that are three dimensional LED's with the ever popular sequential turn signals. Separating the tail lights is a glossy black plastic panel with either a running horse emblem or a round GT medallion on GT models.
Drop top Mustangs were designed from the ground up and receives unique, yet subtle styling cues that results in an elegant and tidy silhouette that set it apart from its fixed roof sibling. Creating the 2015 Mustang convertible was an involved process that required designers to re-contour the rear decklid and raise and straighten the belt line of the rear quarters. A great deal of effort was made to give the new Mustang convertible a linear quality with the top raised or lowered. Details such as the shape of the rear quarter windows were sweated over so that they could drop out of sight with the top down.
New for 2015 all convertible Mustang get a full fabric exterior roof and a full interior headliner with a ten millimeter thick insulation pad in between that greatly reduces noise levels inside the cabin when driving with the top up. There is also a new electromechanical drive system that is not only quieter than the pervious electro-hydraulic system but can raise and lower the top in half the time. This new drive system is also more compact leaving greater space for the Z-fold roof to be tucked out of the away.
Aerodynamics played a key role in the development and shape of the 2015 Mustang with aerodynamic engineers spending about twice as much time doing wind tunnel tests than the previous Mustang. In order for the aerodynamic engineers to meet their goals of creating a slippery Mustang without resorting to a tear drop shape they needed to employ several wind cheating techniques.
At the front, there were three basic air-dam/valance combinations for the 2015 Mustang. One for the V-6 and V8 engines that has an air-dam that reduces lift; one for the EcoBoost engine that reduces drag for better fuel efficiency; and the last for the V-8 performance package that eliminates the air-dam in favor of brake cooling channels that directs cool air up to the brakes and other channels that help improve high speed stability.
The Interior
Look inside the 2015 Mustang and you will notice an interior that is all new but is also somewhat familiar. Just as had been done with the exterior design, interior stylists retained certain elements that are linked with Mustangs from the past. Directly in front of the driver is a set of round barrel style gauges that has been a styling cue that dates back to the 1967 Mustang.
Ford moved the hazard switch, traction control switch, steering settings switch and selectable driving mode switch to the lower center console area and have converted them to toggle switches. The thing I like best is that the steering wheel is now telescoping as well as tilt! In my 2012 Mustang, the steering wheel is too far away and I have to reach for it. Another great feature is the driver seat has 4 memory positions. This means you can get into the car, set the seat where you want it, store the information and when you get back in, even if someone else drove the car, you can get your personal setting right back. You can get heated and cooled front seats and RECARO sport seats. Another nice feature is the steering wheel mounted paddle shifters.
A new convenience incorporated into the 2015 mustang is a remote and intelligent push button start systems. Ford has incorporated into the Mustang a Blind Spot Information System (BLIS) and rain sensing windshield wipers. Still available in the Mustang is SYNC and MyFord Touch and a rear view camera.
Inside, there's a cashmere-stitched, leather-wrapped steering wheel, with a similar detail found on the instrument panel, shift boot, door inserts, seats, and center armrest. Two-tone leather/black upholstery is also part of the 50th Anniversary package, and of course, there's a special logo on the seats.
A benefit of the new S550 platform is a roomier cabin with improved shoulder and hip room for rear seat passengers and a larger, better shaped trunk that can accommodate two full sized golf bags. Ergonomics have been improved and higher quality tactile switches and knobs provide better control and quality feel. Gone are the days of hard cheap plastics and haphazard assembly.
Engines & Transmissions
For 2015 there are now three engines to choose from. The 3.7-liter V6 and 5.0-liter V8 are joined by an all-new 2.3 liter EcoBoost inline four cylinder equipped with direct injection and a turbocharger. All three engines deliver over 300 horsepower, making this one of the most potent lineups ever in the Mustang range.
Like the 2014 Ford Mustang models, a manual an automatic 6 speed transmission were available on all engine choices. The improved six-speed automatic transmission was now standard with SelectShift and now features standard steering wheel-mounted shift paddles. Other improvements to the automatic include a redesigned case with cast-in ribs that make it lighter and stiffer; optimized clutches and increased operating temperature to reduce friction; and the output shaft is now supported by a ball bearing. Manual transmission Mustangs now have the shift lever positioned closer to the driver and cupholders have been moved to avoid interference when rowing through the gears. There is a new shift linkage design that has improved precision and easier engagement.
Power is sent through a limited slip rear differential on all Mustangs regardless of engine and transmission option for 2015 with different final drive ratios depending on model and package options. The V6 comes standard with a 3.15:1 gear ratio with a sportier 3.55:1 ratio as an option. Three-pedal EcoBoost Mustangs come with a 3.31:1 axle ratio but you can get the Performance Package which gives you a 3.55:1 ratio. For four-cylinder Mustangs the 3.15:1 ratio is standard with the 3.31:1 being optional and the 3.55:1 gear set is installed as part of the Performance Package. The Mustang GT automatics come with a 3.15:1 ratio as standard equipment but can be upgraded to a 3.55:1 final drive while the manual GT's come with the 3.31:1 ratio with the 3.55:1 available as an option. The Performance Package upgrade gets you a 3.73:1 axle ratio with a Torsen limited slip.
The EcoBoost Engine
The all new Ford Mustang EcoBoost is the name of a new game for Ford's new 2015 small engine in the Mustang's engine compartment. The premise of the EcoBoost is for a small engine to produce the power characteristics of a larger displacement engine by combining sophisticated technology together such as direct injection, variable valve timing and turbocharging.
The debut of 2.3 liter turbocharged inline four cylinder Ecotec engine was historic for several reasons. It was so good it totally replaced the 6 cylinder a few years later and really propelled the Mustang into the gas mileage leader in it's class while giving it 310 hp and 300 lbs/ft of torque and making it more powerful and more fuel efficient than the high tech V6 engine available for the 2014 model year.
The 2.3 liter EcoBoost engine employed every technological trick. Starting with a lightweight, high-pressure die-cast aluminum cylinder block and ladder frame with integrated main bearing caps, engineers threw in forged internals that can resist the punishment of turbocharging. Inside, there is a forged steel crankshaft with premium bearing materials along with high-strength forged steel connecting rods with full floating pins. Attached to those strong rods are a set of light weight, high-strength pistons with low-friction skirt coating, steel ring carriers and increased compression ratio. For added durability the pistons are cooled by oil jets. At the bottom of the block is a baffled deep-sump die-cast aluminum oil pan that acts as a structural member of the engine assembly. It is also equipped with a chain driven balance shaft located between the oil pan and crankshaft.
Capping off the block is an aluminum high-low cylinder head with an integrated exhaust manifold that separates the inner and outer pairs of cylinders into each of the two inlet passages of the turbo. The advantage of having two separate exhaust streams to the turbo is this better preserves the pulse energy that spools up the turbo creating boost quicker for better torque deliver when the driver needs it. Another benefit of the separated exhaust ports is that the exhaust valves can stay open longer reducing pumping loses and further improve fuel economy. For maximum power and efficiency the chain driven twin camshafts that operate the four valves per cylinder are manipulated by Ford's twin independent variable camshaft timing that operates on both the intake and exhaust cams.
Engineers made use of direct fuel injection, another state of the art technology that improves both power and efficiency. Unlike indirect fuel injection that sprays fuel just ahead of the intake valve(s) in the intake manifold, direct injection has an injector that sprays fuel straight into the combustion chamber at a greater pressure. With direct injection the fuel burns more evenly and thoroughly resulting in cars that run more cleanly and efficiently with more power to the wheels to boot.
Duratec V6 Engine
Returning to the line-up is the 3.7-litre Cyclone V6 that made its debut in the 2011 Mustang. Once again this is the Mustang's base engine and provides smooth effortless performance thanks to its modern design. It is smooth and well developed so Ford had it nailed. The 3.7 liter V6 engine was down 5 horsepower for 2015, dropping it back to 300 horsepower and 270 lbs/ft of torque due to smaller engine compartment and restrictions on intake and exhaust flows.
5.0 Liter Coyote V8
The big 5.0 liter Coyote V8 continued to be the performance leader, now pumping out a conservatively estimated 420 horsepower and almost 400 lbs/ft of torque. Upgrades and modifications boosted power to 435 horsepower and 400 b/ft of torque.
There was a rebalanced forged steel crankshaft and sinter forged connecting rods that are lighter and more durable to support higher-rpm operation with less vibration. This revised crankshaft is need in order to withstand the riggers of the 7,000 rpm redline that is possible thanks to new cylinder heads, valvetrain and intake manifold that allows this stunning V-8 to breath more freely from idle all he way up t redline.
Straighter intake ports in the cylinder head improve air flow while larger intake and exhaust valves allow more air into and out of the cylinders for more power. To take advantage of the larger valves both the intake and exhaust camshafts were revised and stiffer valve springs added to ensure that the valves close completely at high rpm. The combustion chamber was also modified along with redesigned piston tops with deeper cutouts to accommodate the larger valves were also thrown in. Engineers also played with the variable camshaft timing on the intake side allowing a greater range of adjustment. This change optimizes valve timing over a greater range of rpm and primarily improves both emissions and fuel economy making the big bad V-8 a little more environmentally friendly; that is until of light up the tires for a smokey burnout.
The new intake manifold features charge motion control valve plates that partially close off port flow at lower engine speeds. When the ports are partially closed this causes the air charge to tumble and swirl allowing the fuel and air to better mix. This improved mixture burns more efficiently in the combustion chamber.
Suspension & Steering
The 2015 Mustang got a proper independent rear suspension for the first time on a mainstream Mustang. The truth is that it was about time that Ford gave the Mustang a modern four wheel independent suspension system that actually made it a modern car  in terms of ride and handling performance.
This sophisticated new rear suspension featured an all new integral-link independent rear suspension that consists of an aluminum lower control arm, integral link, an upper camber link and toe link. New aluminum alloy rear knuckles reduce unsprung weight to keep the wheels planted on the road. There are also specifically tuned bushings, springs and dampers thrown in that in combination with the rest of the new hardware delivers improved mechanical grip over the previous generation Mustang. With the new independent rear suspension geometry is vastly improved allowing the 6th generation Mustang to have better pitch control to keep the body level under extreme acceleration and braking conditions.
Up front the suspension was also radically improved. It got a new non-isolated perimeter subframe that provides a solid yet lightweight foundation for the new suspension. A new double-ball-joint MacPherson strut front suspension allows for the use of larger brakes without having to use wheels with excessive offsets that would numb steering feel. Geometry is also improved with additional pitch stability and anti-dive motions that allow the new Mustang to feel more stable and secure.
With an all-new fully independent front and rear suspension systems bolted to a stiff body structure the 6th generation Mustang does a much better job of keeping its four wheels in contact with the ground improving both handling characteristics and day to day ride quality. Finally a modern Mustang.
It is worth noting that the GT got further enhancements and the performance pack on EcoBoost Mustangs included retuned springs, bushings and monotube rear shocks; thicker rear sway bar; a K-brace that connects the strut towers to the bulkhead; retuned electric power steering, ABS and electronic stability control; a centre gauge pack; additional cooling capacity; four-piston 46-millimetre fixed aluminum front calipers with 352-millimetre front rotors and single piston floating iron rear calipers with 330-millmetre rear rotors; unique 19×9 inch alloy wheels finished in Ebony Black with Pirelli 255/40R19 Y-speed-rated tires front and rear and a 3.55:1 rear gear ratio.
Safety
The 2015 Mustang is also the safest Mustang ever produced with new enhancements to the SYNC 911 Assist feature making its debut. The system works in conjunction with a mobile phone connected to SYNC to call 911 when needed. These enhancements provide the ability to deliver important information to emergency dispatchers such as indication of crash type, safety belt usage, awareness of whether multiple impacts occurred and whether airbags were deployed. This vital information can then be passed along to first responders en route to an accident.
To enhance cash survivability the new Mustang is equipped with an all new inflatable airbag restraint that provides the front seat passenger with a knee airbag that is lighter weight and a more compact design. This new airbag is a part of a comprehensive safety system that not only doubles the total number of airbags, to a total of eight, but also includes an improved package of exterior lighting, sensors, and safety belt anchor pretensioners. With all its technology and safety enhancement the 2015 Mustang takes occupant safety to a whole new level in the Pony car market.
Special Edition Models & Variants
New to 2015, was the Ecoboost Turbo model which was powered by the 2.3L EcoBoost turbo 4-cylinder engine, 3.31 limited-slip rear axle, blade decklid body-colored spoiler, LED fog lamps, bright aluminum instrument panel, power front seats, active noise cancellation, and track apps all added to the Mustang V6 content. The Ecoboost Turbo is the entry level Mustang offered in Europe.
The first year of a new body is always boring when it comes to special edition models. The GT is clearly back and there were also the 50th Anniversary Edition which is based on the 2015 Mustang GT with the Performance Pack, and is only available in two colors: Kona Blue, or Wimbledon White and comes fully loaded.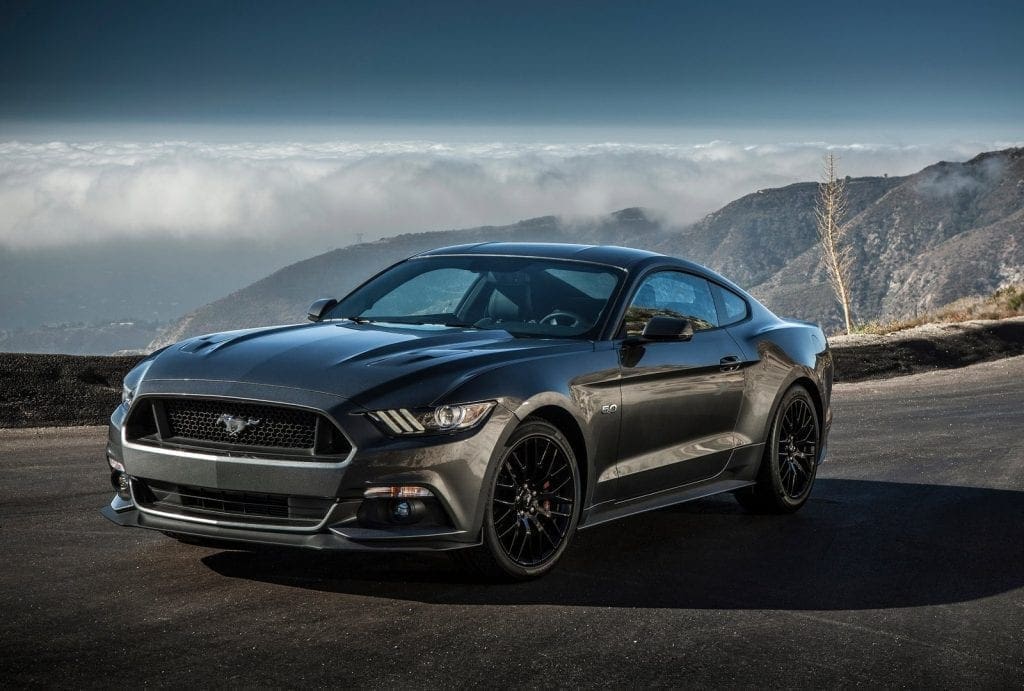 GT
Ford Mustang GT continues with the latest edition of the throaty 5.0-liter V8, now featuring an upgraded valvetrain and cylinder heads that yield more than 420 horsepower and 390 lb/ft of torque. A new intake manifold improves low-speed breathing for better fuel economy, idle stability and emissions. Our pick is the fastback with the sleeker profile enabled by more steeply sloped windshield and rear glass.
Learn more about the 2015 Ford Mustang GT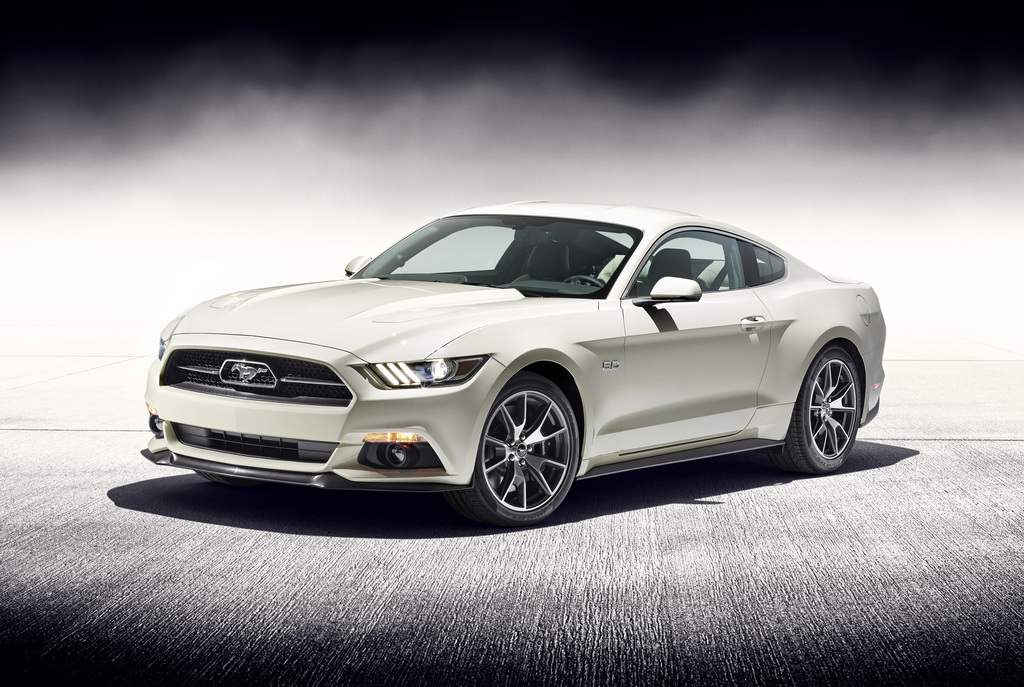 GT 50 Year Limited Edition
Fifty years after debuting one of the world's most popular cars, Ford is marking the milestone by revealing a Mustang 50 Year Limited Edition. Created to honor five decades of Mustang heritage, only 1,964 examples of the 50 Year Limited Edition were built. Based on the all-new 2015 Mustang GT fastback with performance pack, the 50 Year Limited Edition is designed to provide customers with outstanding performance and a unique appearance that will be instantly recognizable on the road. The only options for the 50 Year Limited Edition are the choice of two exclusive colors and a six-speed manual or automatic transmission.
Learn more about the 2015 Ford Mustang GT 50 Year Limited Edition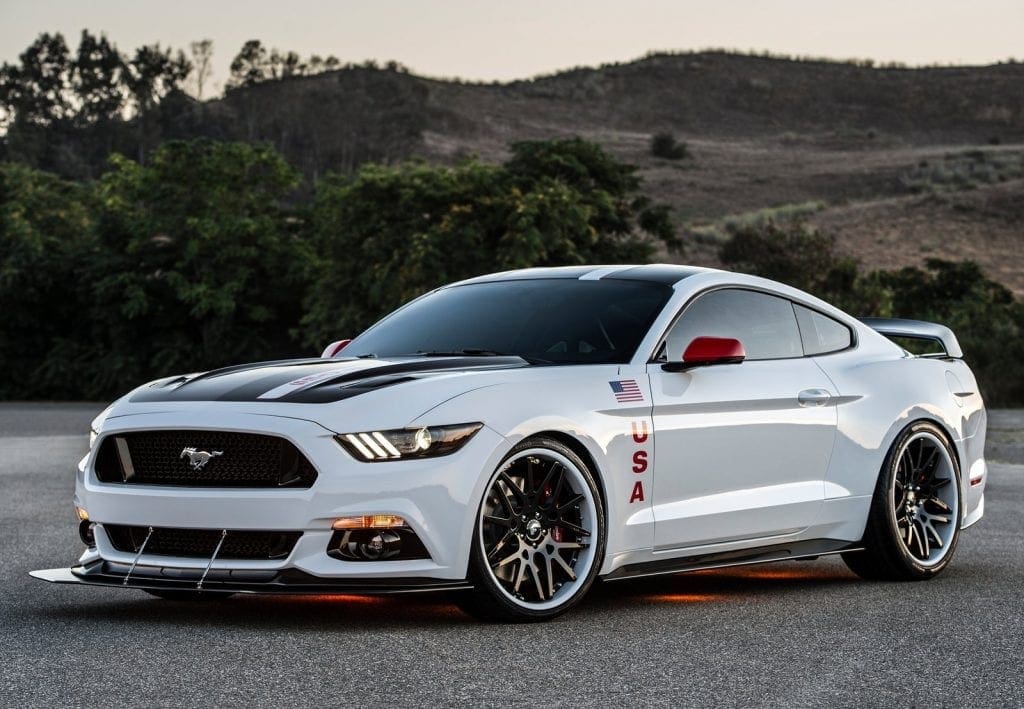 GT Apollo Edition
For the eighth straight year, Ford Motor Company has created a unique, aviation-inspired Ford Mustang to benefit Experimental Aircraft Association youth education programs, including the Young Eagles. The Mustang Apollo Edition will be donated and sold via auction at the Gathering of Eagles charity event at EAA AirVenture Oshkosh 2015 – the World's Greatest Aviation Celebration.
Learn more about the 2015 Ford Mustang GT Apollo Edition
Aftermarket Mustang Models
Coming Soon
Specifications, Options & Detailed Stats
Production Numbers
A total of 165,100 Mustangs were sold in the first year of the sixth generation Mustang. Unfortunately, we cannot get our hands on the detail breakdown by variant or option. We continue to dig around for it so if you have that information definitely let us know.
Options and Pricing
For more detailed options and pricing please check out our 2015 pricing and options research.
| Grouping | Description | Retail Price |
| --- | --- | --- |
| Base Car | 2 Door V6 Fastback | 23,800.00 |
| Base Car | 2 Door EcoBoost Fastback | 25,300.00 |
| Base Car | 2 Door EcoBoost Fastback Premium | 29,300.00 |
| Base Car | 2 Door V6 Convertible | 29,300.00 |
| Base Car | 2 Door GT Fastback | 32,300.00 |
| Base Car | 2 Door EcoBoost Convertible Premium | 34,800.00 |
| Base Car | 2 Door GT Fastback Premium | 36,300.00 |
| Base Car | 2 Door GT Convertible Premium | 41,800.00 |
| Base Car | 2 Door GT 50 Years LE 50 Yrs Limited Edition | 46,170.00 |
Exterior & Interior Colors
A total of 10 colors were available for the 2015 Mustang model year. For detailed colors, color palettes, codes and interior colors please check out our in depth 2015 colors information post.
Engine Specs
For more information on engines for 2015, you can find the information here.
| Engine Name & Year | Fuel | Compression | Power (hp @ RPM) | Torque (lb/ft @ RPM) |
| --- | --- | --- | --- | --- |
| 2015 - 302 Coyote V8 (5.0 L) | DOHC | 11.0:1 | 435 hp @ 6500 RPM | 400 lb/ft @ 4250 RPM |
| 2015 - 137 EcoBoost Inline 4 (2.3 L) | Turbo | 9.5:1 | 310 hp @ 5500 RPM | 320 lb/ft @ 3000 RPM |
| 2015 - 227 Duratec V6 Engine (3.7L) | DOHC | 10.5:1 | 300 hp @ 6500 RPM | 280 lb/ft @ 4000 RPM |
Dimensions & Weight
There were no major changes to the dimension and weight of the main models.
| Description | Measure |
| --- | --- |
| Wheelbase | 107.1 inches |
| Exterior Length | 188.3 inches |
| Exterior Height - Fastback | 54.4 inches |
| Exterior Height - Convertible | 54.9 inches |
| Width excluding mirrors | 75.4 inches |
| Trunk Capacity - Fastback | 13.5 cubic feet |
| Trunk Capacity - Convertible | 11.4 cubic feet |
| Curb weight | 3700 lbs |
Performance
Below we have 0-60 mph, top speed and quarter mile times for the 2015 Mustang range where they are available.
| Variant | 0-60 mph (sec) | 0-100 mph (sec) | Quarter Mile | Top Speed |
| --- | --- | --- | --- | --- |
| 2015 Ford Mustang GT Convertible | 5.2 seconds | | 13.5 seconds | 155 mph |
| 2015 Ford Mustang EcoBoost (Manual) | 5.5 seconds | | 14.1 seconds | 155 mph |
| 2015 Ford Mustang GT (Manual) | 4.4 seconds | | 12.9 seconds | 155 mph |
| 2015 Ford Mustang GT Convertible (Manual) | 4.7 seconds | | 13.2 seconds | 155 mph |
| 2015 Ford Mustang Convertible EcoBoost | 6.1 seconds | | 14.6 seconds | 155 mph |
| 2015 Ford Mustang EcoBoost Premium | 5.4 seconds | | 14 seconds | 155 mph |
| 2015 Ford Mustang GT | 4.5 seconds | | 13 seconds | 155 mph |
VIN Information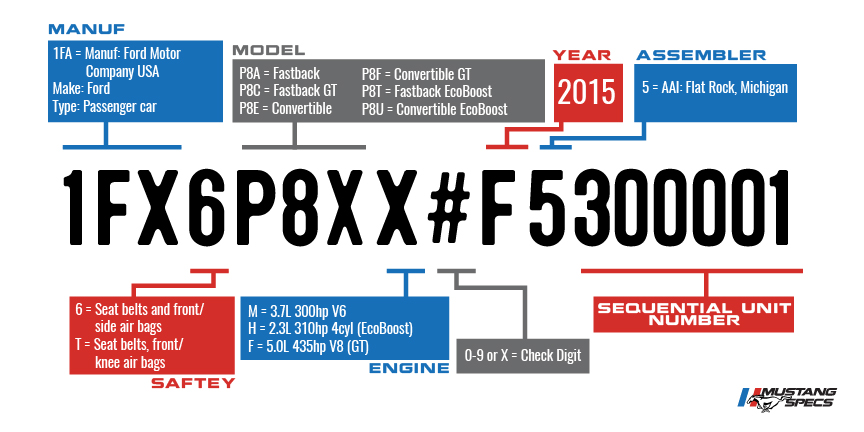 This link will take you to a page which contains the VIN tag information for all years of Mustangs. Previously this information appeared on each Mustang's year page, but consolidating it has significantly reduced page loading times. To decode the build sheet, check out our 2015 VIN & Data Plate Decoder sheet.
Videos & Picture Galleries
We managed to find some great video reviews of the 2015 Mustang so definitely check those out. We also have a picture 2015 Ford Mustang Picture Gallery and photos of real Mustangs in each color that was available.