2012 Shelby 1000
From as far back as the mid-1960s, Carroll Shelby built cars offering extreme performance and serious track capabilities. When Shelby reunited with Ford to build the Shelby GT and the Shelby GT500, the stage was set to create some of the best handling, most powerful, and most desirable Mustangs ever sold to the public.
Shelby took the GT500 and created the immensely popular Super Snake; in its strongest form the Super Snake produced 850 horsepower and was capable of 10-second quarter-mile times at speeds approaching 140 mph. But even that wasn't enough for Shelby, who dreamed of offering a Mustang with 1,000 or more horsepower.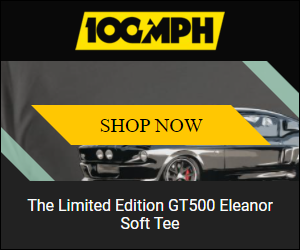 "As early as 2006, Shelby product planning included a 1,000 horsepower Mustang," said Shelby President Gary Patterson. "At the time, we didn't feel the supercharger technology was ready so we built a twin-turbo version using a 5.4L GT500 engine. That was called Shelby Code Red. It exceeded the target horsepower, and generated a lot of interest, but the turbo system was too costly and complex to make it a production option," he added. By 2011, however, supercharging – namely twin-screw blowers – had come a long way; the time was right to introduce the Shelby 1000.
Carroll Shelby and the team at Shelby American conceived the idea to build the most outrageous Mustang package, built to satisfy customers wanting power and performance even beyond the impressive 850 horsepower Super Snake. Without question, the Shelby 1000 is the most powerful Ford Mustang ever built. As the name implies, it packs 1,000 horsepower – but by no means is the Shelby 1000 a one-trick pony.
The Shelby 1000 officially debuted at the 2012 New York International Auto Show. And once revealed, enthusiasts saw a beautiful Mustang featuring forged wheels, stripe delete and the bold "1000" down the side. Though slightly understated, a first drive would both captivate and require your full attention.
The 2012 Shelby 1000 was offered in two versions, one for the street and one for the track. Road-going 1000 models were fitted with a 920 hp supercharged and intercooled engine, while the track variant put out a purely sinister 1,100 horsepower. Both versions received hand-assembled engines with forged internals, ported heads and improvements to the fuel system and engine cooling.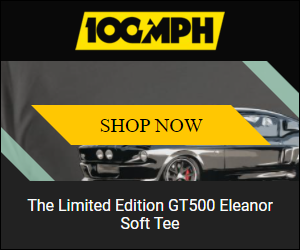 To handle the extreme output, Shelby fitted the Mustang body with chassis stiffening in critical locations, the clutch was upgraded and the factory 8.8 rear end housing was traded for a stronger Ford 9-inch unit. Factory brakes wouldn't do, so Shelby swapped in 6-pistons calipers up front and 4-piston calipers in the rear. The Shelby 1000 retained the 6-speed manual gearbox, while power was transferred through a strengthened aftermarket driveshaft. Modifications also included stiffer springs, sway bars and bushings, along with struts and shocks matched to the springs.
In 2013 the GT500 got a sizeable increase in power from 550 to 662, accomplishing by increasing displacement from 5.4L to 5.8L, employing new cylinder liner technology and by utilizing a more efficient blower. These improvements provided the foundation for the next Shelby 1000.
Owners of 2013-2014 Shelby 1000 will experience acceleration like nothing else on the road. It starts with the fully prepared engine benefitting from forged pistons, ported DOHC cylinder heads, titanium valve springs and a BIG 3.6L Kenne Bell supercharger that's fed with a free-breathing 4.5-inch air inlet with a massive throttle body capable of flowing 1,850 cfm. The boosted and intercooled Ford engine is supported with a upgraded fuel system and 72 lb-hr injectors, while the exhaust exits through Shelby/Borla 3-inch pipes. Amazingly, this combination produces over 1,200 horsepower!
Getting the power to the ground is a lightweight aluminum flywheel mounted to a smooth action twin-disc clutch. The 2013-14 Shelby 1000 also utilizes significant chassis strengthening, including driveshaft tunnel braces and billet-aluminum supports. Shelby American used what it learned on the 2012 model and enhanced the suspension with refined dampening and suspension links.
Shelby American kept the look fairly basic with 'Shelby 1000' decals along with functional carbon-fiber hood, front lip spoiler, rear bumper and side skirts. Shelby also offered the popular and good-looking Widebody option.
The Shelby 1000 package is offered to 2010-2014 Shelby GT500 and Super Snake owners.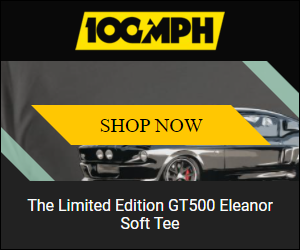 Standard Equipment
Shelby/Ford Racing 4.0L Supercharger with inlet pipe and MAF
Shelby Recip. Assembly, rods, pistons, rings, oil pump, bearings
Shelby Blower Grind Camshafts
Shelby Spec. Valve Springs
Shelby Spec. Titanium Retainers
Shelby Stage 3 ported heads
Balance assembly
Shelby spec. Main Studs
Shelby spec. Head Studs
Shelby spec. high capacity 8qt. Oil pan
Shelby Super Twin Clutch and flywheel kit
Driveshaft safety loop
Shelby billet transmission support
Shelby Performance injectors
Shelby Performance 1000 HP fuel system
Shelby Custom Aluminum Driveshaft
Shelby/Wilwood brake upgrade (6 piston front, 4 piston rear)
Shelby Rear suspension upgrade
Shelby/RR Belt tensioner
Shelby overdrive pulley
Borla headers* and 3″ catback exhaust
Shelby Performance Cooling Package
Shelby K-Member with control arms
Shelby Billet Aluminum Watts link
Shelby water pump w/fittings
Shelby Carbon Fiber Overlay kit
Shelby MGW short throw shifter
Shelby Billet Forged 3 pc. Wheels in Natural Aluminum or Matte Black Finish 20×9 (front) 20×11 (rear)
High Performance Tires
Shelby custom rear end w/cooler
Shelby A pillar gauge pod
Shelby oil air separators
Shelby Caster Camber Plates
Shelby Custom fiberglass hood
Shelby 200A alternator
Custom rear deck filler panel w/graphic
Shelby 1000 reflective side graphics
Shelby Custom Interior upgrade
Shelby Museum Delivery included
Shelby 1000 Custom Car cover
Optional Equipment
Shelby/Kenne Bell Supercharger with inlet pipe and MAF