Carrol Shelby was never one to play it safe. Instead, the luminary of automotive design parlayed his on-track experience into each build, hoping to deliver a car that would outgun all takers. By all accounts, this was a mission Shelby succeeded in completing, time and time again. By the time that vintage Shelby Mustang production during the latter days of the 1960s, Carrol Shelby had already developed some of the most powerful and revered Mustangs of all time.
However, Shelby himself had yet to check at least one task off of his perpetual to-do list. This goal involved producing a car with a rated output in excess of 1000 horsepower. As the new millennium came to pass, and Shelby American/Ford once again joined forces, Carrol Shelby's ambition of making this dream into reality grew ever stronger.
Finally, in 2012, the production of such a car proved viable. The resulting Mustang would best even the formidable Super Snake's 850 horsepower output. Alas, the world was introduced to the Shelby 1000, complete with a belt-driven Kenne Bell 3.6 liter blower. Consumers could purchase the Shelby in two forms, which included a 950-HP street-legal variant, and a more robust 1100-HP track-ready version.
The Realization Of A Dream
Throughout his storied career, Carrol Shelby had remained adamant in his insistence toward producing a Mustang capable of producing 1000 horsepower. However, for a significant period of time, the technology proved unable to keep up with Shelby's ambitions. As early as 2006, Shelby American launched studies into the viability of such a project, only to find an undertaking of such magnitude to be largely unfeasible.
"At the time, we didn't feel the supercharger technology was ready so we built a twin-turbo version using a 5.4L GT500 engine. That was called the Shelby Code Red. It exceeded the target horsepower and generated a lot of interest, but the turbo system was too costly and complex to make it to a production option." said Shelby President Gary Patterson. "
However, by 2011, the scope of available superchargers had grown exponentially, especially in the realm of twin-screw blowers. With this knowledge in their hip pocket, Carrol Shelby and his team launched an all-out assault on the pavement, as the go-ahead was given for the final development of the Shelby 1000.
A New Standard In Performance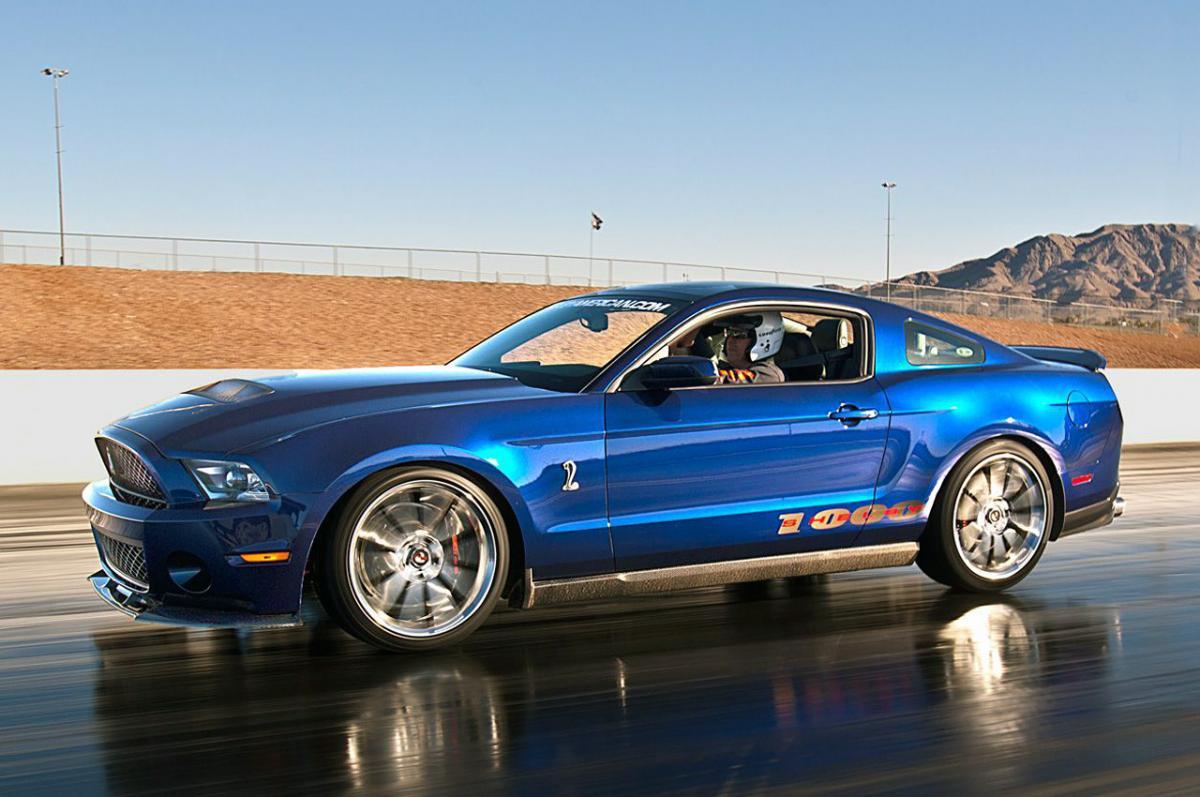 In both its 950 HP and 1100 HP forms, the Shelby 1000 was fitted with a hand-built engine, which featured all-forged internals, 4-valve per cylinder ported heads and an upgraded cooling system.
A host of additional upgraded components found their way beneath the Shelby 1000's hood. Some of the most notable of which included Shelby blower grind camshafts, higher tension valve springs, Shelby custom main/head studs, and Shelby performance fuel injectors.
Additionally, the Shelby 1000's powerplant was fitted with high-performance belt-drive components, which included a custom-mill tensioner and a Shelby spec water pump. This high-performance 5.4 liter V8 was also paired to a set of Borla headers and a 3-inch cat-back exhaust system.
In its base, 950 horsepower form, the Shelby 1000's powerplant featured a Shelby/Ford Racing 4.0L supercharger. Alternatively, consumers purchasing the 1100 horsepower Shelby 1000 would be greeted by a belt-driven Kenne Bell 3.6 liter blower.
The Shelby 1000's power delivery was aided by the use of a Shelby Super Twin Clutch and flywheel kit, all of which was complemented by Shelby American's selection of an MGW short-throw shifter. Power was then directed rearward through a custom Dynotech Alumi-Num driveshaft.
Top To Bottom Revisions
Of course, those at Shelby American knew all too well that a standard GT500 Mustang was incapable of bearing the punishment imparted upon it by a 1000-plus horsepower donor engine. Therefore, a significant amount of additional revision went into making sure that the Shelby 1000's chassis was up to the task at hand.
Special subframe connectors were featured throughout the length of the Shelby 1000's wheelbase, which effectively limited front-to-rear and side-to-side play. A tubular chrome-moly front subframe also became standard fare.
Additional upgrades included stiffening of the Shelby 1000's frame rails along any point prone to stress failure, strengthening of the transmission tunnel, and beefing-up of the vehicle's rear control arm mounting points. The Shelby 1000 also featured a Currie rear-axle assembly, complete with a 9-inch ring-gear, 35-spline axles, and upgraded ⅝-inch drive studs.
Also standard, was the addition of an Eibach R2 Coilover suspension kit, which featured adjustable camber plates and dampers. Stopping duties were handled by a set of Wilwood brakes (6-piston front, 4-piston rear).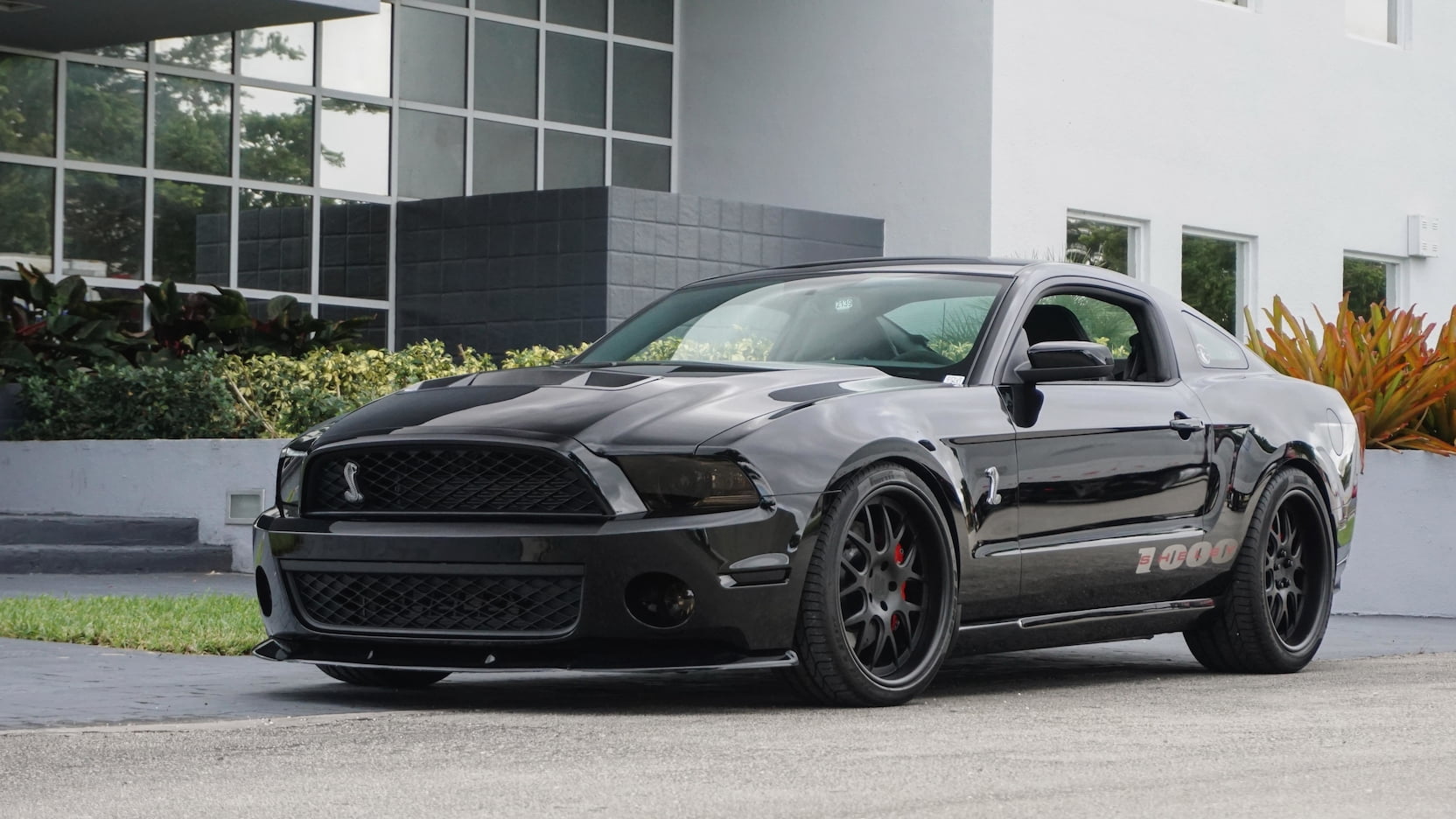 A Mustang Of Unmatched Fortitude
Though the Shelby 1000's run was rather short-lived, lasting less than half a decade, most remember this tenacious predator of the pavement as one the most renowned testaments to Shelby American's design prowess. Perhaps most remarkable, was the fact that the Shelby 1000 was just as robustly engineered from a durability standpoint, as it was in relation to outright performance potential. The true automotive aficionado can not help but marvel at all that the Shelby 1000 offers.
2012 Shelby 1000 Specifications
| | |
| --- | --- |
| Engine | 5.4L V8 |
| Horsepower | 900 hp/1100 hp |
| Torque | 850 lb-ft torque |
| 0-60 MPH | 3.7 sec |
| Quarter Mile Time | 9.93 sec |
| Weight | 3,800 lbs |
| Base Price  | $200,000 |
| Production Numbers | 100 |
Available Exterior Colors
The 2012 Shelby 1000 was available in Black, Grabber Blue, Ingot Silver, Kona Blue Metallic, Performance White, and Race Red.
Available Interior Colors
The 2012 Shelby 1000 interior was available in charcoal black with a choice of black, silver, blue, red, and white accents.
2012 Shelby 1000 Mustang Video
We found a great video of the 2012 Shelby 1000.