In 1965, Carrol Shelby teamed up with Ford to produce a race-inspired Mustang for the ages. The Shelby GT350, in its original form, was nothing short of a masterpiece. The GT350 was agile, quick, and more than capable of providing ample thrills to all that sat behind the wheel.
Perhaps far more important, was the fact that the GT350 provided the relatively new Mustang with immense performance credibility. Prior to the car's release, many viewed the Mustang simply as a sporty grocery-getter. However, almost overnight, Carrol Shelby forever changed the Mustang's image, to reflect that of a savvy road warrior, ready to dominate the pavement.
While the conclusion of the 1960s saw the original GT350's production come to an end, Mustang enthusiasts the world over were treated to subsequent renditions of the storied pony car throughout the earliest years of the new millennium. In a tribute to Shelby's legendary productions of the forgone ears, Shelby American began modifying otherwise stock GT-series Mustangs, through an aftermarket upgrade program. One such modern-day classic was the 2012 Shelby GT350.
Undeniably Shelby
The 2012 GT350 carried a distinguished look of aggression, which was quite apparent at first glance. The custom Shelby featured a deep-sweeping front fascia, with an integrated chin spoiler, as well as a revised hood with a prominent air scoop.
Also of note, was the GT350's custom stripe kit, which featured centrally located dual racing stripes from front to rear, as well as signature side striping, which included "G.T. 350" emblems to the rear of each front fender-well.
At the rear of the vehicle, was a revised bumper, as well as Shelby custom tail lights. A Shelby logo was also present on the GT350's rear deck lid.
Unlike the prior year's rendition of the GT350, when only a classic white paint scheme was available, both Kona Blue and Race Red were available as optional colors for the 2012 model year. The GT350 was also offered in a convertible model for the first time since 1970, which was quite unique in itself.
The Shelby GT350's interior also received several minor revisions, such as the installation of pillar-mounted gauges, and the inclusion of Shelby signature series front floor mats. Additionally, all 2021 Shelby GT350s featured sequentially numbered dash placards, which denoted each vehicle's authenticity.
Multi-facet Performance
Those who purchased a 2012 Shelby GT350 were provided with the opportunity to choose between three different modified configurations of the base GT's 5.0L V8 powerplant. These options include a 430 HP naturally aspirated offering, a 525 HP supercharged rendition, and a "special tune" 624 HP Whipple supercharged V8.
The most mundane of these offerings could be paired with an optional automatic transmission. However, both supercharged versions of the GT350 were only offered in the accompaniment of a manual transmission. In all cases, a single piece driveshaft was used to facilitate power delivery to the GT350's rear wheels.
The GT350 also featured a custom Shelby/Ford racing suspension system, which prevented excess body roll. Braking duties were handled by a custom Baer front brake system, while ERADISPEED rotors and Baer six-piston rear brake calipers could be found in the vehicle's rear.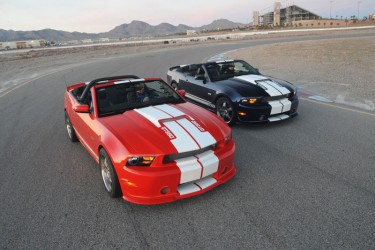 A Modern Day Classic
Today, the 2012 Shelby GT350 is regarded as a modern-day classic, even more, performance-minded than the original high-output Mustang, to which it paid homage. With 600+ horsepower awaiting the next stab of the GT350's throttle, there is a lot to love about this late Shelby-inspired Mustang.
2012 GT350 Specifications
| | |
| --- | --- |
| Engine | 5.0L V8 |
| Horsepower | 430 HP / 525 HP / 624 HP |
| Torque | 470 lb-ft torque + |
| 0-60 MPH | 4.1 sec |
| Quarter Mile Time | 12.4 sec |
| Weight | 3,800 lbs |
| Base Price  | $26,995 on top of base cost of car |
| Production Numbers | 350 |
Available Exterior Colors
The 2012 GT350 was available in Performance White, Race Red, and Kona Blue.
Available Interior Colors
The 2012 GT350's interior was available in charcoal black.
2012 GT350 Mustang Video
We found a great video of the 2012 GT350.