Carrol Shelby's influence on the automotive world is extremely far-reaching and nearly endless in scope. The famed racer and designer has been responsible for the production of some of the most iconic vehicles to have ever pounded the pavement.
By 2012, Shelby American was in the midst of celebrating their 50th Anniversary. In order to commemorate this milestone, Shelby released several specialty packages, including that which pertained to the 50th Anniversary GT350. This served as a fitting tribute to the very car that cemented the Mustang's legacy as a performance-oriented street machine.
An Icon Reimagined
The 50th Anniversary GT350 was nothing short of striking in its external appearance. The commemorative Mustang featured a "Deep Draw" custom hood, with a pronounced air scoop, as well as unique front and rear fascias. The combination of these features presented the GT350 with a look of refined aggression.
Specialty Shelby badging was also found in numerous locations around the vehicle's exterior. Such badging appeared directly to the rear of each front fender-well, as well as on the GT350's rear deck lid.
The GT350 could be ordered in a consumer's choice of Performance White or Black, with a centrally located Gold stripe spanning the vehicle's length. Gold side stripes were also standard fare, as were integrated "G.T. 350" emblems.
Performance White GT350s were fitted with matte-black wheels, while those featuring a Black paint scheme came equipped with specialty Shelby chrome wheels.
Subsequent upgrades were also made to the GT350's interior. Some of the most notable of these upgrades included the addition of Katzkin accents, black leather seat inserts, gold contrast stitching, and embroidered seatbacks.
Potent Performance Potential
The 50th Anniversary GT350 was also no slouch in regards to performance. Beneath the GT350's hood resided a Whipple-supercharged, 5.0L V8. This engine was also fitted with a custom Borla exhaust system, which produced a commanding tone, much like that of muscle cars from the foregone era.
This revised powerplant was capable of dishing out 525 HP, which proved to be more than enough to satisfy all but the most unabashed of performance enthusiasts.
The GT350 also featured many additional mechanical upgrades, including a revised Shelby/Ford Racing suspension system, which featured updated springs, stabilizer bars, and front strut tower braces. The addition of these components improved handling under periods of high demand.
Also of note, was the 50th Anniversary GT350's upgraded brake system. The vehicle featured Wilwood six-piston front brake calipers, while four-piston Wilwood calipers were used in the rear. The culmination of these revisions drastically reduced the GT350's effective stopping distance.
A Fitting Tribute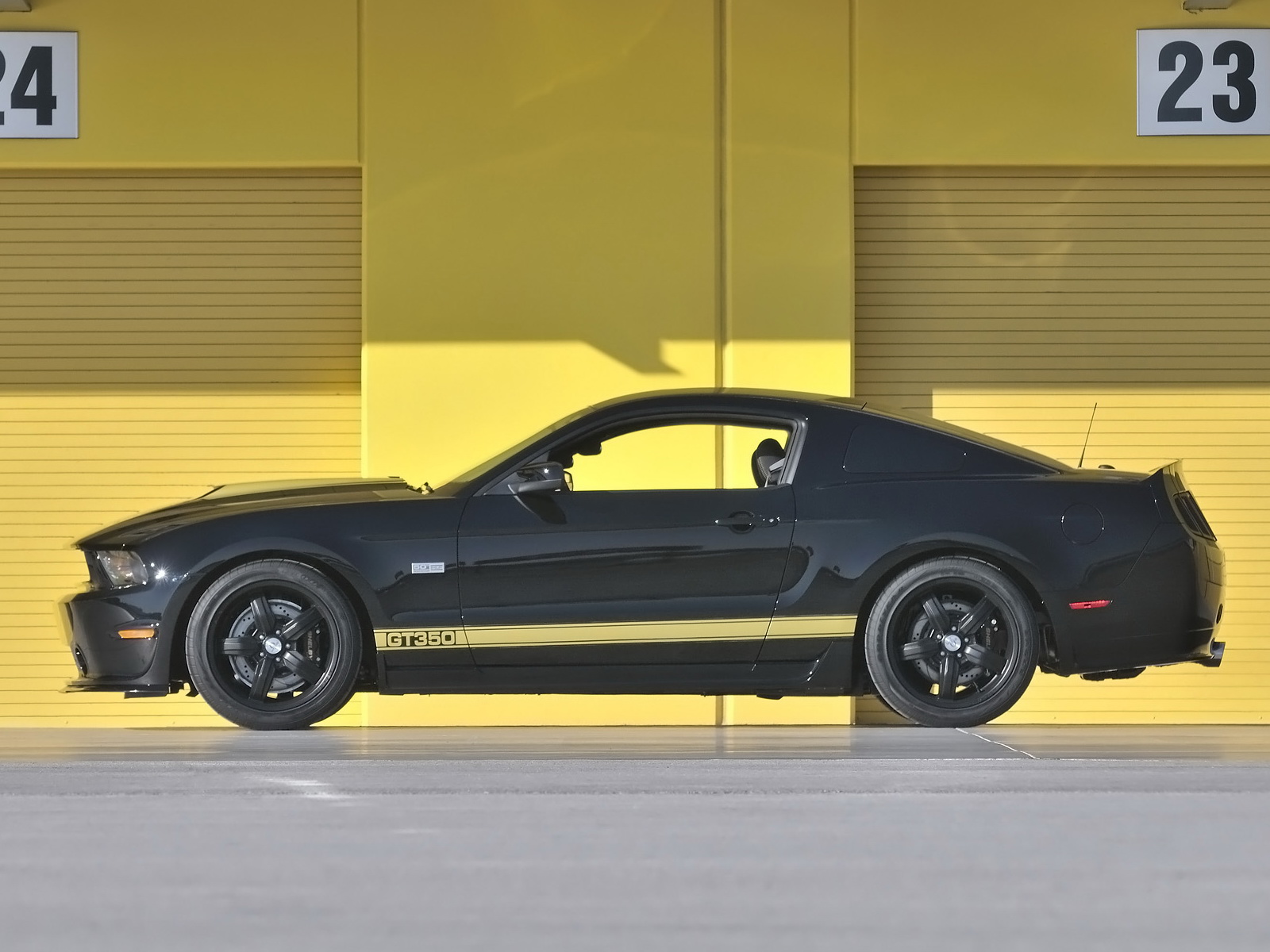 The 50th Anniversary GT350 served as a fitting tribute to one of the most iconic Mustangs of all-time. The GT350, in its original form, was responsible for elevating early Mustang sales to new heights, as consumers clamored at the opportunity to own a vehicle that was just as capable on the track, as it was on the street. The 50th Anniversary GT350 does Carrol Shelby's original classic justice, by supplying consumers with the same uncompromising performance potential.
2012 50th Anniversary GT350 Specifications
| | |
| --- | --- |
| Engine | 5.0 L V8 |
| Horsepower | 525 horsepower |
| Torque | 470 lb-ft torque |
| 0-60 MPH | 4.1 sec |
| Quarter Mile Time | 12.4 sec |
| Weight | 3,700 lbs |
| Base Price  | $59,995 on top of base car |
| Production Numbers | 100 total: 50 in White, 50 in Black |
Available Exterior Colors
The 2012 50th Anniversary GT350 was available in Performance White and Black, each with gold stripes.
Available Interior Colors
The 2012 50th Anniversary GT350 interior came complete with black leather, gold contrast stitching and an embroidered 50th Anniversary logo on the seat back.
2012 50th Anniversary GT350 Mustang Video
We found a great video of the 2012 50th Anniversary GT350 Mustang.