In 1967, the efforts of famed designer Carrol Shelby would forever change the course of automotive history and give rise to one of the most legendary Mustangs of all time. The Shelby GT500 was one of the most formidable performance cars of the 1960s and served as Ford's top contender during the power wars of the same era.
By 2007, Carrol Shelby had decided that the time was right to celebrate the GT500's 40th anniversary, and he intended to do so in style. Since the GT500's initial release, much had changed, both for Shelby, and the Mustang in general. By 1969, Shelby and Ford had parted ways. Officially, the historic partnership came to an end at the insistence of Shelby, who wished to work on additional projects. However, much speculation centered around rumors of Shelby's discontent, which came as a result of Ford's increasing developmental oversight.
Fast-forward four decades and an aging Shelby was once again on friendly terms with Ford and had taken an increasing role in the development of several commemorative Mustangs. One such package offered by Shelby Automobiles was the 2007 Shelby GT500 40th Anniversary kit.
Back To Shelby's Roots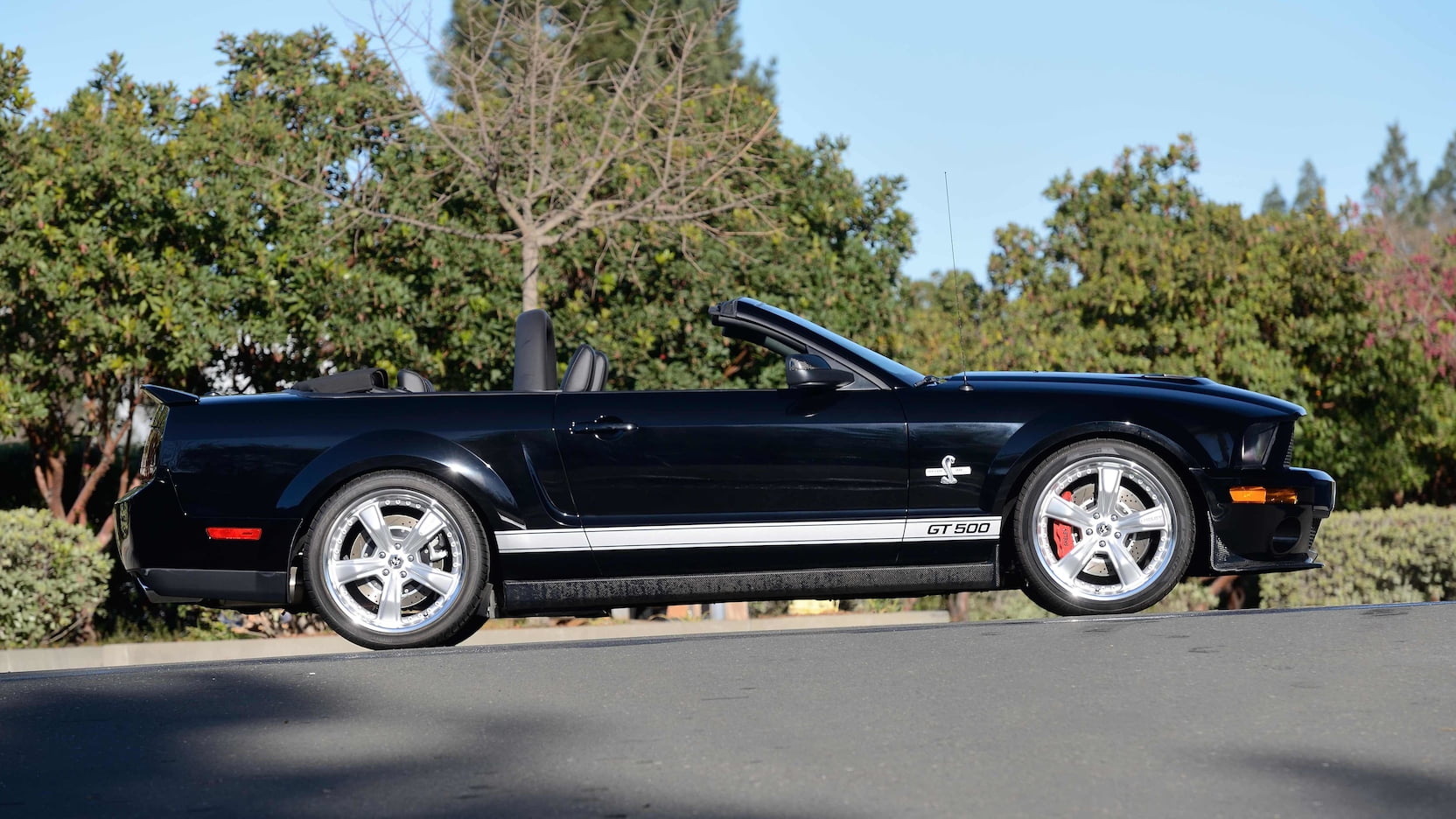 The 2007 Shelby GT500 40th Anniversary blended the modern Mustang's streamlined appeal, with a heavy dose of vintage Shelby exterior modifications. Many such modifications were based upon those found on the original GT500.
Exterior features of the 40th anniversary package included a carbon-fiber lower front fascia splitter, sequential tail lamps, front/rear brake duct kits, aluminum grille inserts, "SHELBY" deck lid lettering, and a 20-inch American Racing Shelby series wheels. Additional 40th anniversary badging was also found on the car's trunk, grille, and striping.
The 40th Anniversary GT500's interior was also quite unique for numerous reasons. Perhaps most notable, was the specialty Mustang's consecutively numbered dash plaque and door sill plates, which verified each vehicle's authenticity.
An extensive amount of "40th Anniversary" specific badging could also be found throughout the Mustang's interior. Additional Shelby interior upgrades included signature floor mats, and snake door handles. A center dash-mounted gauge cluster was also standard and featured three Carroll Shelby/Autometer carbon fiber gauges (oil pressure, fuel pressure, and boost).
Defiant Performance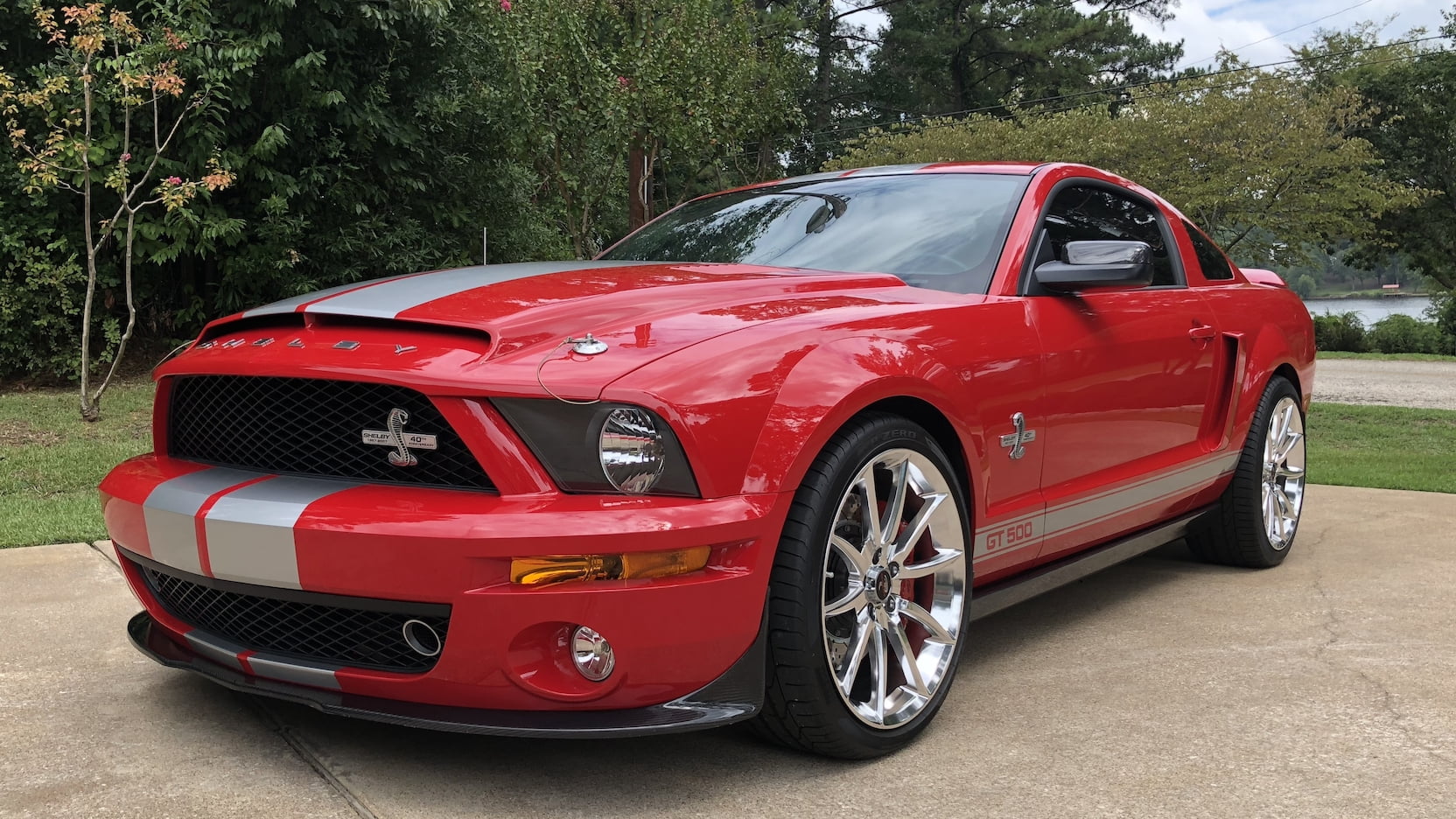 Also true to the GT500's original format, the 40th Anniversary GT500 came standard with first-in-class performance. Shelby's commemorative Mustang was rated at 500+ HP, making it a worthy representation of the illustrious name that it carried.
Included in the Anniversary package was a Cat-back Borla Exhaust System, which allowed the GT500 to efficiently dispose of exhaust gases, in a bid at increased performance.
Additional cosmetic upgrades were added beneath the hood, including billet aluminum caps/covers for the power steering reservoir, coolant overflow, brake master cylinder, windshield washer fluid bottle, and oil dipstick.
To handle the potent performance attributes of the GT500, Shelby also earmarked a number of steering/suspension upgrades. The Anniversary package most notably included a new Shelby/Eibach Coilover suspension system.
The Coilover system in question allowed for independent adjustability for both straight line and road course tracks. The system also includes larger, more robust anti-sway bars, which drastically reduce body-roll and provide smooth, decisive cornering.
A Legend Remembered
Though the 40th Anniversary GT500 was only truly offered through the application of a Carrol Shelby inspired upgrade package, rather than under a factory production code, the resulting Mustang was nothing short of legendary. In fact, the 40th Anniversary Shelby GT500 paid homage to its predecessor in the most tasteful, and thoughtful manner possible.
This Carrol Shelby creation was anything but watered down, in both performance and appearance. By all accounts, the 40th Anniversary GT500 could not only pound the pavement into oblivion but was more than capable of looking sleek beyond comparison while doing so.
2007 GT500 40th Anniversary Mustang Specifications
Engine
5.4L V8
Horsepower
500 horsepower
Torque
450 lb-ft torque
0-60 MPH
4.5 sec
Quarter Mile Time
12.7 sec
Weight
3,920 lbs
Base Price 
$11,250 Coupe

$12,499 Convertible

**On top of price of GT500

Production Numbers
312
Available Exterior Colors
The 2007 GT500 40th Anniversary Mustang was available in Alloy Metallic, Ebony, Grabber Orange, Performance White, Torch Red, Tungsten Gray, and Vista Blue, since it was an add-on package to the regular GT500
Available Interior Colors
The 2007 GT500 40th Anniversary Mustang interior was available in black/black or black/red.
2007 GT500 40th Anniversary Mustang Video
We found a great video of a 2007 GT500 40th Anniversary mustang.