1987 Ford Mustang
1987 Ford Mustang Overview
The Fox Mustang got a major update for 1987. Taking cues from the SVO, all Mustangs got aerodynamic headlights and a host of design changes that radically changed the Fox body shape. The GT ground effects kit include air scoops just in front of each wheel. GTs also had taillight covers known as "cheese graters". The 1987 Mustang was the start of some better late than never styling and performance changes. The biggest news for engine options was that there were now only two. Suspension modifications at the front and rear improved handling and ride. Overall sales were down, from 224,000 to just over 169,000, but there is no doubt the 1987 MY was a better car in every way.
| | |
| --- | --- |
| Model: | 1987 Ford Mustang |
| Generation: | 3rd Generation Mustang |
| Type: | 2 Door |
| Body Styles: | Coupe, Hatchback, Convertible |
| Engines: | 2.3L EFI 4 cyl, 5.0L EFI V8 |
| Original Price: | $8,271 (Base Coupe), $8,690 (Base Hatchback), $13,052 (Convertible) |
| Units Produced: | 169,772 |
Additional 1987 Mustang Research: 1987 Research Center / Colors Details / Production Numbers / Prices & Options / Sales Brochures / Owner Manuals / Maintenance / Pictures / Videos / VIN Decoder / Special Editions
Background & Details
Back to the 1987 model year. To remain relevant in a world of more aggressive competition and new and innovative car designs from other manufacturer, Ford knew that the Fox body Mustang required a major update both on the outside and interior. This led to the Mustang's most comprehensive redesign since 1979 and definitely the most radical changes yet to the Mustang. Originally the plan was for Ford to give the 1987 Mustang its first substantial refresh to keep the Fox body Mustang interesting and current only until a totally new car they had been working on could be ready for the 1989 model year.
This next-generation Mustang was moving to a new front-wheel drive Mazda platform. However when rumors started to surface in 1987 that Ford was doing away with the traditional rear wheel drive V8 powered Mustang for a front wheel drive Japanese inspired compact sports hatchback Mustang enthusiasts revolted in a massive way. The Mustang faithful were furious and inundated Ford with letters (about 30,000 letters from what we were told).
Ford relented and gave the Fox body Mustang a reprieve for the moment and continued production until a suitable replacement could be designed or when sales of the Mustang finally petered out. The 1987 the stock market crash and a number of other factors conspired to give the Fox body Mustang even more years, staying around until the end of 1993.
The front-wheel drive Mazda platform work was already a long way along in terms of development, so Ford eventually made that the Ford Probe rather that scrap that hard work.
The hardtop (notchback) coupe, hatchback and convertible body styles all returned for 1987. Trim levels were down to just LX and GT, the coupe in LX was only the hatchback and convertible available in both trims. The GT was restricted to either the hatchback or convertible. The LX and GT models also received a new interior that included an improved dashboard that placed all of the instruments in a pod directly in front of the driver.
The Exterior Design
Ford cleaned up and modernized the 1987 Mustang body, extending the rear quarter panel glass and removing the dated looking side louvers. A new cleaned up nose section was added to the LX and a large styled headlight/running light assembly updated the front end. The smoother, rounder nose was reminiscent of the SVO wraparound composite headlamps and definitely updated the look of the car.
Quarter glass on notchbacks and hatchbacks were now flush mounted and extended out. A black ceramic band etched into the glass filled the area where the sail panels were once located. All window trim, mirrors and belt moldings and door handles were finished in black.
The front bumper on LX's had split wrap around body side moldings finished in black, again following the SVO style from 1986. The grille was a simple slot with a single bar that bisected its upper and lower halves and housed a Ford blue oval. Black body side moldings stretched along the sides of the car and wrapped around the revised rear bumper that had 'MUSTANG' embossed into it. All hatchbacks got a rear spoiler while coupes had no wing and convertibles were equipped with an ornamental luggage rack. Styling of the LX was definitely more conservative than the GT.
The GT received a lot attention and a more aggressive stance. Smooth, molded ground effects panels were added to the GT. The sporty look was helped by an extremely low air intake, round fog lights, lateral ground effects, 20-spoke turbine-like rims, louvered tail lights and a new rear deck wing.
The Interior
The 1987 Mustang got a totally new dashboard. The right side was cut away on top to form a useful package shelf and lend a greater sense of interior spaciousness. Drivers faced an upright instrument pod with side-mount rocker switches for lights, hazard flasher, and rear-window defroster. Column stalks again looked after wipers and turn signals, while cruise-control buttons remained conveniently in the steering wheel spokes.
Dropping down from dash center was a broad console housing rotary knobs for temperature, fan speed, and air distribution, all lifted from the new Euro-style Taurus. There were also four large, square vents across the middle of the dash. The new steering wheel, armrests, door panels, and revamped seats all freshened up both the standard and GT Mustangs. Seats got new bolsters and adjustments.
Engine & Powertrain
The 1987 Mustang updates weren't just skin-deep either as there were improvements under the hood, too, which made the Mustang faster and better to drive. Engine choices for 1987 were paired down to just two, the ubiquitous 2.3-litre  four cylinder and the strong 5.0-litre V8. Gone were the V6 and the SVOs 2.3 liter turbo unit.
The standard engine was the 2.3 L 4 cylinder and it did a decent job with its 88 horsepower. The 4 cylinder got rid of the one-barrel carburetor and upgraded to a new multipoint electronic fuel injection system. Although sufficient to propel the car down the road, it was inadequate to attain any semblance of performance. For real grunt you needed the V8.
The power in the V8 was increased to 225 horsepower and Ford's changes to the electronic engine control module (EEC) and a change from a speed density system, which compared manifold pressure, vacuum and barometric pressure to the simpler and very accurate mass airflow system which calculated the airflow entering the engine as it passed over a heated wire. Ford also got rid of the emissions friendly high swirl heads for higher compression and better performing heads, increased the throttle body size for better breathing and reworked the exhaust system. The 5.0 liter engine saw low-end torque improve with these changes.
Special Edition Models & Variants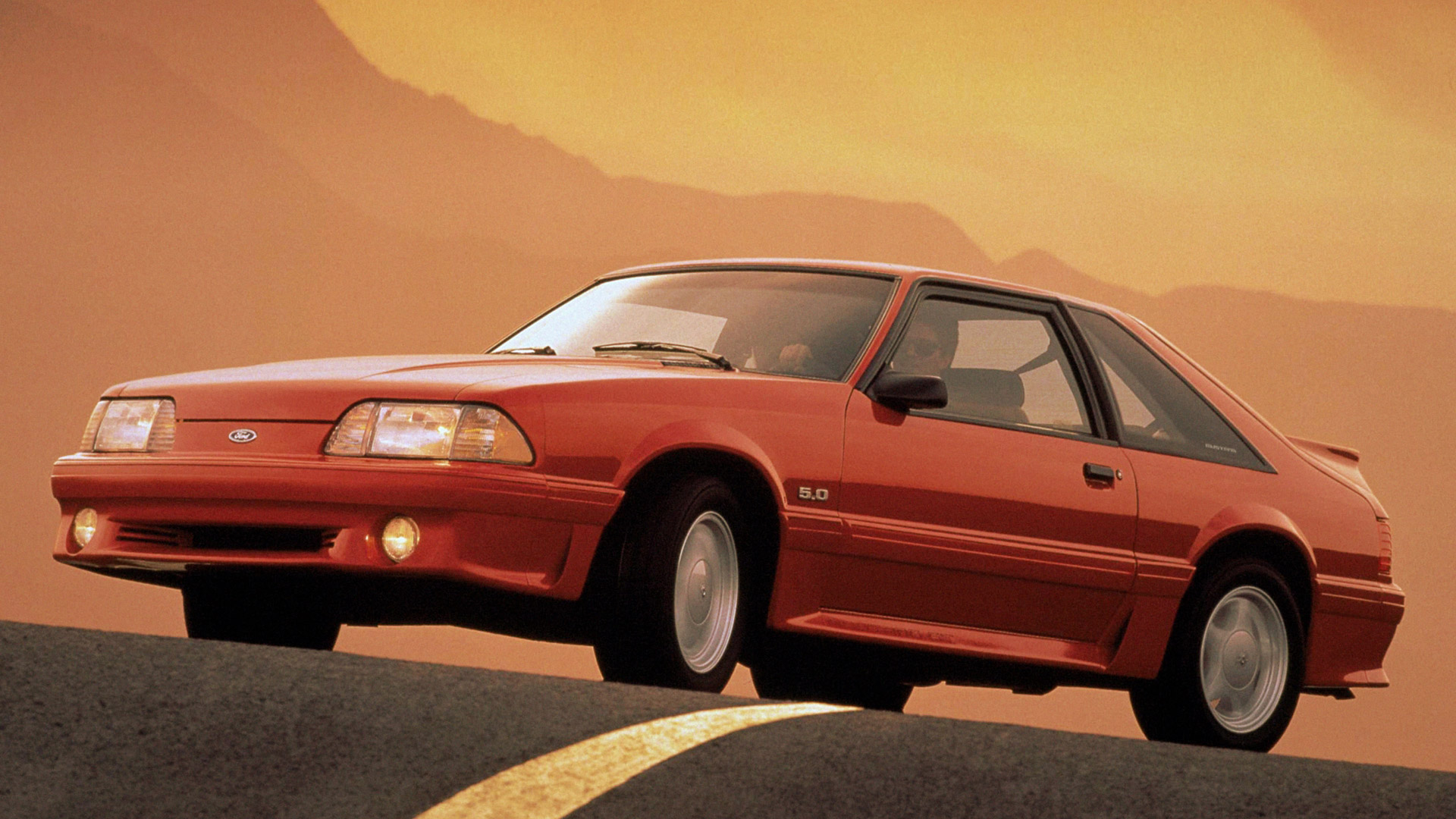 GT
The GT received the most attention this model year. The front of the mustang received a lower air-dam front valance. Headlights were covered and there were small scoops added to the front of each wheel well opening in both the front and rear. The taillights had a louvered effect and the rear of the hatchback got a large spoiler. On the interior there were articulated seats with power lumbar support and a standard tilt wheel. The GT model can now be easily identified in the Vehicle Identification Number by a P42 for the hatchback or a P45 for the convertible.
Learn more about the 1987 Ford Mustang GT
Specifications, Options & Detailed Stats
Production Numbers
A total of 169,772 Mustangs were sold in 1987. The base Hatchback LX was the strongest seller with 34% of total sales, with the base Hardtop LX in second place with almost 26% of sales volume. The GT received the most attention this model year and sales showed it worked. The Hatchback GT sold over 37,088 units which was 22% of total Mustang sales for the year. To dive into the model and body splits as well as see charts and percentages, check out our 1985 Ford Mustang Production & Sales Numbers deep dive.
| Year | VIN | Code | Body Style | Units Produced | % of Total |
| --- | --- | --- | --- | --- | --- |
| 1987 | P40 | 66B | 2 Door - Hardtop LX | 43,257 | 25.48 |
| 1987 | P41 | 61B | 3 Door - Hatchback LX | 57,353 | 33.78 |
| 1987 | P42 | 61B | 3 Door - Hatchback GT | 37,088 | 21.85 |
| 1987 | P44 | 66B | 2 Door - Convertible LX | 21,623 | 12.74 |
| 1987 | P45 | 66B | 2 Door - Convertible GT | 10,451 | 6.16 |
| 1987 | | | Total | 169,772 | 100.00 |
Options and Pricing
The base prices kept going up and up too. Base sticker price for 1987 coupe was $8,271 while the base hatchback was $8,690. The convertible continued to be priced at premium price point of $13,052 in base form.
In keeping with previous trends, more and more features were becoming standard on the Pony car. Options were becoming fewer and fewer. LX models offered decent fuel economy, excellent reliability and a long list of standard features at a reasonable price. The V8 powered cars offered the best value, particularly the popular LX 5.0 that was considered to be the performance bargain of the decade. For a premium of only $1,885 LX's could be equipped with the 5.0-litre engine package that came with all of the GT's mechanical upgrades without the frivolous extras. This package was so popular that Ford actually ran short of engines due to demand. It's not hard to see why the 5-litrer Mustang was in such demand. With right around $10,000 a person could walk into a Ford dealer and walk out with a car that could keep pace with premium vehicles that cost three times as much or more.
For more detailed options and pricing, please check out our 1987 pricing and options research.
| Grouping | Description | Retail Price |
| --- | --- | --- |
| Base Car | 2 Door Hardtop | 8,271 |
| Base Car | 2 Door Hatchback | 8,690 |
| Base Car | 2 Door Convertible | 13,052 |
Exterior & Interior Colors
A total of 12 colors were available for the 1987 Mustang model year. The colors certainly got brighter and more vibrant in the late 1980s. For detailed colors, color palettes, codes and interior colors please check out our in depth 1987 colors information post.
Dimensions & Weight
Despite the redesign, the 1987 Mustang had similar dimensions and weight as the prior year model.
| Description | Measure |
| --- | --- |
| Body Length - Notchback/Hatchback | 179.1 inches |
| Body Length - SVO | 180.8 inches |
| Body Width | 69.1 inches |
| Body Height | 52.1 inches |
| Wheelbase - Notchback/Hatchback | 100.1 inches |
| Wheelbase - SVO | 100.5 inches |
| Weight Hatchback | 2791 lb |
| Weight Notchback | 2722 lb |
| Weight Convertible | 3044 lb |
| Weight SVO | 3140 lb |
| Trunk Capacity - Hatchback/SVO w/ rear seat down | 30.0 cu-ft |
| Trunk Capacity - Notchback | 10.0 cu-ft |
Engine Specs
After many years of being ignored the four cylinder engine received some overdue attention. This greatly improved drivability with easier startup and a smoother idle. Power was up slightly too with 90-horsepower and 130 pound-feet of torque on tap. The hard-charging 5.0-litre H.O. V-8 gained an additional 25 horsepower and 15 pound-feet of torque with the addition of freer-breathing heads and other minor tweaks. Peak horsepower and torque was now up to 225-horsepower and 300 pound-feet respectively. For more information on engines for 1987, you can find the information here.
| Engine Name & Year | Fuel | Compression | Power (hp @ RPM) | Torque (lb/ft @ RPM) |
| --- | --- | --- | --- | --- |
| 1987 – 140 Lima Inline 4 Engine (2.3 L) | EFI SOHC | 9.5:1 | 90 hp @ 3800 RPM | 130 lb/ft @ 2800 RPM |
| 1987 – 302 H.O V8 (5.0 L) | EFI HO | 9.2:1 | 225 hp @ 4200 RPM | 300 lb/ft @ 3200 RPM |
Performance
Below is the performance data for the 1987 Mustangs that we could find. The improvements in the GT model moved the needle in terms of the acceleration and overall performance numbers. We have included 0-60 mph times, 0-100 mph times as well as quarter mile times and top speed where available.
Overall, the Mustang was both faster in a straight line and also better all around. It handed corners well too even if its braking was a bit of a letdown. Ford told us that a lot of the development work that went into the SVO over the prior three years was used in the GT and LX 5.0 models. Caster changes, better bushings, upgraded ball joints and improved sway bar mounts and a new crossmember all combined to make the GT Mustang into a pretty decent handling car that was actually a joy to drive on twisty roads.
| Variant | 0-60 mph (sec) | 0-100 mph (sec) | Quarter Mile | Top Speed |
| --- | --- | --- | --- | --- |
| 1987 Ford Mustang GT (5L) | 6.1 seconds | | 14.1 seconds | 150 mph |
VIN Information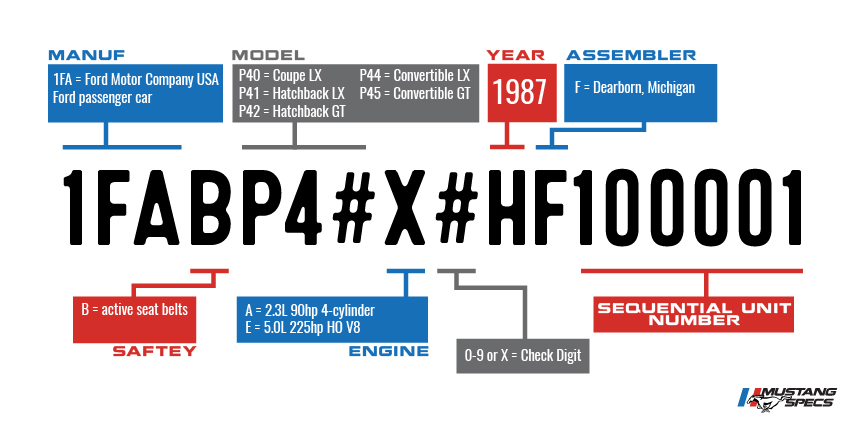 This link will take you to a page which contains the VIN tag information for all years of Mustangs. Previously this information appeared on each Mustang's year page, but consolidating it has significantly reduced page loading times. To decode the build sheet, check out our 1987 VIN & Data Plate Decoder sheet.
Videos & Picture Galleries
We managed to find some great video reviews of the 1987 Mustang so definitely check those out. We also have a picture 1987 Ford Mustang Picture Gallery and photos of real Mustangs in each color that was available.