1983 Ford Mustang
1983 Ford Mustang Overview
The big news for 1983 was the mid-year introduction of the first true Mustang convertible in a decade, which accounted for 20,000 sales in the short 6 month season. More big news was the return of big horsepower. A 5.0L V8 was an option, and it produced 175 hp (the most available since 1973). Several options first appeared in 1983 including the 5-speed T-5 as a midyear change, the four-barrel Holley carburetor, and 3.27:1 gears in all V8 Mustangs. Sales continued to struggle, with only 120,873 Mustangs being sold.
| | |
| --- | --- |
| Model: | 1983 Ford Mustang |
| Generation: | 3rd Generation Mustang |
| Type: | 2 Door |
| Body Styles: | Coupe, Hatchback, Convertible |
| Engines: | 2.3L 2V 4 cyl, 2.3L EFI 4 cyl, 3.8L 2V V6, 5.0L 4V V8 |
| Original Price: | $6,727 (Base Coupe), $7,439 (Base Hatchback), $12,467 (Base Convertible) |
| Units Produced: | 120,873 |
Additional 1983 Mustang Research: 1983 Research Center / Colors Details / Production Numbers / Prices & Options / Sales Brochures / Owner Manuals / Maintenance / Pictures / Videos / VIN Decoder / Special Editions
Background & Details
In terms of design, this mid-cycle refresh included an all-new grille with the Ford Blue Oval logo placed at its center. Ford blue oval would also grace the decklid. The Mustang's nose was revised to be elongated and smoother. A new set of handsome wrap around taillights that stretched all the way to the license plate set off the rear. Other alterations included a reverse hood scoop which we all instantly recognize. These were the most extensive revisions to the Fox Body Mustang since its introduction in 1979.
The biggest news for 1983 was the availability of the convertible for the first time since 1973. Ford outsourced the convertible to Cars & Concepts, which received coupes from the factory and returned them as convertibles. Body styles were either a 2 door "L".  A 2 door or 3 door or convertible GL was available.  A GLX was available in a 2 or 3 door version and the GT's were available in a 3 door or a convertible.
In 1983, the changes included a nice upgrade to the Mustang interior, which were a little more luxurious across the board. There were some suspension modifications to the 1983 Mustangs, but the most noticeable was the tire changes. GT's now got the 205/70HTx14 wheels and the lower profile P220/55R 390 TRX Michelin tire. In terms of engines, the default engine was the 4 cylinder 2.3 L.  A new V6 3.8L engine was optional, as was the 5.0L engines. These changes together improved drivability and reliability of the Mustang.
More big news was the return of real horsepower. A 5.0L V-8 was an option, and it produced 175 hp. The addition of a 5-speed T-5 was a midyear change. With the four-barrel Holley carburetor, and 3.27:1 gears in all V8 Mustangs, it was clear that Ford was serious about bringing performance back to the brand.
Minor trim changes were made for 1983 GL models. The Mustang GT option was given a distinctive monochromatic interior, removing all the bright work inside, while the upscale GLX interiors now offered the availability of optional leather seats in all but the convertible models.
The new 1983 Mustang GT got a new nose and color matched grille also received a smoother, more modern molded lower bumper which included a small integrated air dam. The GTs had a flat black stripe on the hood reminiscent of Mach 1s and Bosses from the 1970s.
The Mustang Convertible is Back
The 1983 Mustang brought the biggest change in years with the launch of the Mustang convertible. U.S. safety laws had all but killed the convertible for almost a decade. The body style was essentially outlawed and almost overnight convertible cars disappeared from the showrooms. Strong demand from consumers for an open top Mustang meant Ford made it happen. The T-top option had been popular and several aftermarket companies were seeing strong demand for their "make your Mustang a convertible" conversions. With that, the first Mustang convertible in 10 years was produced in 1983.
The convertible Mustang came with a power top and a glass rear window. Like we mentioned above, the convertibles were outsourced by Ford to Cars & Concepts. The end result was a seamless conversion that looked as if Ford had designed the car to be a convertible from the onset. The models came with power operation, rear-quarter windows that rolled down and a real glass rear window.
All Mustang convertibles were produced in-house at the Dearborn plant. Convertibles started as hatchbacks that were sent to a small area in the manufacturing plant where they were converted. Workers cut off the roof and reinforced the A-pillars, cowl and quarter panel areas. For added measure side members were added just above the rocker panels, a thicker taillight panel was installed and a cross member was added between the rear wheel arches. Topping off the conversion was a power operated top with a glass rear window installed by Cars & Concepts who were experts in the area of convertible top installations.
Initially the convertible was only available in GLX trim with a 3.8L V6 engine and a steep base price of over $12,467 and then released a GT model priced at about $13,500 in mid-year. The Mustang GLX convertible was more luxurious and posh while the Mustang GT convertible was for the purists. Ford had estimated that they might sell approximately 7,000 convertibles in 1983 and boy were they wrong. The convertible sold an amazing 23,438 in its first year back. We have heard stories that they were so popular that in many areas, virtual bidding wars erupted and people traveled to other towns, hoping to get one of their own.
Engines & Powertrains
1983 Mustangs also saw a big improvement in engine and powertrains across the board. Gone were the 3.3-liter inline six and horrible 4.2 liter V8. Both of these were good news. The 2.3 liter four cylinder was back again and continued to be the base engine in the Mustang lineup. For 1983 it did get some revisions to reduce emissions and improve drivability. US EPA fuel economy improved to 26 mpg city and 40 mpg highway for all areas except California, where the numbers were 24 mpg city and 36 mph highway.
Ford's all new 3.8-liter "Essex" V6 arrived and it was a decent engine. It was a 90-degree overhead-valve V6 built and was known as the "Essex" because it was built at the Essex engine plant in Windsor, Ontario, Canada. This engine is essentially a reverse engineered Buick V6 and shares many features and specifications with the GM engine. Fed by a two-barrel Motorcraft 2150 carburetor, the 3.8 was able to produce 105 horsepower and 181 pound-feet of torque, a big upgrade over the old 3.3 liter six.
The 2.3 liter turbo was also back for 1983 as a midyear addition. It was thoroughly revised. Compression was lowered from 9.0:1 to 8.0:1 by using forged-aluminum pistons. Other improvements included a lighter flywheel, engine mounted oil cooler and unique valves made of a special alloy that could better resist the increased temperatures produced by the turbocharged engine. Also new was a Bosch electronic port fuel injection system controlled by an advanced computer system. A "blow through" turbocharger was mounted on the exhaust side of the engine and was positioned upstream from the injectors and throttle plate which meant more responsiveness. With 10 pounds of boost from the turbocharger and running on the recommended premium fuel the turbo 2.3 could produce 145-horsepower.
The fancy turbo four cylinder wasn't even the coolest Mustang engine option for 1983. That honor goes to the 5.0 liter H.O. V8. That's right folks, leading Ford's charge was the 5.0 liter H.O V-8 with yet another increase in power to 175-horsepower. This gain was attributed to a revised cam, freer flowing exhaust and four-barrel 600-cfm Holley carburetor installed on top of an aluminum intake. Not since 1973 had Ford offered a four-barrel carburetor in a Mustang and to every Mustang fanatic this was a welcome if not overdue change of fortune. The V8 also got a high rpm valve train and a marine grind camshaft.
The V8 engine was now available with the fabulous Borg-Warner T5 five-speed manual transmission. The T-5 was a major improvement over the Single Rail Overdrive 4-speed that had excessively wide gear spacing and wasn't in tune with the 5.0 liter performance pretentious. The Borg Warner T-5 added not just another gear, but allowed the closer spacing of the first 4 gears to improve responsiveness and acceleration. This 5-speed overdrive manual transmission was definitely the preferred transmission.
Special Edition Models & Variants
For those who didn't believe in the "bigger is better" mantra, there was a feisty little Turbo GT model variant that was new for the year. The GLX continued to be the "luxury" Mustang while the GT saw several updates both visually and to its powertrain.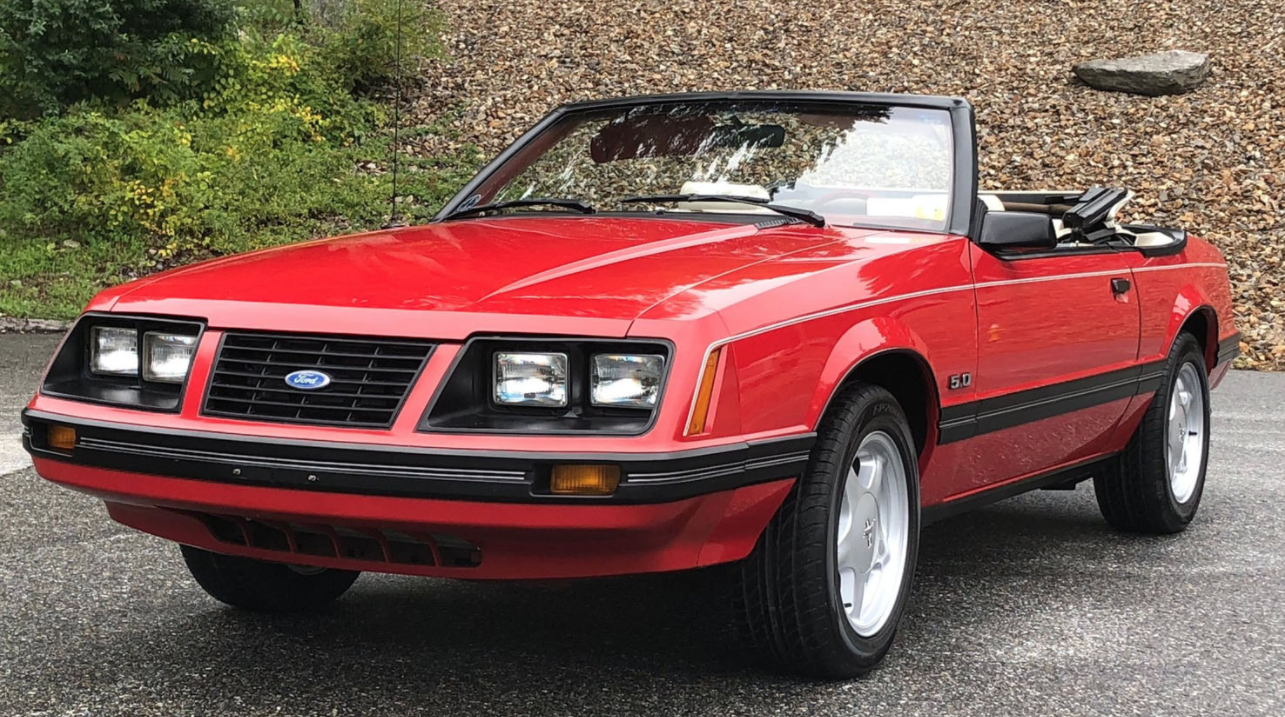 GLX
The 1983 Mustang GLX luxury package was mainly different from the base GL on the inside with dual bright remote control mirrors, wood grained trimmed 4-spoke steering wheel, metal rocker panel trim, driver's door map pockets (the passenger was not allowed to read maps), and lighting group. The GLX convertible included power brakes, tinted glass, black remote mirrors, black rocker panel trim, and automatic transmission. 1983 was the second and last year of the GLX. In 1984 both the base level GL and GLX was combined to form the base level LX.
Learn more about the 1983 Ford Mustang GLX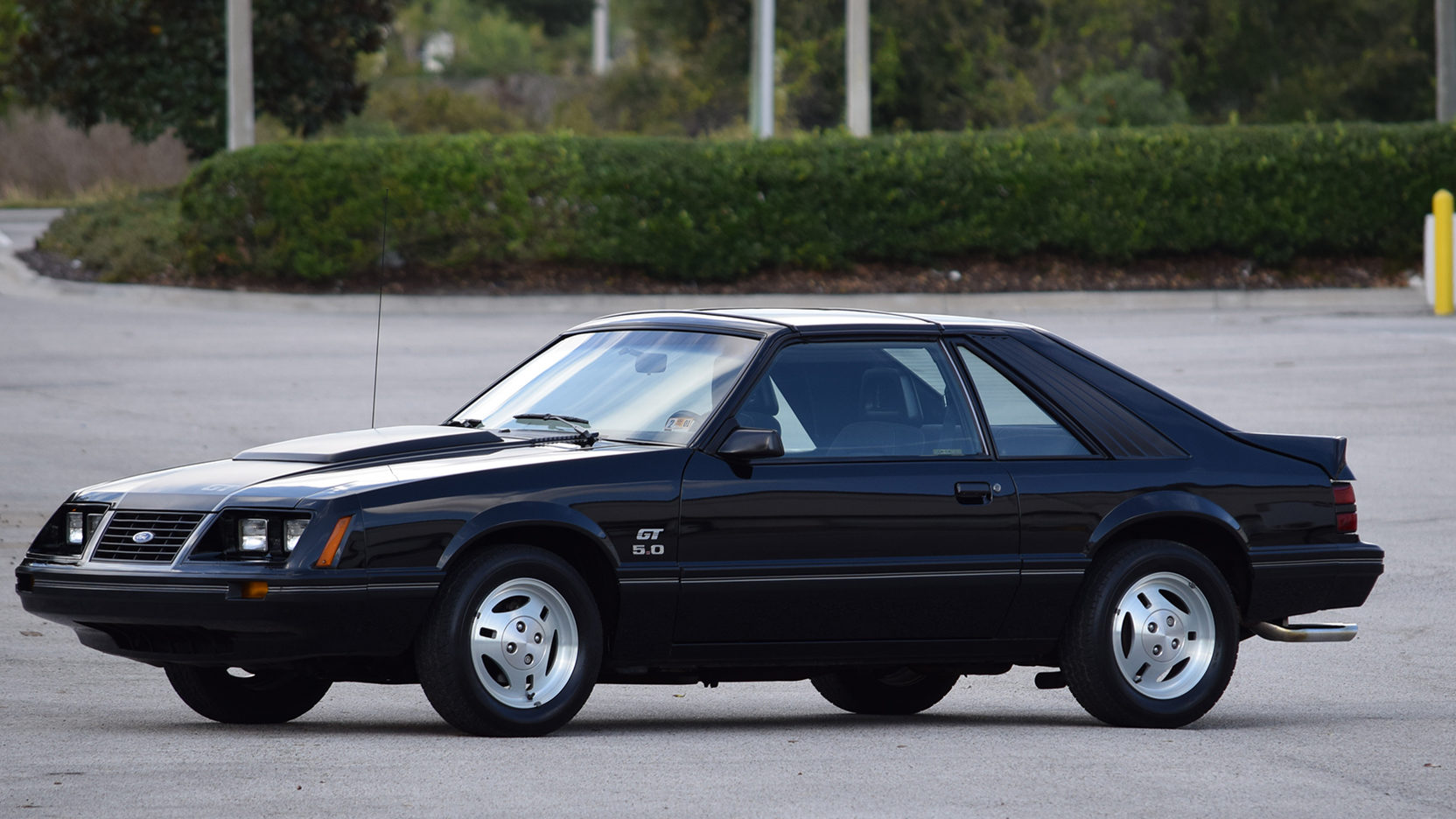 GT
The GT's changes include a wide black hood stripe and deeper fog lights in the new, less angular spoiler. It also got the rear facing non-functional hood scoop and 16 spoke alloy wheels (many chose the optional 3 or 6 spoke cast aluminum TRX wheels). GT standard upgrade equipment included the 1983 standard new black grille, body-colored headlamp trim, aerodynamic front skirts, rear spoiler, and performance suspension and handling. The GT also got the V8 which we already talked about above.
Learn more about the 1983 Ford Mustang GT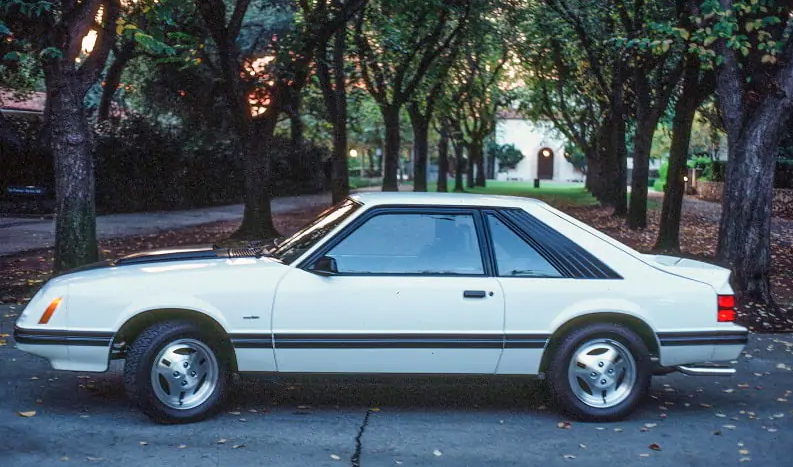 Turbo GT
1983 also introduced the 3 door  GT Turbo model variant. It was powered by a 2.3L Turbo engine that was good for 145 hp. The Turbo GT was a very nice handling car and could easily keep up with the V8 on twisty backroads. Definitely an underrated model. It was a Fuel Injected engine and significantly reduced the front weight in the Mustang. Between the efficiency of a 2.3L engine with the responsiveness of electronic fuel injection and the on-demand power of turbocharging it was a fun little car. "Bigger is better" and we all wanted the 5.0L GT so the Turbo GT never got the love it deserved. The turbo was a technological triumph but with late availability and that $250 premium over a V8 the GT Turbo only sold 483 units.
Learn more about the 1983 Ford Mustang Turbo GT
Specifications, Options & Detailed Stats
Production Numbers
The base hatchback continued to be the strongest seller in the 1983 lineup, followed by the base sedan. The new convertible sold a solid 23,438 units in its first year back in business. To dive into the model and body splits as well as see charts and percentages, check out our 1983 Ford Mustang Production & Sales Numbers deep dive.
| Year | VIN | Code | Body Style | Units Produced | % of Total |
| --- | --- | --- | --- | --- | --- |
| 1983 | 26 | 66B | 2 Door - Hardtop | 33,201 | 27.47 |
| 1983 | 27 | 66B | 2 Door - Convertible GLX | 22,437 | 18.56 |
| 1983 | 28 | 61B | 3 Door - Hatchback LX | 37,586 | 31.10 |
| 1983 | 28 | 61B | 3 Door - Hatchback GT | 26,648 | 22.05 |
| 1983 | 27 | 66B | 2 Door - Convertible GT | 1,001 | 0.83 |
| 1983 | | | Total | 120,873 | 100.00 |
Options and Pricing
Base sticker prices for the coupe was $6,727 while the base hatchback was $7,439. Not satisfied with just T-tops, consumers wanted a proper open top option. In 1983, the alternate option to a T-top was the flip open roof. These were the only options to a plain roof, unless you wanted a convertible, which was priced at a whopping $12,467 in base form. For more detailed options and pricing, please check out our 1983 pricing and options research.
| Grouping | Description | Retail Price |
| --- | --- | --- |
| Base Car | 2 Door Hardtop | 6,727 |
| Base Car | 2 Door Hatchback | 7,439 |
| Base Car | 2 Door Convertible | 12,467 |
Exterior & Interior Colors
A total of 14 colors were available for the 1983 Mustang model year. For detailed colors, color palettes, codes and interior colors please check out our in depth 1983 colors information post.
Dimensions & Weight
The 1983 Mustang had the same dimensions as the prior year model. No notable changes to the size.
| Description | Measure |
| --- | --- |
| Body Length | 179.1 inches |
| Body Width | 69.1 inches |
| Body Height | 51.9 inches |
| Wheelbase | 100.5 inches |
| Weight Hatchback | 2744 lb |
| Weight Notchback | 2604 lb |
| Trunk Capacity - Hatchback w/ rear seat down | 32.5 cu-ft |
| Trunk Capacity - Notchback | 10.0 cu-ft |
| Track (Front/Rear) | 56.6/57 inches |
| Front / Rear Bias | 57/43 |
Engine Specs
For more information on engines for 1983, you can find the information here.
| Engine Name & Year | Fuel | Compression | Power (hp @ RPM) | Torque (lb/ft @ RPM) |
| --- | --- | --- | --- | --- |
| 1983 - 302 Windsor V8 (5.0 L) | 2 Barrel Carburetor | 8.4:1 | 157 hp @ 4000 RPM | 235 lb/ft @ 2490 RPM |
| 1983 – 140 Lima Inline 4 Engine (2.3 L) | 1 Barrel Carburetor | 9.0:1 | 90 hp @ 4600 RPM | 119 lb/ft @ 2600 RPM |
| 1983 - 302 Windsor V8 (5.0 L) | 4 Barrel Carburetor | 8.4:1 | 175 hp @ 4000 RPM | 265 lb/ft @ 2000 RPM |
| 1983 – 140 Lima Inline 4 Engine (2.3 L) | EFI | 8.0:1 | 145 hp @ 4600 RPM | 180 lb/ft @ 3600 RPM |
| 1983 – 232 Ford Essex V6 Engine (3.8 L) | 2 Barrel Carburetor | 8.7:1 | 105 hp @ 4000 RPM | 175 lb/ft @ 2600 RPM |
Performance
Below is the performance data for the 1983 Mustangs that we could find. We have included 0-60 mph times, 0-100 mph times as well as quarter mile times and top speed where available.
| Variant | 0-60 mph (sec) | 0-100 mph (sec) | Quarter Mile | Top Speed |
| --- | --- | --- | --- | --- |
| 1983 Ford Mustang GT 302 HO | 7.0 seconds | | 15.7 seconds | 120 mph |
VIN Information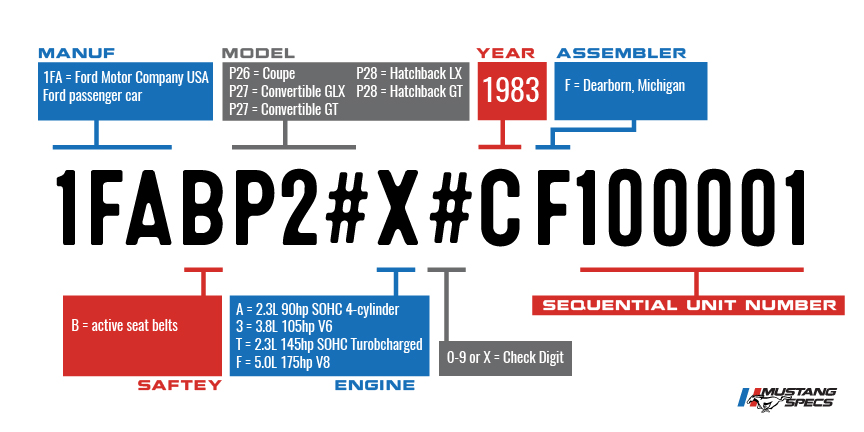 This link will take you to a page which contains the VIN tag information for all years of Mustangs. Previously this information appeared on each Mustang's year page, but consolidating it has significantly reduced page loading times. To decode the build sheet, check out our 1983 VIN & Data Plate Decoder sheet.
Videos & Picture Galleries
We managed to find some great video reviews of the 1983 Mustang so definitely check those out. We also have a picture 1983 Ford Mustang Picture Gallery and photos of real Mustangs in each color that was available.