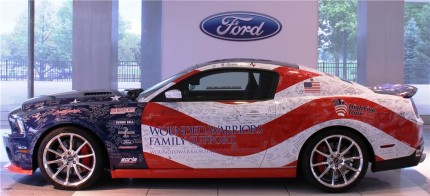 This past weekend the Barrett-Jackson Collector Car auction in Las Vegas took place with one special vehicle going across the block, a 2012 Shelby GT500 Super Snake with hundreds of signatures and messages for our brave military.
The Super Snake featured a fancy red, white and blue American flag themed wrap which was built to support the Wounded Warriors Family Support fund.  The Shelby GT500 Super Snake sold for $500,000 to collector Don Damon, who won a $96.6 million Powerball jackpot back in 2009.
The Shelby Super Snake was driven through the lower 48 states during a five-week driving tour gathering signatures of hundreds of folks who support and respect the brave men and women of the military.  All proceeds from the auction will go directly to the Wounded Warriors Family Support fund.
Check out all the photos below.
To check out a video of the auction head on over to FoxSports.com.