High-performance and luxury car specialist Clive Sutton has launched the CS850R, a track-focused version of the UK's most powerful Mustang. Based on the company's 859PS (847bhp) CS850GT Mustang, the new model features a series of enhancements that fine-tune the car for spirited on-road and track driving. The most significant upgrade is a new Torsen differential, which optimizes mechanical drive from both rear wheels. This enhancement delivers more grip under aggressive acceleration, plus greater feel and finesse when pushing hard, or engaging a power slide.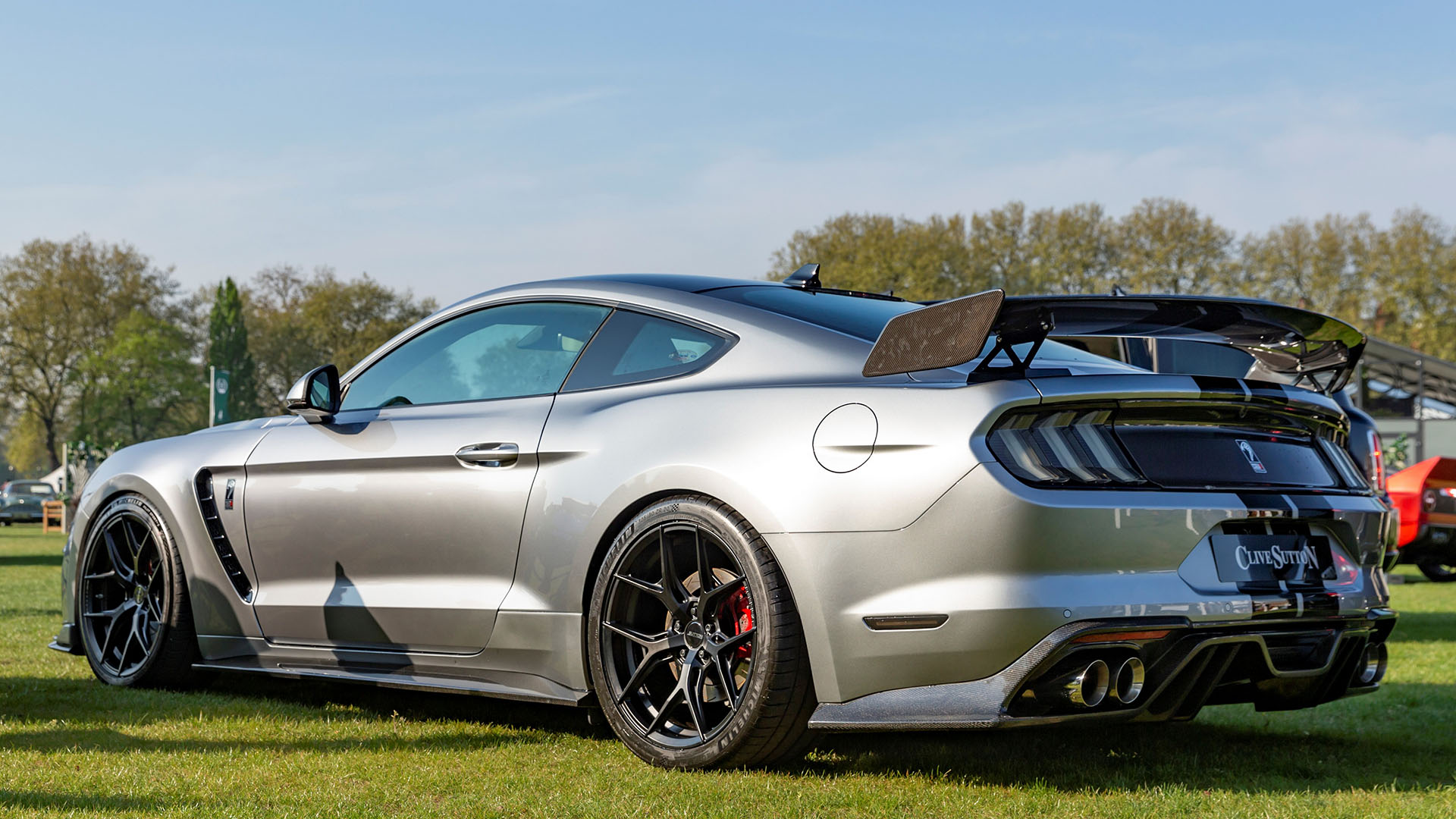 The Sutton team has fine-tuned the final drive gear ratio from 3.55 in the CS850GT to 3.37 in the 'R' version to make each gear slightly shorter. This revision makes the car more eager at launch and when pushing out of a corner, while hard acceleration feels faster and more aggressive. In addition to making the Sutton Mustang sharper on track, the enhancements are designed to improve off-the-line performance with the manual gearbox in mind. The track-tuned CS850R also replaces the Mustang's MagneRide suspension with Pro-Active shocks and linear springs to achieve sharper input and performance when cornering. In addition to painted dual racing stripes, the new model features several color-matched extras to enhance distinctiveness and individualization. For example, the Sutton Mustang features Race Red brake calipers that match red interior stitching, piping, and front/rear seatbelts.
Clive Sutton, Founder, and CEO: "Our bespoke Mustang program is popular with customers looking for right-hand drive high-performance Mustangs that outperform almost anything else on the road. Customer feedback we've gathered from our GT Mustang enabled us to fine-tune our offering to deliver a quicker, better handling car that provides more driver feedback… and even more smiles!"
The company's CS850GT Mustang was launched last year and is a comprehensive reworking of Ford's 5.0-litre V8 muscle car. The model came to life following customer demand from drivers who were frustrated there was no right-hand drive Shelby GT500 for the UK market. The output of the CS850GT and CS850R is boosted to 859PS (847bhp) – making them the UK's most powerful new Mustangs – with almost double the 460PS (454bhp) of the stock Ford. The Sutton Mustangs boast a custom-tuned Whipple Supercharger, intercooler and a Quad Active XFORCE exhaust that together deliver 902Nm (665lb-ft) of torque, alongside the significant power boost. With absolute driver engagement in mind, the new levels of performance are accessed by a short-shifting six-speed manual transmission. The upgraded front and rear anti-roll bars are carried over from the CS850GT, along with its enhanced bracing and new subframe components to complement the upgraded suspension of the CS850R. Both models feature custom Vossen 20-inch wheels, uprated DBA brakes and Hawk pads, adding to the model's track-ready capabilities.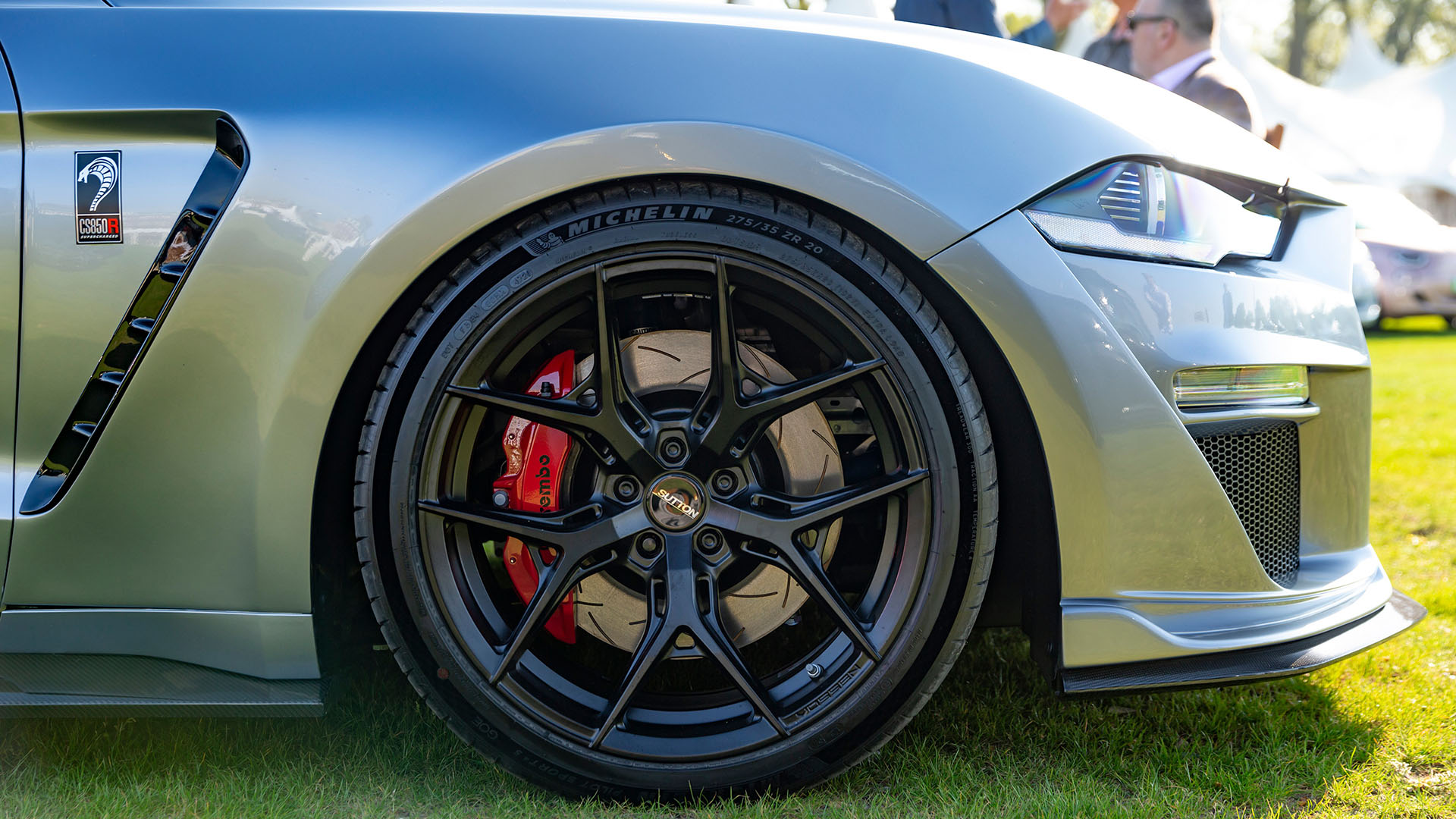 Visually, Sutton Mustangs feature completely reworked front ends that bring UK buyers a GT500-style appearance complemented by a new bumper lip, carbon fiber side rockers, and a carbon fiber rear valance that houses the quad exhausts. Color-adjustable tri-bar headlights, plus LED side and rear lights complete the new look while enhancing visibility. The new CS850R is priced from £121,000 ( about US$ 151,000) on the road with a number of additional options available to personalize the car further and enhance its performance. For example, those looking to fully exploit the new model's track capabilities may opt for the Sutton carbon track spoiler, while those owners seeking the most distinctive style may opt to customize the interior colors to further individualize the car.
Clive Sutton is one of the largest importers of Ford Mustangs and Shelby Mustangs having supplied UK motorists with the iconic cars for more than 15 years. Sutton's specialist Mustang division previously produced the CS700 and CS800 versions of the Mustang in addition to the CS850GT. Customers can build and specify their own CS850R using Clive Sutton's own configurator at SuttonMustang.com. Clive Sutton specializes in importing some of the most unique, powerful and desirable vehicles from the US and across Europe. Buyers can browse Sutton's luxury and supercar stock or build a bespoke luxury vehicle by visiting CliveSutton.co.uk.
CS850R Mustang – Clive Sutton upgrades – specification
Sutton upgrades to the stock Ford Mustang include:
Power package
⦁ Polished finish Whipple Supercharger with a custom tune
⦁ 859PS (847bhp)
⦁ 902Nm (665lb/ft) torque
⦁ Intercooler
⦁ Oil cooler
⦁ Uprated engine mounts
⦁ Uprated boundary geared oil pump and crankshaft timing sprocket
⦁ Sutton custom polished header tank
⦁ New engine-back Quad Active XFORCE exhaust system with Bluetooth App control
⦁ Barton gearbox short shifter
⦁ Ford Performance T2-R Torsen Differential (3.37 ratio)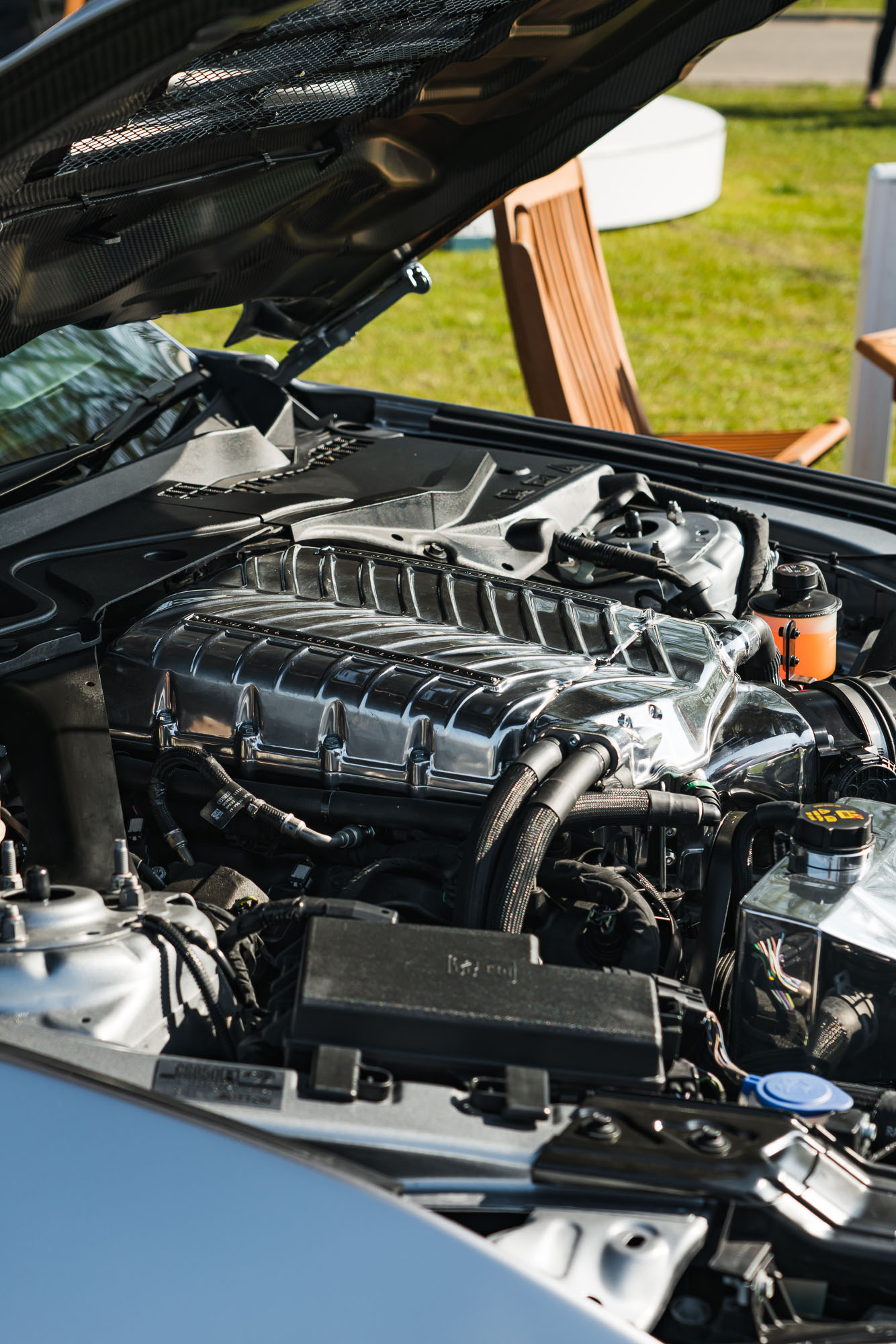 Ride package
⦁ G-Trac K brace
⦁ Billet aluminum vertical links
⦁ Adjustable rear toe link
⦁ IRS subframe alignment kit
⦁ IRS subframe bushing support system
⦁ Upgraded linear progression springs
⦁ Pro-Active front & rear suspension dampers
⦁ Upgraded front and rear anti-roll bars
⦁ Adjustable front and rear roll bar links
⦁ Full-length jacking rails
⦁ Bump steer kit
⦁ Camber bolts
⦁ Full fast road four-wheel geometry alignment set up
Brakes, wheels, tires
⦁ Slotted front brake discs and pads
⦁ Slotted rear brake discs and pads
⦁ Custom Vossen wheels 20 x 9.5 front & 20 x 10.5 rear
Exterior styling
⦁ New Sutton carbon fibre rear wing track pack (optional extra)
⦁ New GT500-look styling package including:
⦁ Carbon fibre bonnet
⦁ Front bumper with lip
⦁ Deeper carbon fibre side rockers
⦁ Carbon fibre rear valance and diffuser for quad exhaust
⦁ LED rear fog and reversing light
⦁ LED side marker lights with smoked lenses
⦁ Tri- bar headlamp upgrade with Bluetooth App control to adjust colour
⦁ Carbon fibre rear deck lid
⦁ Brake callipers refinished in Race Red
⦁ Twin painted racing stripes in gloss black – bumper to bumper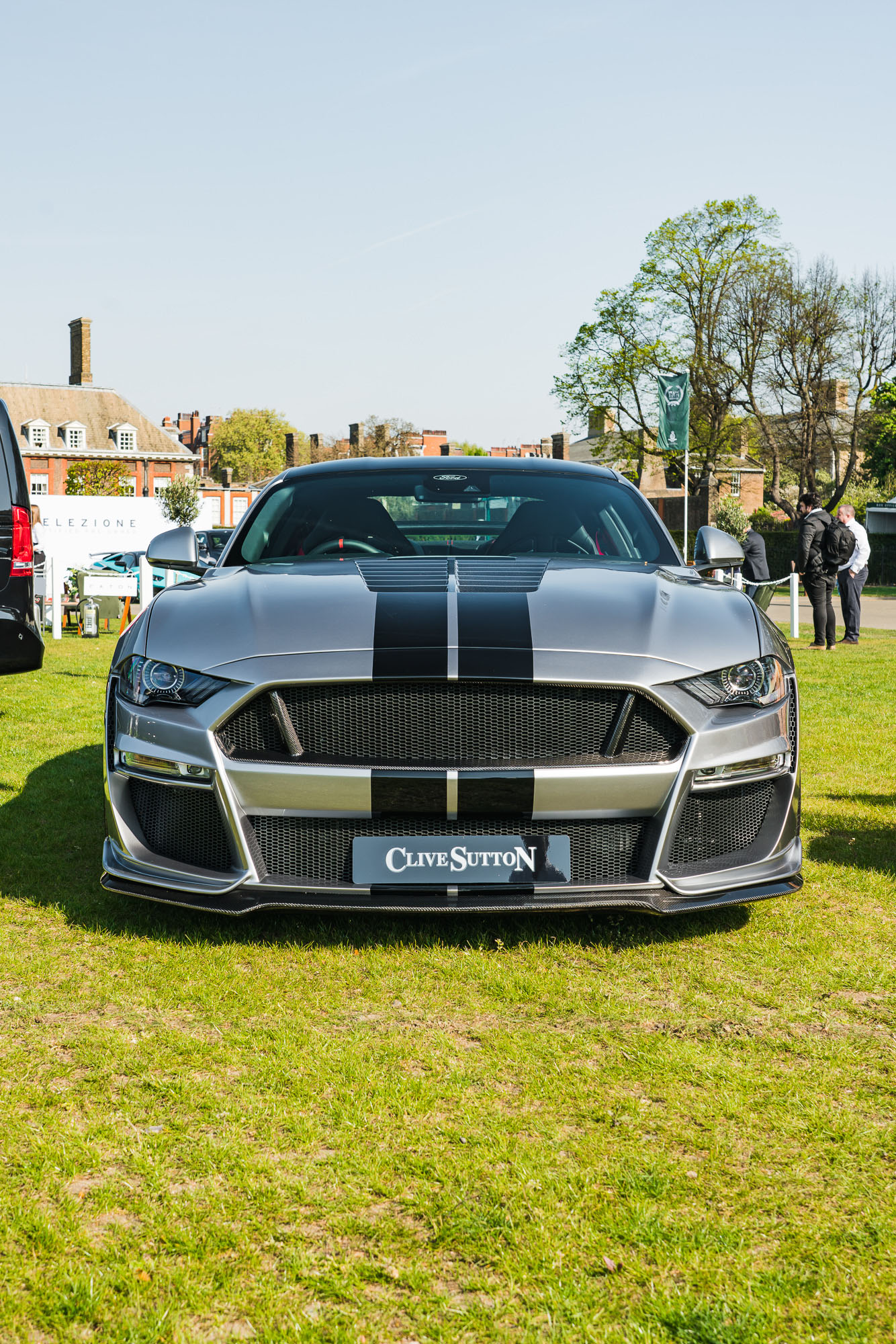 Interior upgrades
⦁ Custom real carbon fibre four-piece dash
⦁ Sutton performance steering wheel; square bottom and thumb grips; red racing line
⦁ 2022 Sutton Custom interior in Black Nappa leather and black Alcantara, including:
⦁ Seats, door and rear quarter panels
⦁ Dash top, centre console & cup holder lid
⦁ Alcantara headlining – with red twin stitch
⦁ Red contrasting stitching and details
⦁ Sutton red billet starter button
⦁ LED interior light conversion
⦁ Red seat belts front & rear