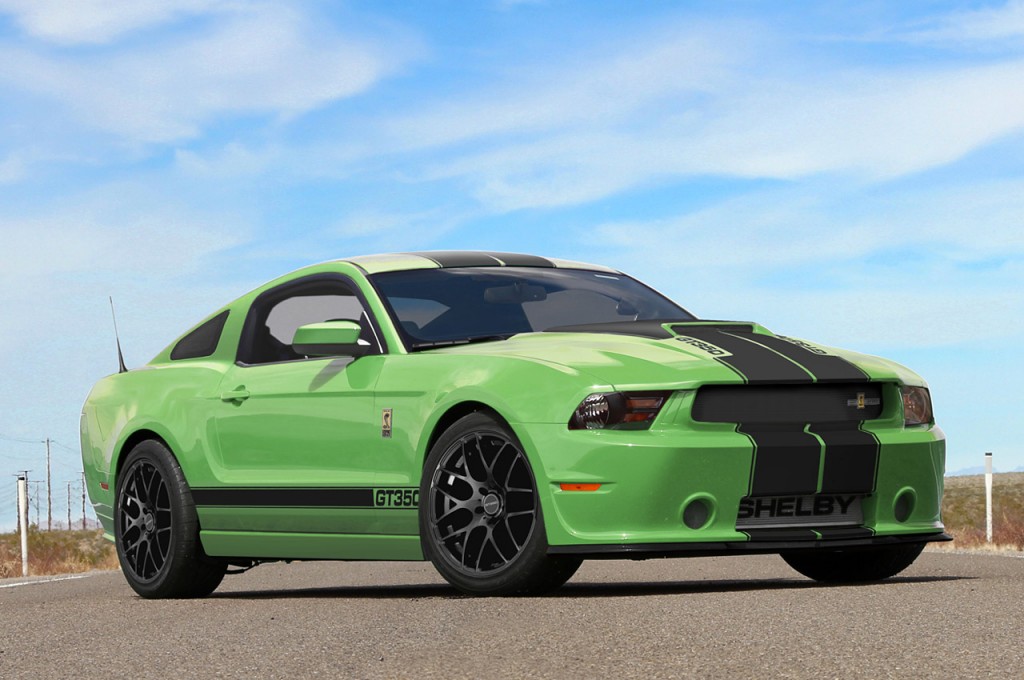 Shelby American has made it official, the Shelby GT350 post-title package will be killed off at the end of the year.  Why are they stopping production of the Shelby GT350 package you might ask, well rumors have circulated Ford will be building a Shelby GT350 Mustang model in 2016 on the next generation Mustang platform.  Ford is rumored to be producing the new GT350 model that will be powered by a naturally aspirated version of the Coyote 5.0 V8 engine pumping out close to 500 horsepower.  Keep reading for all the details.
Press Release:
Shelby American has announced that 2013 will be the last year of availability for its limited-run series of Shelby GT350 muscle cars. Shelby American will take new orders for the Shelby GT350 through December 31, 2013. Production of all other Shelby performance cars will continue.
"The Shelby GT350 is one of the world's most celebrated, iconic muscle cars," said John Luft, president of Shelby American. "When we unveiled this latest version of the Shelby GT350, we promised it would be built for a limited time to preserve its collectability and value. So we've been preparing for this day since 2010. In true Carroll Shelby fashion, we're planning our next ultimate performance Shelby model."
Shelby American's approach has always been to first make history and then repeat it. In the 1960's, Shelby American built the GT350 in small numbers for the 1965, 1966 and 1967 model years, making those cars among the most desirable, collectible vehicles on the planet.
The first (2011) model year 45th Anniversary Shelby GT350's were all coupes clad in Competition white with Guardsmen blue stripes, just as Shelby American did with the initial car in 1965. In 2012, three more colors (red, blue and anniversary black/gold celebrating 50 years of Shelby American), as well as a convertible option were offered, similar to the options offered by Shelby American in 1966. For the 2013 model year, Shelby American again followed tradition with expanded color options, equipment choices and styling changes, while the performance improvements remained intact.
"The Shelby GT350's rich history is well-documented," said Shelby American Vice President of Production Gary Davis. "People value that heritage and tell us that they want this car to equal that exclusivity. We're staying true to our commitment to deliver a small block car with high performance, unique styling and collectability in a way that honors our heritage."
The concept behind the current GT350 was to build a car that is light, nimble and powerful. Beginning with the "small block" 5.0 liter Ford Mustang GT as its base, every aspect of the car is enhanced or replaced to create the ultimate, balanced performance pony car that is true to the spirit of the 1960's era Shelby GT350.
"We've taken another page out of the 'Carroll Shelby playbook'," said Luft. "In the ever evolving automotive market, we continue to adapt to meet customer needs. While we'll look back on the current GT350 with great love and devotion, as Carroll always said, 'our favorite car is the next one we build'."
Orders are now being taken for all 2012 – 2014 model year Shelby American GT350's through the end of 2013; As of January 1, 2014, this chapter of Shelby American history will close. Production will continue on all existing models, including the Shelby GTS, GT500 Super Snake and Shelby 1000, Shelby Raptor muscle truck and hot hatch Shelby Focus ST.
Source: Shelby American