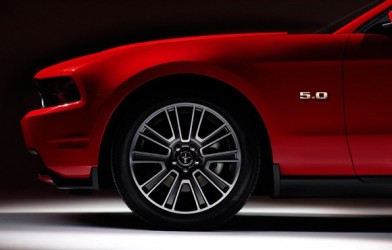 The excitement has been building for many months about the 2011 Mustang GT's new 5.0-liter motor and while nobody has concrete evidence on what actual horsepower numbers will be except Ford Motor Company the rumor machine keeps on chugging.  The latest rumor making the rounds on various Mustang forums comes to us from an October post over on ModularFords.com.  In the post a forum member from a respected Mustang tuner writes how the new 2011 Mustang 5.0-liter "Coyote" motor will produce an advertised 425 horsepower.  He goes on to say the engine actually made 468 horsepower on the dyno and later in the thread he says he has engine part #'s to prove it.
Is this just another of the countless rumors or does this guy actually know something.  It's to hard to tell because the info is coming from a respected Mustang tuner who might have knowledge of Ford's newest engines coming down the pipe.  On the other hand why would Ford ever release or let anybody have access to this type of information before they officially let the news out themselves.
Another thought popped into my head and it was so simple, is this just a publicity stunt on the Mustang tuners part to get their name in the news, maybe.  Who really knows is the big question and I say to you nobody knows because Ford is smarter than that.  I guess we will all have to wait three more weeks to find out at the L.A. Auto Show in December.
Also a few other new tidbits of information about the 2011 Mustang is there will be a few new colors, Race Red and Ingot Silver.  These colors were first reported awhile ago on Stangnet but I just came across them so I thought why not post them up.
Source: ModularFords.com