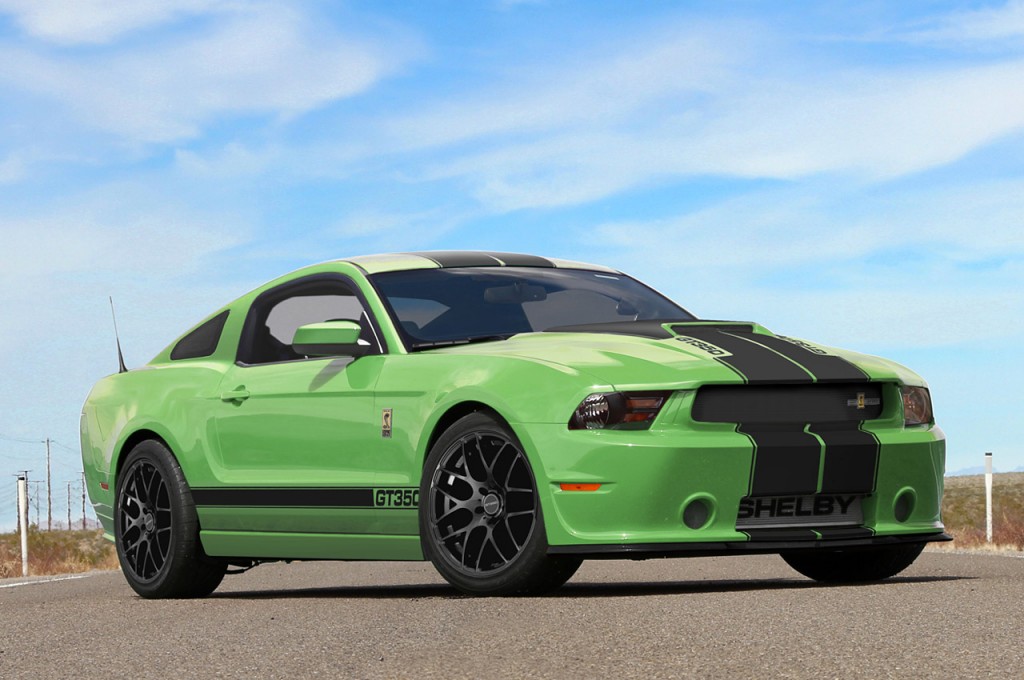 Even with the passing of Carroll Shelby his company Shelby American is still going strong as they announce updates for the limited edition 2013 Shelby GT350 post-title package.  For the 2013 model Shelby American will offer a GT350 in coupe or convertible and in any color the 2013 Mustang is available in.  Other changes include new visual styling cues and optional performance upgrades which will differentiate this model from previous years.
"The Shelby GT350 is one of the world's most iconic modern muscle cars," said John Luft, president of Shelby American. "For the third model year of the contemporary Shelby GT350, we've further refined the car with options and equipment requested by enthusiasts. The Shelby American team is following Carroll Shelby's playbook to continue building high performance cars and parts designed to keep our customers at the front of the fast lane."
For the first (2011) model year Shelby GT350, the coupes were clad in white with blue stripes, just as Shelby American did with the initial car in 1965. In 2012, three more colors (red, blue and anniversary black/gold), as well as a convertible option were offered; this is similar to the options offered by Shelby American in 1966.
For the 2013 model year, Shelby American again matches tradition with expanded color options, equipment choices and styling changes, while performance improvements remain intact. The GT350 will be available in all of Ford's standard colors offered on the Mustang: Grabber Blue, Sterling Gray Metallic, "Gotta Have It" Green, Candy Red Tint Coat Metallic, Ingot Silver Metallic, "Deep Impact" Blue Metallic (replaces Kona Blue Metallic), Race Red, Performance White and Black. Customers can choose between Satin Black or Gloss White stripes (a first since 1970) or Azure Blue Metallic on Performance White and Ingot Silver Metallic vehicles to be paired with new wheels in Satin Black or Bright Silver Metallic. Other styling cues for 2013 include a glass roof option, Recaro Seats and a modified custom rear valance.
"The Shelby GT350's rich history is well-documented," added Shelby American Vice President of Production Gary Davis. "People who value that heritage asked us to repeat Shelby history with new options this year. We did that and stayed true to our commitment for performance with a no-comprise car that honors Carroll Shelby and our past."
The Shelby GT350 is a post-title program based on the Ford Mustang GT. The 2013 Shelby GT350 performance specs will be continued from the 2012 model year. Customers can choose a 430 HP normally aspirated, and either a Ford Racing supercharged 525 HP or 624 HP version. An automatic transmission is optional with the normally aspirated engine, while a short throw shifter is standard for the manual on any of the models. For 2013, options include a one piece drive shaft, more powerful brakes, cooling enhancements, interior upgrades and a color coordinated billet aluminum engine cap set. A new cold air package for the normally aspirated engine will be available to boost the GT350's output to about 450 horsepower.
The 2013 Shelby GT350 post-title package starts at $26,995.00 (normally aspirated) and $33,995.00 (supercharged), not including the base car. Only 350 of the cars will be built, all at the Shelby American factory in Las Vegas. 2012 GT350's are still available with great incentive's being offered for the base vehicle by Ford. Build Your Dream Shelby at ShelbyAmerican.com.