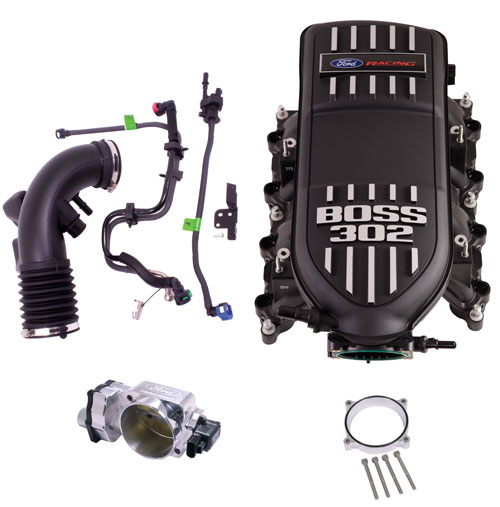 When Ford Racing offered up the Boss 302 intake few years back many 2011+ Mustang GT owners jumped at the chance to install the high flow intake but some were met with obstacles. Now Ford Racing is making the swap easier by offering a "Power Up Kit" of sorts to insure the installation goes smoother.
The kit is made for any 2011-2014 5.0L Ti-VCT coyote engine and includesa matched 90MM throttle body, throttle body adapter and intake manifold install kit. The Boss 302 intake manifold installation kit eases the install by providing the special components to make this package work. After installation a custom PCM calibration is required.
The Coyote Boss Intake Power Up Kits includes:
M-9424-M50BR Boss 302 Intake Manifold
M-9926-M5090 Mustang 5.0L Billet Throttle Body(90MM)
M-9474-M50B Boss Intake Throttle Body Adaptor
M-9444-M50B Boss 302 Intake Manifold Install Kit
The price for the Ford Racing Boss 302 power up kit will set you back $1,790.90. For more on the kit head on over to FordRacing.com.