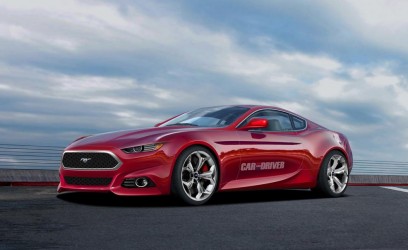 What may look like a Nissan Z or a Hyundai Tiburon is actually what Car and Driver thinks the all-new 2015 Mustang will look like once its unveiled to the public.  The latest rendering of the 2015 Mustang comes to us from famed automotive illustrator Jon Sibal who has already done a 2015 Mustang rendering but this one has been touched up a bit for Car and Driver with the Evos Concept look.
Just like most of the rumors floating around they expect the new Mustang to get an Independent Rear Suspension (IRS), EcoBoost 4-cylinder engine and have an overall footprint about the same as the current model.  They also believe the addition of the IRS will addmore space for the rear seat along with cargo room in the trunk area.  Under the hood they believe the 5.0-liter will still be around but the 5.8-liter Shelby GT500 engine will be gone due to space limitations.In its place they think Ford will come up with some kind of twin-turbocharged 5.0-liter V8 to carry on the Shelby GT500 legend.
Check out the high-res renderings below.
Source: CarandDriver