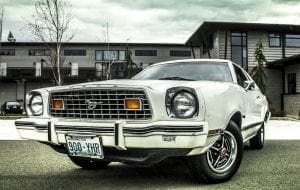 The styling for the next-generation Ford Mustang which is due in 2014 is "being locked down" according to Ford's design cheif J Mays.  The new redesigned 2014/2015 Mustang is one of the most heavily anticipated designs in recent years with input coming from several of Ford's design studios around the World.  The new design coincides with the 50th Anniversary of the Ford Mustang and up until this point it has not been made clear what Ford's plan will be with the vehicle.
During an interview at the Frankfurt Motor Show J Mays was asked if the design will be another variation of the retro 2005 and 2010 design, he says no way, the next generation Mustang will follow a different road.
J Mays went on to say "The challenge or the opportunity for 2014 with a 50th anniversary car is to not just look back over your shoulder, but to try to win all of the Mustang faithful yet bring the brand forward as well," he says.
"It has to look like a Mustang. But you go down a list of things that might or might not be necessary to make the car look like a Mustang."
Basically what J Mays is saying is the 2014/2015 Mustang will be unlike any Mustang we have ever seen before.
Source: Rick Kranz @ AutoNews