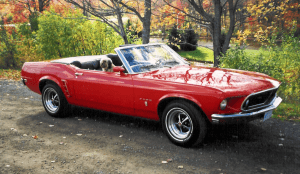 Rumors of Ford producing a Shelby GT350 for the 2015 model year have been swirling around for weeks and we may have been tipped off to its validity by a person in the know.  According to well respected Shelby enthusiast and collector Stephan Becker the rumors of Ford producing a 2015 Shelby GT350 are 100% true, as he confirmed in a recent comment posted over on Team Shelby's forum.
In his forum comment Becker says the rumor of Ford producing a GT350 model is 100% true.  He goes on to say before Carroll Shelby passed away Ford flew out and met with him and Traci Smith (president of Carroll Shelby Licensing) in California to signthe deal for the GT350 to be produced alongside the GT500 in Detroit when the new body-style debuts in 2014/2015.
Stephan Becker's quote:
The rumor is 100% true – Before CS passed he had Ford fly in and meet with him & Traci Smith (President, CSL) in California –  CSL (Carroll Shelby Licensing) and he personally signed the deal for the GT 350 to be made along side the GT 500, in Detroit, when the new body-style debuts in 2014/15.
Becker has a long history with Shelby and his brand dating back some 35 years as he is the foremost authority on 1965-70 Shelby vehicles.  He is also a large shareholder in CSBI (Carroll ShelbyInternational) along with owning Planet Cobra, a factory authorized Shelby Cobra dealer and one of the most trusted resources for buying and selling genuine Shelby Cobras.  We also found out Becker is in litigation with CSBI over unknown issues.
Either he has an axe to grind with CSBI or simply wanted the rumor cleared up is unknown to us but he made it clear Ford will produce a 2015 Shelby GT350.
Sources: [TeamShelby, Planet Cobra]