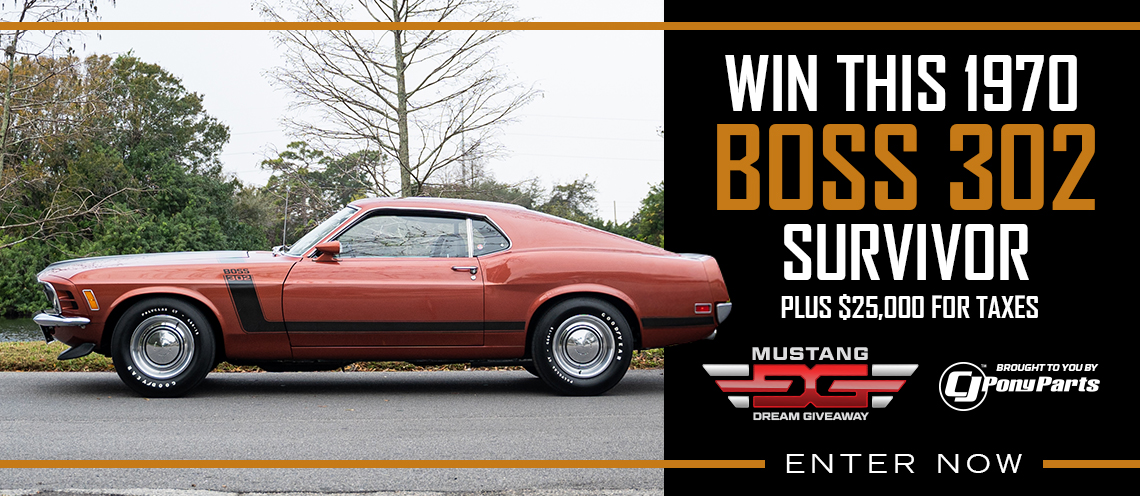 1968 Ford Mustang Mach 1
The 1968 Mach 1 was based off of the 1967 fastback which eventually led to the 1969 SportsRoof.
True to its name, the Mach 1 package stood for speed and performance, ranking among the top tier of the brand's legendary performance offerings. Available only in the SportsRoof body style, the 1969 Mach 1 featured a host of cosmetic changes that separated the performance package from other fastback Mustangs.
The black hood stripe, chrome exhaust tips, and a Shaker hood scoop were some of the many distinctive aesthetic modifications that wowed the masses from day one. The sporty exterior combined with the 351 CID engine under the hood allowed the Mach 1 to stand out from the crowd, both visually and performance-wise.
The 5.8L V8 Windsor motor was standard equipment, with a quintet of additional engine options later becoming available, including two different 428 CID in (7.0L) V8 engines. The 4-barrel Q and R-Code motors could push out up to 335 hp and 440 lb-ft of torque at 3,400 RPM.
Speaking of choices, unlike other special edition Mustangs, the Mach 1 was completely customizable. If there's one thing that muscle car fans love more than speed, it's flexibility, and the Ford Mustang Mach 1 allowed Ford fans to get creative. Along with the six engine options, Mach 1 owners could select one of sixteen distinct exterior colors, three interior colors, five transmissions, and ten different axle types, creating hundreds of different potential combinations.
Like the 1964.5 Mustang, the Mach 1 became something of an overnight success story. In 1969, Ford sold a remarkable 72,458 units. The success of the Mach 1 was particularly impressive considering that it was one of six special edition Mustangs released for the 1969 model year, including the Boss 302 and Boss 429. Due to the meteoric rise of the Mach 1 and the declining sales of the GT, the latter would be discontinued until 1982.
Viewed throughout the corporate offices in Detroit as a roaring success, Ford welcomed the performance package back with open arms the following year. The 1970 Mach 1 remained mostly unchanged from the previous model, minus the relocation of the headlamps. For the second rendition of the Mustang Mach 1, Ford integrated the headlights with the mouth of the grille.
In 1970, the Ford Motor Company unloaded an impressive 40,970 Mach 1s, which accounted for more than 21 percent of total Mustangs sold that year. Ford elected not to reinvent the wheel for the second year of the Mach 1, but that would change in the stretch run of the pony car's first generation.