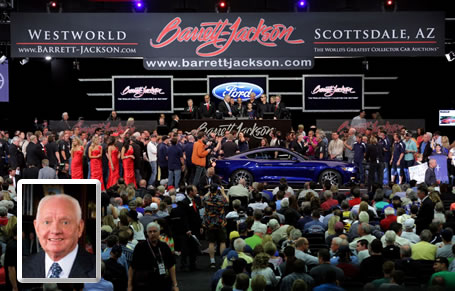 The first retail 2015 Ford Mustang recently sold at Barrett-Jackson for $300K and the winner of the auction is noted Dallas-Fort Worth Ford dealer and collector Sam Pack. The 2015 Mustang GT coupe will make Dallas, Texas its new home as it will join some 265 other collectible vehicles at the Pack Automotive Museum.
Mr. Pack's collection of vehicles is an eclectic mix including hot rods, antiques, one-offs, movie cars, prototypes and performance cars in just about every make and model known to exist.
Mr. Pack will have the opportunity to choose any exterior color, interior and any options he would like on the vehicle. I would also expect Mr. Pack or his representatives to be on hand as the first 2015 Mustang rolls off the assembly line later in the year.
Take a tour of the Pack Automotive Museum here on YouTube as its not open to the public but it has been photographed.
Source: dallasnews.com