Roaring onto the automotive scene with untamed power and a seductive presence, the 2024 Ford Mustang Dark Horse emerges as an embodiment of sheer automotive excellence.
In an era where innovation and performance reign supreme, this latest version of the iconic American muscle car stands as a testament to Ford's unwavering commitment to pushing boundaries. We will explore the inner makings of the new 2024 Mustang Dark Horse model and what makes it a ferocious contender on the asphalt, where raw power meets refined elegance, and tradition dances with innovation.
Image Credit: Ford Media
Unveiling the 2024 Ford Mustang Dark Horse
As part of the 7th generation Mustang, the 2024 Ford Mustang Dark Horse made its grand entrance, stealing the spotlight and setting hearts racing. The much anticipated revision of the 2024 Mustang was apparent, however the addition of the Mustang Dark Horse was something to behold. It was abundantly clear that Ford had concocted something truly extraordinary and exciting.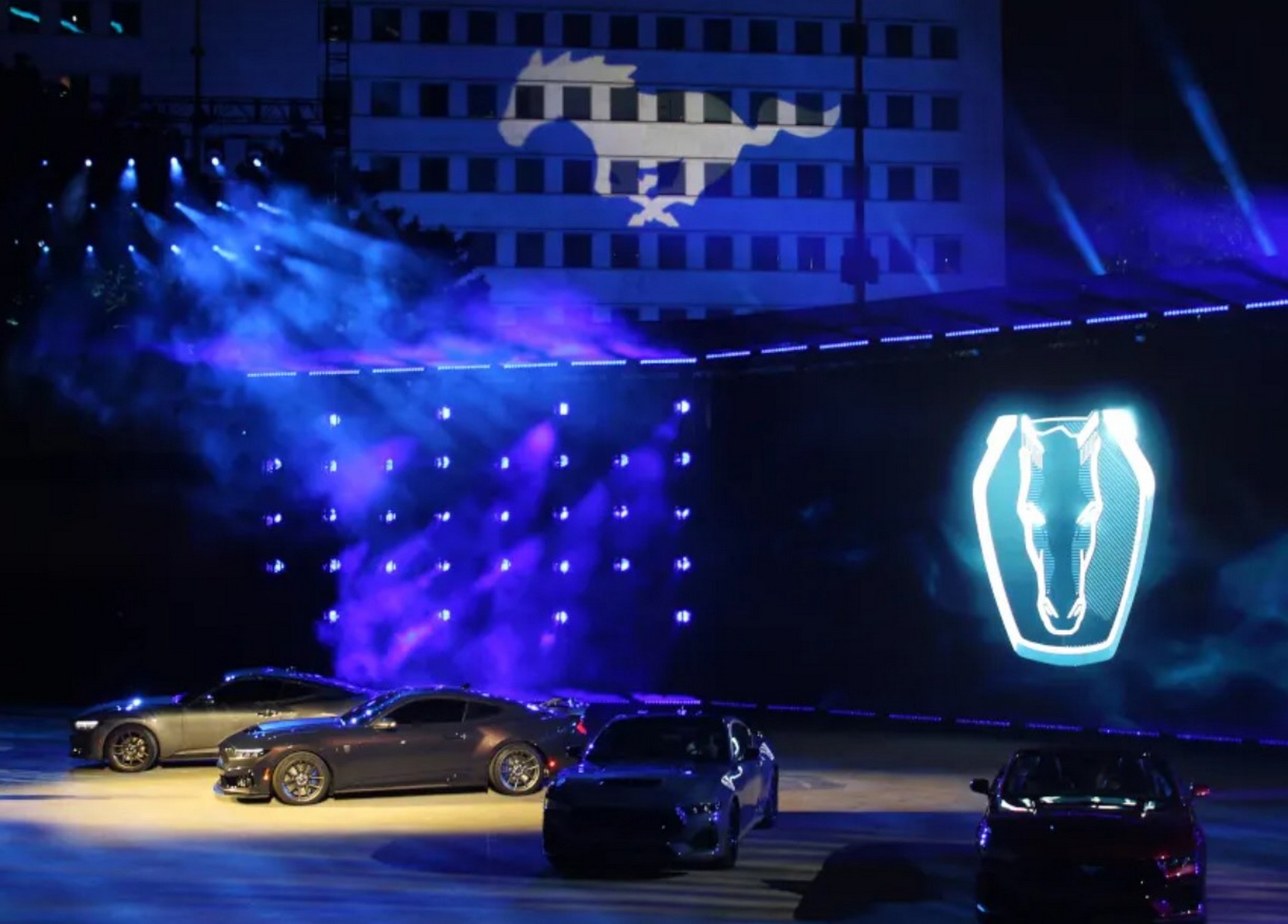 Photo Credit: Forbes Wheels
The first thing that catches the eye is the Dark Horse's striking exterior design. Crafted with meticulous attention to detail, it seamlessly blends tradition with modernity. The iconic Mustang silhouette remains intact, with its long hood, short rear deck, and menacing front grille. However, this 2024 model introduces a darker, edgier aesthetic that adds a level of dominance to this classic profile. Angular LED headlights pierce through the darkness, while sleek lines and bold contours give the Dark Horse a sense of aggressive elegance and stature.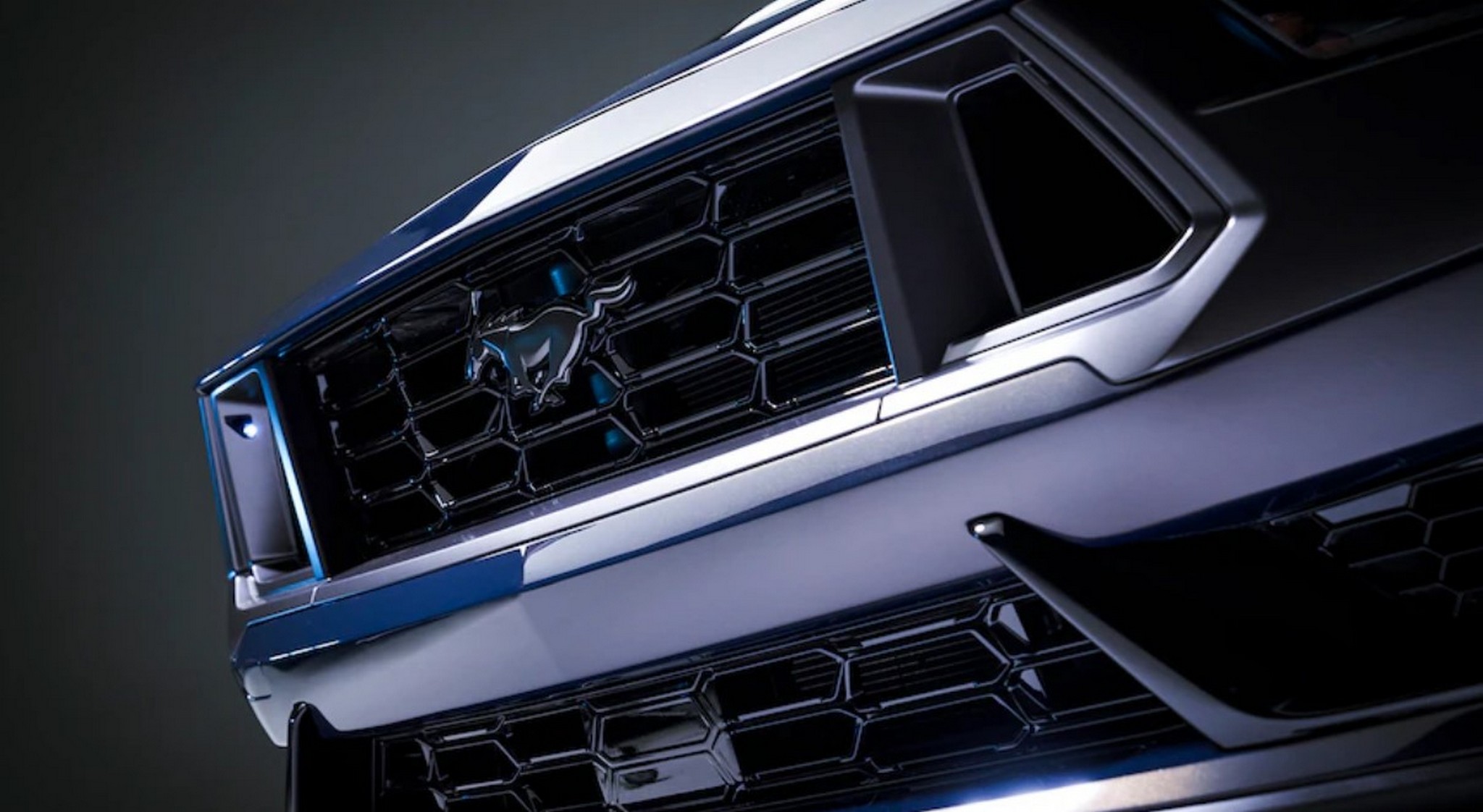 Photo Credit: Motortrend.com
But it's not just about looks – the Dark Horse has the brawn to match its beauty. Under the hood, a powerful 5.0L V8 engine, finely tuned to deliver an exhilarating 500 horsepower, stands ready to unleash its fury. The exhaust note, like a thunderous war cry, resonates with a deep, primal growl, announcing the Dark Horse's arrival with authority.
Photo Credit: Ford Media
Premium materials engulf the driver and passengers, creating a sophisticated and comfortable environment. The latest in automotive technology, from an intuitive infotainment system to advanced driver-assistance features, seamlessly integrates with the classic Mustang heritage. It's a cockpit designed for the modern enthusiast, offering both comfort and control at your fingertips.
It becomes evident that the 2024 Ford Mustang Dark Horse is more than just a car; it's a legend reborn. With its captivating design, awe-inspiring power, and a lineage that traces back to the very origins of American muscle, the Dark Horse promises a driving experience that transcends the ordinary.
Power & Precision for the Ford Mustang Dark Horse
Staring into the soul of the 2024 Ford Mustang Dark Horse, it's impossible to escape the balance and fusion of power and precision that defines this exceptional machine. Hidden beneath its elegant facade lies a wild creature, patiently biding its time, ready to unleash itself and provide an unmatched driving experience through its sheer brute force and performance.
Photo Credit: Motortrend.com
At the heart of this automotive marvel resides a handcrafted 5.0-liter V8 engine, engineered to produce a heart-pounding 500 horsepower and 418 lb-ft of torque. It's a force of nature, capable of propelling the Dark Horse from 0 to 60 mph in a breathtaking 3.7 seconds, unleashing a surge of acceleration that pins you to the back of your seat. With a top speed that teases the 165 mph mark, this Mustang isn't just a stallion; it's a thoroughbred bred for the racetrack.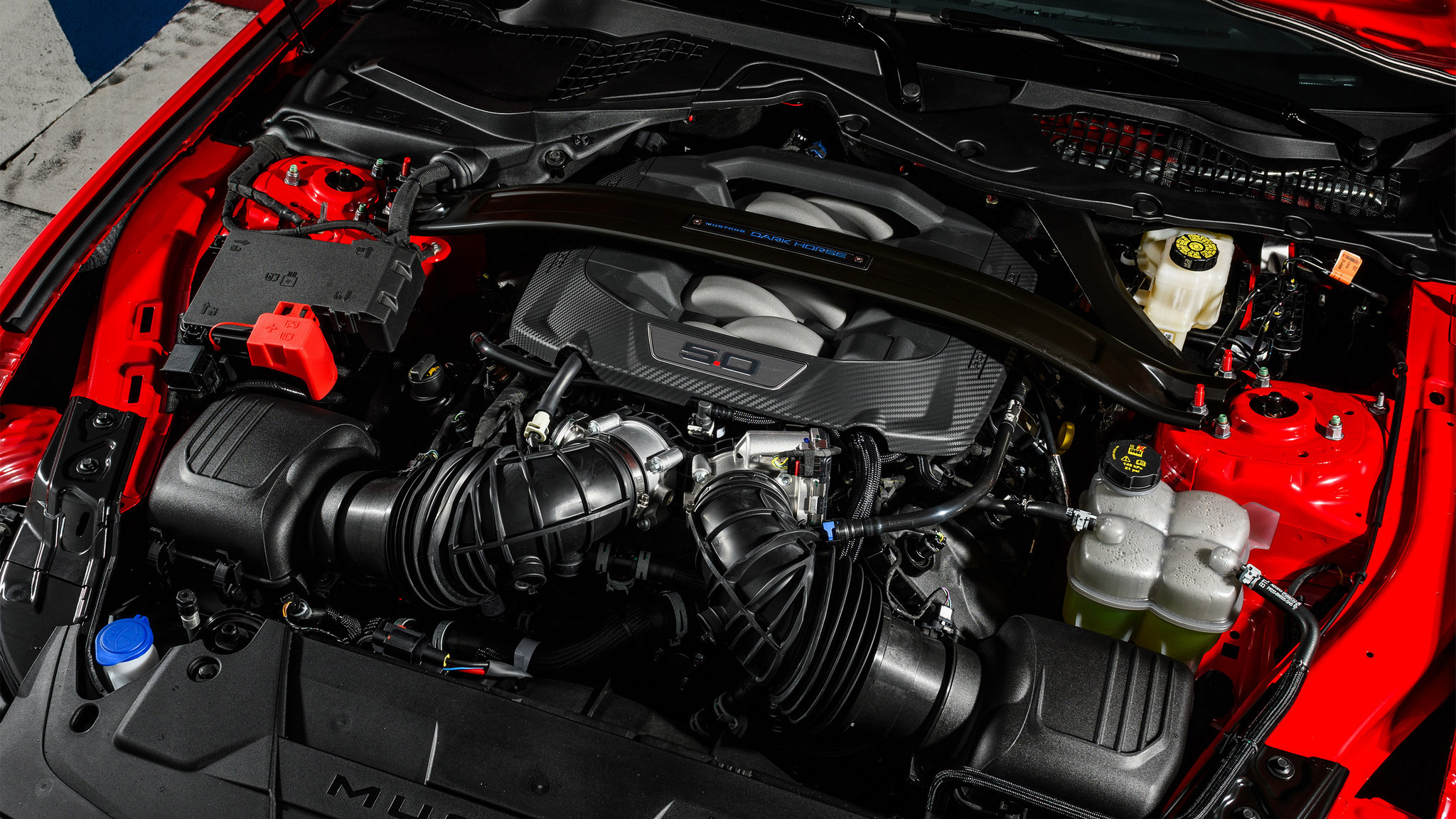 Photo Credit: evo.co.uk
But power alone does not make a legend; it's the precision with which it's harnessed that truly sets the Dark Horse apart. Ford's engineering team has left no stone unturned in ensuring that every aspect of the driving experience is finely tuned.
The suspension system, born from a marriage of cutting-edge technology and decades of Mustang heritage, offers a balance between comfort and sportiness. Adaptive dampers respond to changing road conditions, providing a smooth cruise through city streets and a firm grip on the track.
In the mission to provide an unparalleled driving experience, the 2024 Ford Mustang Dark Horse proudly presents the optional 10-speed SelectShift® automatic transmission with paddle shifters. This advanced transmission system embodies smooth transitional shifts during normal operation to lighting fast shifting when being pushed, elevating your connection with the car to an entirely new level.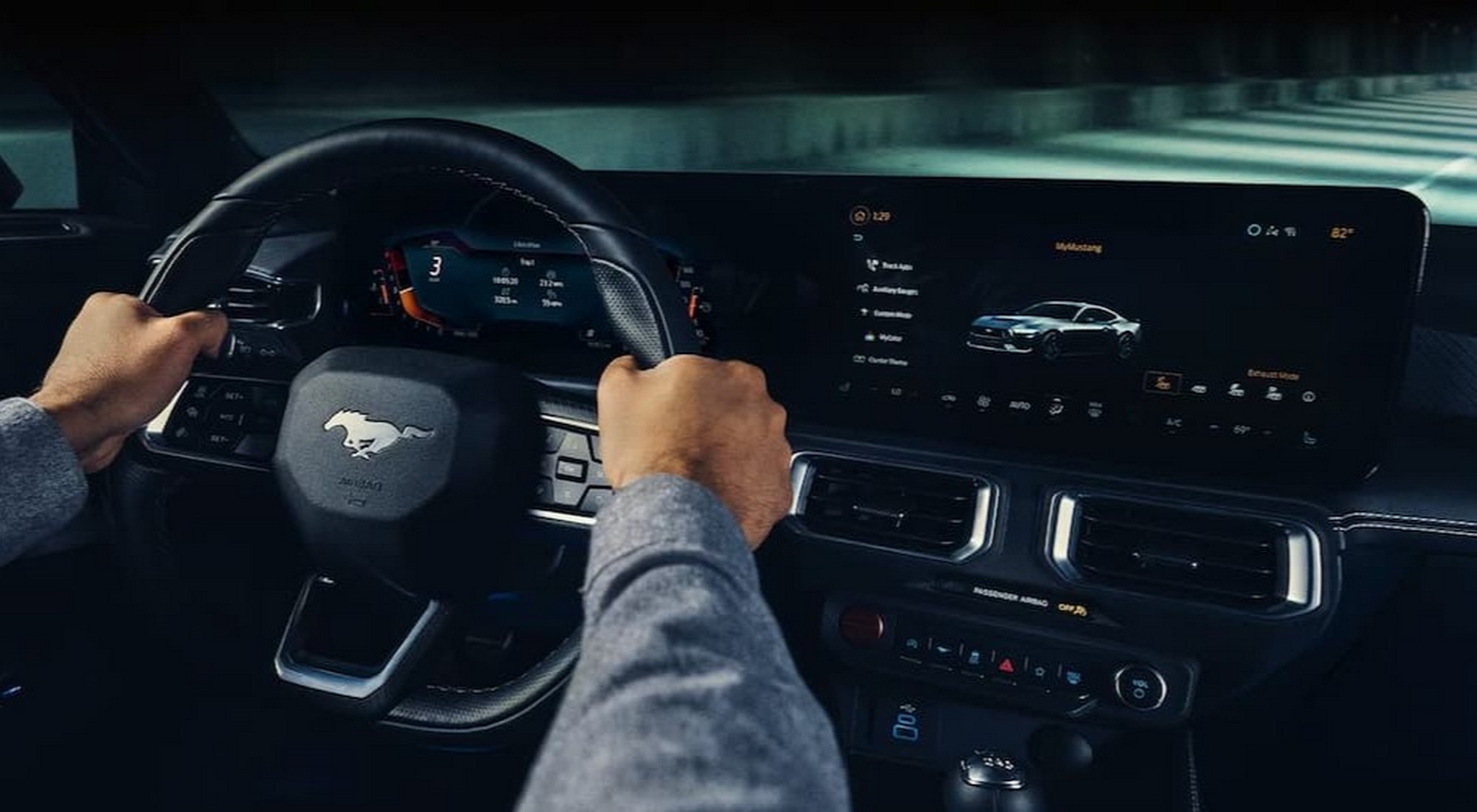 Photo Credit: carlifenation.com
Paddle shifters mounted on the steering wheel put the control firmly in your hands, allowing you to manually select gears with lightning-quick responsiveness. This feature not only adds an element of engagement to your driving experience but also ensures you're always in the perfect gear for the road ahead. It's the best of both worlds – the convenience of an automatic transmission and the thrill of a manual gearbox, all at your fingertips.
In the pursuit of perfection, Ford's engineers have also equipped the Dark Horse with an array of performance-enhancing technologies. The optional magnetic ride control system continuously adjusts suspension damping in real-time, optimising traction and handling.
The Dark Horse boasts a 12.4-inch digital instrument cluster positioned in front of the driver, offering the flexibility of customizable screens, including various driving modes. This seamlessly transitions into a generous 13.2-inch digital infotainment screen.
Photo Credit: Motortrend.com
And let's not forget the braking power. Enormous 15.3" brake rotors fitted with Brembo brakes with six-piston front calipers ensure that the Dark Horse can rein it in when needed. Whether you're attacking corners on the racetrack or navigating the daily commute, these brakes inspire trust, ability, and confidence.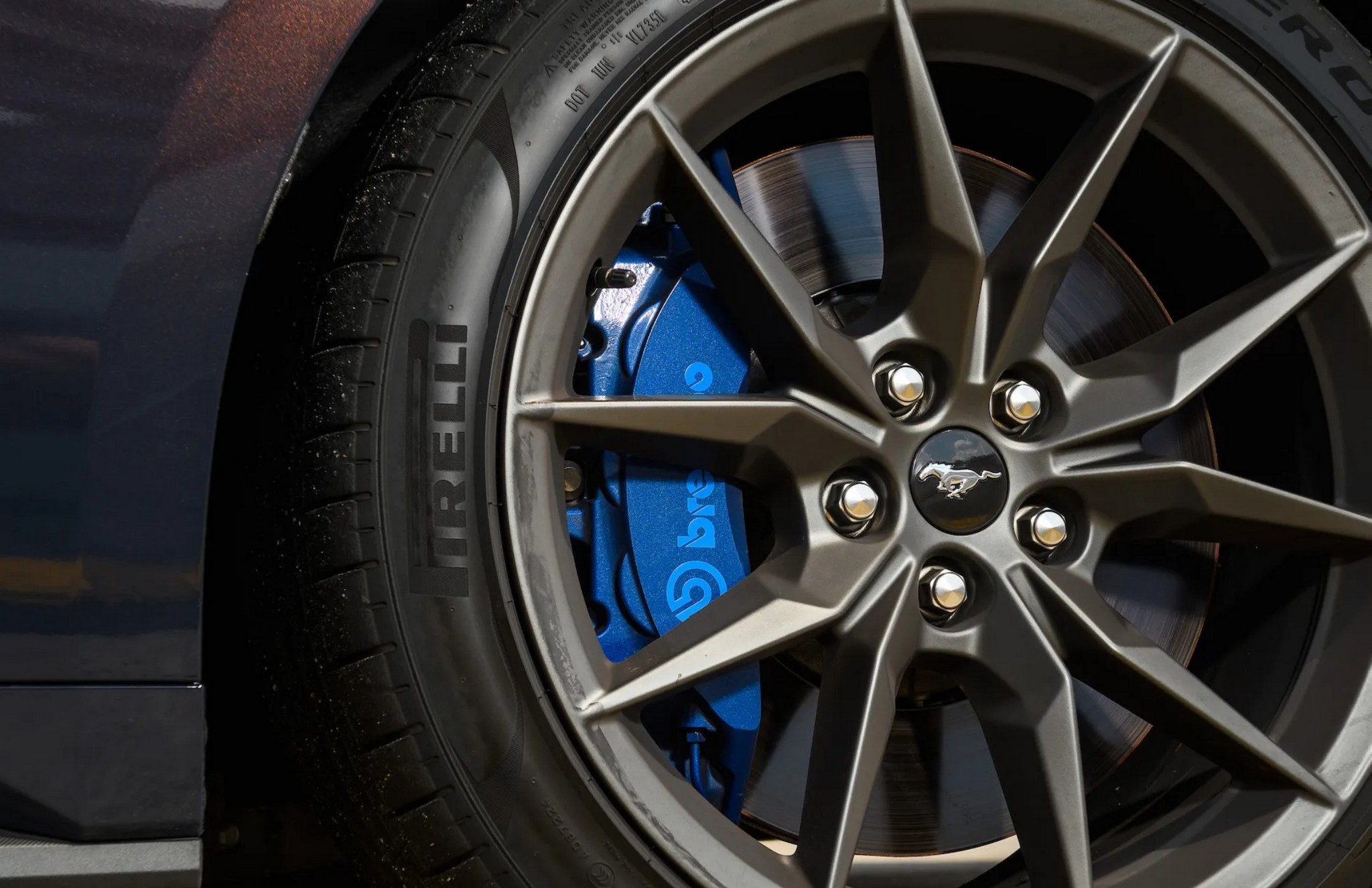 Photo Credit: Motorauthority.com
In the world of high-performance vehicles, the 2024 Ford Mustang Dark Horse stands as a true masterpiece, where raw power meets meticulous precision. It's a blend of engineering excellence that offers an unrivalled driving experience, inviting enthusiasts to push the boundaries of what's possible on the road.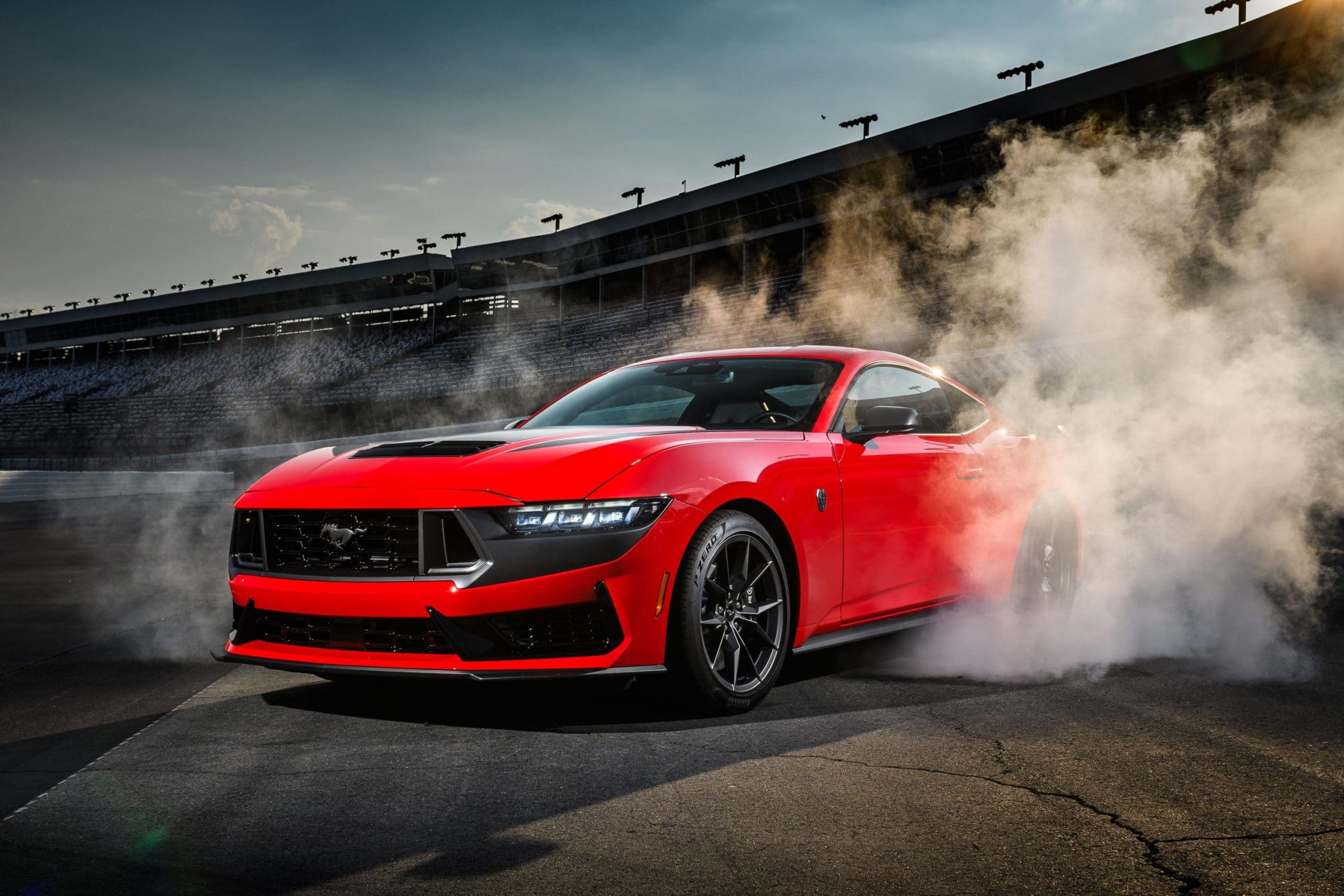 Photo Credit: CarExpert.com.au
Dark Horse vs. Dark Horse Premium: Exploring the Key Differences
When it comes to the world of high-performance sports cars, the Ford Mustang has long been a household name, known for its power, style, and iconic design.
The 2024 Mustang Dark Horse and Dark Horse Premium are two variants that continue this tradition, each offering a unique blend of features and options that cater to different driving preferences and lifestyles. In this comparison, we'll look at the slight distinguishing elements of these two thrilling models to help you decide which one suits your tastes and needs.
Spoiler Alert: Exterior Styling
Like the kin under the Dark Horse, both the 2024 Mustang Dark Horse and Dark Horse Premium share a common design language, featuring a Performance Rear Spoiler painted in Tarnish Dark. This spoiler not only enhances aerodynamics but also adds an aggressive touch to the Mustang's profile. For those who crave even more visual drama, the Dark Horse Premium offers an optional Performance Rear Spoiler with a Gurney Flap, painted in Shadow Black, further elevating its aesthetics and performance potential.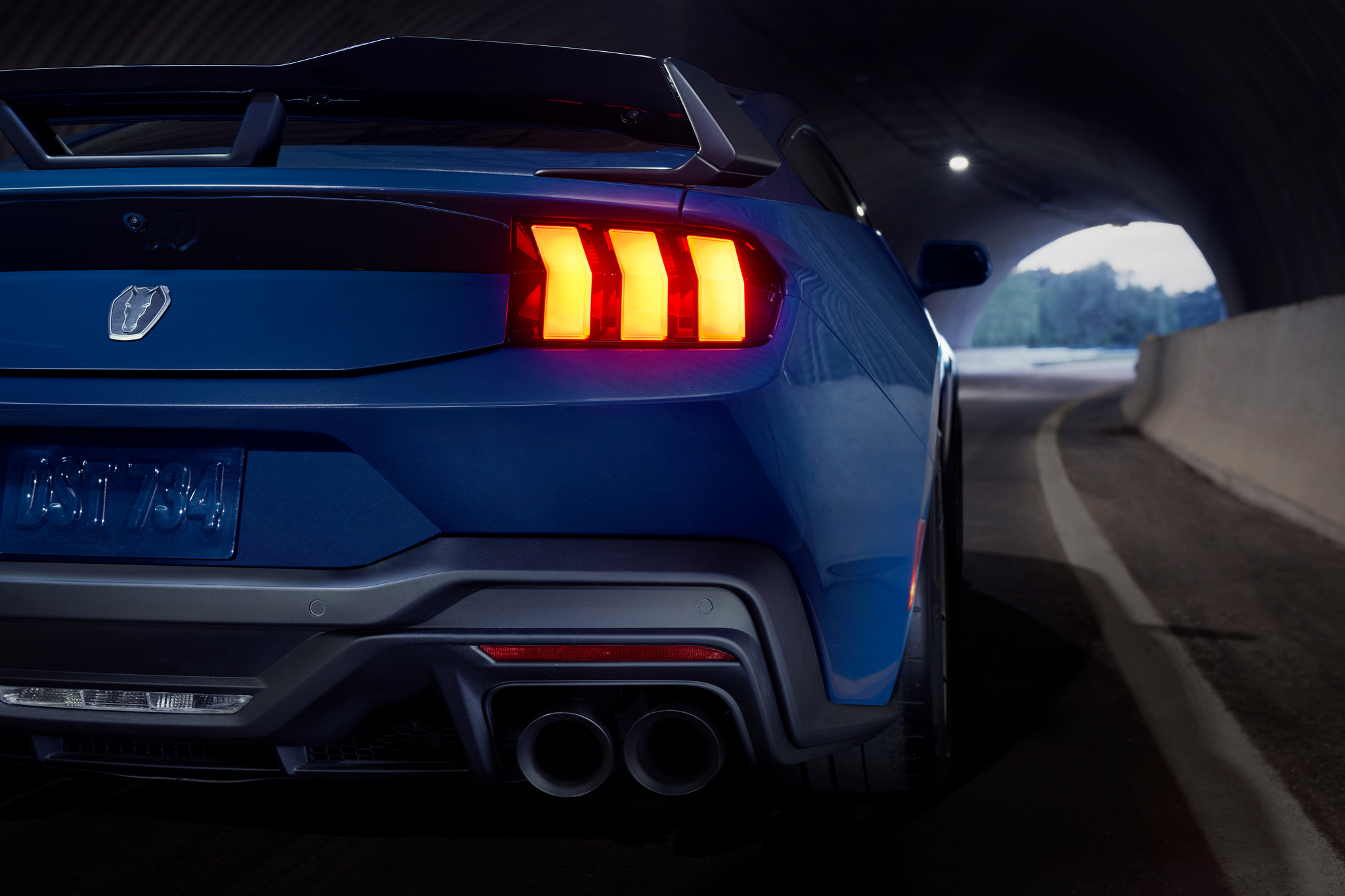 Photo Credit: Ford Media
Access and Security: Anti-Theft and Convenience
Security and ease of access are essential aspects of any modern sports car, and both these Mustangs have you covered. Intelligent Access with Push-button Start comes standard in both models, allowing for a seamless entry and ignition process. Additionally, the Dark Horse Premium boasts a Universal Garage Door Opener, making it a convenient choice for those who appreciate the finer details of daily driving.
Interior Comfort and Style
Inside the cabin, both the Dark Horse and Dark Horse Premium share some similar interior features. They both include a Center Console with Full Armrest, making it easier to store your essentials and providing added comfort during long drives. Furthermore, they come equipped with an Electric Hand Operated Parking Brake, which can also be used for those exhilarating drifts, adding a layer of excitement to your driving experience.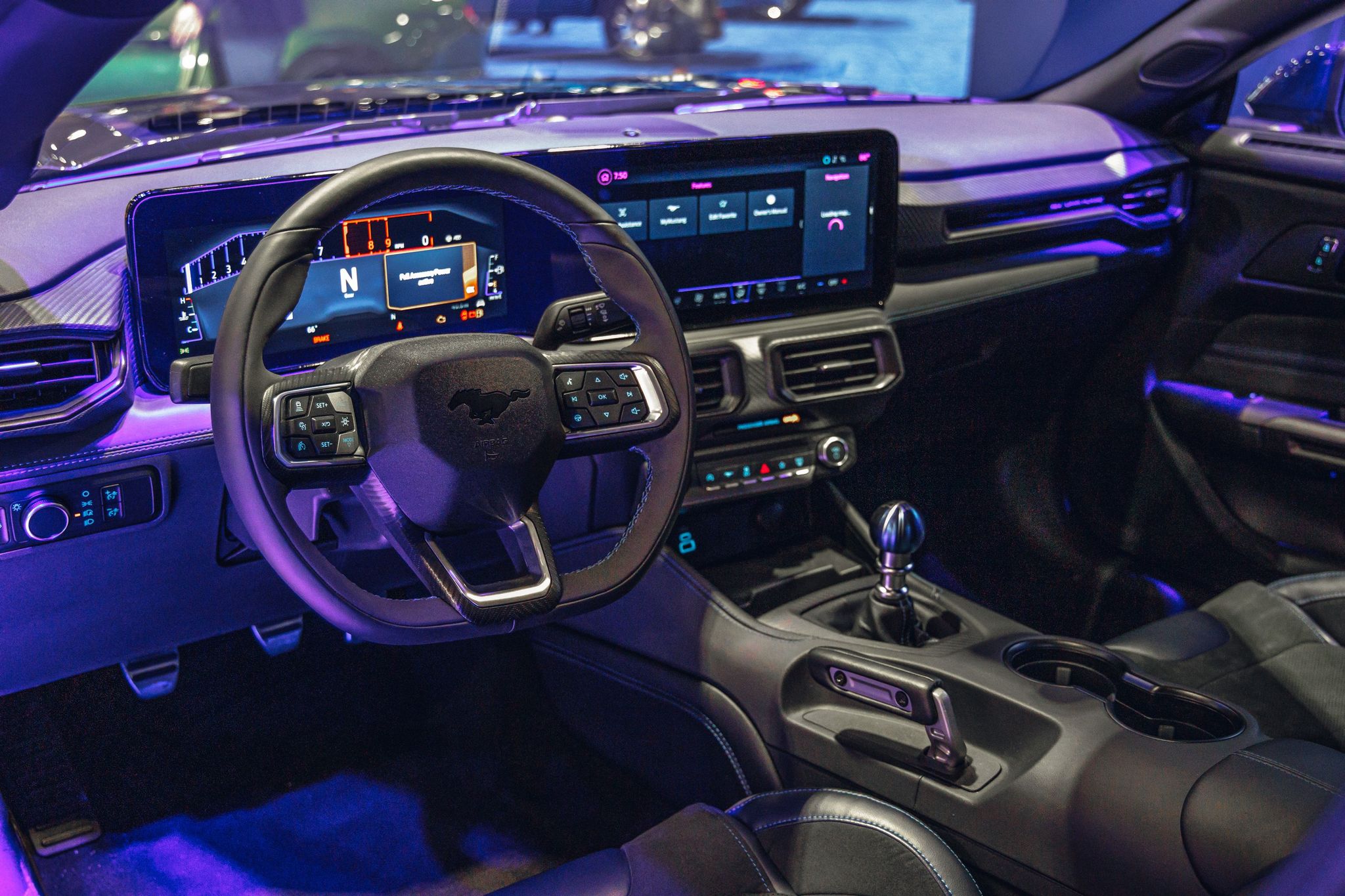 Photo Credit:caranddriver.com
However, where the two models begin to differentiate themselves is in the finer interior details. The Dark Horse comes with Foot Pedals in Black, giving it a sporty and aggressive appearance. In contrast, the Dark Horse Premium takes it up a notch with Aluminum Foot Pedals, adding a touch of sophistication to its cockpit.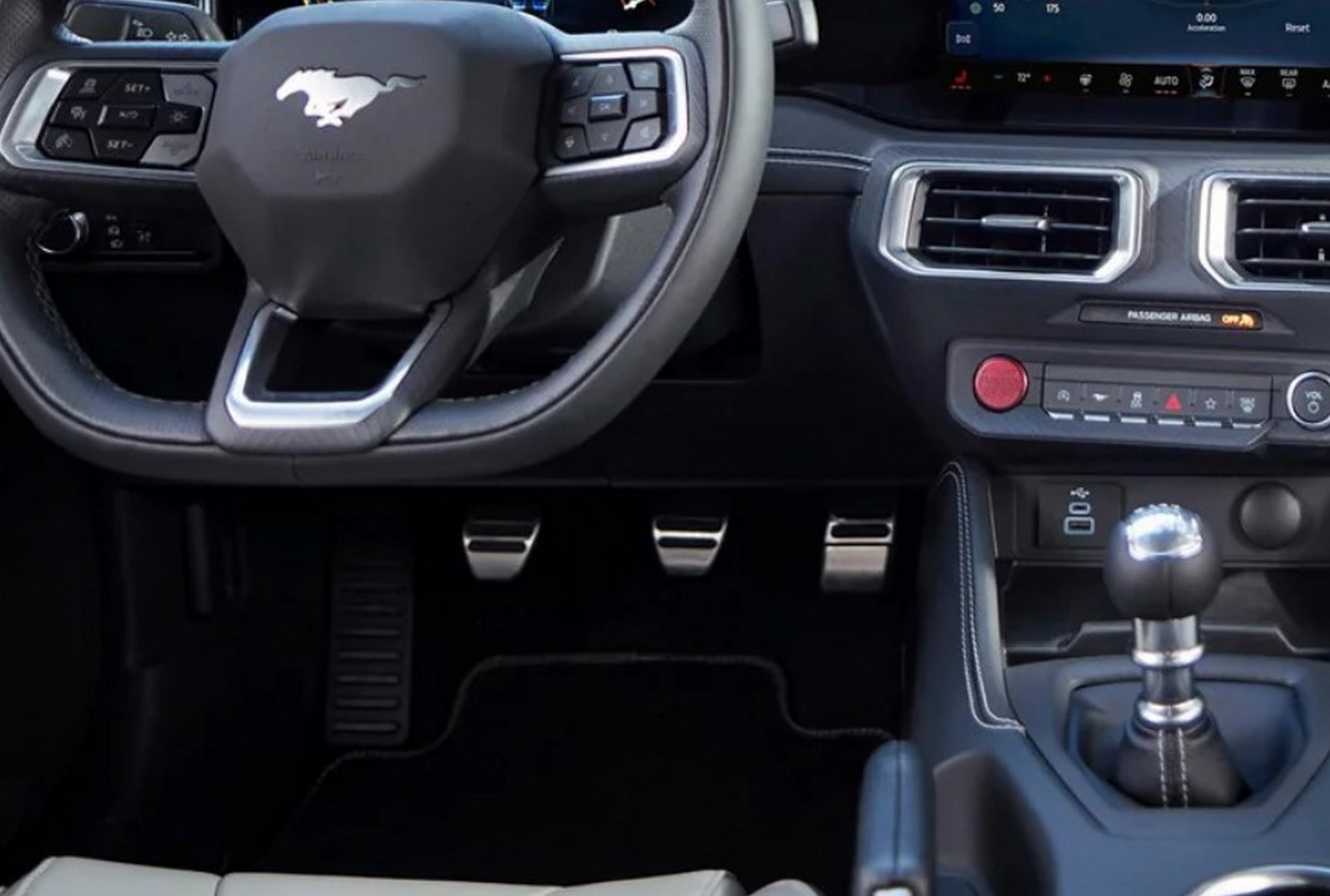 Photo Credit: Ford.com
Seating Options: Comfort and Performance
The Mustang Dark Horse starts with Cloth Front Bucket Seats with Vinyl Trim, providing a comfortable and supportive seating arrangement. For those who desire a sportier experience, the option for RECARO® Micro/Suede Sport Seats is available, catering to enthusiasts who crave maximum performance and support during spirited drives.
Photo Credit: The West Australian – 2024 Dark Horse Review
Customization and Packages
To cater to a range of tastes and needs, both models offer equipment group packages. The Dark Horse offers Equipment Group 600A as an available option, allowing you to customize your Mustang to some extent. On the other hand, the Dark Horse Premium presents Equipment Group 700A as an option, providing even more choices for personalization.
The 2024 Mustang Dark Horse and Dark Horse Premium are two exceptional variations of the iconic Ford Mustang. While they share several key features such as the Tarnish Dark Performance Rear Spoiler and Intelligent Access, they also offer distinct elements to cater to different preferences.
Whether you prioritize style, performance, or a blend of both, these Mustangs have something unique to offer, ensuring that the thrill of driving a Mustang remains as exciting and diverse as ever. Ultimately, the choice between the Dark Horse and Dark Horse Premium comes down to your personal taste and the driving experience you seek in this American legend.
2024 Mustang Mustang Dark Horse Specifications
Engine

Engine Type

Displacement

Transmission

Rear Gear Ratio

5.0L Ti-VCT V8 Engine

Naturally Aspirated V8

5.038L

6 Speed Manual
10 Speed Automatic

3.55 Standard
3.73 (option)
3.15 (option)

Horsepower
500 @ 7,250rpm (93-octane fuel)
Torque
418 @ 4,900rpm (93-octane fuel)
0-60 MPH
3.7
Quarter Mile Time
12.5 seconds @ 115 mph
Top Speed
165 mph
Curb Weight
Wheel Base
Length
Width
Height
Passenger Volume
Trunk Volume
3827 lbs (Manual) 3832 lbs (Automatic)
107.1 inches
189.7 inches
75.5 inches
55.2 inches
82.8 cu ft (Fastback)
13.5 cu ft (Fastback)
Suspension (F/R) 

Front Brakes

Rear Brakes

Wheels & Tires

Strut/Multilink / MagnaRide Suspension

390mm with 6 Piston Brembo Caliper

340mm 4 Piston Brembo Caliper

19″ x 9.5″ (F)/19″ x 10″ (R) Tarnished Dark-painted Low Gloss Aluminium

19″ x 10.5″ (F)/19″ x 11″ (R) Tarnished Dark-painted Low Gloss Aluminum (Dark Horse™ Handling Package)

19″ x 9.5″ (F)/19″ x 10″ (R) Carbon Fiber (optional) [Late Availability]

19″ x 10.5″ (F)/19″ x 11″ (R) Carbon Fiber (optional) [Late Availability]

Base Price
$57,270 (USD)
Available Exterior Colours
The 2024 Mustang Dark Horse variant offers a selection of exterior colour choices, including:
Vapor Blue Metallic
Atlas Blue Metallic
Grabber Blue Metallic
Blue Ember (Premium Only)
Carbonized Grey
Dark Matter Grey Metallic
Race Red
Shadow Black
Oxford White
Available Vinyl Stripes
Gloss Black with Pattern and Tarnish Dark Anodized Accent
Tarnish Dark Low Gloss/Gloss with Pattern
Available Interior Colors
The 2024 Mustang Dark Horse interior is available in the following colours:
Deep Indigo
RECARO Vinyl Seats with Micro-Suede Inserts
2024 Mustang Dark Horse Videos
We found some great videos about the 2024 Mustang Dark Horse
2024 Ford Mustang Dark Horse Photo Gallery