The 2023 Mustang 2.3L High Performance serves as irrefutable proof that big things do, at times, come in small packages. Though many are quick to pass on any Mustang not equipped with a V8 powerplant, Ford's newest 4-banger has proved its merit and is beginning to redefine Ford's performance culture as a whole.
Ford's 2023 Mustang High Performance harnesses the power of the automaker's turbocharged 2.3L EcoBoost 4-cylinder. With 330 horsepower on-tap, few could snub the 2.3L High-Performance, or downplay its position within the year's model lineup. In fact, in this case, one might be inclined to check their "no replacement for displacement" bravado at the door.
Something New, Something Old
While most would rightfully imply that the Mustang's entire existence is owed to Ford's heavy leaning upon V8 muscle throughout its production life, there have also been multiple points in which smaller powerplants have taken center stage in the Mustang stable. In fact, the Mustang lineup itself was likely saved from discontinuation during the 1970s, when Ford bet big on small power, as newly-enacted EPA mandates and fuel shortages crippled the industry.
Let us not forget that the Mustang II, when first released, was not offered with any form of available V8 power. Though consumer response to Ford's use of a 2.3L I4 was surprisingly positive, this powerplant served as little more than a stop-gap, as the manufacturer strived to fend off the hardships of the era.
Then, during the 1980s, Ford issued a new Mustang, which was somewhat radical for the time in which it was produced. The SVT Mustang and its turbocharged 2.3L I4 debuted to significant fanfare, paving the way for the EcoBoost-powered Mustangs of the current era.
Why the 2023 Ford Mustang 2.3L High Performance Isn't Your Typical Four-Cylinder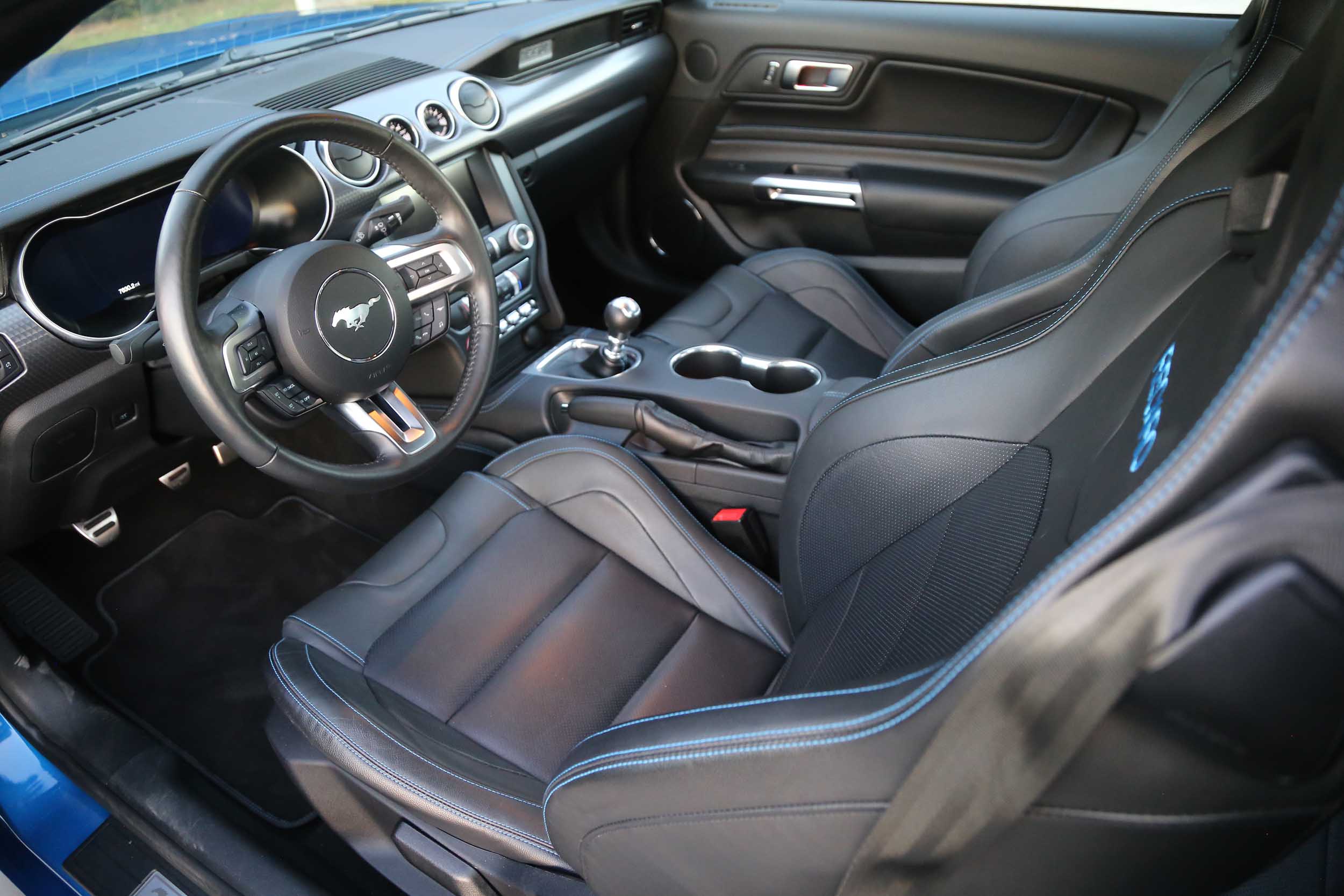 The 2023 Mustang 2.3L High Performance expertly compliments its V8-equipped stablemates. This potent Pony dishes out ample power to meet the needs and wishes of most consumers, while also justifying its existence by stretching its owner's gas dollars ever further, through efficient fuel usage.
Horsepower, Torque, & Key Performance Stats
The 2.3L High Performance draws its merit from Ford's highly popular Ecoboost engine platform, which equips an already-hearty I4 base engine, with forced induction technology via highly efficient turbochargers. This pairing yields a total rated output of 330 horsepower and 350 lb-ft of torque, as well as a top speed of 155 MPH.
Transmission Options
Consumers can choose between a 10-speed automatic transmission or a 6-speed manual when purchasing the 2023 2.3L Mustang High Performance. Output from either transmission is directed through a set of 3.55 limited-slip rear axles.
New Features & Upgrades
Aside from its turbocharged powerplant, Ford was also quick to outfit the 2023 High Performance with a host of additional tech. Some of the most noteworthy of these additions include an upsized radiator, beefier Brembo brakes, and Ford's Active Valve Performance Exhaust. Ride stability is also enhanced through custom chassis tuning.
Cosmetically, the 2023 Mustang High Performance is also something to behold. The 2.3L High Performance comes equipped with a GT Performance Package front splitter and custom machined-face aluminum wheels. Also present is a custom hood accent stripe, reminiscent of that found on many high-output Mustangs of the foregone era.
Interior Details
The interior of the 2023 High-Performance Mustang is also quite refined, featuring a number of custom accents. Some of the most notable of these interior features include an engine-spun aluminum instrument panel and an upgraded gauge pack.
2023 Mustang 2.3L High Performance
| | |
| --- | --- |
| Engine | 2.3L 4 Cyl engine |
| Horsepower | 330 horsepower |
| Torque | 350 lb-ft of torque |
| 0-60 MPH | 4.7 seconds |
| Quarter Mile Time | 13.1 seconds |
| Top Speed | 155 mph |
| Weight | 3,492 – 3,913 lbs |
| Base Price | $6,150 High Performance Package + Base cost of Specific Model |
Available Exterior Colors
The 2023 Mustang 2.3L High Performance model is available in:
Atlas Blue
Oxford White
Grabber Blue
Race Red
Carbonized Gray
Iconic Silver
Dark Matter Gray
Shadow Black
Rapid Red
Mischievous Purple
Eruption Green
Available Interior Colors
The 2023 Mustang 2.3L High Performance model interior is available in:
2023 Mustang 2.3L High Performance Videos
We found some great videos about the '23 Mustang 2.3L High Performance Mustang: