Carroll Shelby and the Mustang's Legacy
Today, it is universally accepted that Carroll Shelby played an undeniably pivotal role in shaping the Mustang's legacy. After all, Shelby and his charismatic demeanor toward all things performance-oriented in nature, transformed the Mustang from a sporty grocery-getter of sorts, into a dominant force within the racing landscape, all in a matter of a few short years.
Ford has now set out to commemorate Shelby's efforts by unveiling a heritage-inspired rendition of one of the designer's most ambitious creations, the GT500. The 2022 Shelby Mustang GT500 Heritage Edition blends modern performance aptitude with a host of not-so-subtle "Shelby-isms" to create a memorable performance car that even Shelby himself would find significantly favorable.
Paying Homage to Perfection
There are few Mustangs as desirable and universally revered as the 1967 Shelby GT500. In celebration of this legendary pony car's 55th Anniversary, Ford dove headlong into creating a limited-edition Mustang worthy of the same level of respect.
While the 2022 Shelby Mustang GT500 Heritage Edition does not bring anything new to the table in terms of performance, most would agree that the base GT500's 5.2L V8 engine already provides enough performance bravado to meet the needs of most consumers. However, the true value behind the 2022 GT500 Heritage Edition's release comes in the form of its retro styling cues, which are sure to provide a nostalgic experience for those who still recollect the former Shelby era.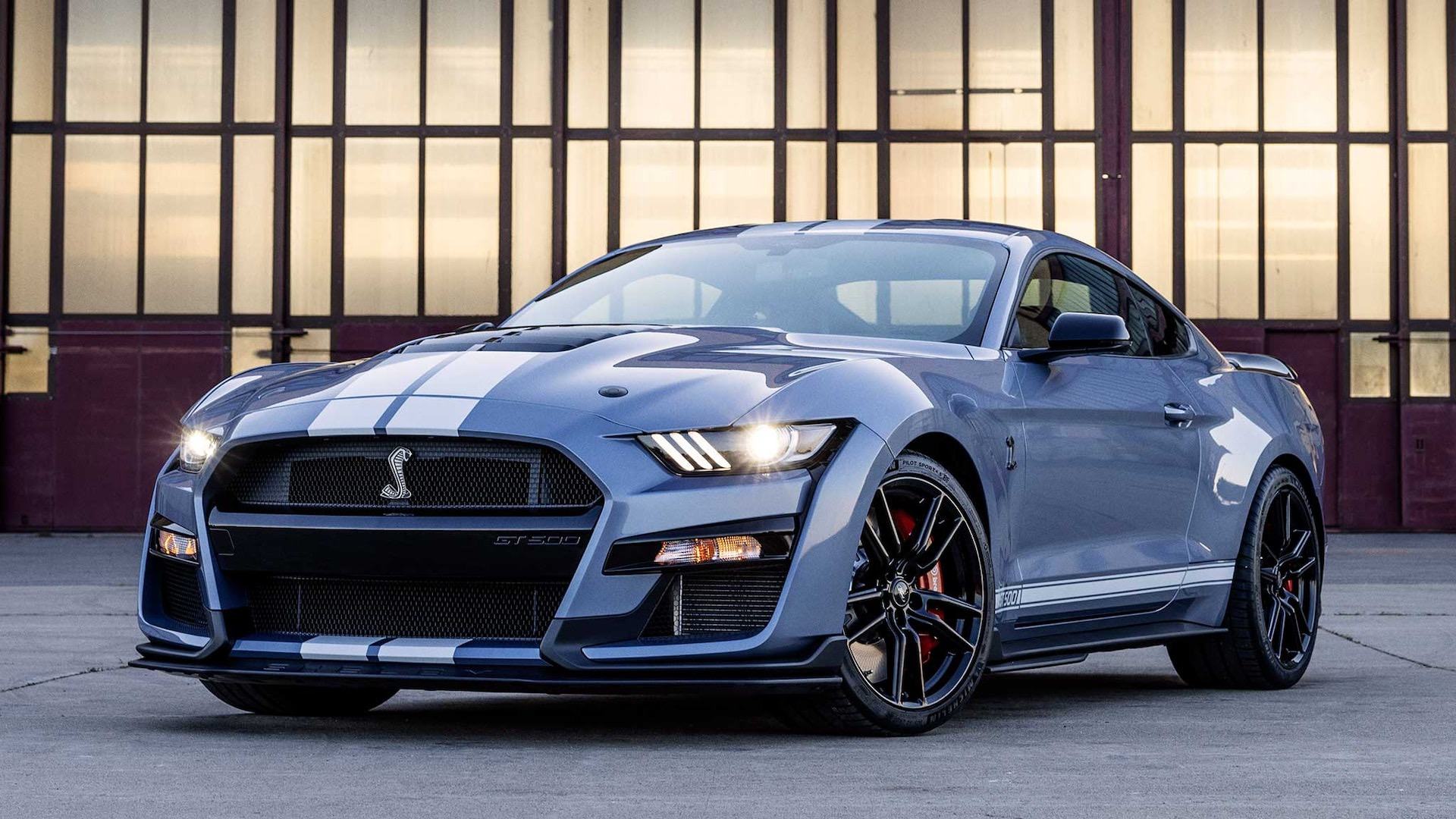 A Living Legend
Though the world lost Carroll Shelby a decade ago, the 2022 Shelby Mustang GT500 Heritage Edition serves as a living testament to the design luminary's efforts. This specialty Mustang showcases a striking Brittany Blue paint scheme, complete with a couple of unique graphics packages, both of which are aimed at bestowing the GT500 with a certain amount of "Shelby-Esque" flair.
Those springing for the Heritage package can choose between hand-painted or vinyl racing stripes. However, those opting for vinyl striping can also choose to have custom side striping added to the exterior of their 2022 GT500 as well. These striping kits are available in both Wimbledon White and Absolute Black.
Performance Comes Standard
Underneath its overtly striking appearance, the 2022 Shelby Mustang GT500 Heritage Edition is every bit as much the dominant performer as its standard GT500 counterpart. Beneath the GT500's hood resides a fire-breathing 5.2L V8, which produces 760 horsepower, as well as 625 lb-ft of torque. This engine's power is delivered downstream through a seven-speed Tremec dual-clutch transmission.
Prior testing has indicated that the 2022 GT500 is capable of posting 0-60 MPH times of only 3.4-seconds. For reference, this is a full 3-seconds faster than the 1967 GT500, to which the 2022 Heritage Edition pays homage. The 2022 Shelby Mustang GT500 Heritage Edition has also recorded a blistering ¼ mile time of just 11.3-seconds, with a top speed of 132 MPH.
Owning a Piece of History
The 2022 Shelby Mustang GT500 Heritage Edition officially entered the market on November 15th, 2021, at which time Ford received a multitude of orders. Those who placed their order in time began taking shipment of their Heritage Edition GT500s in the spring of this year. To date, little has been mentioned by Ford regarding whether or not the full quota has been reached for 2022 Heritage Edition production.
The 2022 Shelby GT500 Heritage Edition was marketed for a retail price of $78,835, which is $2,140 above the base GT500's asking price, after factoring in the vehicle's mandatory "gas-guzzler tax" and destination fee. Those opting for hand-painted stripes were subject to an additional $10,000 fee.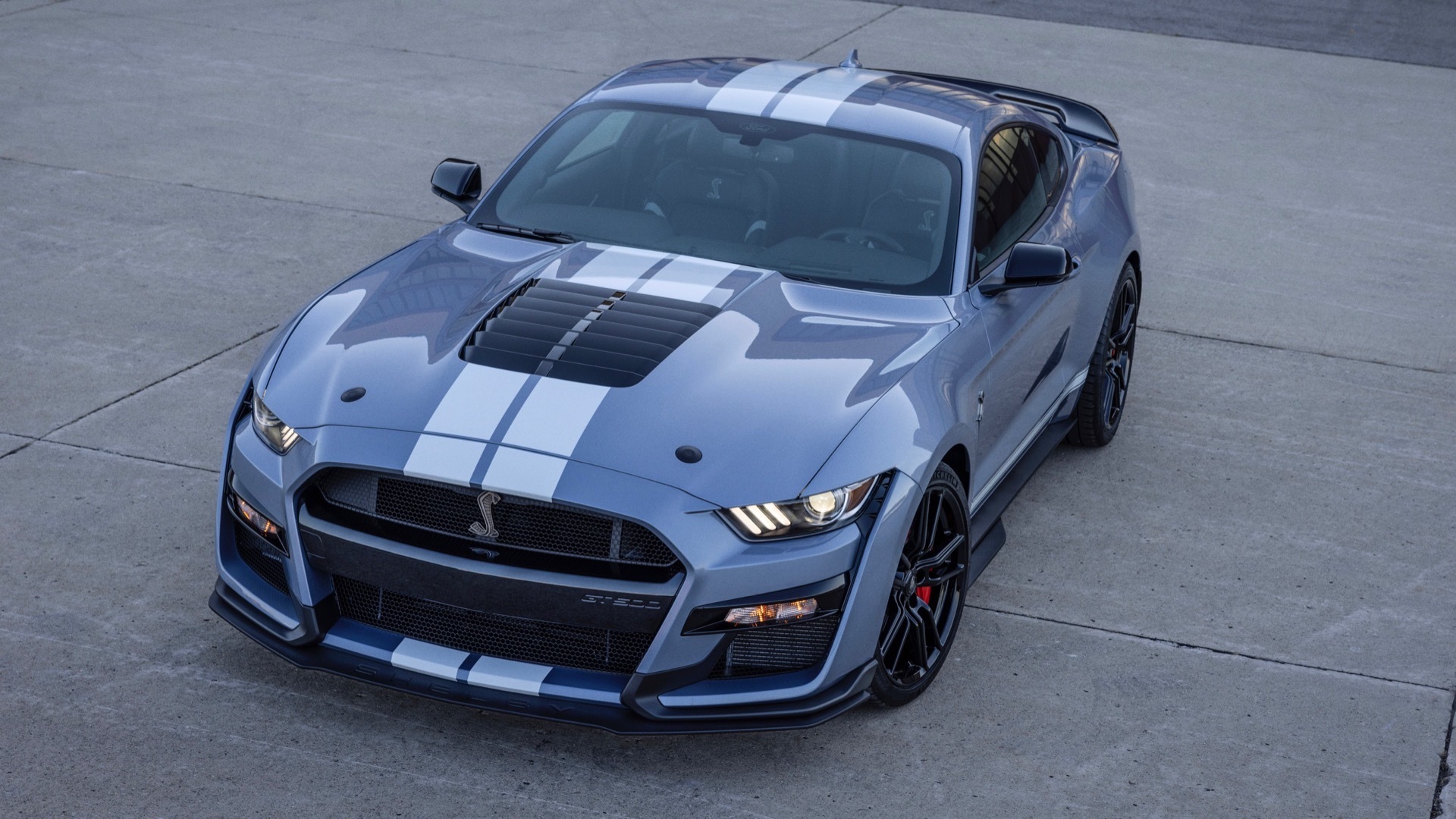 2022 Shelby Mustang GT500 Heritage Specifications
Engine
5.2L V8 engine
Horsepower
760 horsepower
Torque
625 lb-ft of torque
0-60 MPH
3.4 seconds
Quarter Mile Time
11.3 seconds
Weight
4,171 lbs
Base Price
$76,695

Heritage Package with Vinyl Stripes + $2,140

Hand Painted Stripes + $10,000
Available Exterior Colors
The 2022 Shelby Mustang GT500 Heritage model is available in Brittany Blue, and consumers have the option of two different stripes, either in Wimbledon White or Absolute Black. Customers also have the option of vinyl stripes for hand-painted stripes.
Available Interior Colors
The 2022 Shelby Mustang GT500 Heritage model interior is available in ebony with white accents.
2022 Shelby Mustang GT500 Heritage Videos
We found some great videos about the '22 Mustang GT500 Heritage Model: