2018 Ford Mustang
For 2018, the Ford Mustang is available with turbocharged 2.3-liter EcoBoost inline 4 in the base model or the 5.0-liter Coyote V8 in the Mustang GT. Performance Packs are available with either engine and both standard and Premium trim levels. Cloth seats are standard, and leather is optional. Once again, there is a wide variety of exterior paint colors and available stripes, interior colors and trim choices as well as wheels and spoilers. The turbocharged 2.3-liter four-cylinder engine gains 20 pound-feet of torque this year for a total of 310 horsepower and 350 lb-ft of torque and the V8 also gets a nice power boost. Many minor changes were made to the exterior of the 2018 Mustang, but the overall look is still relatively the same.
| | |
| --- | --- |
| Model: | 2018 Ford Mustang |
| Generation: | 6th Generation Mustang |
| Type: | 2 Door |
| Body Styles: | Fastback, Convertible |
| Engines: | 2.3L Turbo 4, 5.0L DOHC V8, 5.2L DOHC V8 |
| Original Price: | $25,680 (Base Fastback), $31,180 (Base Convertible) |
| Units Produced: | 108,540 |
Additional 2018 Mustang Research: 2018 Research Center / Colors Details / Production Numbers / Prices & Options / Sales Brochures / Owner Manuals / Maintenance / Pictures / Videos / VIN Decoder / Special Editions
Background & Details
The 2018 Mustang got a number of big changes for its mid-cycle update and makeover for the sixth generation Mustang. The refreshed 2018 Mustang arrived at dealerships in fall of 2017 and Ford showed us:
A heavily refreshed model for 2018

Increased horsepower for both engines

New 10-speed automatic transmission option

Available MagneRide adaptive suspension

Line-lock mode added to EcoBoost models

V-6 engine discontinued
Design wise the Mustang looks mostly the same but there are several tweaks that modernize it. The 2018 Mustang gets a more aggressive front clip including standard LED headlights and available LED foglights, and a lower hood with new vents. The nose of the hood has been dropped by almost an inch, which makes the front appear sleeker. LED headlamps inside the headlight clusters are now standard, and the LED daytime running lights have been restyled. The foglights also get the LED treatment and now sit a little bit higher. At the back of the car Ford has also revised the LED taillights and rear fascia, and added quad exhaust tips for the GT. The 2018 Mustang also gains new paint colors, four spoilers, new stripe options, more wheel choices, and more.
In the rear, the taillights and lower rear valence have been restyled as well. GT models add a quad exhaust system with four functional tailpipes. The Performance Package also gets a new spoiler, which I saw on the GT model that Ford displayed. It is not subtle, but I thought it was prominent enough to be notable without being garish.
Inside, the 2018 Mustang gains a new customizable 12.o-inch digital instrument cluster with Track Apps, a heated leather steering wheel, and revived interior trim. The addition of Sync 3 with Sync Connect are worthy mentions. There is a new Mustang badge on the dash, new finish for the rings and bezels, and a brushed-aluminum start button that replaces the plastic one. Overall, the interior feels a little more higher end than the 2017 model.
The digital cluster offers different appearances depending on the Mustang's drive mode and many customization options are available. In Normal mode, the cluster looks like a standard instrument panel but switch into Sport and things start to change. The tachometer unfurls and wraps around the left side and top of the screen like a candy cane to give the driver a better  view of where the Mustang is in the rpm range. Track mode simplifies the screen with a color-coded rpm bar across the top and the speed is displayed in a large, easy-to-read font in the middle.
Ford also expanded the capability of the track lap timer and the quarter-mile timer; the larger screen means it can show the driver the results of the last 12 hot laps or the last set of quarter-mile times with zero-to-60-mph time, reaction time and other information laid out in a table for each run. During the refreshed Mustang's debut, Ford engineers showed off a screen with a Formula One-style tachometer that moves from green to yellow to red in order to show optimal shift points when on the track.
Drivers also will be able to customize the background colors and layout of the screen, picking elements from different screens to put into a personalized view that they are most comfortable with. These settings will remember preferences for the steering and suspension. New active safety tech for the 2018 model year included distance alert, lane departure warning, pedestrian detection, and Pre-Collision Assist system that adds automatic emergency barking to the forward collision warning system.
Under the hood things get more interesting. The Mustang doesn't get any new engines in this refresh, but the 3.7-liter V-6 has been discontinued, replaced by the powerful turbocharged 2.3-liter four-cylinder EcoBoost. The 5.0-liter V-8 found in GT models is back again. Both engines have been upgraded. Internal upgrades to the V-8 include a new port fuel direct injection system, increased compression and an updated intake exhaust manifold.
The six-speed manual has been updated for both engines, and V-8 models gain a twin-disc clutch and dual-mass flywheel for better torque capability. The previously available six-speed automatic has been replaced by an all-new 10-speed automatic. There is a new transmission option, Ford's new 10-speed automatic. The 10-speed will be available with both the EcoBoost and V-8 engines and Ford says it will not only shift quicker, but will also improve fuel economy for both engines, though exact EPA figures were not yet available.
There are also suspension updates too with all Mustang models getting new shock absorbers, a new cross-axis joint in the rear suspension and new stabilizer bars. The Mustang Performance Package also adds an available MagneRide adaptive damping system found previously on the Shelby GT350 Mustang and, perhaps more importantly, on SS versions of the Camaro since 2015.
Also new for 2018 for GT models will be an active valve performance exhaust, which can open up to offer an even more raucous soundtrack when the throttle is pressed down on that big V-8.
Other performance upgrades include the revised Performance Packs which are available on all trims and engines. The Performance Pack now includes MagneRide dampers, a new Michelin performance tire, Brembo brakes, and more.
Our Take
It's the eight-cylinder GT coupe with the stick shift and the new Performance Pack 2 destined to set most enthusiasts' salivary glands a-humming. The changes Ford made to the 5.0-liter V8 for the new model year may not seem like much on paper—thanks to changes like dual fuel injection, a new crankshaft, and an extra 0.8mm of bore, horsepower is up 25 to 460 and torque is up 20 pound-feet to 420—but the minor changes add up to a bit more pep in this 'Stang's step. According to one Ford engineer, the Mustang GT now hustles from a stop to 60 miles an hour within spitting distance of four seconds flat—a bit longer for the six-speed manual, a bit sooner for the 10-speed automatic.
Mustang's Performance Package is very special for 2018. Substantive add-ons like heavy-duty front springs, a Torsen limited-slip diff, a bigger rear sway bar, and rejiggered tuning for both chassis hardware and safety system software, the package gives the car the handling prowess the long, low exterior promises. There's also a new Performance Pack Level 2 that really makes the Mustang an M3 competitor. Ford says that the Performance Pack Level 2 was the result of after-hours work by engineers to take the existing Mustang GT Performance Pack literally to the next level. Starting with the unique tuning, bigger brakes, and limited slip differential of the standard Performance Pack, Ford designed wider wheels—19×10.5-inch front and 19×11-inch rear—to support massive 305/30/R19 Michelin Pilot Sport Cup 2 tires. That's the same size tire used by the old Chevy Camaro Z/28.
In addition, the Mustang GT with Level 2 Performance Pack has been lowered another half inch and features stiffer springs and anti-sway bars, to firm up the ride even more than the previous Performance Pack. A unique front splitter and rear spoiler add even more downforce as well. A manual transmission is the only transmission available for the Performance Pack Level 2. Additionally, cloth Recaro seats—as well as leather buckets—are available for drivers who want to be held even more firmly in place.
The cheaper EcoBoost model still has plenty of appeal. The turbocharged 2.3-liter inline-four has an economy car drone, blended with the sound of an asthmatic hairdryer when the turbo spools up. But move past that, and the engine starts to win you over on brute power alone. With 310 horsepower to its name, the EcoBoost is roughly equal to a Mustang GT of just eight years back. It even has a cool Line Lock feature that lets you rip nice burnouts whenever you want. Pull it up on the instrument panel using the steering wheel-mounted buttons, set your rpm, and stomp on the gas like it's the biggest cockroach you've ever seen.
Both the Shelby GT350 and GT350R models each get a $1,000 price hike for the new model year, even though they both maintain the exterior styling from 2017 rather than sharing the new face of the 2018 Mustang in EcoBoost and GT trim.
Special Edition Models & Variants
The big news for the special model Mustangs for 2018 was the new Performance Pack Level 2, which was a collection of drive-enhancing components designed for – and by – people who love the thrill of taking the wheel of a true performance car. Ford engineers tinkered in secret to make this package work and that's the kind of thing us enthusiasts love. The 2018 Shelby GT350 and GT350R continued to serve as the premium performance models for the Ford Mustang and while there are no big changes for the new model year, there are some new options as well as a slightly higher starting price for 2018.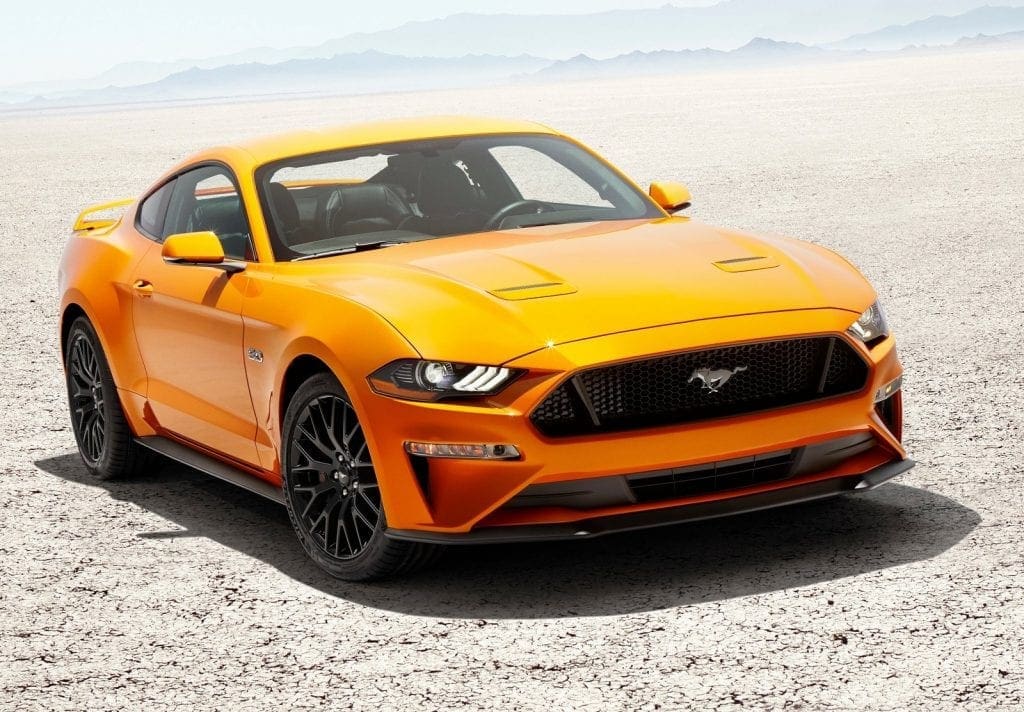 GT
The 2018 Mustang GT features a 460 hp 50L V8 (25 horsepower over the previous year), dual exhaust with quad tips, LED fog lamps, rear decklid spoiler, unique high-gloss black painted front grille, unique require valance, 3.55 limited-slip rear differential, engine cooler, reverse sensing system, SYNC, and silver arrow aluminum dash trim. Optional packages include the GT Premium, Premium Plus, Black Accent, Carbon Sport Interior, Ford Safe and Smart, GT Performance and GT Performance Level II. The Performance Pack Level 2 is a collection of drive-enhancing components designed for – and by – people who love the thrill of taking the wheel of a true performance car.
Learn more about the 2018 Ford Mustang GT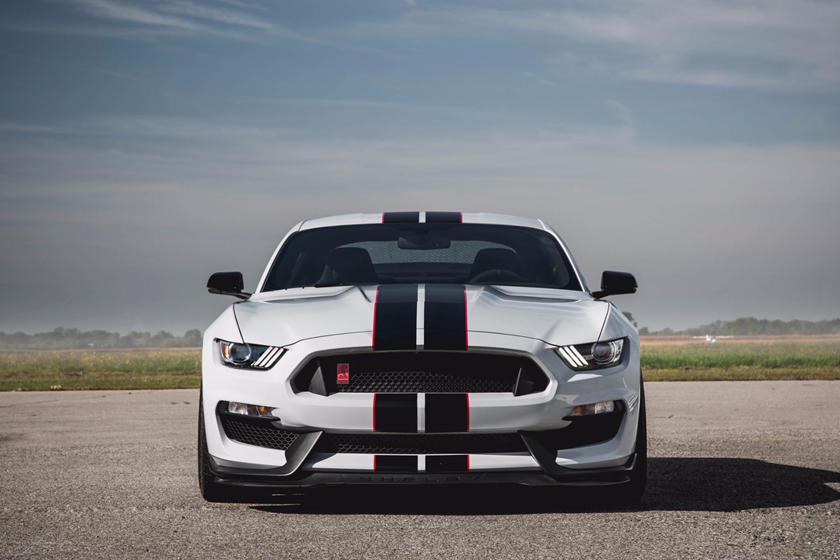 Shelby GT350
The 2018 Shelby GT350 follows the previous year and features the 526hp 5.2L V8 with flat plane crank, Tremec TR-3160 6-speed manual transmission, engine/transmission/differential coolers, vented aluminum fenders and hood, aluminum strut-tower, unique 19″ ebony black painted aluminum wheels, Michelin Pilot Super Sport tires, MagneRide damping system, stripes, logos and badges. A R Package includes upgrades wheels, tires, tuning, front air splitter, red accent stitching, red exterior stripe accents, carbon-fiber rear wing, wheel locks, and deletes air conditioning, audio system, floor mats, gauge pack, rear seat, rear camera, SYNC, and tire kit. A GT350R Electronic package adds most of that back.
Learn more about the 2018 Ford Mustang Shelby GT350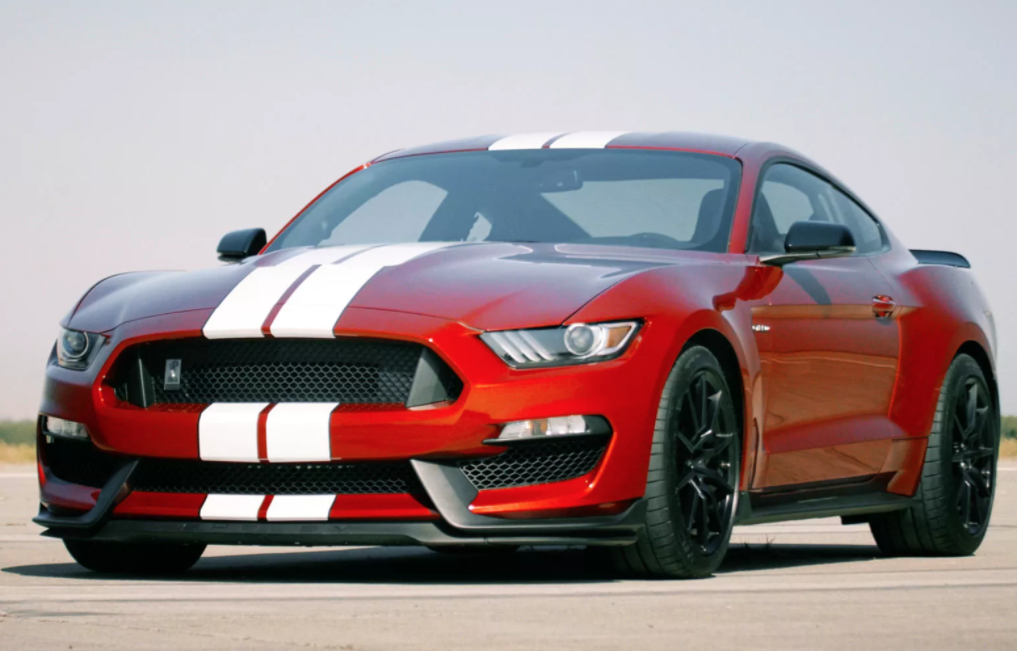 Shelby GT350R
The 2018 Ford Shelby GT350R starts at $65,545 with destination and the "R" model includes the same colors as the non-R while also having unique stripes ($475), but the same black painted roof ($695) and the same car cover ($375). The only option package for the 2018 GT350R is the R-Electronics Package.
Learn more about the 2018 Ford Mustang Shelby GT350R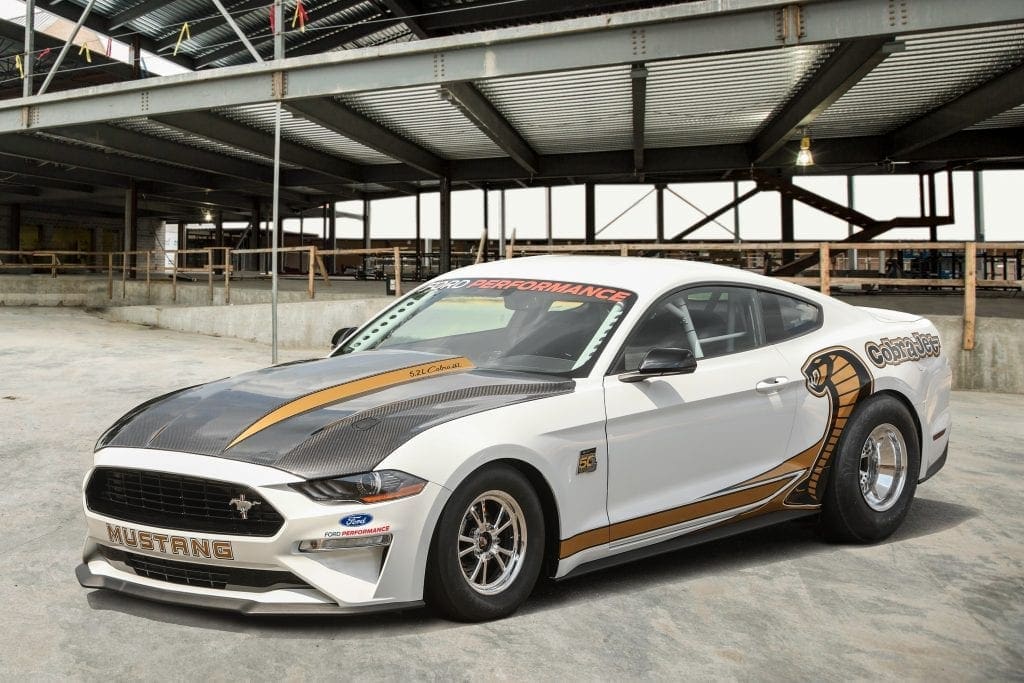 Cobra Jet
Ford revealed the new limited edition Ford Performance 50th Anniversary Mustang Cobra Jet turnkey race car – the fastest production Mustang on the drag strip; new model is capable of topping 150 mph with quarter-mile runs in the mid-eight-second range. The latest Cobra Jet pays homage to the original, which debuted at NHRA Winternationals in 1968, and made its first public appearance at Woodward Dream Cruise. Production limited to 68 cars, in tribute to its 1968 debut.
Learn more about the 2018 Ford Mustang Cobra Jet
Aftermarket Mustang Models
Coming Soon
Specifications, Options & Detailed Stats
Production Numbers
A total of 108,540 Mustangs were sold in 2018. Unfortunately, we cannot get our hands on the detail breakdown by variant or option. We continue to dig around for it so if you have that information definitely let us know.
Options and Pricing
The base Mustang continued to be a bargain at $25,680 while the same could also be said for the top of the range Shelby GT350 which was now almost $60,000 for performance equal if not better than the exotic competition from Germany. For 2018, Ford also has expanded the available color and customization options and created 10 new wheel designs (12 available wheels in total). There were also several new packages and other options that could be chosen too across all model variants. For more detailed options and pricing please check out our 2018 pricing and options research.
| Grouping | Description | Retail Price |
| --- | --- | --- |
| Base Car | 2 Door EcoBoost Fastback | 25,680.00 |
| Base Car | 2 Door EcoBoost Fastback Premium | 30,695.00 |
| Base Car | 2 Door EcoBoost Convertible | 31,180.00 |
| Base Car | 2 Door EcoBoost Convertible Premium | 36,195.00 |
| Base Car | 2 Door GT Fastback | 35,190.00 |
| Base Car | 2 Door GT Fastback Premium | 39,190.00 |
| Base Car | 2 Door GT Convertible Premium | 44,690.00 |
| Base Car | 2 Door Shelby GT350 Fastback | 57,240.00 |
| Base Car | 2 Door Shelby GT350R Fastback | 64,740.00 |
Exterior & Interior Colors
A total of 11 colors were available for the 2018 Mustang model year. Ford also has expanded the available color and customization options with three new colors (Orange Fury, Kona Blue and Royal Crimson) and for the first time since 2013 when it appeared on the Boss 302 Mustang, the white racing stripe is back. For detailed colors, color palettes, codes and interior colors please check out our in depth 2018 colors information post.
Engine Specs
The base car now had the 2.3-liter turbocharged inline four making 310 horsepower and 350 pound-feet of torque. The GT continued with the 5.0-liter V8, now making 460 horsepower and 420 pound-feet of torque, up from the prior year. The Shelby GT350 continued with the same Voodoo V8 with its 529 hp and 429 lb/ft of torque.
For more information on engines for 2018, you can find the information here.
| Engine Name & Year | Fuel | Compression | Power (hp @ RPM) | Torque (lb/ft @ RPM) |
| --- | --- | --- | --- | --- |
| 2018 - 315 Ford Voodoo V8 (5.2L) | DOHC | 12.0:1 | 526 hp @ 7500 RPM | 429 lb/ft @ 4750 RPM |
| 2018 - 302 Coyote V8 (5.0 L) | DOHC | 12.0:1 | 460 hp @ 7000 RPM | 420 lb/ft 4600 RPM |
| 2018 - 137 EcoBoost Inline 4 (2.3 L) | Turbo | 9.5:1 | 310 hp @ 5500 RPM | 350 lb/ft @ 3000 RPM |
Dimensions & Weight
There were no major changes to the dimension and weight of the main models.
| Description | Measure |
| --- | --- |
| Wheelbase | 107.1 inches |
| Exterior Length | 188.3 inches |
| Exterior Height - Fastback | 54.4 inches |
| Exterior Height - Convertible | 54.9 inches |
| Width excluding mirrors | 75.4 inches |
| Trunk Capacity - Fastback | 13.5 cubic feet |
| Trunk Capacity - Convertible | 11.4 cubic feet |
| Curb weight | 3700 lbs |
Performance
Below we have 0-60 mph, top speed and quarter mile times for the 2018 Mustang range where they are available. One look at the straight line numbers for the Shelby GT350 and GT350R shows that they are definitely the top dogs of the 2018 Mustang range, but it is also clear that both the base EcoBoost and GT models both got big performance jumps, especially with the Performance Packages added.
| Variant | 0-60 mph (sec) | 0-100 mph (sec) | Quarter Mile | Top Speed |
| --- | --- | --- | --- | --- |
| 2018 Ford Mustang GT (with Performance Pack) | 3.9 seconds | | 12.1 seconds | 155 mph |
| 2018 Ford Mustang EcoBoost (with Performance Pack) | 5.1 seconds | | 13.7 seconds | 155 mph |
| 2018 Ford Mustang GT w/ Performance Pack (Manual) | 4.4 seconds | | 12.5 seconds | 155 mph |
| 2018 Ford Mustang Shelby GT350 | 4.3 seconds | 9.1 seconds | 12.5 seconds | 175 mph |
| 2018 Ford Mustang Shelby GT350R | 3.9 seconds | 8.6 seconds | 12.2 seconds | 175 mph |
VIN Information
This link will take you to a page which contains the VIN tag information for all years of Mustangs. Previously this information appeared on each Mustang's year page, but consolidating it has significantly reduced page loading times. To decode the build sheet, check out our 2018 VIN & Data Plate Decoder sheet.
Videos & Picture Galleries
We managed to find some great video reviews of the 2018 Mustang so definitely check those out. We also have a picture 2018 Ford Mustang Picture Gallery and photos of real Mustangs in each color that was available.