2013 Ford Mustang Shelby GT350
As the GT350 enters its third year, Shelby has made several changes. Mechanically, Wilwood brakes replace Baer units and Recaro seats and a tinted glass roof are on the options list. Cosmetically, the vehicle is now offered in most of the Blue Oval's factory colors, new multispoke wheels are available in Satin Black or Bright Silver Metallic finish, and customers can choose between Satin Black, Silver or Gloss White stripes (or Azure Blue Metallic on Performance White or Ingot Silver). Aesthetically, the look of the car has also changed somewhat – keen eyes will note that it actually appears more 'stock' than it did last year..
Once the purchased car goes to Shelby's factory in Las Vegas, Nevada, engineers go to work pumping up the horsepower. The basic GT350 package tunes the 5.0-liter V-8 up to 430 hp (from the stock car's 420), with an optional cold-air intake boosting that figure to around 450. Other packages add a Ford Racing supercharger to tune the car up to 525 or 624 horsepower. All manual-transmission cars get a standard short-throw shifter..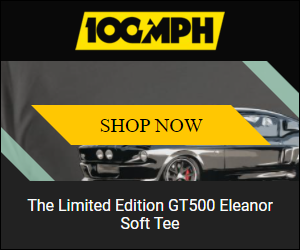 Other mods include an upgraded Shelby racing suspension, a louder and freer-flowing Borla exhaust system, 19″ wheels with Goodyear performance a more aggressive aerodynamic kit, upgraded brakes, and plenty of Shelby-branded visual upgrades. Buyers can also optionally add things like a one-piece driveshaft, even bigger brakes, and a stronger cooling system.
All these modifications won't come cheap: the basic naturally aspirated package is $26,995, not including the price of the donor car. A supercharged version will cost $33,995. The most basic 624-horse GT350, then, will run $65,090.
Shelby announced it would end the run for the iconic Shelby GT350 muscle car after this year.