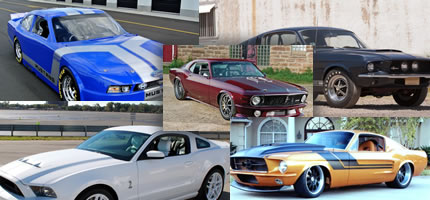 Another successful Barrett-Jackson Collector Car Auction in Scottsdale, Arizona has come to a close with several Mustangs and Shelby's selling for big bucks.  One of the stars of the show, the 1968 Shelby EXP 500 'Green Hornet' prototype Mustang failed to hit the reserve after receiving a bid of $1.8 million.  Carroll Shelby's one-off tribute Shelby GT500 Cobra with the wide body kit also crossed the block but it came in with a disappointing $200K sale.
The top selling Mustang of the show belonged to the Ring Brothers who built an award winning 1970 Ford Mustang Mach 1 dubbed the "Dragon".  Check out some of the top selling Mustangs below.
1968 Shelby EXP 500 "The Green Hornet" – high bid of $1.8 Million (no sale)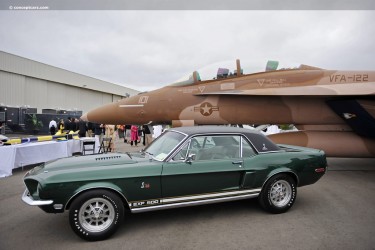 The legendary Shelby prototype Green Hornet is one of the rarest Mustangs in the world having the distinct honor of being one of the very few factory prototypes from that era that survived the crusher. It represents a rolling history of what was happening within Ford and Shelby American in the heyday of the American muscle car era. The Shelby prototype features independent rear suspension, Conelec fuel injection system and 4-wheel disc brakes. It failed to meet the reserve which is unknown. Craig Jackson of Barrett-Jackson is the owner of this vehicle.
One-of-a-kind 2013 Shelby GT500 Cobra – Sold for $200,000
This one-off 2013 Ford Shelby GT500 "Cobra" was built as a tribute to the late Carroll Shelby. It was unveiled by Ford Motor Company board member Edsel Ford II, Ford executive Jim Farley and Shelby American President, John Luft, at the 2012 Rolex Monterey Motorsports Reunion where the Shelby Cobra was the featured marque of show. Starting with the 662hp Shelby GT500, a group dubbed the "Friends of Carroll" took part in the build of this magnificent vehicle. They tweaked and enhanced everything on this car upping power to 850hp which is generated by the Ford Racing supercharged 5.8 Liter V8. Other mods included Shelby Wilwood brakes, 20-inch wheels and specially designed hood and new rear wide-body kit. The "Friends of Carroll" chose to honor Carroll's commitment to charity by auctioning the car for charity. Proceeds from the sale of the incredible vehicle will be donated to benefit the Juvenile Diabetes Research Foundation, JDRF.
1967 Custom Mustang Fastback – Sold for $110,000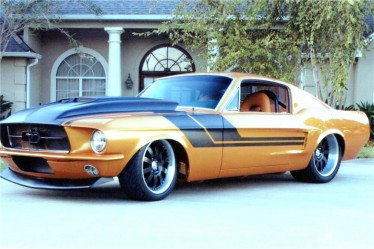 Multiple award winnings include SEMA Mother's Shine Award and Ford Design Award, Best Street Machine at Shades of the Past, Top Five for Street Machine of the Year at Goodguys and Car of the Year for Modified Mustang magazine. Magazine covers include Popular Hot Rodding, Modified Mustang & Ford and Cruising Style magazine. This Mustang is outfitted with a Scott's Hot Rod full chassis, 13″ 6-piston brakes, 4.6 Liter DOHC Cobra engine with Kenne Bell Supercharger, 6-speed T-56 with twin disc McLeod clutch, Ford 9″ rear with 4.56 gear ratio and Truetrac posi-traction.
2012 NASCAR Race Car Mustang GT – Sold for $200,000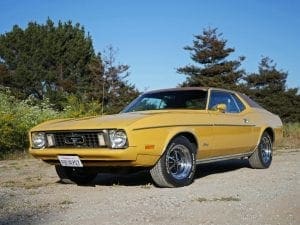 This one-of-a-kind Ford Mustang NASCAR road race car designed and newly built by NASCAR hall of famer Rusty Wallace, features a 5.8 Liter V8 by famed builder Roush Yates Racing Engines, producing 800 ground pounding horsepower and 525 ft/lb of torque. Its unique configuration includes dual racing seats, perfect for days at the motor sports country club. Not only is this a car collectors dream, but also a great story of charitable support. As a member for The NASCAR Foundation, Rust Wallace wanted to find a unique and exciting way to support the foundation's mission. Wallace and his team took on the challenge of building a custom road race car from scratch to offer exclusively at Barrett-Jackson to benefit The NASCAR Foundation.
Custom 2013 Shelby GT500 – Sold for $150,000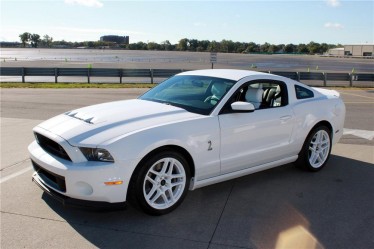 This one-of-a-kind 2013 Shelby GT500 was created specifically to raise awareness and benefit the Edith and Benson Ford Heart & Vascular Institute at Henry Ford Health System. The custom muscle car was designed by Ford designer Melvin Betancourt, a former patient of the Henry Ford Hospital who felt he owed his life to their care. To thank them, Betancourt focused his talents on creating this special Mustang.
2008 Shelby GT500 custom fastback – Sold for $88,000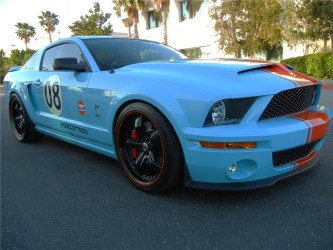 This Shelby GT500 is the recipient of a money is no object build, a unique picture of what a Ford GT Heritage might look like if it was born a Shelby Mustang. The car was featured as the cover car of Muscle Mustangs & Fast Fords magazine. Under the hood a 5.4-liter engine has been comprehensively upgraded, Pro built and enlarged .020 over and featuring upgraded custom Oliver connecting rods, CP pistons with 9:1 compression, Ford GT cams with the heads custom rebuilt by Race Flow Development, custom long tube headers and more all topped off by a gigantic 3.4L Whipple twin screw supercharger. Wanting the Ford Gulf Racing heritage paint scheme the car was totally stripped and custom painted in Gulf Blue paint, orange stripes and matching orange cam covers. This Shelby uniquely pays homage to Ford's Gulf Racing heritage while providing modern supercar performance. 3,206 actual miles.
1967 Shelby Terlingua Continuation Mustang – Sold for $110,000
For old school Terlingua Racing Team fans, Shelby Automobiles and Bill Neale introduced the 1967 Terlingua continuation model Mustang that is revamped with modern technology. On the exterior the car looks like the vintage 1967 Trans-Am race car driven by Jerry Titus and Ken Miles. Under the sheet metal it is serious new age performance. From the authentic paint scheme to the 408/525hp engine the car is all business. Many documents and numerous pictures from the day the coupe rolled into the shop until the car was unveiled at the SEMA show with Carroll Shelby and Bill Neale and then went to the Shelby museum.
Ring Brothers 'Dragon' Mustang – Sold for $346,500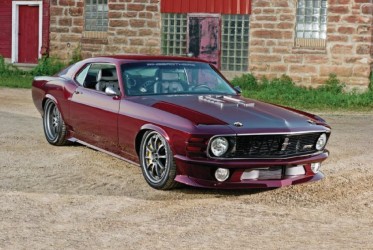 This was the highest selling Mustang at this years Barrett-Jackson auction. Its an award winning 1970 Ford Mustang Mach 1 "Dragon" created by the Ringbrothers, Mike and Jim Ring, famous for their cutting edge design and unparalleled attention to detail. They once again raised the bar for custom automotive builders. Dragon's powertrain includes a ROUSH 427 IR motor that cranks out 585hp and 545ft/lbs of torque.
1967 Shelby GT500 Fastback with 9,500 original miles – Sold for $192,500
This is a rare 1967 Shelby Mustang that has been on display at the Shelby American Museum in Las Vegas and on a limited national tour that included The Quail- A Motorsport Gathering and the Shelby American Automobile Club annual convention. It currently has 9,508 miles and may be one of the lowest mileage '67 Shelby GT500s in existence. This Shelby is owned by Stephen Becker. "This car was one of the first GT500's produced at the Shelby American factory". For more on this vehicle check out a previous post we wrote.
50th Anniversary Shelby GT500 Super Snake – Sold for $209,000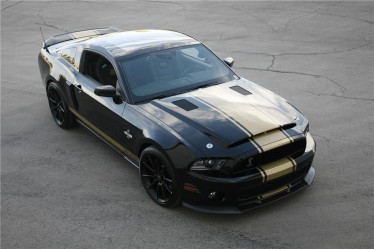 This is one of two black 50th Anniversary Super Snakes that Shelby American used to tour the country during its celebration of the 50th Anniversary of Shelby American. It was the featured car which debuted at the Detroit Auto Show in January of 2012. It was also featured in numerous shows, events and magazine articles and displayed throughout the country. Production Anniversary Super Snakes were limited to only 50 black and 50 white cars with painted gold stripes.
This car features Shelby/Ford Racing polished 750hp Whipple supercharger, Shelby Super Snake hood with pins, carbon fiber components, Shelby deck lid letter kit, Special 50th Anniversary badging, painted Shelby Super Snake 50th Anniversary gold striping, front and rear brake ducts, CSM numbered dash plaque and engine plate, Shelby 6-piston caliper front and rear brake rotor upgrade plus countless other Shelby parts.