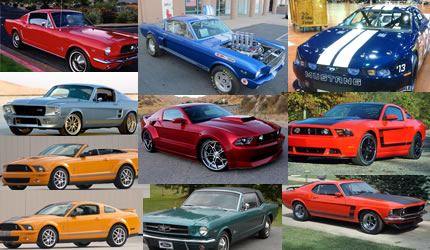 As the new year approaches so does the 'World's Greatest Collector Car Auction' as the 2012 Barrett-Jackson auction is upon us yet again.  The 2012 Barrett-Jackson auction will take place January 17-22 at Westworld in Scottsdale, Arizona with the SPEED Channel providing 39 hours of LIVE coverage.
Each year I like to write about all the Mustangs crossing the block whether they are Shelby's, Saleen's or Custom one-offs.  This year Barrett-Jackson will be auctioning off over 70 Mustangs including a healthy list of classic Mustangs with a few modern ones thrown in.  Below I have listed several standoutsfrom the auction list which can be viewed at Barrett-Jackson.com.
Lot# 1564 – 2013 Ford Mustang NASCAR Sprint Cup Prototype Car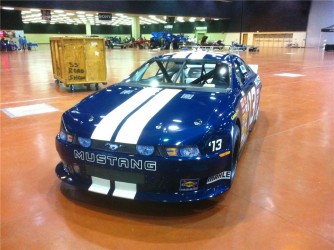 This is a custom built prototype 2013 Nascar Sprint Cup Series Mustang. It is brand new with zero miles. This car has never been raced. It has a custom built Roush Racing engine with dyno time only. It has a Tremec 4-speed transmission, and a floating 9″ rear end.
Lot# 1543 – 1965 Ford Mustang Retractable Hardtop Convertible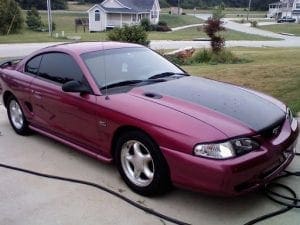 This 1965 Mustang retractable hardtop comes to us from former Ford designer Ben Smith who attempted to build this option for the 1967 Mustang.  The Retractable Mustang reportedly cost over $250,000 and was scrapped by Ford with the prototype later destroyed.  After Smith left Ford, he and a group of investors formed a company to build and market his creation.  This Mustang is his creation after he left Ford.
Lot#'s 1261 & 1261.1 –  1969 Mustang Boss 302 & 2012 Mustang Boss 302 Patriot Edition (Sold as a Pair)
These two Mustangs were given away as part of the 2011 Mustang Dream Giveaway to one lucky winner who is now putting them up for auction.  Both Boss Mustangs feature Calypso Coral paint.
Lot# 3033 – 2012 Custom Mustang GT by Galpin Auto Sports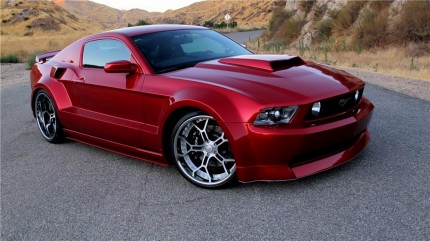 SPX Commissioned this "one-of-a-kind" Ford Mustang created in collaboration with Ford Racing and the amazing craftsmen at Galpin Auto Sports. One-of-a-kind with supercharged 5.0-Liter engine, competition cam, 6-speed manual, Wilwood brakes/rotors, Forgiato custom wheels. All proceeds to benefit St. Jude Children's Research Hospital.
Lot# 5005.1 & 5005.2 – 2007 Shelby GT500 coupe and convertible (Sold as a Pair)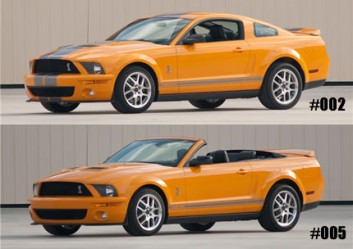 These two Shelby GT500's come from the Ron Pratte Collection.  Mr. Pratte is very well known around Barrett-Jackson as he has bought most of the first Shelby models over the past years.  These two models carry VIN #002 and #005 which represent two of the first five every produced.  For more on these check out a previous story we did.
Lot# 3043 – 2013 Shelby GT500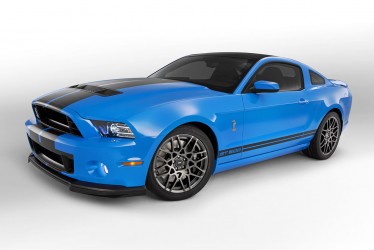 Not much is known about this Shelby GT500 although we are speculating it will be the first production (#001) GT500 for the 2013 model year.
Lot# 1019.1 – 1965 Ford Mustang Fastback Drag Car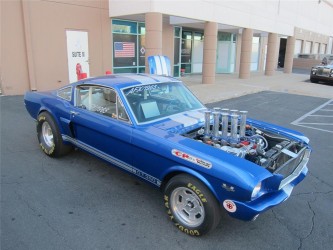 This classic Mustang has some history as it was built for drag racing in 1965 and than it was retired in 1972.  The 1965 Mustang features a 427 SOHC.  Its best quarter mile was a 9.97 at 137.4 mph.
Lot# 1233.1 – 1967 Custom Fastback "Flashback" built by Classic Design Concepts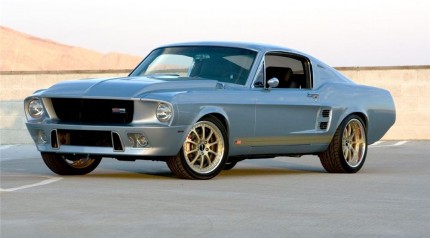 This vehicle was built by Classic Design Concepts using a new Dynacorn body.  It features a Supercharged GT500 5.4-liter V8 engine with a T56 Magnum 4-link rear.  It won numerous awards including the 2008 SEMA Best of Show.
Lot# 1304 – 1965 Ford Mustang Fastback owned by Alice Cooper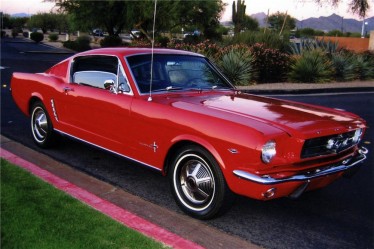 Alice Cooper's 1965 Ford Mustang fastback with 35,915 original miles. Alice used this car for the Golf courses, going to the mall and dinner from time to time. It will include a set of Calloway golf clubs for the new owner of the car.
*********************
The SPEED Channel will be providing 39 hours of LIVE coverage of the event starting Tuesday January 17 going through Sunday January 22rd.   Times for the SPEED channel coverage are below.
SPEED Channel LIVE Television Schedule (MST):
Tuesday January 17, 2012 – (5pm – 10pm)
Wednesday January 18, 2012 – (5pm – 10pm)
Thursday January 19, 2012 – (5pm – 10pm)
Friday January 20, 2012 – (12pm – 10pm)
Saturday January 21, 2012 – (12pm – 10pm)
Sunday January 22, 2012 – (12pm – 4pm)