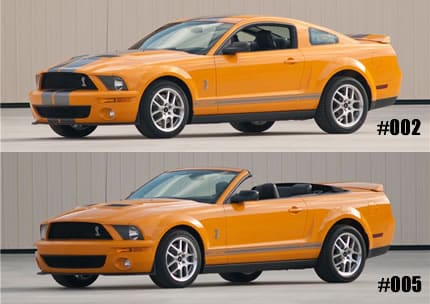 At this years Barrett-Jackson collector car auction which runs from January 15-22 a pair of 2007 Shelby GT500's with a lot of history are being offered by the Ron Pratte Collection.  You might remember Mr. Pratte, an Arizona businessman who was the winning bidder for the very first 2007 Shelby GT500 with a high bid of $600,000 back at the 2006 Barrett-Jackson event.  Along with VIN #001, Mr. Pratte was offered by Ford Motor Company the opportunity to buy two more 2007 Shelby GT500's and so he did which ended up being VIN #002 and #005.
These two Shelby GT500's are very special as they were autographed by Carroll Shelby as they came off the Flat Rock assembly line with Mr. Pratte on hand to personally take delivery of the vehicles.  Both GT500's feature Grabber Orange paint with one being a coupe and the other being a convertible.  The two GT500's are being sold as a pair to the highest bidder.
They will be auctioned on Saturday January 21, 2012 in Scottsdale, Arizona at the Barrett-Jackson collector car auction.
Lot# 5005.1 – 2007 Shelby GT500 coupe – VIN #002
Lot# 5005.2 – 2007 Shelby GT500 convertible – VIN #005