2011 Ford Mustang Shelby GT350
Coinciding with the 45th anniversary of the original 1965 Shelby GT350, Shelby American unveiled an all new GT350 Mustang at the opening night gala of the Barrett-Jackson auction in Scottsdale, AZ.
The GT350 was a post-title upgrade available from Shelby. It's based on the 2011 Mustang GT, the one with the 5.0-liter 32-valve V8. Add to that a Whipple supercharger, Borla exhaust, adjustable Ford Racing dampers, adjustable camber plates, a serious set of Baer 6-piston brakes up front, and you've got yourself a very serious Shelby performance machine.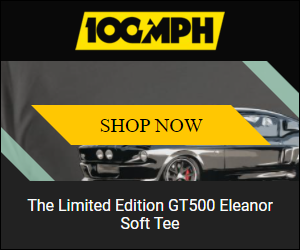 The standard 525-horsepower supercharged 2011 GT350 scampers to 60 mph in 3.7 seconds and runs the quarter-mile in 12 seconds dead at 121.4 mph. It can corner at 1.05 g, and shuts it down from 60 in 107 feet.
Opt for the R tune package and you'll get a brawny 624 horsepower out of the supercharged 5.0-liter V-8. Shelby hasn't released performance specs on the new R tune pack, but with another 99 horsepower on tap, it can only be faster. Other upgrades beyond the R tune supercharger include a Watts link rear suspension, track-worthy brakes, and a range of comfort and appearance mods.
Standard GT350 package components include:
Shelby/Ford Racing/Whipple black finish supercharger (supercharged version only)
Shelby/Ford Racing suspension
Shelby Caster camber plate kit
Shelby/Baer 6 piston front brake kit with exclusive nickel anodized finish
Shelby/Baer ERADISPEED rear rotor and brake pad upgrade
Front and rear brake duct and cooling kit
Shelby/Borla unique center exit exhaust
Shelby/Cragar 19" alloy wheels shod with Goodyear performance tires
Front fascia including traditional "running pony" badge
Rear fascia including exclusive GT350 45th anniversary badge
Unique tail light trim
Rear deck lid filler panel
Side Rockers with functional integrated brake cooling ducts
Exclusive GT350 Guardsman Blue vinyl over-the-top and side stripes
"Powered by Ford" fender mounted badges
Serialized engine plate
Shelby Engine cap set
Serialized Dash plate with Shelby GT350 sequential serial number
A-Pillar mounted gauge package
Embroidered Carroll Shelby Signature front seat headrests
Exclusive GT350 45th anniversary embroidered front floor mats
Shelby GT350 45th Anniversary windbreaker jacket
Carroll Shelby signed passenger airbag cover (subject to availability)
Optional equipment: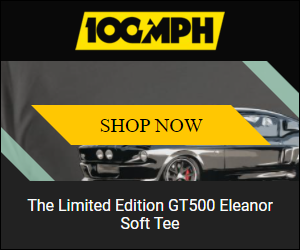 Polished supercharger
Shelby/Baer 6 piston rear brake upgrade
Watts link rear suspension
Goodyear street race tire package
Painted over the top and side stripe kit
Shelby/Kicker premium sound system
Leather seating surfaces with contrasting stitching and red/white/blue insert on front seats
Tone on tone embroidered GT350 on seat backs
Console cover and shift boot
Pictures
Press Release
SCOTTSDALE – Jan. 18, 2010 – Shelby American, a wholly owned subsidiary of Carroll Shelby International Inc. (CSBI:PK), will fulfill the dreams of enthusiasts by returning the legendary Shelby GT350 to its lineup of American performance cars. The Shelby team unveiled a supercharged concept version of the Mustang-based 2011 Shelby GT350 to the surprise of thousands gathered at the Barrett-Jackson Auction Opening Night Gala to honor the 45th anniversary of the first GT350 and first Shelby big block Cobra.
"In 1964, Ford Motor Company asked Shelby American to turn their secretary's car into a race winner to help them sell Mustangs," said Carroll Shelby, founder of Shelby American. "Our Shelby GT350 ruled its class at the track and was feared by GM and Chrysler owners on the street. Enthusiasts have anticipated the GT350's return since it went out of production in 1970. Now my band of hot rodders has created a car worthy of the name."
The concept behind the GT350 was to build a car that is light, nimble and powerful. Beginning with the "small block" 5.0 liter Ford Mustang GT as its base, the Shelby American team worked with experts from Ford Racing, Goodyear, Borla, Cragar and Baer to create a car that is fast and has razor sharp handling. Every segment of the car is enhanced or replaced to create the ultimate balanced performance pony car that is true to the spirit of the 1965-1970 MY Shelby GT350.
"The 2011 GT350 balances heritage with modern necessity," said Shelby American president Amy Boylan. "Former Hot Wheels and Ford designer Larry Wood joined Vince LaViolette, Walter Cardenas, Andrew Smidt and the rest of our Las Vegas team to help integrate 1965-1970 Shelby styling cues with modern aerodynamics. We worked with Ford Racing to supercharge the engine with a goal of 500 horsepower, as well as to sharpen the handling. Baer Brakes helped engineer the fantastic brakes and we shod the GT350 with 19″ modern Cragar wheels and super sticky Goodyear tires. This Shelby is truly a complete performance package"
"Since this was one of the most important cars in Shelby's history, everyone stepped up to make sure it meets Carroll's performance standards," added Gary Davis, vice president of production for Shelby American. "After it was hand built in our new design studio, it began extensive testing at Las Vegas Motor Speedway by veteran test drivers Vince LaViolett and Gary Patterson. We're all proud to be part of this milestone Shelby car."
Each GT350 will be clad in traditional white with Shelby Guardsman blue Le Mans stripes and feature the new Ford V8 coupled to a 6 speed manual transmission and center exit exhaust. Blue Shelby GT350 valve covers and billet caps set off the supercharged engine. The Baer brake system features 6 piston kit in the front, as well as 14″ ERADISPEED rotors in the rear with cooling ducts for all four corners.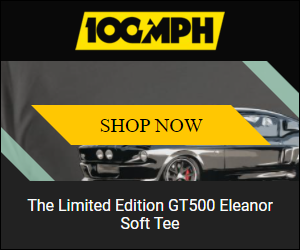 The suspension was upgraded with new Ford Racing springs, struts, sway bars and adjustable caster/camber plates. The car also receives a new front fascia, tail light trim, front splitter, rear deck lid filler panel and rear fascia. Functional scoops are located on the side rockers and hood. GT350 badges on the outside and inside include a Shelby serial number. The A pillar carries a fuel pressure, oil pressure and boost gauge.
With up to 624 horsepower on tap via an optional "R" tune, the 2011 Shelby GT350 is one of the most powerful limited production cars in the world.
"Our goal was to build the ultimate small block muscle car," said John Luft, president of Shelby American. "The results show that the Shelby GT350 takes American performance to an entirely new level. In recent tests, the standard supercharged car hit 60 miles per hour in just 3.7 seconds and ran the quarter in 12 seconds flat at 121.4 mph, all while generating 1.05g of lateral acceleration and stopping from 60 mph in only 107 feet. We believe the 'R' tuned GT350 will be even faster."
The normally aspirated GT350 is available in standard Ford Mustang GT trim for SCCA racing or 430 in the optional tune. The standard supercharged version is rated at 525 horsepower while the "R" tune option delivers 624 horsepower. All versions include Shelby performance suspension, brake, tire/wheel, and interior and exterior styling enhancements that make the GT350 as fast on the curves as it is in the straightaways.
In addition to the optional "R" tune for the supercharger, Shelby American will offer a solid blue painted hood stripes as well as finished rear bumper stripes. A Watts link rear suspension, upgraded stereo, track-oriented brakes and other options are also available on the Shelby.
The Shelby GT350 is a post title program; a customer purchases a car from their local Ford Dealer, which is turned into a GT350 by the Shelby American Team. A limited number will be built in the 2011 model year. A Ford Mustang GT can be dropped shipped by a Ford dealer to Shelby's Las Vegas facility for conversion or a customer can arrange to have a properly specified car transported to the factory. The Shelby GT350 up-fit completed by Shelby American has a MSRP of $33,995 and does not include the price of the base car.