The 1965 Shelby GT350's release provided the Mustang lineup with some much-needed performance credibility. Prior to this point, the Mustang had been thought of by consumers as being sporty and intuitive, yet few thought of Ford's new creation as being overwhelmingly powerful. That was until, of course, famed automotive designer Carrol Shelby stepped on the scene, and crafted something truly remarkable out of Ford's pony car.
The GT350, in its original form, remained in production throughout the remainder of the 1960s, before being discontinued, following the dissolution of Shelby's contract with Ford. However, in 2011, some 45 years after the GT350's initial release, Shelby American unveiled a post-production GT350 package, which could be applied to any factory 2011 Mustang GT.
A Nod To The Past
Upon first glance, most Mustang die-hards will immediately notice that the 2011 Shelby GT350 is painted to match its 1960s counterpart. The Shelby reboot features a white paint scheme, with blue racing stripes, thereby paying homage to Shelby's original creation.
The 2011 Shelby GT350 also features package-specific front and rear fascias, unique taillight trim, and Shelby/Cragar 19" alloy wheels, encased inside a set of premium Goodyear performance tires.
The reimagined Shelby features a custom hood, with a pronounced air scoop, which resides above the car's supercharged powerplant. Also reflective of its lineage, the re-envisioned Shelby features signature "GT350" side striping.
Interior Amenities
The 2011 GT350's interior was equally as unique, as that which rounded out its exterior appearance. Among the vehicle's amenities were A-pillar mounted gauges, embroidered Shelby Signature headrests, and embroidered front floor mats.
The specialty Shelby featured a leather interior, with contrasting stitching, as well as red, white, and blue front seat inserts. Tone-on-tone embroidered GT350 on seat backs were also standard fare. The GT350's audio was pumped through a Kicker sound system.
All 2011 GT350s featured serialized dash placards, which attested to each vehicle's authenticity.
A Beastly Powerplant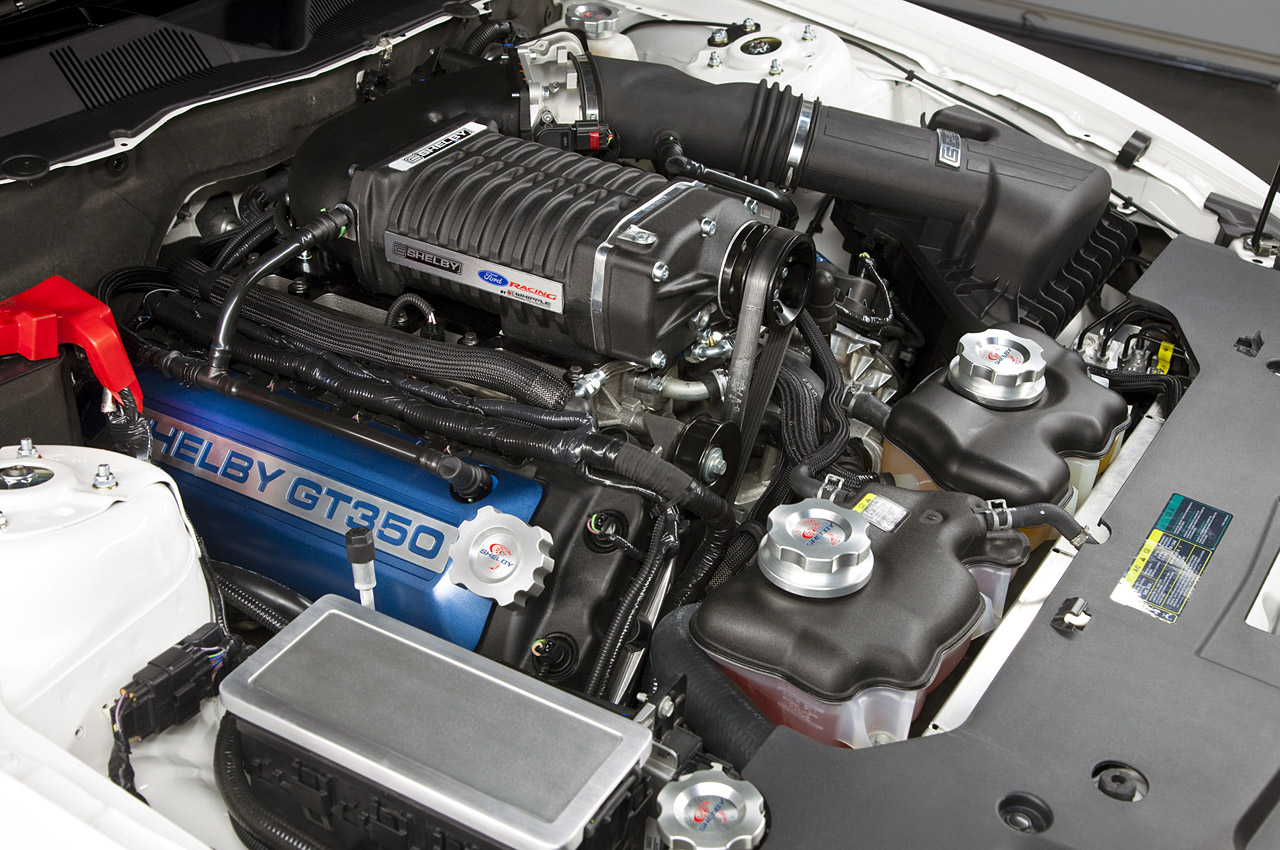 While the 2011 Shelby GT350 was indeed striking in its appearance, the commemorative Shelby also carried plenty of bite to back up its bark. The GT350 was powered by a Whipple-supercharged, 32-valve 5.0L V8. This powerplant produced 535 horsepower and was capable of posting sub-4 second 0-60 MPH times.
If this, for whatever reason, left you feeling uninspired, then an optional R-tune package was also available that would quicken the pulse of even the most stoic of drivers. Equipped with this package, the GT350 produced 624 horsepower. Engines of either package were fitted with a serialized Shelby placard.
The 2011 GT350 also featured a Ford Racing suspension package, which included upgraded springs, struts, anti-roll bars. Additionally, adjustable Shelby caster/camper plates were utilized.
Stopping duties were managed through a high-performance Baer braking system. The GT350 featured a Baer 6-piston front brake kit, which included nickel-anodized front calipers. Likewise, the GT350 featured an upgraded Baer ERADISPEED rear rotor and brake pad assembly.
Undeniably Shelby
The 2011 Shelby GT350 paid a fitting tribute to Carrol Shelby's original GT350, which was largely responsible for the Mustang's meteoric rise in popularity. This would ultimately prove to be a timely undertaking, as Shelby himself would pass away approximately a year later. Luckily, the famed designer indeed lived long enough to witness the vast impact that his creations had on the automotive landscape as a whole.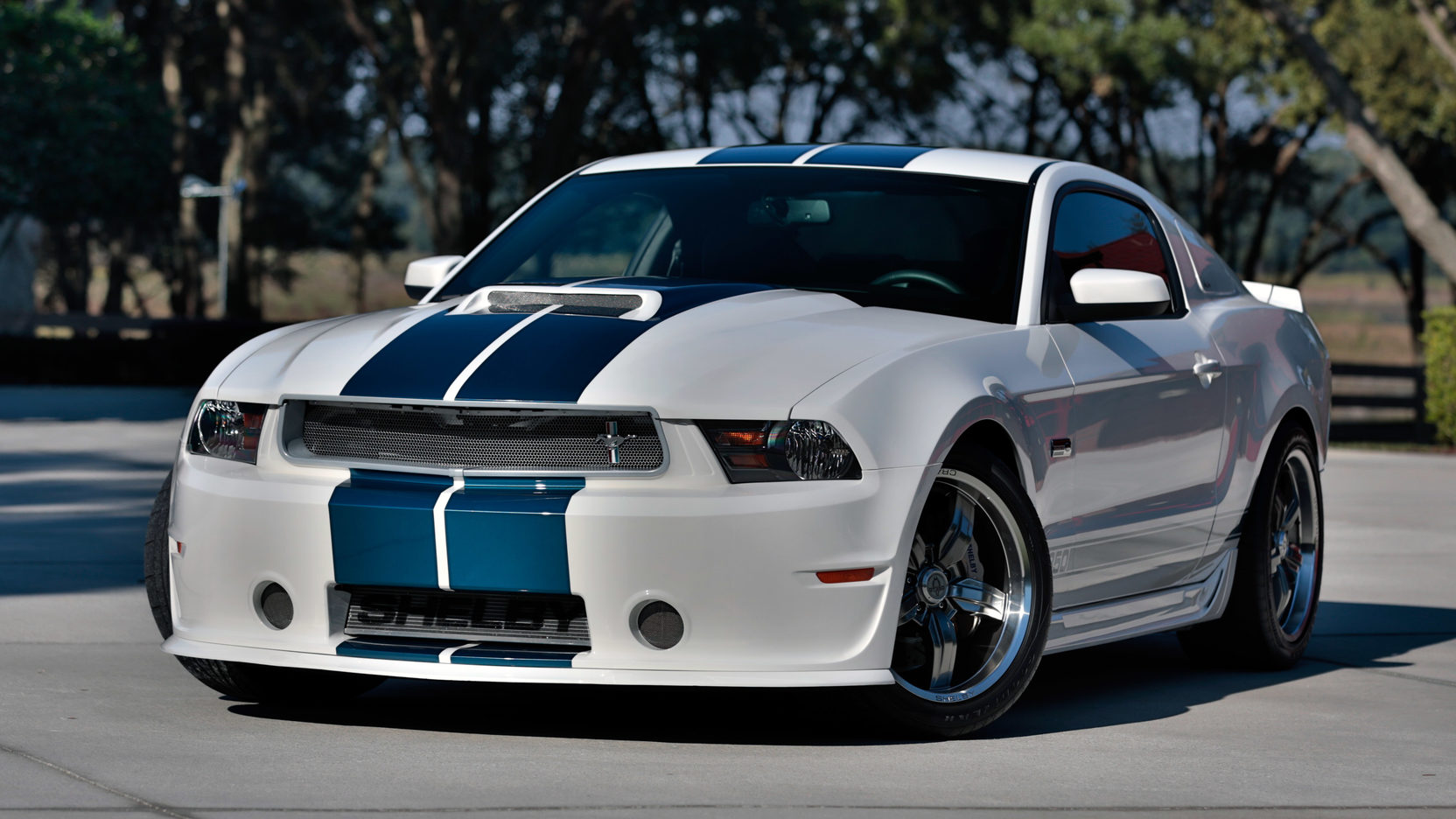 2011 GT350 Specifications
| | |
| --- | --- |
| Engine | 5.0L V8 |
| Horsepower | 535 horsepower |
| Torque | 490 lb-ft torque |
| 0-60 MPH | 3.7 sec |
| Quarter Mile Time | 12.00 sec |
| Weight | 3,816 lbs |
| Base Price  | $63,000 |
| Production Numbers | 170 |
Available Exterior Colors
The 2011 GT350 was only available in Performance White with Guardman blue stripes.
Available Interior Colors
The 2011 GT350 interior was available in charcoal with contrast stitching. Also available were red, white, and blue front seat inserts.
2011 GT350 Mustang Video
We found a great video of the 2011 GT350.