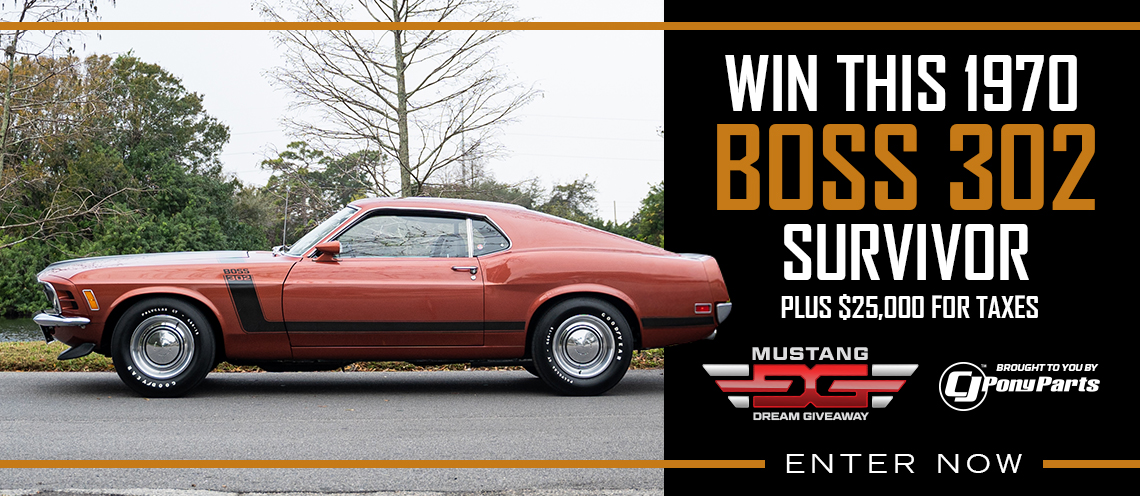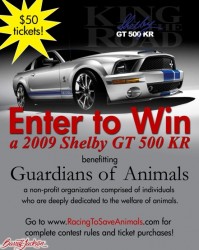 Have you ever wanted to drive or own a 2009 Shelby GT500KR.  Well now is your chance as Guardians of Animals, a non-profit organization run by volunteers who are dedicated to the well being of animals is raffling one off.  For just one raffle ticket costing $50 you will be entered to win the vehicle.  Along with the GT500KR a trip for two to Shelby Automobiles factory in Las Vegas and a Barrett-Jackson VIP package to the Palm Beach event are also included for the winner.  Find out all the information after the jump…
Raffle Details:
Guardians of Animals is raffling a 2009 Shelby GT500KR, along with a trip for two to the Shelby Automobiles factory in Las Vegas and a Barrett-Jackson VIP package valued at $2,000. Raffle tickets are $50 and can be purchased online at RacingToSaveAnimals.com through January 4, 2010. Guardians of Animals, which is based in Charlotte, N.C., is a registered non-profit organization run by volunteers who are deeply dedicated to the welfare of animals. The 501C3 organization's primary focus is to reduce "puppy mills", which are places where dogs are used solely for breeding purposes while being kept in small cages.
Guardians of Animals helps in the following ways:
Investigate puppy mills
Take possession of abused/neglected animals
Educate pet stores to not purchase from puppy mills
Educate consumers to ask more questions about where their new pet comes from
Educate children to spot harmful behavior towards animals
"People who operate puppy mills only care about how their animals produce puppies, yet consistently mistreat the animals," noted April Reece, founder of Guardians of Animals. "We're extremely grateful for the support from companies like Shelby Automobiles and the Barrett-Jackson Auction Company. We're especially excited about the opportunity to increase awareness of the deplorable conditions presented by puppy mills across the country."
The 2009 Shelby GT500KR features a 540 hp 5.4-liter supercharged V-8 with a Ford Racing Power Upgrade Pack, 3.73:1 rear axle ratio, short-throw shifter, and unique suspension tuning. Exterior design draws inspiration from the classic Shelby KR Mustangs and features unique carbon composite hood, wheels, and unique striping. The Shelby GT500KR or "King of the Road" Mustang is the fourth limited-edition Mustang that Shelby Automobiles and Ford have brought to market since resuming their collaboration in 2001. It builds on the performance and success of the Shelby GT500, the most powerful production Mustang ever.
Barrett-Jackson, producer of "The World's Greatest Collector Car Auctions™," is also getting involved in the raffle by offering a VIP package for the 2010 Palm Beach event on April 1-3. The Barrett-Jackson VIP package includes 2 VIP passes, 1 parking pass, 2 tickets to Opening Night Gala and 1 Event Program.
"We hope the public will join our cause by purchasing a raffle ticket for this Racing to Save Animals Raffle," added Reece. "Guardians of Animals is a 100 percent volunteer organization, which means every dime goes directly to the care, maintenance, health, transporting and investigation of animals."