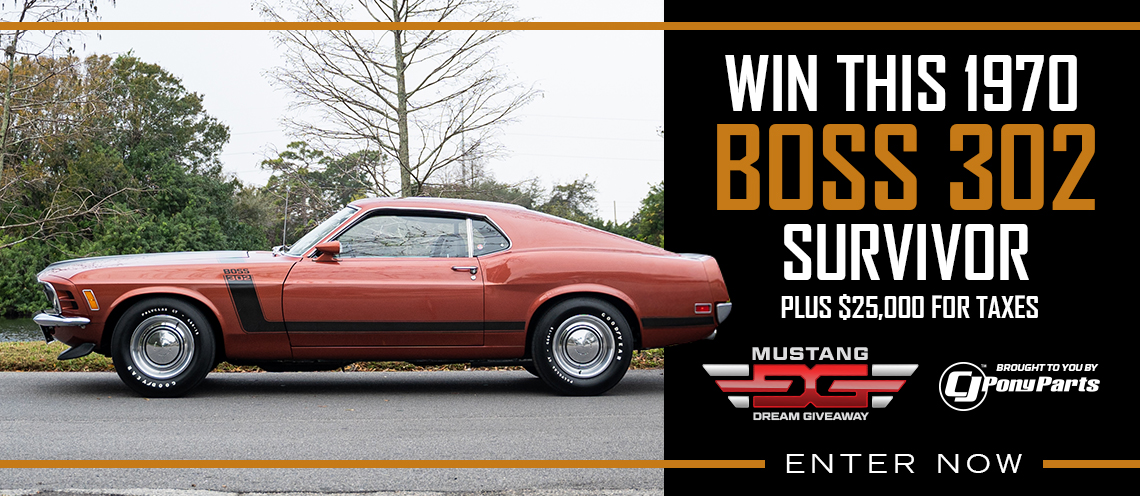 1994 Ford Mustang
1994 Ford Mustang Overview
Gone was the Fox Body Mustang and in was the all-new Mustang. 1994 marked the much-anticipated debut of Ford's fourth generation Mustang and these "SN-95" cars were based on an upgraded version of the Fox Body platform from the previous generation. The 5.0 V8 engine was also kept but was upgraded for the Cobra by using unique intake manifolds, cams, fuel injectors, and heads. All these changes helped sales, with Ford selling 123,198 Mustangs in 1994.
| | |
| --- | --- |
| Model: | 1994 Ford Mustang |
| Generation: | 4th Generation Mustang |
| Type: | 2 Door |
| Body Styles: | Coupe, Convertible |
| Engines: | 3.8L EFI V6, 5.0L EFI V8, 5.0L EFI V8 (SVT) |
| Original Price: | $13,365 (Base Coupe), $20,160 (Base Convertible) |
| Units Produced: | 123,198 |
Additional 1994 Mustang Research: 1994 Research Center / Colors Details / Production Numbers / Prices & Options / Sales Brochures / Owner Manuals / Maintenance / Pictures / Videos / VIN Decoder / Special Editions
Background & Details
From the new modern and aerodynamic body shape to the slightly longer wheelbase, the 1994 Mustang was new in almost every way. Gone was the dated Fox Body and its aging chassis, retired for good.
The new platform and improved platform was based on Ford's new SN-95 or Fox-4 Platform. The wheelbase was marginally increased by 3/4 inches on the base Mustang and 1.9 inches on the GT but the tracking width was increased by 3.7 inches. The Fox-4 was more solid and that helped with other changes aimed at preventing noise, vibration, and harshness (NVH) and providing enhanced handling characteristics.
Mechanically the 1994 Mustang got a new base engine, upgrades to its V8 and an all-around improvement on things like chassis stiffness, suspension and handling prowess. Lots of upgrades happened too. Dual airbags, power drivers seat and a tilt steering wheel became standard equipment. ABS brakes were optional except on the Cobra packages where they were standard.
The Mustang becomes more aerodynamic and a revamped interior does a lot to entice buyers again. The 1994 Mustang was a breath of fresh air to an aging pony car. Finally there was something new to celebrate and for good reason.
The Design
The SN95 Mustang went a little back to the future incorporating a bunch of traditional Mustang styling cues from the original. Ford wanted some sleek and modern but instantly recognizable as a Mustang. So, the SN95 got the long hood and short rear deck with the galloping pony emblem front and centre in the grille-less opening between the front headlights. The front end had a modern aero fascia that swooped up to a long, power-domed hood with twin air nostrils towards the rear. Deep body sculpting ran along the side between the front and rear wheels terminated at a side scoop just ahead of the rear wheels. The 1994 Mustang also had a sleeker profile than the Fox Body with a windshield that had a faster rake of 60-degrees. At the rear the tri-bar taillights made a return however they were now horizontal instead of vertical.
Convertibles also benefited by a sleeker look with a power-operated top that now folded nearly flat into the rear deck. Initially a liftoff hard top was to be available as an option for convertible buyers. It was a sleek affair that mimicked the styling of the steel roof of the coupe. Although large, it only weighed in at 80-pounds. It was a clever idea, especially for those people who lived in harsh climates but production glitches delayed its launch to the 1995 model year and even then availability was limited.
There were just two trim levels for the 1994 Mustang, base and GT and either car could be had as a couple or convertible. Both cars came very well equipped with such amenities as tinted glass, tilt steering wheel, power mirrors, light group, folding rear seats, pod mounted digital clock and even a power driver's seat was standard on all cars. Cloth seats were standard but either car could be equipped with leather seats if desired. The 1994 Mustang was by no means a stripped down car, buyers wanted a sporty car full of features at a reasonable price and that is exactly what they were given.
The Interior
With an all new body and chassis came a long overdue change in the interior. Matching the new aerodynamic and smooth edged body shape, Ford designers carried the rounded shapes into the interior. Gone was the blocky steering wheel center and the truck like instrument panel. It was a thoroughly modern interior in execution, with styling touches from the past to keep it a Mustang.
Front and center was a new dashboard with a distinctive twin-cowl design that paid homage to Mustang's of the past but was modern at the same time. The passenger now received an air bag of their own that was artfully hidden behind the passenger side cove. Nothing in the interior was transferred from the previous Mustang into the new car, except for the radio head unit on the base cars, but the optional sound systems got a huge boost.
The number of sound system options was staggering. Standard equipment was a basic AM/FM stereo, but options included an AM/FM/Cassette deck, a compact disc player, premium sound, and the industry's first mini disc player. For audiophiles the Mach 460 sound system was the option to have. With 460 watts peak power, amplifiers galore, subwoofer speakers and midrange tweeters the Mach 460 sound system offered one of the best factory audio systems available with high end audio performance to match the cars on road performance.
The Engines & Performance
For the first time you could not order the 5.0-litre V8 in the base model Mustang. However, the base Mustang did receive a new base engine that was decent finally. Gone was the 2.3 liter four cylinder and in its place was an improved version of the 3.8-litre Essex V6 that had last seen duty in the Mustang in 1986. With 145 horsepower and 215 pound-feet of torque the base Mustang finally had enough power to not be embarrassing.
The good news is that the 5.0 liter High Output V8 was back and was used in the Mustang GT. The V8 only received minor changes for 1994. In order to clear the low profile hood a new, lower profile intake manifold was used. Internally Ford installed lighter aluminum pistons and to make everything work in harmony the company's latest EEC-V electronic engine management system was specified. With these changes horsepower climbed up to 215 horsepower and torque was still a very respectable 285 pound-foot.
With the increase in horsepower the Mustang was able to manage the same acceleration times as the 1993 despite a weight gain of 300-pounds. The weight gain was attributed to all the reinforcements used to strengthen the chassis, side impact beams in the doors and other safety features such as dual airbags that the previous car didn't have. To transmit power to the rear wheels either engine could be had with a five-speed Borg-Warner T-5 manual transmission or a new four-speed automatic with electronic shift control.
Ford spent a lot of development time on the ride and handling of the 1994 Mustang. The new Mustang was built around existing powertrain and chassis hardware, but the updated platform did get work. The Fox-4  platform was more solid, due to the larger rocker panels, roof rails and stronger joints. These changes aid in preventing noise, vibration, and harshness (NVH) and providing enhanced handling characteristics. With the stiffer platform, engineers had greater latitude with the suspension tuning and they took full advantage of this.
To further the structural rigidity of the Fox-4 platform GT models received additional bracing in the engine compartment. Compared to the Fox body Mustang the SN95 felt remarkably more solid and composed on the road and through the corners. Granted, the SN95 did roll more when cornered hard and dived steeply under hard braking but it did so without any drama.
The braking system was one area that engineers paid close attention during the development of the SN95 Mustang. One of the most common complaints labeled against the Fox body Mustang was its poor braking performance. After years of offering sub-par brakes on the Fox body Mustang Ford knew they had to step up their game with the SN95 since the rest of the vehicle had evolved so much. For the first time the Ford offered four-wheel disc brakes as standard equipment on all Mustangs. The new brakes consisted of large 10.9-inch ventilated rotors up front and 10.5-inch solid discs in the rear. A larger power brake booster and asbestos-free pads helped bring the SN95 to a quick stop. Additionally an anti-lock braking system made by Bosch was available as an option on both trim levels; another first for the Mustang.
Ford also upgraded the wheel and tire packages. Base Mustang now rode on 15-inch steel wheels with 205/65/15 Goodyear Eagle GA tires as standard equipment. Most V-6 Mustang's rolled out of the factory on the optional three spoke 15×7.5-inch aluminum wheels that were optional. Mustang GT's received wider rubber with 225/55 tires wrapped around a 16-inch five spoke alloy wheels as standard equipment but what generated the real excitement was the optional 17-inch alloy wheels that wore large 245/45ZR17 performance tires.
As a side benefit of the brake upgrade all Mustang's now used a stronger five bolt hub assembly. This change alone excited many Mustang fans who loved personalizing their vehicles with aftermarket wheels since five bolt pattern wheels are much more common than the four bolt wheels that had been used in the past.
The 1994 SN95 Mustang was a comfortable riding, solid vehicle with sparkling performance. It was vastly improved and far more refined than the outgoing generation. Ford nailed the exterior styling that successfully blended a modern aero look with the classic cues of past Mustangs. Inside was just as pleasing as the exterior with a cozy but comfortable interior with modern ergonomics, classic style and familiar up-right seating position. Ford had transformed the Mustang from an out dated and slightly crude blunt instrument into a rock solid feeling quality automobile with refinements that the Camaro/Firebird twins could not match.
Special Edition Models & Variants
The 1994 Cobra convertible was selected as the pace car for the Indy 500 and to celebrate Ford had all 1994 Cobra convertibles made as Indy 500 Pace Car editions. There was also the regular GT and Cobra for 1994. The Cobra got a different front bumper, Cobra-specific wheels. In 1994 the Cobra utilized the stock Mustang hood. The 1994 Cobra rear spoiler was different from the LX and GT, the third brake light was in the spoiler and not in the trunk lid. Under the hood it got a more potent version of the V8.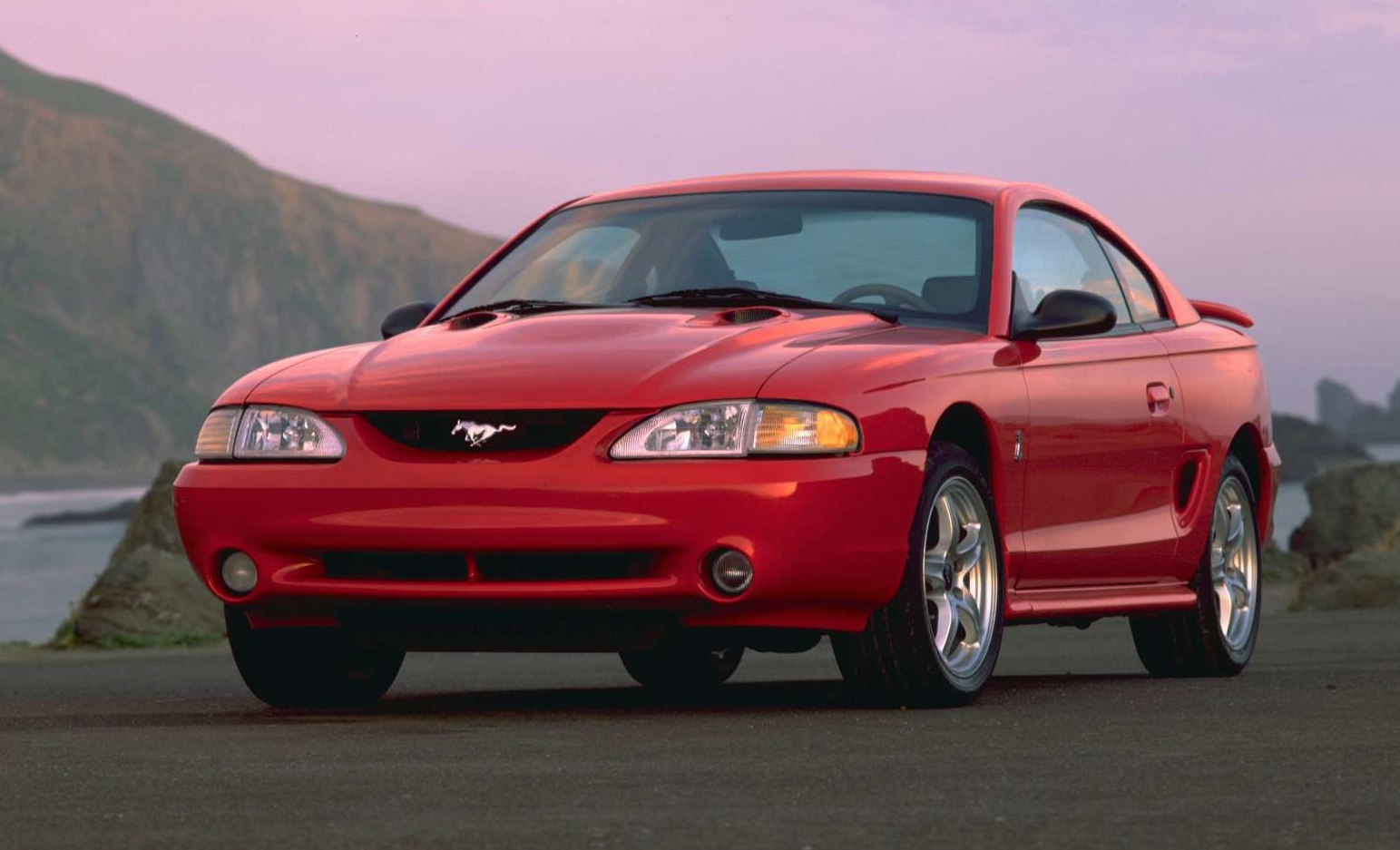 GT
The only way to get a 1994 Canary Yellow or 1994 Vibrant Red Mustang was to buy a Mustang GT. Canary Yellow and Vibrant Red were two colors reserved only for the Mustang GT coupe or Mustang GT convertible. There were two other reds available on Mustangs in 1994, but Canary Yellow was the only yellow available.
Learn more about the 1994 Ford Mustang GT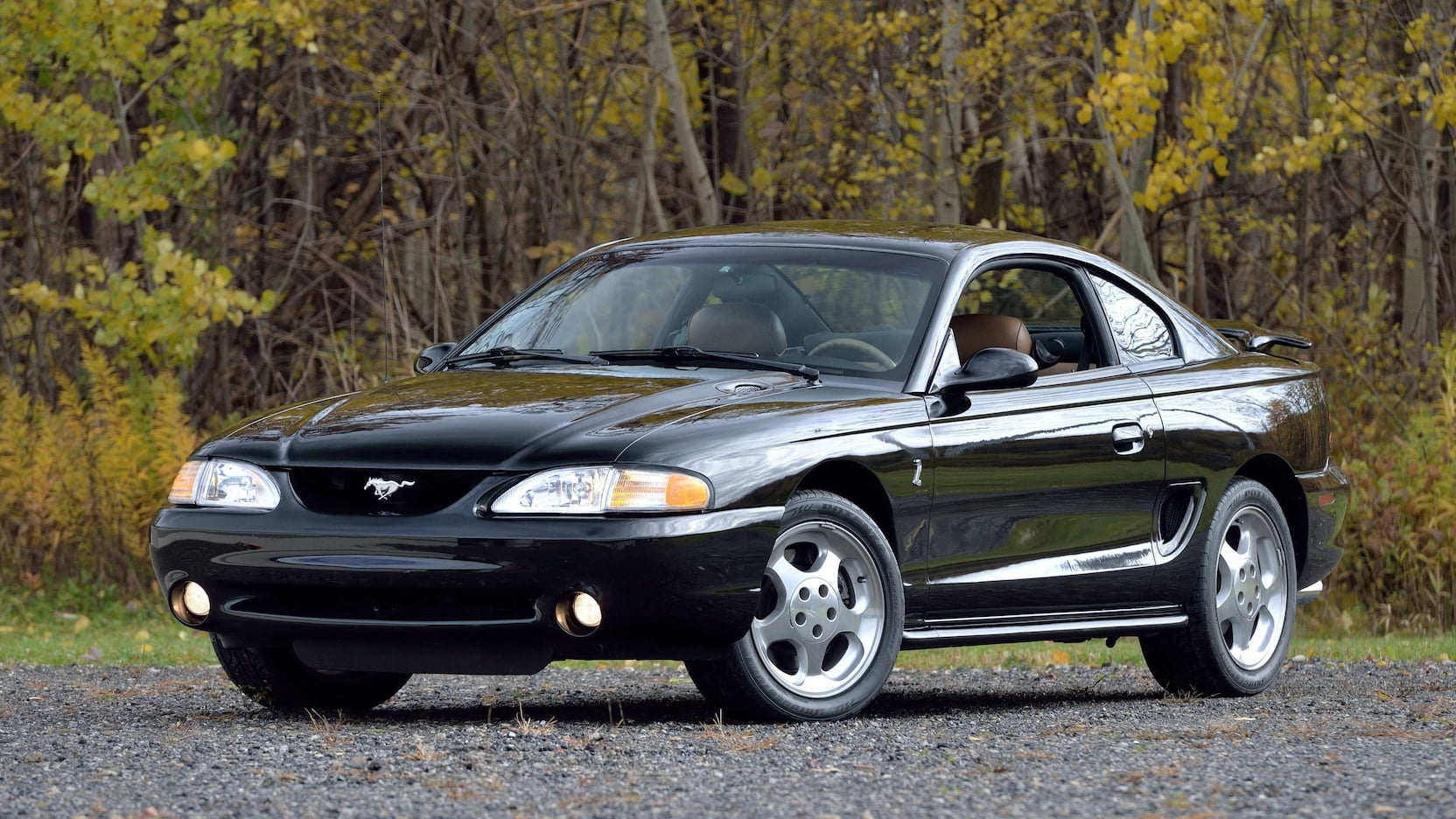 SVT Mustang Cobra
As was the production Mustang, the Cobra Mustang was redesigned for the year of 1994.  Despite the GT model carrying rectangular foglamps, the Cobra had round foglamps.  Also differing between the GT and Cobra was the rear spoiler; the Cobra's contained a built-in LED stop lamp, while the GT's was placed inside the decklid.
Learn more about the 1994 Ford Mustang SVT Cobra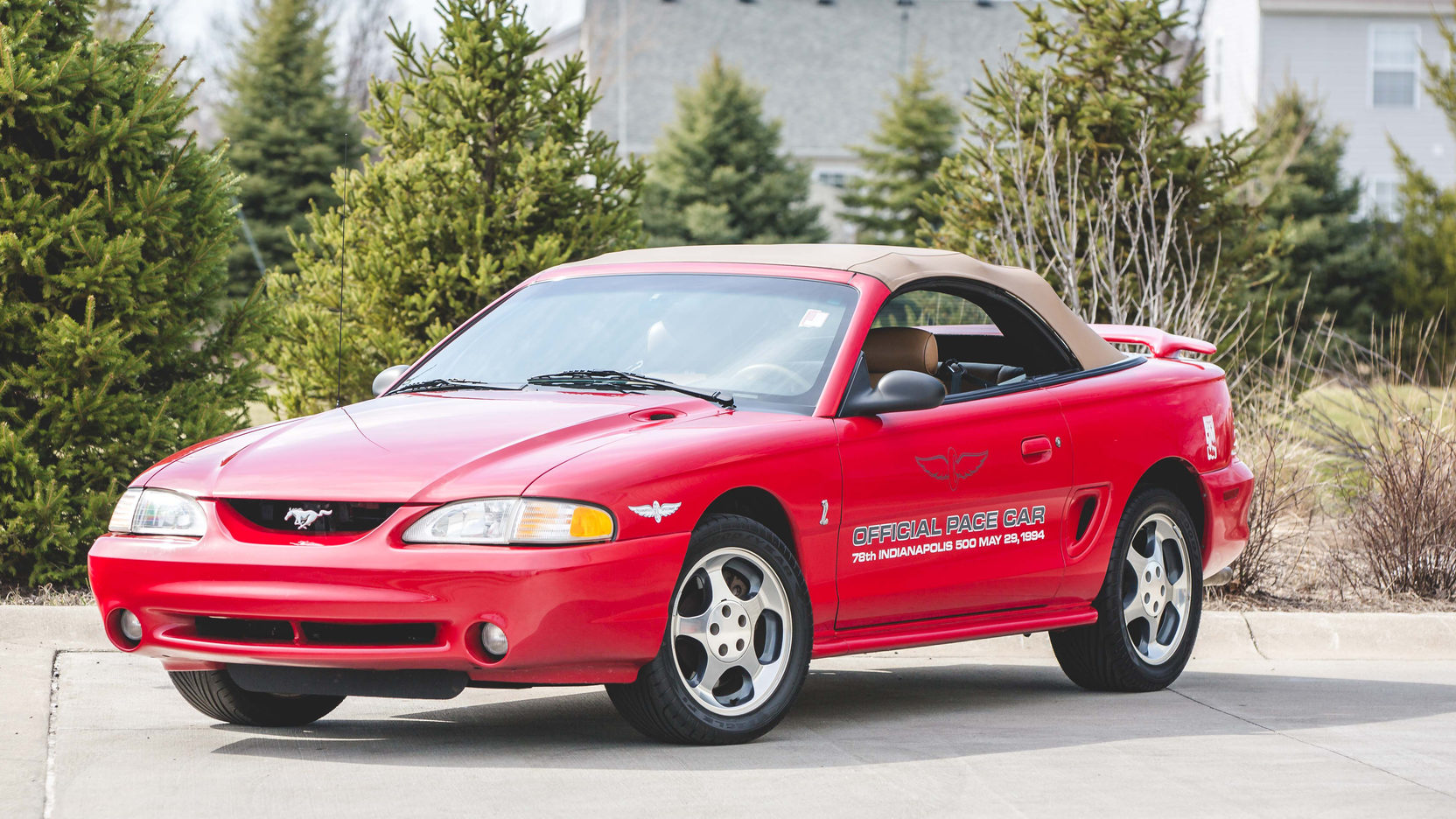 Indianapolis Pace Car Cobra
The 1994 Mustang was awarded the honor of being the 1994 Indy Pace Car. Ford capitalized on this by producing Indy Pace car replicas. The 1994 Indianapolis Pace Car Cobra was limited to 1000 convertibles and came only in Rio Red, had special graphics and the 240hp 5.0 liter Cobra V8 engine. It was rare and a great car to boot.
Learn more about the 1994 Ford Mustang Indianapolis Pace Car
Ford Mustang Boss 10.0L Concept
Simply stated, the '94 Boss Concept was the ultimate quarter-mile machine. This monster put out 855 horses along with 790 lb-ft of torque. Equipped with a three-speed automatic transmission, it ran the 1/4 mile in a staggering 10.55 seconds. Quick enough to run neck-and-neck with a $280,000 Lamborghini Aventador. This concept ended up being just a concept and now lives on as a legend.
Learn more about the 1994 Ford Mustang Boss 10.0L Concept
Specifications, Options & Detailed Stats
Production Numbers
As expected, sales volumes jumped back into the green in terms of growth rates. 1994 Mustang production was 123,198 units, up from 114,228 units for the final year of the 3rd generation Mustang. To dive into the model and body splits as well as see charts and percentages, check out our 1994 Ford Mustang Production & Sales Numbers deep dive.
| Year | VIN | Body Style | Units Produced | % of Total |
| --- | --- | --- | --- | --- |
| 1994 | P40 | 2 Door - Hardtop V6 | 42,883 | 34.81 |
| 1994 | P44 | 2 Door - Convertible V6 | 18,333 | 14.88 |
| 1994 | P42 | 2 Door - Hardtop GT | 30,592 | 24.83 |
| 1994 | P45 | 2 Door - Convertible GT | 25,381 | 20.60 |
| 1994 | P42 | 2 Door - Hardtop Cobra | 5,009 | 4.07 |
| 1994 | P45 | 2 Door - Convertible Cobra Pace Car | 1,000 | 0.81 |
| 1994 | | Total | 123,198 | 100.00 |
Options and Pricing
The base prices kept going up and with an all new Mustang you know Ford took advantage and raised prices again. The base Mustang came in at $13,365 while the base convertible was $20,160. Want more performance, then a base GT would set you back $17,280. There were 3 option groups offered this year. Option group 1 included power windows, door locks and a power deck lid release. Option group 2 added electrical controlled rearview mirrors, dual illuminated visors, and an AM/FM cassette radio with premium sound. Option group 3 added a remote keyless entry system and a cargo net. For more detailed options and pricing, please check out our 1994 pricing and options research.
| Grouping | Description | Retail Price |
| --- | --- | --- |
| Base Car | 2 Door Hardtop | 13,365 |
| Base Car | 2 Door GT Hardtop | 17,280 |
| Base Car | 2 Door Convertible | 20,160 |
| Base Car | 2 Door GT Convertible | 21,790 |
| Base Car | 2 Door Cobra | 21,300 |
| Base Car | 2 Door Cobra Convertible | 25,605 |
Exterior & Interior Colors
A total of 11 colors were available for the 1994 Mustang model year. Lots of blues, blacks and reds continued but Ford also added some purples and pinks for good measure. For detailed colors, color palettes, codes and interior colors please check out our in depth 1994 colors information post.
Engine Specs
The hard-charging 5.0-liter H.O. V8 was still a solid engine with 215 horsepower and 300 pound-feet respectively. It had silicone-alloy pistons, roller-cam valvetrain, 65 mm throttle body and tubular exhaust headers. New for 1994 was the 145 horsepower 3.8-liter V6, which features sequential electronic fuel injection. The top dog was the Cobra V8, which had a highly modified version of the 5.0-liter H.O. V8. For more information on engines for 1994, you can find the information here.
| Engine Name & Year | Fuel | Compression | Power (hp @ RPM) | Torque (lb/ft @ RPM) |
| --- | --- | --- | --- | --- |
| 1994 – 302 H.O V8 (5.0 L) Cobra | OHV | 9.0:1 | 240 hp @ 5000 RPM | 285 lb/ft @ 4000 RPM |
| 1994 – 302 H.O V8 (5.0 L) | OHV | 9.0:1 | 215 hp @ 4200 RPM | 285 lb/ft @ 3400 RPM |
| 1994 – 232 Ford Essex V6 Engine (3.8 L) | OHV | 9.0:1 | 145 hp @ 4000 RPM | 215 lb/ft @ 2500 RPM |
Performance
| | | |
| --- | --- | --- |
| MODEL | 0-60 mph (sec) | Quarter Mile |
| 1994 Ford Mustang GT | 6.7 seconds | 15.3 seconds |
| 1994 Ford Mustang | 9.9 seconds | 16.8 seconds |
| 1994 Ford Mustang Convertible | 10.2 seconds | 17.1 seconds |
| 1994 Ford Mustang GT Convertible | 7.0 seconds | 15.5 seconds |
| 1994 Ford Mustang Cobra | 6.0 seconds | 14.7 seconds |
The 215hp from the GT was a good amount off the venerable Camaro's 275hp and even the boost from the Corba's 240hp wasn't enough to catch the bowtie's rear badge. That said, the Mustangs were excellent performers and were nothing but fun to drive. And that sound.. simply fantastic – especially when you had a throaty exhaust kit.
VIN Information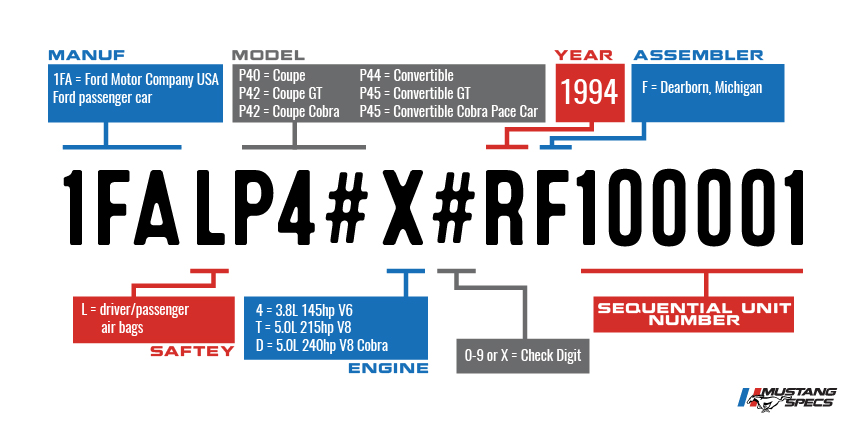 This link will take you to a page which contains the VIN tag information for all years of Mustangs. Previously this information appeared on each Mustang's year page, but consolidating it has significantly reduced page loading times. To decode the build sheet, check out our 1994 VIN & Data Plate Decoder sheet.
Videos & Picture Galleries
We managed to find some great video reviews of the 1994 Mustang so definitely check those out. We also have a picture 1994 Ford Mustang Picture Gallery and photos of real Mustangs in each color that was available.