1989 Ford Mustang
1989 Ford Mustang Overview
The 1989 Ford Mustangs remained largely unchanged from the previous couple of years. Ford marked the 25th anniversary of the Ford Mustang with less fanfare than its 20th anniversary, by launching a special edition that applied to all models. The 1989 Mustang entered the market with little new to show enthusiasts. Fortunately, the word had gotten around about the new found performance of the 5.0 liter V8 and they were getting snapped up by a still eager public and that helped keep sales over 200,000 for the second year in a row.
| | |
| --- | --- |
| Model: | 1989 Ford Mustang |
| Generation: | 3rd Generation Mustang |
| Type: | 2 Door |
| Body Styles: | Coupe, Hatchback, Convertible |
| Engines: | 2.3L EFI 4 cyl, 5.0L EFI V8 |
| Original Price: | $9,050 (Base Coupe), $9,556 (Base Hatchback), $14,140 (Convertible) |
| Units Produced: | 209,769 |
Additional 1989 Mustang Research: 1989 Research Center / Colors Details / Production Numbers / Prices & Options / Sales Brochures / Owner Manuals / Maintenance / Pictures / Videos / VIN Decoder / Special Editions
Background & Details
The Mustang model was doing well in the late '80s. The big update in 1987 made a big difference to sales and credibility and it helped the Mustang earn back its street cred amongst performance enthusiasts. In 1989 Ford did not want to mess with a good thing so they kept things pretty much the same, with almost no updates for the 1989 model year.
The exterior remained virtually unchanged for the 89 Mustang, with Ford being content to sell what was a still very popular package. The interior again remained the same, save for one change. Gone was the old federally mandated 85 mph speedometer, replaced with a fitting 140 mph speedo, from the GT. Among the few changes for 1989 was that power windows were made standard on convertibles and adjustable front seats were added for the LX-model. Ford discontinued the T-top option.
Mustang and upgraded engine air sensors (speed density computer system was replaced with a mass air system) for all models were the only other "significant" updates for 1989. This change slightly reduced factory horsepower, but it made Mustangs much easier to modify. With the mass air system, changes made to the intake, engine, and exhaust system would be recognized and compensated for by the ECU, resulting in a correct air/fuel ratio and optimum power.
Ford fans had been expecting Ford to come out with a high-performance Mustang on its 25th anniversary in 1989 but as the months passed and there was no news of such an anniversary model people started to think it was going to be something even more special (which is why it was taking so long). Leading up to the twenty-five year mark rumors persisted that the special would get either a 5.8-litre engine or install the supercharged 3.8-litre engine from the Thunderbird Super Coupe. Not so it turns out. Instead of something special, Ford gave us a 25th Anniversary Mustang that got a passenger-side dashboard emblem with galloping-horse logo affixed to all Mustangs built between April 17, 1989 and April 17, 1990. That's right, slapped a logo on every car and called it an 25th Anniversary Mustang. Not special at all.
Special Edition Models & Variants
About the only things worth mentioning on the 1989 Mustang is a small special variant change. Some of the race crowd, picking up on the fact that the LX came equipped with the same performance as the GT but actually weighed some 200 lbs less. Power to weight ratio is always a key to performance and the sales reflected the fact. So Ford made a change. If an LX was optioned out to have a 5.0L engine, it was called the LX Sport.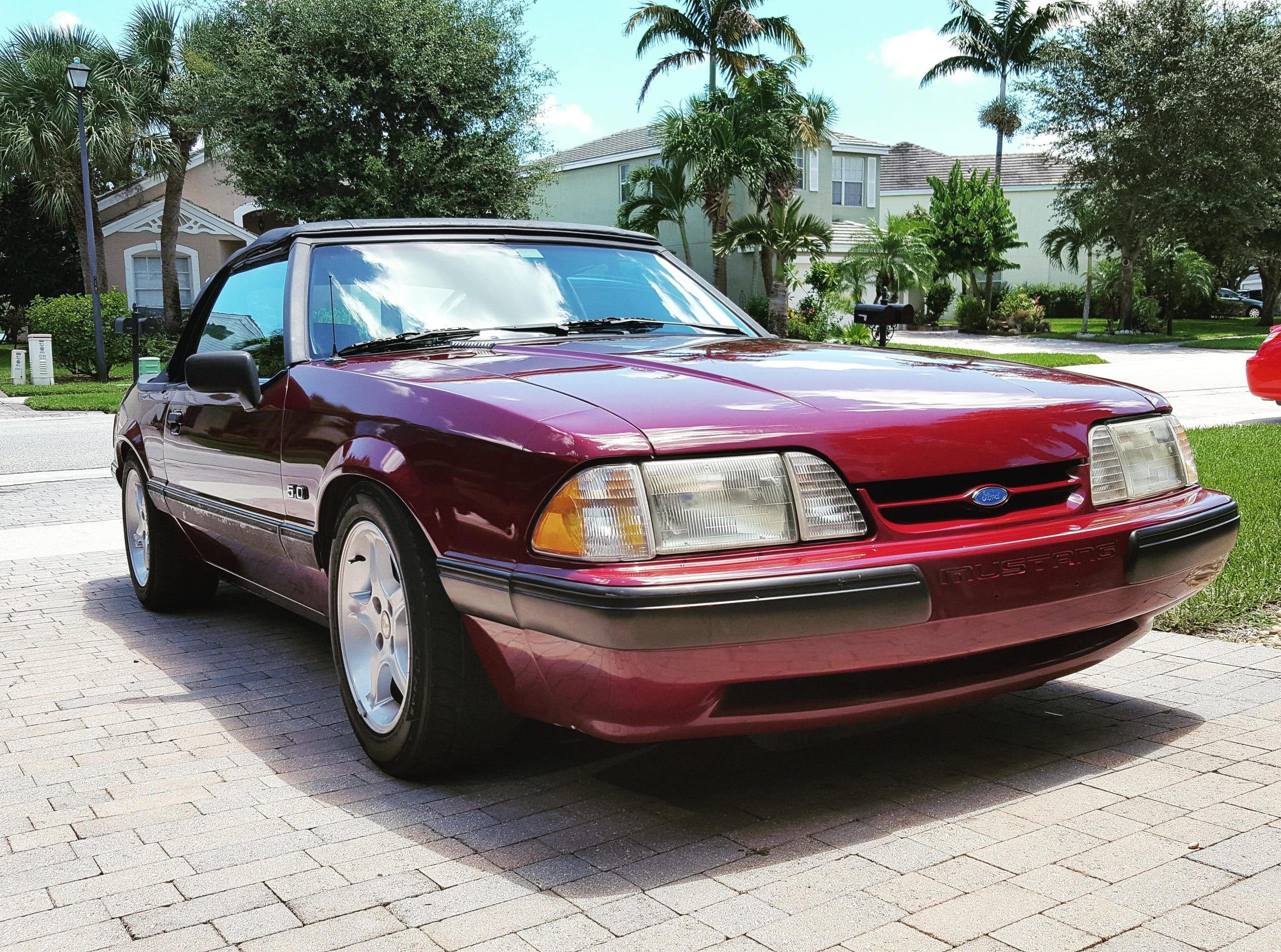 LX 5.0L Sport
The 1989 Mustang LX 5.0L Sport was a very interesting car. It offered much of the performance of the Mustang GT but in the LX body style for the 2-door coupe, hatchback, and convertible. It came with the awesome performance of the 5.0L GT engine and the taut handling of the GT suspension all wrapped up in the smooth styling of the LX.
Learn more about the 1989 Ford Mustang LX 5.0L Sport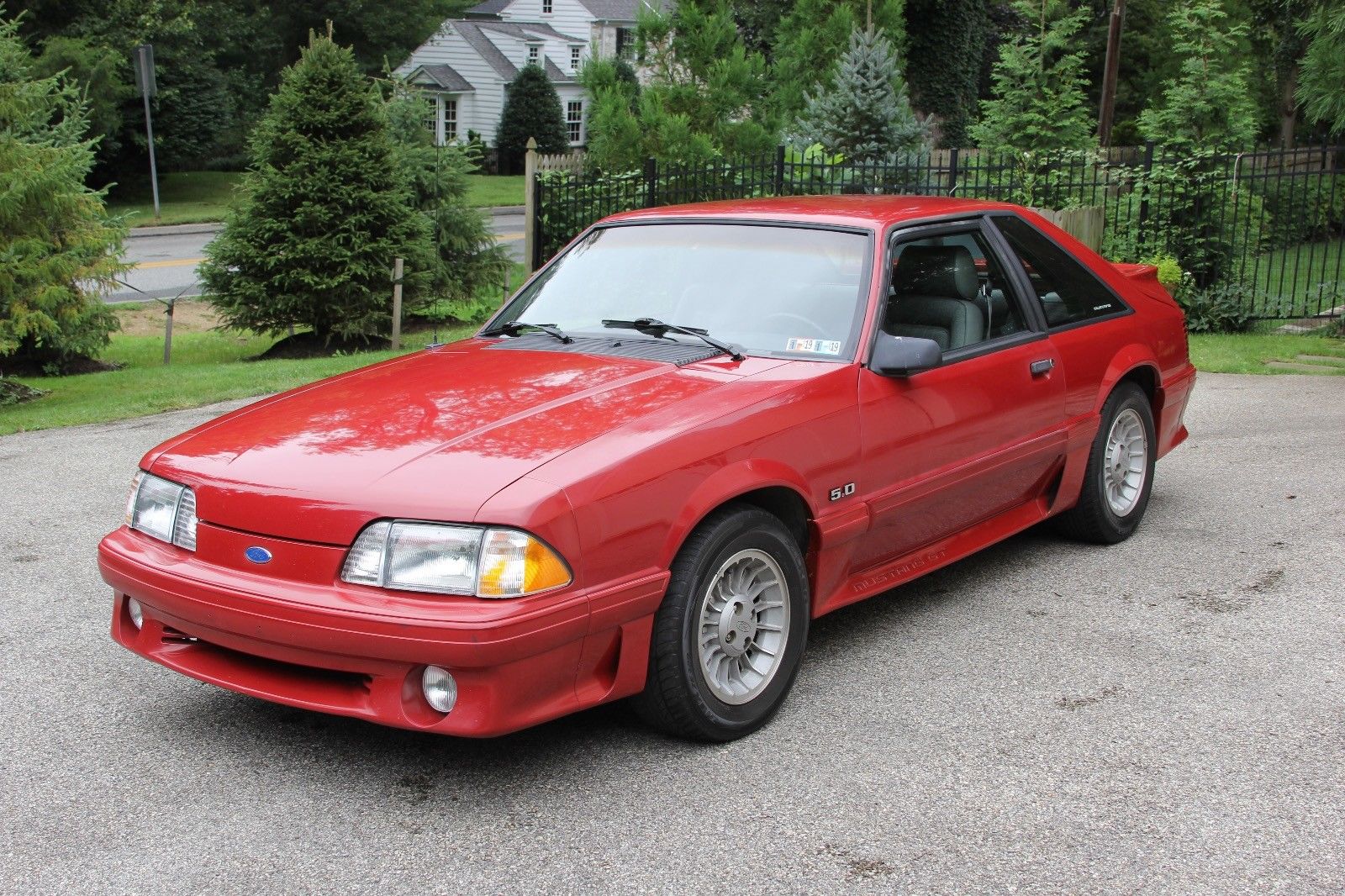 GT
No real changes for the 1989 Mustang GT. It remained unchanged for many years mainly because buyers and motoring journalists still loved the car and Ford didn't want to mess with a good formula. With its aggressive front aero and cool side and rear skirts it sold well and still looked the goods. As always the GT got the awesome 225hp, 5.0L HO V8 engine.
Learn more about the 1989 Ford Mustang GT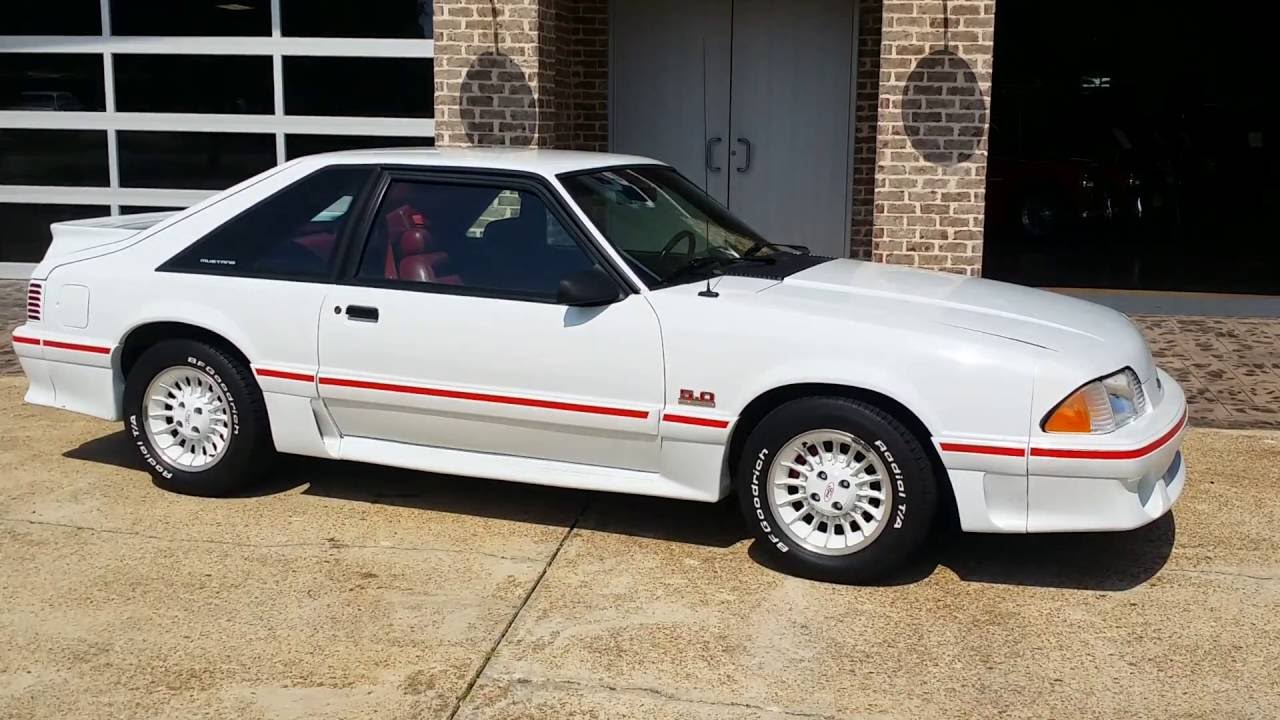 25th Anniversary Edition
Starting in mid-April and running through the late 1990 model year, Ford placed 25th anniversary, tri-bar pony badges on the passenger side dash of all LX and GT Mustangs. It was not a limited edition model by any means because every Mustang manufactured between April 17, 1989 and April 17, 1990 received a dash plaque decorated with a galloping pony badge, the three tribars and 25th anniversary stamped at its bottom.
Learn more about the 1989 Ford 25th Anniversary Mustang
Specifications, Options & Detailed Stats
Production Numbers
Mustang sales stayed flat in 1989 at 209,769 units. In terms of product mix, the coupe sold 50,560 units while the convertible had a strong year with 42,244 units and the hatchback continued to be the most popular body style with 116,965 total units sold. To dive into the model and body splits as well as see charts and percentages, check out our 1989 Ford Mustang Production & Sales Numbers deep dive.
| Year | VIN | Code | Body Style | Units Produced | % of Total |
| --- | --- | --- | --- | --- | --- |
| 1989 | P40 | 66B | 2 Door - Hardtop LX | 50,560 | 24.10 |
| 1989 | P41, P42 | 61B | 3 Door - Hatchback LX & GT | 116,965 | 55.76 |
| 1989 | P44, P45 | 66B | 2 Door - Convertible LX & GT | 42,244 | 20.14 |
| 1989 | | | Total | 209,769 | 100.00 |
Options and Pricing
The base prices kept going up despite no changes to the cars in 1989. Base sticker price for 1989 coupe edged up above $9,000 for the first time. The hatchback was now $9,556 and the convertible continued to be priced at premium at $14,140. For more detailed options and pricing, please check out our 1989 pricing and options research.
| Grouping | Description | Retail Price |
| --- | --- | --- |
| Base Car | 2 Door Hardtop | 9,050 |
| Base Car | 2 Door Hatchback | 9,556 |
| Base Car | 2 Door Convertible | 14,140 |
Exterior & Interior Colors
A total of 12 colors were available for the 1989 Mustang model year. The colors certainly got brighter and more vibrant in the late 1980s. For detailed colors, color palettes, codes and interior colors please check out our in depth 1989 colors information post.
Dimensions & Weight
The 1989 Mustang had the exact same dimensions and weight as the prior year model.
| Description | Measure |
| --- | --- |
| Body Length - Notchback/Hatchback | 179.1 inches |
| Body Width | 69.1 inches |
| Body Height | 52.1 inches |
| Wheelbase - Notchback/Hatchback | 100.1 inches |
| Weight Hatchback | 2791 lb |
| Weight Notchback | 2722 lb |
| Weight Convertible | 3044 lb |
| Trunk Capacity - Hatchback | 30.0 cu-ft |
| Trunk Capacity - Notchback | 10.0 cu-ft |
Engine Specs
The engine options were unchanged for 1989. The 90-horsepower four cylinder kept the awesome upgrades from the 1987 model year which greatly improved drivability with easier startup and a smoother idle. The hard-charging 5.0-litre H.O. V-8 kept its horsepower and torque number, now up to 225-horsepower and 300 pound-feet respectively and really started to pick up in popularity amongst buyers.
Although the engine choices remained unchanged for 1989, Ford opted to replace the incoming air metering duties with a Mass Airflow Sensor (MAF). Although a very slight decrease in horsepower was the result, several other benefits were apparent to both mechanics and tuners. The mass airflow system didn't suffer from changes in altitude, which could cause issues on a long drive with elevation changes. It also allowed hot rodders and engine tuners to have more control of engine management systems and allow more performance enhancing tweaks.For more information on engines for 1989, you can find the information here.
| Engine Name & Year | Fuel | Compression | Power (hp @ RPM) | Torque (lb/ft @ RPM) |
| --- | --- | --- | --- | --- |
| 1989 – 140 Lima Inline 4 Engine (2.3 L) | EFI SOHC | 9.5:1 | 90 hp @ 3800 RPM | 130 lb/ft @ 2800 RPM |
| 1989 – 302 H.O V8 (5.0 L) | EFI HO | 9.2:1 | 225 hp @ 4200 RPM | 300 lb/ft @ 3200 RPM |
Performance
Below is the performance data for the 1989 Mustangs that we could find. The improvements in 1987 stuck for 1989 and that was a good thing for Mustang owners. The enthusiast community were happy to see the Mustang's performance be competitive again and stay that way for a few years. Below we have included 0-60 mph times, 0-100 mph times as well as quarter mile times and top speed where available.
| Variant | 0-60 mph (sec) | 0-100 mph (sec) | Quarter Mile | Top Speed |
| --- | --- | --- | --- | --- |
| 1989 Ford Mustang GT (5L) | 6.1 seconds | | 14.1 seconds | 150 mph |
VIN Information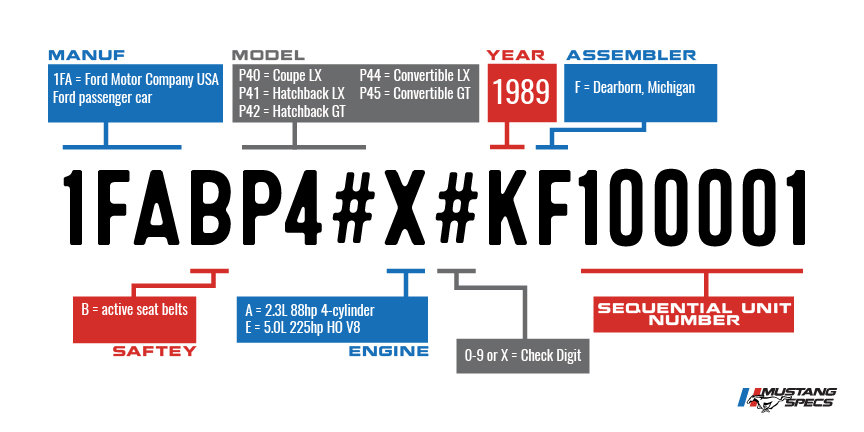 This link will take you to a page which contains the VIN tag information for all years of Mustangs. Previously this information appeared on each Mustang's year page, but consolidating it has significantly reduced page loading times. To decode the build sheet, check out our 1989 VIN & Data Plate Decoder sheet.
Videos & Picture Galleries
We managed to find some great video reviews of the 1989 Mustang so definitely check those out. We also have a picture 1989 Ford Mustang Picture Gallery and photos of real Mustangs in each color that was available.