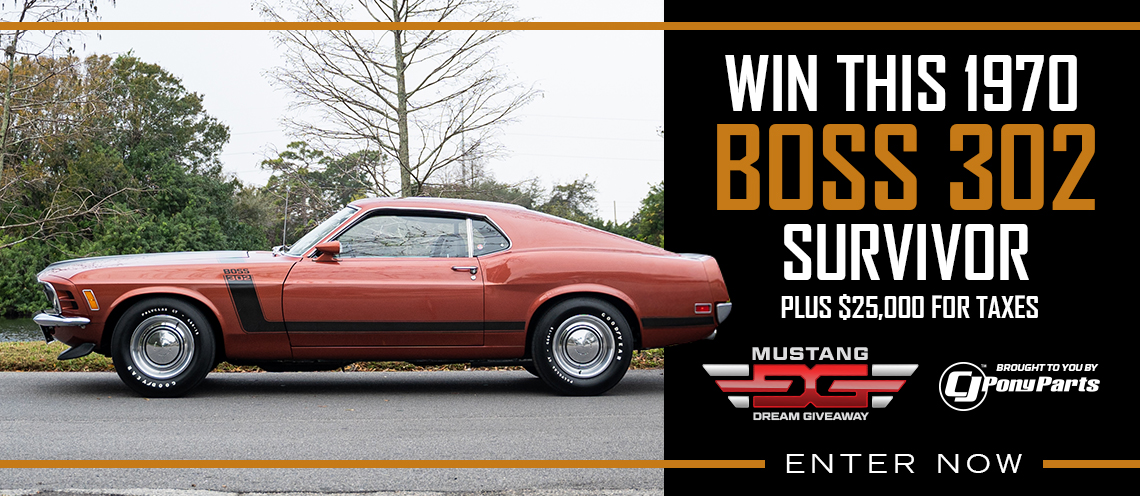 When the Mustang Boss 302 burst onto the scene in 1969, many consumers and performance enthusiasts felt as if Ford finally had an answer to Chevrolet's immensely popular Camaro Z/28. Prior to the Boss 302's unveiling, Ford had little that could rival the Camaro's SCCA Trans-Am class success.
However, "Bunkie" Knudson and Larry Shinoda, newly hired by Ford after lengthy stints with General Motors, put a plan in action, which ultimately spawned the Boss 302 and Boss 429. While the Boss 429 was produced in a bid to homologate Ford's new 429 cubic-inch powerplant for future use within NASCAR racing, the Boss 302 was designed with the sole intent of outright domination of Trans-Am class racing.
The Boss 302 was released to a significant degree of fanfare in 1969 and returned for a second production run in 1970. Competing alongside the recently-released 1970 Dodge Challenger (and its updated E-body cousin, the 1970 Plymouth Barracuda), the Boss 302 was a necessary stablemate for Ford. However, the 1970 production year would prove to be the last for the Boss 302, as it would be dropped by Ford, before its junior year. In actuality, little changed between the Boss 302's two years of production, aside from a few minor suspension revisions, and a handful of modest exterior modifications.
Exterior Refinement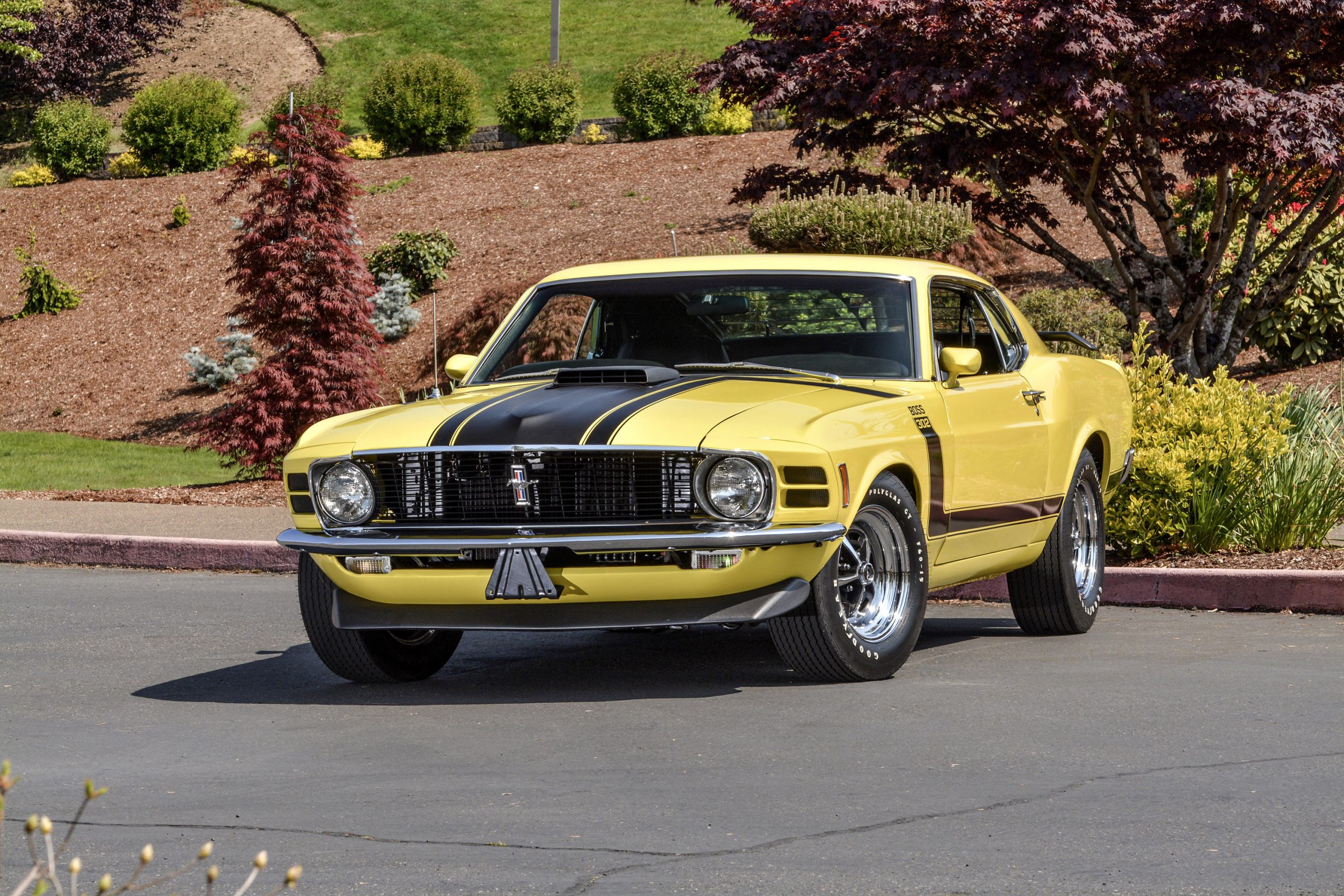 In a trend that continued from the year prior, the 1970 Boss 302 carried a prominent look of aggression. The 302's previous quad-headlamp configuration was nixed in favor of a dual-lamp design, flanked to each side by non-functional fender intakes. A new Shaker hood was also offered on an optional basis. Additionally, the Boss 302 retained its iconic chin spoiler from the year before.
The Boss 302 now featured a somewhat narrower "blacked out" hood segment, which was framed with thin striping of the same color to each side. The car's side striping design had also been modified from the year prior. This striping now ran forward from the 302's rear fender well, before ultimately trending upward toward its hood. This striping then continued across the hood's width, before reaching identical striping on the opposite side of the vehicle.
Several interesting exterior options were also offered during the 1970 model year. Rear window shades were available on an optional basis, as was a high-rise rear spoiler.
An Interior Of Choice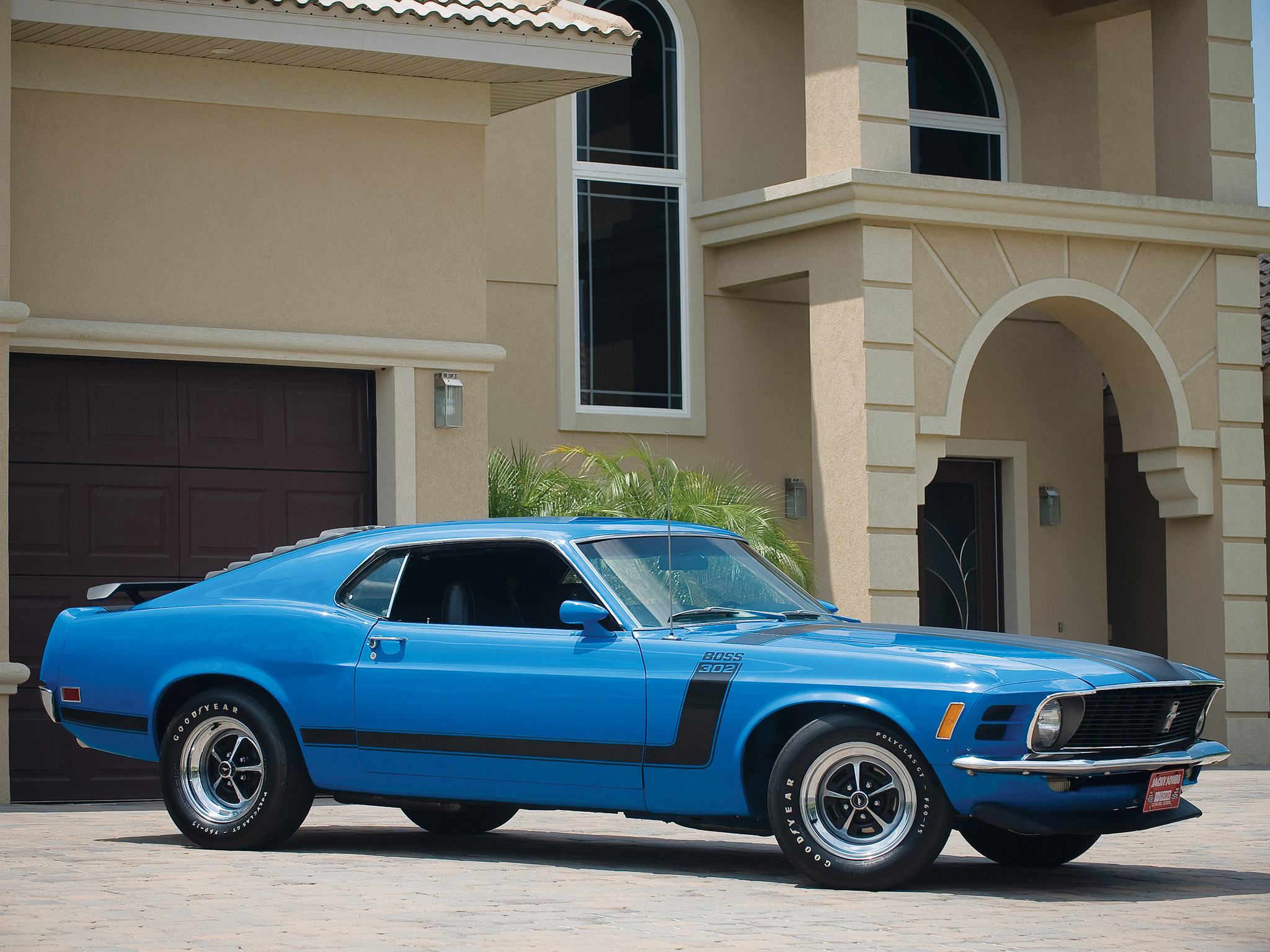 Unlike many high-output Mustangs of its era, the Boss 302 could be purchased with several different interior packages. While many Shelby models were only offered with Ford's Deluxe trim, prospective owners of the 302 could have their vehicle outfitted with any one of the base Mustang's numerous trim packages.
The only characteristic that differed between the Boss 302's interior, and that which was found in base Mustangs of the day, was the inclusion of a manual choke knob, which was located along the left side of the dash.
Camaro Killing Performance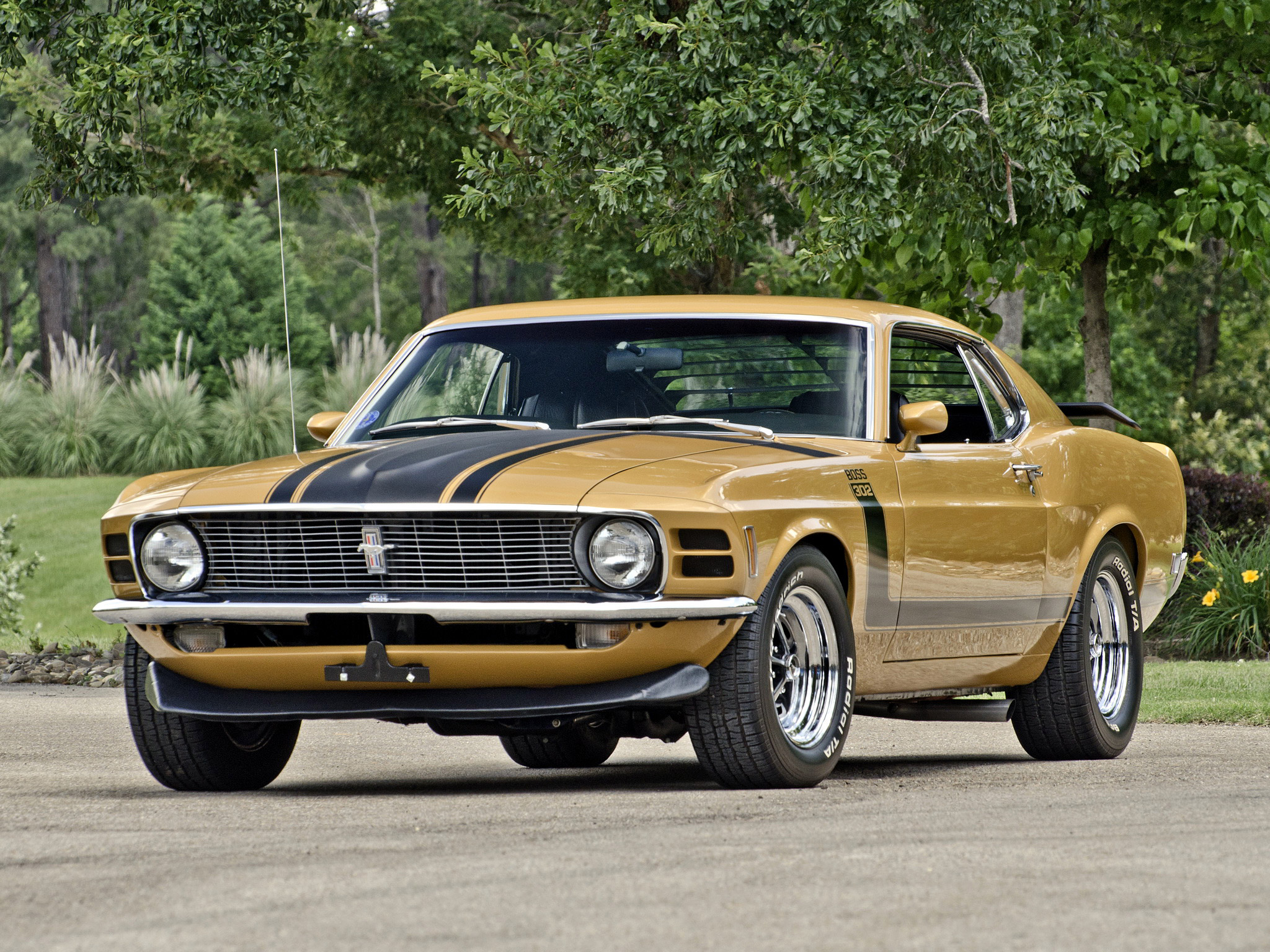 The 1970 Boss 302 once again featured Ford's specialty 302 cubic-inch V8. This engine was fitted with a set of specially-tuned Cleveland heads, which were less restrictive than Ford's standard 302ci heads. The 302's powerplant was also topped with a 780-cfm Holley four-barrel carburetor.
The high-output 302 cubic-inch V8 was rated at 290 HP, though most knowledgeable sources are in agreement that the engine's performance specifications were extremely conservative in nature. This power was directed downstream through a Hurst four-speed transmission, and 3.50:1 rear axles, though 3.9:1 and 4.3:1 axle ratios were offered.
The 1970 Boss 302 also benefited from several race-inspired suspension upgrades. The most notable of these upgrades came in the form of a more robust 0.85" sway bar, as well as the addition of a rear sway bar. Also standard were front disc brakes, as well as a set of Polyglas F60xl5 tires,
Back On Top
Ultimately, the Boss 302 proved to be just the answer that Ford had been searching for when attempting to keep the Camaro Z/28 at bay. The 302 dominated Trans-Am competition in 1970, taking back Ford's coveted crown from Chevrolet. Ironically, however, with its purpose served, the Boss 302 was put out to pasture at the conclusion of the year. This ended what was one of the shortest-lived, yet most fulfilling chapters in Mustang design and development history.
1970 Ford Mustang Boss 302 Specifications
| | |
| --- | --- |
| Engine | 302ci V8 engine |
| Horsepower | 290 horsepower |
| Torque | 290 lb-ft of torque |
| 0-60 MPH | 6.5 seconds. |
| Quarter Mile Time | 14.93 seconds. |
| Weight | 3300 lbs |
| Base Price  | $3,720 |
| Production Numbers | 7013 |
Available Exterior Colors
The 1970 Mustang Boss 302 was available in Wimbledon white, bright yellow, Acapulco blue, calypso coral, light ivy yellow, competition yellow, gulfstream aqua, medium lime metallic, grabber blue, bright gold metallic, pastel blue, medium blue metallic, candyapple red, grabber orange, chestnut metallic, and grabber green.
Available Interior Colors
The 1970 Mustang Boss 302 interior was available in either black or white.
1970 Ford Mustang Boss 302
We found a great video about the '70 Mustang Boss 302.