I sure wouldn't mind owning this bright red 1969 Ford Mustang Boss 429 Fastback, for one I rather like the styling of this car, and secondly, I was born in 1969, so owning a car that's exactly as old as I sounds like a great idea, and this 194th Boss 429 produced, with just 279 being fitted with the 820-S engine out of a total production of 857 units, makes the package even more interesting, add the fact just 201 were finished in this Candyapple Red and comes with a 4-Speed manual transmission is literally the cherry on the cake.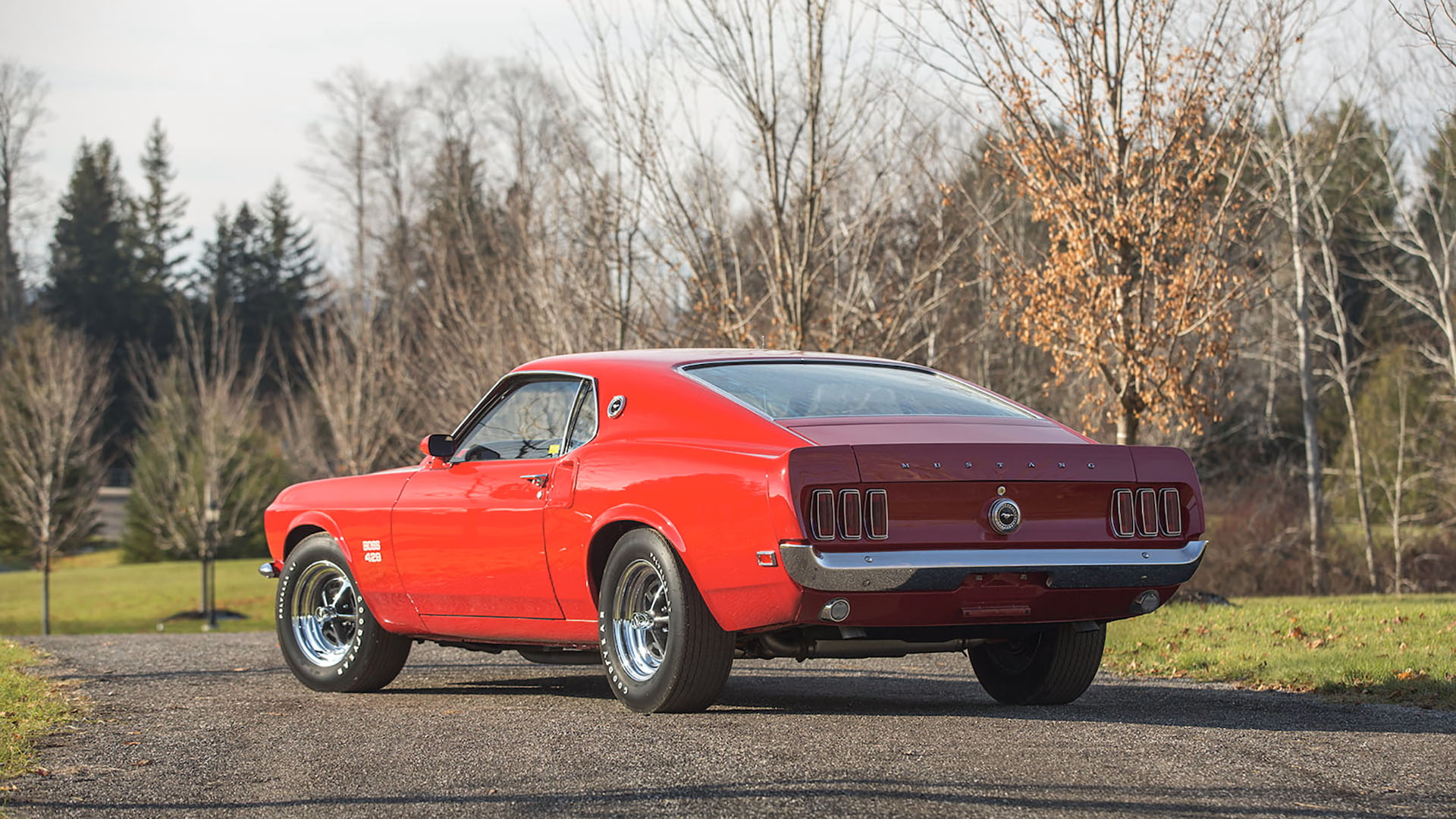 And it gets even better, this specific Boss Mustang, KK no. 1394 is heading to auction, more specifically the Kissimmee 2023 auction between January 4 and January 15 organized by Mecum Auctions, and get this … it is the 4,000th vehicle consigned to this record-setting auction, make sure to check out the listing for yourself on the Mecum website.
For now, feel free to read this extract from the actual listing:
This meticulously restored 1969 Ford Mustang Boss 429 Fastback, wearing Kar-Kraft build plate KK No. 1394, was the 194th Boss 429 built by the famous Ford contractor of the only 857 constructed in 1969 to homologate the Boss 429 engine for NASCAR racing. Several different versions of the "semi-hemi" Boss 429 V-8 were installed in these Mustangs, and all were rated by Ford at 375 HP and 450 lb-ft of torque—though, in racing tune, they were known to produce from 500 to 600 HP. The initial 279 Mustangs Kar-Kraft built received the 820-S engine, which is distinguished by its magnesium valve covers, hydraulic camshaft and NASCAR-style connecting rods with 1/2-inch rod bolts. The 820-S in this Boss is not original to the car, but it is a correct S-code engine sourced from another Boss, KK No. 1382.
Heavy-duty driveline components back up the Boss 429, including a Toploader close-ratio, 4-speed manual transmission with a Hurst shifter, a nodular 9-inch rear end with 31-spline axles and a 3.91 Traction-Lok differential. All Boss 429s were also fitted with a competition-style suspension that included heavy-duty springs and shocks (which were staggered in the rear), a shock tower brace and front and rear sway bars. Chassis equipment also included power steering and power brakes with front discs. Meanwhile, the large (for the time) F60-15 Goodyear Polyglas GT tires, which were mounted on Boss 429-specific Magnum 500 wheels, required some fender modifications to get them to fit in the Mustang's wheel wells.
For 1969, Boss 429 Mustangs were available in five colors. Delivered new to Muzi Motors in Needham Heights, Maryland, KK No. 1394 is one of just 201 painted Candyapple Red. While exterior color choices were available, all Boss 429 interiors were black and featured the Décor group upholstery. Just in case the rumble of the Boss V-8 wasn't entertaining enough, an AM radio was installed in the dash. The result of a comprehensive restoration, KK No. 1394 is being sold with its original build sheet and a Marti Report to verify its place in Ford's Total Performance program.