1968 Ford Mustang Cardinal Edition
Virginia and North Carolina got their own territorial special in 1968 and it was known as the Mustang Cardinal Edition. It, like the other territorial specials was made up of largely dealer-installed cosmetic upgrades.
All Cardinal Specials included the Sprint Package A equipment, standard black interior, red or white exterior, and a unique diamond shaped emblem affixed to the C-pillar. White cars came with a red C-stripe and red cars came with a black C-stripe. The Cardinal Specials were advertised with the 200 cubic-inch six cylinder but there have been reports of V-8s being available as well.
The Cardinal Special,or Edition as it was called,was a Virginia Ford Dealers Special and will have a DSO Code of 25 (Richmond, VA).

They are all hardtops and came with Cardinal Special rear quarter panel emblem, flip-open chromed gas cap, black interior, black side "C" stripe, wheel lip moldings, wheel covers, 200ci inline six cylinder engine, and special paint (Candy Apple Red and possibly Wimbledon White).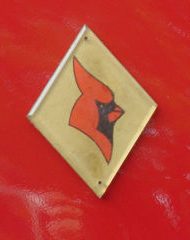 The Cardinal Special came with the following options:
Candy Apple Red Paint
Black vinyl interior
C stripe package trim
Pop open gas lid
Clear fog lamps in the grill (not the amber ones like the GT has)
Slotted wheels,plain caps & trim rings,(not the GT caps)
Console
Special interior light package
289 engine with a 2 barrel carb
And the most important identifying item on the car, the clear plastic gold background with the red Cardinals head on it medallion on the sail pillars.
The Advertising