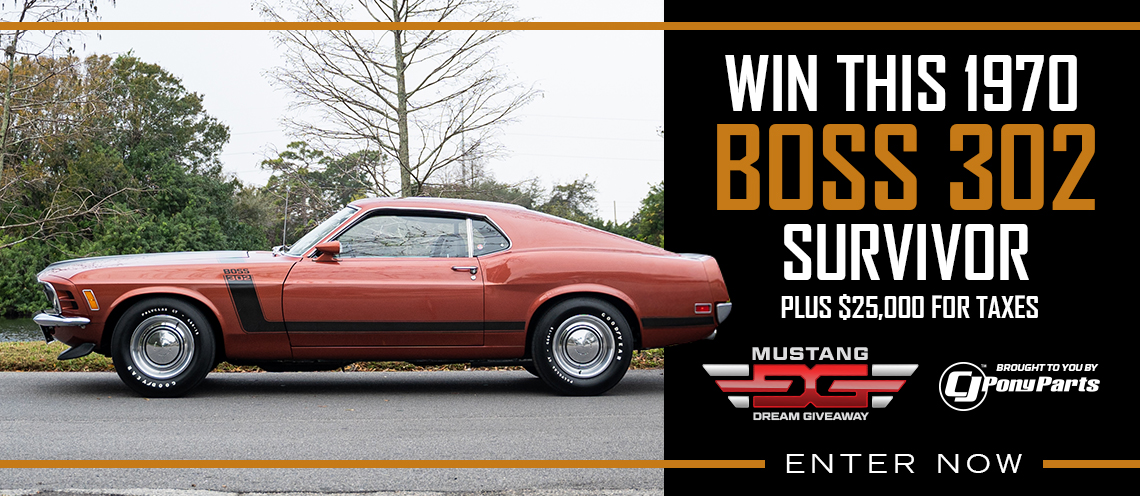 Background of 1964 1/2 Mustangs
Mustangs built between March 1964 and August 17, 1964 were identified as 1964½ Mustangs, or early 1965 Mustangs. Mustangs built after the date of August 17, 1964 were identified as late 1965 Mustangs.
The first year mustang, later called the 1964½, was available in two models: the coupe and the convertible. Both of these models featured lengthened hoods and shorter rear decks than the prototypes, also chrome wrap-around bumpers and grilles with a running hose, and full wheel covers. Both the coupe and the convertible were available with a 170 cid 101 horsepower 6 cylinder engine, a 260 2-V 164 horsepower V-8, a 289-4V 210 horsepower V-8, and beginning in June, a powerful 4 barrel, solid lifter, 289 cid 271 horsepower V-8 engine.
Also available were a 3 speed, 4 speed, or automatic transmission, and a pick between a variety of rear end gear ratios. Featured in the interior was "wall-to-wall" carpeting, front bucket seats, or an optional front bench seat, rear bench seat, a sports car style steering wheel, floor mounted shifter, and full headliner. A total of 121,538 Mustangs were produced during the 1964½ model run.
While beat to the punch – if only just – by the Plymouth Barracuda and the "gotcha-by-two-weeks" release of the 1964 model year 'Cuda, it is the 1964.5 Mustang that is remembered as the original pony car. While Chevrolet had the immensely popular C2 Corvette, with a particularly gorgeous split-window variant for the 1963 model year Corvette, the Camaro – the bowtie-brand's answer to the Mustang – wouldn't hit the streets until the 1967 model year.
Now that we've established where the legacy of America's original pony car comes from, if not in timing but in spirit (and, certainly, sales), let's get on to the 1965 Mustang in-depth.
Background of 1965 Mustangs
1965 brought few changes for the Mustang. The biggest change was the availability of a new fastback model, which was to become the basis for Carroll Shelby's G.T. 350. The 120 horsepower, 200 cid 6 cylinder engine replaced the 170 cid 6 cylinder, the 289-2V, 200 horsepower V-8 replaced the 260-2V, the 289-4V was upgraded to 225 horsepower, and the 289-4V hi-po remained unchanged. Other changes for 1965 included: an alternator instead of a generator, relocation of the oil filler, integral power steering pump and reservoir (most 64½'s had a remote mounted reservoir), a wire retaining ring was added to the gas cap, the horns were smaller and relocated, and the interior carpet was continued up the sides of the rocker panel and under the sill plate.
A new interior option was added, the interior decor group (known as the pony interior), which featured special seat covers with running horses across the back, special interior door panes with integral arm rests and pistol grip door handles, five gauge instrument panel, woodgrain steering wheel, and woodgrain appliques on the instrument cluster, glovebox, and optionally on the center console. Another option introduced in April of 1965 was the GT equipment group. Available only with one of the two four barrel engines, the GT group included five-dial instrumentation, disc brakes, larger sway bars, quicker steering ratio, dual exhaust which exited through the rear valance panel, grill mounted fog lights, and special lower body side stripes. A total of 559,451 Mustangs were produced for the 1965 model year.
On April 17, 1964, I was sitting in front of my grandparents TV in northern Illinois. We were watching the news and the biggest story was about the sale of the all new FORD Mustang. I saw the long lines at the Ford dealers and heard about the people who wanted a new stylish affordable sporty car.
I knew right then, that I wanted one too. Little did I know how many I would eventually own over my lifetime. Some I cussed and some I wish I still owned today. But automotive history was made on April 17, 1964, and I was there. Well sort of. I did not participate in the hoopla in '64, but in 1968, I would buy my first new Mustang.
The standard engines in the first Mustangs were the 170 CU, inline six cylinders. The optional V-8s were the 260 CI 164 hp engines and then the 289 CI 4bbl 210 hp engine. The default transmission was the 3 speed. However for a few measly dollars more one could buy either an automatic transmission or a 4-speed manual tranny. In June, the 289 HP engine was offered.
The HP engine had solid lifters, a different low resistance exhaust manifold, and higher compression. If you bought the HiPo engine, you had to get the 4-speed transmission.
The 1965 Mustang body was similar to the 1964 1/2 Mustang. In fact, the 1964 1/2 Mustang was really the 1965 early Mustang. Those cars built between March and August of 1964 are referred to as early Mustangs. Because of the extremely high demand for the cars, Ford could barely keep up with demand by running full speed in three assembly plants. Therefore, few changes were made between the early '65s and the late 1965 Mustangs.
When the first Mustangs rolled off the assembly line they consisted of only coupes and convertibles. These cars were offered in a standard interior or a deluxe interior and your choice of engines, The deluxe interior decor group became known as the Pony Interior (for more details, see paragraph below). The pony interior, had embossed ponies running across the back of the seats, and a 5 cluster instrument panel. In September of 1964, some 6 months after the first coupes were born, the first fastbacks rolled off the assembly line. The fastbacks were called 2+2's because they had 2 seats in the front and a fold down seat in the back. Fastbacks were also were available with the deluxe interior option. However, fastbacks only received the running horses on the front seats. The back seats did not get any treatment.
The biggest difference between the early Mustangs and late Mustangs occurred in the engine compartments. Late Mustangs received an alternator and generators were out. Generators produced more electricity when the engine was revved higher and less at an idle. Alternators produce a steadier voltage output and the lighting got much better. The 105 horsepower (hp), 170 cubic inch (ci) engine was replaced with the 120 hp 200ci 6 cylinder engine. The 164 hp, 260 ci engine was replaced with the 200 hp, 289 ci engine and the 210 hp 289 ci was replaced with the 225 hp 289 ci engine. The 225 hp engine achieved its added horsepower via higher compression and different heads.
The sporty GT option was offered in 1965 consisted of; manual front disc brakes, grille mounted fog lights, with grill bar, GT gas cap, F70x14 tires, GT rocker paint stripes, GT side emblems, special exhaust trumpets protruding through the rear valance, Special handling components, Special 5 gauge instrument cluster. An additional option was the Rally-Pac. There were two styles made, one for the 5 dial instrument cluster and one for the 4 dial instrument cluster. These original Rally-Packs are few and far between. Finding an original one today is a rare find indeed.
A special handling package was available for the 200 and 225 hp Mustangs. Since it was included with the GT group, all 271 hp engines already had this installed by default. The special handling package consisted of; Increased rate front and rear springs, Heavy duty shock absorbers, 22 to 1 steering ratio and larger diameter front stabilizer bar. HiPo cars of which there were 7,273 made received a 9 inch differential with gear ratios of either 3.89 or 4.11 to one. Hi performance vehicles received 15.5 inch wheels and 5.90×15 tires.
All early Mustang six cylinder engines had a 4 lug 4.5×13 inch wheel and 13×6.5 tires. Optional tires were 7.00×13 white wall tires. V8 cars could order an optional 14x 14.5 rim and 6.50×14 tires. All 8 cylinder engines used 5 lug pattern on their rims. Starting in 1965, V8 cars standard rims were the 4.5×14 and use 6.95×14 tires, 15×5 wheels were an option and used 5.90×15 tires. The 15 inch option was dropped and late hi performance cars used 14 inch rims and dual redline sidewall tires.
Then in 1965, the interior was mildly redesigned. The instrument cluster changed from the original Falcon design to a five pod design with the speedometer in the center and flanked with two smaller gauges on each side. Air conditioning (optional) consisted of a unit hung below the dash and could be ordered from the factory or installed at the dealer. Almost all bolt on options could be ordered and installed at the dealership. All headliners were white!
A fold down rear seat was available in the fastback and a not-so-popular mid-year introduction was the full front bench seat in the hardtops and convertibles (ugh). If you got the bench seat, you could not get the console, the GT package or the interior decor group. And, you ended up with a teeny weeny family car, and ruined a good sporty car.
The interior decor group was officially introduced on April 17, 1965, it consisted of: A five dial instrument cluster with full instrumentation, brightly trimmed pedals, walnut looking deluxe steering wheel, vinyl covered quarter trim panels, bright trim cap on hardtop quarter trim panel, courtesy lights in doors, galloping pony embossed seat covers, molded door panels with pistol grip door handles, wood grain glove compartment door, wood grain appliqués on instrument panel, kick panels with half carpeting and stainless trim.
Some of the rarest early Mustangs were the 37 Pace Car White Mustang convertibles made for the 1964 Indianapolis 500 race. Two of these cars were actually used in the race, 35 others were given to race dignitaries. An additional 185 replica hardtops equipped with 260 ci engines and automatic transmissions were built and given to dealers for promotional purposes.
Most "Decor group" packages were ordered with a center console however it was not part of the package and did cost extra.
Since all 1964 1/2 and 1965 cars had a 5 in the fifth place holder on the VIN, the easiest way to tell if your car is a 64 1/2 or 65 is to look at the engine code if your code is a D, K, U, you have a 64 1/2 if you have a C, T, or A you have a 1965. If you have an engine code of "K", you have a gold mine. But to determine the year, you will need to check manufacture date codes on engine and body parts.
The GT Package
1965 Mustang GTs were very different from the regular cars. They also had many factory modifications that are hard to duplicate after production. Because different plants produced Mustangs in different ways, not all rules are firm and fast. but there are some of these rules that must be met!
The very basic rule is that every GT must be either a "K" code car or an "A" code car built after mid February 1965, no exceptions. The GT must have a dual exhaust system with exhaust trumpeters that exit through a special rear valance with 2 exhaust openings. Because of these exhaust openings, the rear bumper guards were omitted. The bracket bolt holes were sealed with small rubber plugs. To accommodate the dual exhaust, special exhaust hanger reinforcements were used on the rear hangers behind the rear seats.
The GT's exterior had a small GT badge on each front fender and GT stripes that ran from the rear of the front wheel well to the front of the rear wheel opening. They did not receive the standard M U S T A N G or M U S T A N G 2 + 2 emblems so there should not be any holes drilled and patched from these. Rocker molding were deleted and not an option.
The front of the car received a set of fog lights mounted on horizontal bars. The will either be one hole or two holes punched in the front of the radiator support for the wires to run through. There will be a fog light circuit breaker (mounted on brake pedal bracket) and a fog light switch that is mounted under the dash on the inside of the car. There are several locations where the switch was mounted so that is not a determining factor. The switch had one male and 2 female connectors that connected into the main wiring harness. One thing is that whenever the fog lights are turned on, the tail lights also come on. Aftermarket switches do not have this option.
There will be no little "C" side scoop ornamentation on a GT.
Mechanically speaking, the GT was built with a 16:1 quick ratio steering gearbox. They had a stiffer suspension and heavier (thicker) front sway bar. Gt's received heavy duty shock absorbers. Along with the beefed up suspension, GT's were equipped with a larger single master cylinder, a proportioning valve, disc brakes and a brake pedal that was labeled "Disc Brake".
The interior received a 5 dial analog instrument cluster and a flat glove box door in camera case black.
Production Numbers
wpDataTable with provided ID not found! wpDataChart with provided ID not found!
Specifications
| Description | Specs |
| --- | --- |
| Wheel Base (inches) | 108 |
| Track Front (inches) | 56 |
| Track Rear (inches) | 56 |
| Width (inches) | 68.2 |
| Height (inches) | 51 |
| Length (inches) | 181.6 |
| Curb Weight (pounds) | 2,860 |
| %Frt / % Rear | 53/47 |
| Misc. | 289 |
VIN Decoder & Numbers
Click on the following link to decipher all years of VIN (Vehicle Identification Number) codes for your Mustang. Deciphering Serial Numbers. The table below is good for 1965 Ford Mustang VIN.
5 – Last digit of model year (1965)
F – Assembly plant (F-Dearborn, R-San Jose T-Metuchen)
07 – Body code (07-Coupe, 08-Convertible, 09-Fastback)
F – Engine Code
100001 – Consecutive unit number
Example: 5F07F100001
| Digit | Code Description | VIN |
| --- | --- | --- |
| Example | Full VIN 1-12 digits | 5F07F100001 |
| 1st | Year | 5 = 1965 |
| 2nd | Assembly Plant | F = Dearborn R = San Jose T = Metuchen |
| 3rd & 4th | Plate Code | 07 = Coupe 08 = Convertible 09 = Fastback |
| 5th | Engine Code | U = 170 ci 1V 6 cyl '64 T = 200 ci 1V 6 cyl '65 F = 260 ci 2V 8 cyl '64 C = 289 ci 2V 8 cy '65 D = 289 ci 4V 8 cy '64 A = 289 ci 4V 8 cy '65 K = 289 ci 4V 8 cy hipo |
| 6th to 12th | Units / Sequence Number | 100001-599999 |
Engine information
170 cid 1V 6cyl 101hp (1964½) U
200 cid 1V 6cyl 120hp (1965) T
260 cid 2V V-8 164hp (1964½) F
289 cid 2V V-8 200hp (1965) C
289 cid 4V V-8 210hp (1964½) D
289 cid 4V V-8 225hp (1965) A
289 cid 4V V-8 271hp high performance (1965)
| Code | Cubic Inches | Bbl | Power (hp) | Notes |
| --- | --- | --- | --- | --- |
| U,4 | 170 | 1 | 101 | Early 1965 17.0% |
| T,2 | 200 | 1 | 120 | Late 1965 |
| F,6 | 260 | 2 | 164 | Early 1965 48.6% |
| C,3 | 289 | 2 | 200 | Late 1965 |
| A | 289 | 4 | 225 | Late 1965 |
| D | 289 | 4 | 210 | Early 1965 35.1% |
| K | 289 | 4 | 271 | Late 1965 (1.1% in 1964 1/2) |
Options and Pricing
| Grouping | Description | Retail Price |
| --- | --- | --- |
| Base Car | Basic Coupe | 2,320 |
| Base Car | Convertible | 2,557 |
| Base Car | Fastback | 2,533 |
| Engine Options | 289 ci V8 2bbl Challenger | 105 |
| Engine Options | 289 ci V8 4bbl Challenger | 158 |
| Engine Options | 289 ci V8 4bbl 271 hp Challenger without GT package | 327 |
| Engine Options | 289 ci V8 4bbl 271 hp Challenger with GT package | 276 |
| Transmission Options | Automatic Transmission 6 cylinder | 113 |
| Transmission Options | Automatic Transmission 8 cylinder (not 271 hp) | 184 |
| Transmission Options | 4 speed manual 6 cylinder | 113 |
| Transmission Options | 4 speed manual V8 | 184 |
| Chassis | Power brakes (NA 6 cyl) | 42 |
| Chassis | Power Steering | 84 |
| Chassis | Limited Slip differential (N.A. 6 cylinder) | 41 |
| Chassis | Manual front disc brakes ( 8 cylinder only) | 56 |
| Performance Packages | Special handling package (200 & 225 hp engines) | 30 |
| Performance Packages | GT Package (225 & 271 hp V8s only) | 165 |
| Performance Packages | Styled steel wheels 14 inch (8 cylinder only) | 119 |
| Interior Options | Interior decor group | 107 |
| Interior Options | Emergency flashers | 19 |
| Interior Options | Padded sun visors (fastback & convertibles) | 5 |
| Interior Options | Rear seatbelts | 14 |
| Interior Options | Front retractable deluxe seat belts | 7 |
| Interior Options | Deluxe seat belts Front & Rear w/ front retractable | 25 |
| Interior Options | Visibility group -Remote control mirror, day/night mirror & 2 speed windshield wipers | 35 |
| Interior Options | Console without A/C | 50 |
| Interior Options | Console with A/C | 31 |
| Interior Options | Air conditioner | 277 |
| Interior Options | Tinted glass with banded windshield | 30 |
| Interior Options | Tinted banded front windshield only | 21 |
| Interior Options | AM radio with antenna | 57 |
| Interior Options | Deluxe steering wheel | 31 |
| Interior Options | Delete for credit Heater | -31 |
| Interior Options | Seat belts - Delete | -10 |
| Exterior Options | Power Convertible top | 52 |
| Exterior Options | Accent group (fastback & convertibles) includes body side paint stripes, lower rocker molding | 27 |
| Exterior Options | Accent group (hardtop) includes body side paint stripes, lower rocker molding | 13 |
| Exterior Options | Back-up lamps | 10 |
| Exterior Options | Heavy duty battery | 7 |
| Exterior Options | Closed emission system (mandatory in California) | 5 |
| Exterior Options | Rocker panel molding (Convertibles & fastbacks) | 15 |
| Exterior Options | Vinyl roof (hardtops) | 74 |
| Exterior Options | Knock off wheel cover hubs | 17 |
| Exterior Options | 14" Wire wheel covers | 44 |
| Grouping | Description | Retail Price |
All regular production Mustang options are available with the hp engine except:
 A/C
3 speed manual
Cruise-O -Matic
Limited slip differential
Power steering
Rayon tires
All regular production Mustang options are available with the GT package except:
Back up lamps
Rocker panel molding
Power brakes
accent group
and options available with the hp engine.
Exterior Paint Colors (Late 1965)
| Code | Exterior Color | Sample Image |
| --- | --- | --- |
| 3 | | |
| 5 | | |
| 7 | | |
| 8 | | |
| A | | |
| C | | |
| D | | |
| F | | |
| H | | |
| I | | |
| J | | |
| K | | |
| M | | |
| O | | |
| P | | |
| R | | |
| X | | |
| Y | | |
| WT9301 | | |
Exterior Paint Colors (Late 1965)
| Code | Exterior Color | Sample Image |
| --- | --- | --- |
| 3 | | |
| 5 | | |
| 7 | | |
| 8 | | |
| A | | |
| C | | |
| D | | |
| F | | |
| H | | |
| I | | |
| J | | |
| K | | |
| M | | |
| O | | |
| P | | |
| R | | |
| X | | |
| Y | | |
| WT9301 | | |