1964.5 Mustang Engine Information – 170 cubic inch I6 (2.8 L Inline 6)
170 Cubic inch engine was only used on the early 1965 Mustangs, (often referred to as 1964 1/2). The engine code was "U". Paint color was black (paint code 903)and black heads with orange valve covers (paint code 912) and air cleaner. It was an inline six cylinder single barrel carbureted engine rated at 101 or 105 horse power depending on who you believe. I have also seen sources where it was rated at 105 horses, but I believe most sources show 105.
It had a compression of 9.1:1, a bore and stroke of 3.500×2.940. The exhaust was a single exhaust pipe with a single inlet/outlet transverse mounted muffler behind the axle and in front of the gas tank. The muffler resembles the 8 cylinder muffler, but they are not the same.
One could get a 3 speed manual or a Ford-O-Matic automatic transmission with this engine. The engine was available for the early 1965, and 1965 years only. As the Mustang grew in size, so so did the base engine in 1966, the little engine that could grew to 200 cubic inches.
From the Mustang's first unit, this was the base engine. Although small in size, it did push the car down the road at a fair clip, and it was a dependable little engine. The single barrel carburetor was easy to adjust and did not go out of adjustment very easily. Back in the 60's gas mileage was not a concern as it was generally under 20 cents per gallon. You could fill up the tank on Monday for about $2.50 and drive it almost all week.
Engine Basics
| | |
| --- | --- |
| Year | 1964.5 |
| Cylinders | 6 |
| Displacement | 170 cu / 2.8 liters |
| Power (hp) | 105 hp @ 4,600 RPM |
| Torque (lb/ft) | 140 lb/ft @ 3,200 RPM |
| Compression | 8.2:1 |
| Bore x Stroke | 3.660 x 2.700 |
2.8L Cologne V6 Firing Order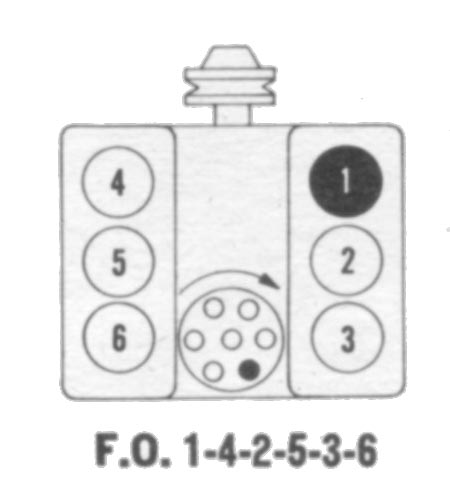 2.8 liter engine 171 ci V6
F.O. 1-4-2-5-3-6
cylinders front to rear RH 1-2-3
cylinders front to rear LH 4-5-6
Cylinder compression pressure 101 psi minimum
Oil pressure at 2000 rpm and warm 40-60
Spark plugs AWSF42-C @0.034″
Thermostat starts to open 192-198 degrees
Thermostat fully open 226 degrees
Radiator cap pressure
Cylinder head warp limit 0.003″ in 6″ or 0.006 total
Engine & Other Torque Specifications
All torque specifications provided in this table are those recommended by FORD. If you use special bolts, follow the torque specifications provided by the manufacturer. I recommend that you use the 3 step torque technique where you torque down the bolts in three equal steps. Once you have reached the maximum recommended torque setting, go around one more time. Do not torque in a circular pattern. Always torque cross to cross.
| | |
| --- | --- |
| Intake manifold nuts/bolts (4 steps) | 3-6, 6-11, 11-15, 15-18 |
| front cover plate bolts | 12-15 |
| Front cover bolts | 12-15 |
| Oil pump inlet tube to pump | 7-9 |
| Exhaust manifold bolts | 27-49 |
| Exhaust pipe to manifold bolts | 25-35 |
| flywheel/drive plate bolts | 47-51 |
| oil pan bolts | 7-10 |
| valve cover bolts | 3-5 |
| rocker arm shaft support bolts | 43-49 |
| Main bearing cap bolts | 65-75 |
| Connecting rod cap nuts | 21-25 |
| Fuel pump to block bolts | 12-15 |
| Wheel lug nuts | 80-105 |
| Front hub nut | 17-25, back off then to 10-15 lbs |
| Harmonic damper | 92-103 |
| Bellhousing bolts | 35 |
| Tranny to block | 35 |
| water pump | 20 |
| Engine mount to block bolts | 55 |
| Engine mount to frame nuts & bolts | |
| Carb to intake 2150 2V | |
| Carb to intake model 7200 VV | |
| neutral start switch C3 1979-1981 | 12-15 |
| neutral start switch C3 1982 – 1986 | 7-10 |
| neutral start switch C4 | 6-8 |
| neutral start switch C5 | 55-75 "/lbs |
| neutral start switch C3 1982 – 1986 | 84-120 "/lbs |
| neutral start switch AOD | 8-11 lbs |
| Auto transmission pan bolts C3 | 12-17 |
| Auto transmission pan bolts C4 & C5 | 12-16 |
| Auto transmission pan bolts A4LD | 8-10 |
| Auto transmission pan bolts AOD | 6-10 |
| Spark plugs | 10-15 |
| Oil pan drain Plug | 21-38 |
| Engine block coolant drain plug | 14-18 |
Valve information
| | |
| --- | --- |
| Minimum valve margin width | 1/32″ |
| Intake & exhaust valve seat angle | 45 degrees |
| Intake & exhaust valve face angle | 44 degrees |
| Intake & exhaust valve seat width | 0.060-0.079 |
| Intake & exhaust valve face runout limit | 0.0015″ |
| exhaust valve seat width | 0.070 – 0.090 |
| Intake & exhaust valve seat runout limit | 0.002 |
| Intake stem diameter Standard | 0.3159-0.3167 |
| Intake stem diameter – 0.015 oversized | 0.3566-0.3573 |
| Intake stem diameter – 0.030 oversized | 0.3376-0.3723 |
| Exhaust stem diameter – standard | 0.3149-0.3156 |
| Exhaust stem diameter – 0.015 oversized | 0.3561-0.3568 |
| Exhaust stem diameter – 0.030 oversized | 0.3711-0.3718 |
| Intake valve stem to guide clearance | 0.0008-0.0025 |
| Exhaust valve stem to guide clearance | 0.0018-0.0035 |
| Valve spring out of square limit | 5/16″ |
| Valve spring pressure, standard | 60-68 @1.585″ |
| Valve spring pressure, limit | 10% loss |
| Valve spring free length | 1.91 (about) |
| Valve spring Installed height | 1 37/64-1 39/64 |
| Valve lifter diameter | 0.8736 – 0.8741 |
| Valve lifter to bore clearance | 0.0009 – 0.0024 |
| Service limit | 0.005″ |
Crankshaft Specifications
| | |
| --- | --- |
| Connecting rod journal diameter – Standard | 2..1252-2.1260″ |
| Connecting rod journal out-of-round | 0.0006″ |
| Connecting rod journal taper limit | 0.0006″ per inch |
| Connecting rod Bearing oil clearance desired | 0.0006-0.0016″ |
| Connecting rod Bearing oil clearance allowed | 0.0005-0.0022″ |
| Connecting rod side clearance std. | 0.004-0.0011″ |
| Connecting rod side clearance allowed | 0.014 |
| Main Bearing journal diameter | 2.2433-2.2441″ |
| Main Bearing journal out-of-round limit | 0.0006 |
| Main bearing taper limit | 0.0006″ per inch |
| Main Bearing journal oil clearance desired | 0.0008-0.0015″ |
| Main Bearing journal oil clearance allowed | 0.0008-0.0019″ |
| Crankshaft endplay | 0.004-0.008″ |
| Crankshaft endplay service limit | 0.012″ |
| Cylinder bore diameter | 3.6614-3.6630 |
| Cylinder bore out-ofround limit | 0.005″ |
| Cylinder bore taper limit | 0.010″ |
| Piston diameter coded red | 3.6605-3.6615″ |
| 0.20 oversized | 3.3.6802-3.6812 |
| Piston to bore clearance | 0.001-0.0019″ |
| Piston ring end gap compression rings | 0.015-0.023 |
| Piston ring end gap – oil rings | 0.015-0.055 |
| Piston ring side clearance, compression rings – Standard | 0.0020-0.0033″ |
| Piston ring side clearance service -limit | 0.006 |
| Oil ring | Snug fit |