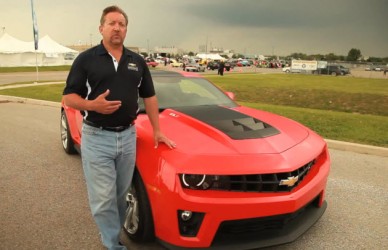 If this is not hitting the Panic Button, I don't know what is.  In a move that seems childish to say the least, ZL1 Camaro Chief Engineer Al Oppenheiser fires off a letter to Camaro fans reassuring them the new 2013 Shelby GT500 with its 650 horsepower is no match for the 580 horsepower ZL1 Camaro.
Read the letter below and after you stop laughing let me know what you think in the comments.
******Letter From ZL1 and Camaro Chief Engineer Al Oppenheiser*******
Camaro Nation:
As you know, the blogs lit up with the announcement of the new 650-horsepower Mustang GT500, and I wanted to give you my perspective on the latest challenge from Dearborn.
The Mustang has been playing catch up since the moment the fifth-gen Camaro arrived in 2009. Since then, Camaro has been the best-selling sports car in America, indicating that consumers know which car offers the best performance, style and safety.
It is no coincidence that Mustang has introduced three 100-horsepower increases to keep pace with Camaro: First their V-6 was bumped to 305; then their V-8 went to 412, and now the GT500.
Even with the 100-hp increase, the 2013 GT500 will still not match the technology and sophistication of the 2012 Camaro ZL1.
The days of "no replacement for displacement," are over, and it's not enough to be fast in a straight line. With the Camaro ZL1, we set out to deliver integrated performance, and be equally good at acceleration, braking, grip, and turning. As you will soon see, that's why the Camaro ZL1 will set the performance benchmark for the segment.
Our approach was to make every Camaro ZL1 fully track-capable, from the factory. As we announced today, the ZL1 Coupe will start at $54,995 with standard Magnetic Ride Control, standard Performance Traction Management, and standard track-capable equipment such as a rear-differential cooler, brake cooling ducts, and an engine and transmission cooler.
None of our customers will have to buy extra options – or modify their ZL1 – for track-day usage. That is not the case for the current GT500, or their new car.
For Mustang fans, you're welcome. Clearly the Camaro has encouraged Ford to throw everything they can at us.
For Camaro fans, trust me, we are always listening to your feedback, and working hard to keep the Camaro in the lead.
Al O.
Source: Camaro5