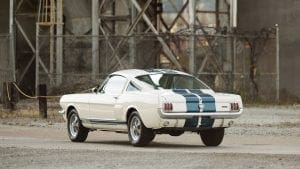 This week at the SEMA show Meguiars who is better known for their car care products announced 'Wraptivo', an online customizer for designer vinyl car wraps.  Wraptivo allows consumers to create through it's website a one-off temporary skin that transforms the exterior of ones vehicles into whatever they can dream up.  Wraptivo will give you the ability to choose textured finishes, such as chrome, carbon fiber and matte.  Other design options available using Wraptivo include shapes, NFL logos, flames, stripes and words or letters.  Once your wrap is created online and paid for it will be packaged up and shipped to a licensed installer who will wrap your vehicle in about 4-6 hours.  If your wondering about the price it will be easy on the wallet as Meguiars Wraptivo is said to cost between $1,000-$2,000 depending on style and vehicle.
While at SEMA I got a first hand view of the whole process as I created my very own skin for a 2009 Mustang.  My skin consisted of a carbon fiber wrap with some simple flames running down each side, nothing to over the top.  I also watched as they skinned a 2009 Mustang GT with a Heritage color wrap, very cool.  You can view my custom skin below along with the press release and a few photos I took while hanging around the Meguiars Wraptivo booth.
Press Release:
Meguiar's Introduces Wraptivo (www.wraptivo.com)
New Designer Car Wraps Allow the Ultimate Personalization For Consumers and Their Vehicles
Irvine, Calif. (November 3, 2009) – In the age of ultimate personalization, Meguiar's®, the leader in surface care technology, announced today the introduction of Wraptivo™, .
Wraptivo allows consumers to modify their cars in an interchangeable and fun way, without the commitment and cost of full body paint. Dull vehicles are transformed into bold personalized creations with Wraptivo's safe, thin adhesive-backed film in as little as 4-8 hours. A limitless palette of customization opportunities, including personal photos, licensed logos and patterns, exist through a state-of-the-art Customizer accessible online, For the first time, Wraptivo will provide the US automotive consumer with the ability to choose textured finishes, such as chrome, carbon and matte.
Wraptivo's Customizer provides individuals with the ability to have absolute creative control to configure and modify the outside shell of their car, ultimately producing a four-wheeled work of art from the privacy of their very own computer.
Meguiar's will preview this bold new technology during the 2009 Specialty Equipment Market Association (SEMA) Show by showcasing a Scion xB and a 2009 Mustang wrapped in different-themed Wraptivo skins each day. At the Wraptivo booth (24643), the company will also have an online customizer that will allow attendees to design, produce and share their own Wraptivo designer car wraps with friends.
Meguiar's Wraptivo is not for consumers who believe a vehicle is simply a mode of transportation, but rather for those who view their car as an extension of individual style. This product gives fans of racing, fashion, sports or pop culture a platform to showcase and show off their interests and personalities on any and all parts of their ride. "From the mild to the wild, anything is possible with Wraptivo," said automotive stylist and Wraptivo spokesperson, RJ de Vera.
De Vera adds, "Our goal at SEMA is to give our audience a sneak peek into something progressive, fresh, and exciting in the automotive world. Consumers now have the ultimate tool to let their minds create limitless customization. Who needs anything typical or run-of-the-mill when you can let your imagination run wild on your hood, truck or roof? With Wraptivo, you can be as understated or loud as you wish, separating yourself from your neighbors and everyone else at a red light."
Meguiar's will also hold a contest for the most creative wrap designed in the Wraptivo booth through its state-of-the-art Customizer during the SEMA Show. Two free wraps will be awarded; one for the most creative 2009 Mustang wrap design and the second for the most creative 2009 Scion xB wrap design. The online customizers will be showcased in the Wraptivo booth, #24643, at the Las Vegas Convention Center this November 3-6. Wraptivo customization will soon be available to car enthusiasts with a passion for personalization at www.Wraptivo.com.