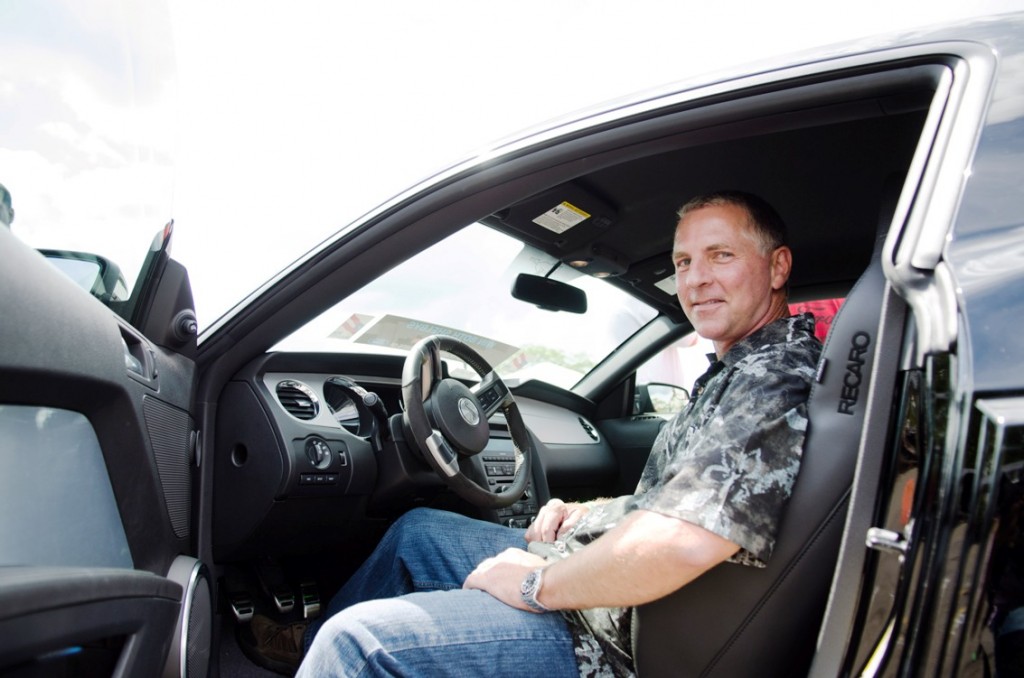 Mustang Dream Giveaway grand prize winner Timothy Millard sits behind the wheel of his new 2012 Shelby GT500 which is just one of the matching Shelby Mustangs he won as a result of a tax-deductible donation made to the World Cause Foundation.
Mr. Millard was awarded both a 1967 Shelby GT500 signed by automotive legend Carroll Shelby and a matching 2012 Shelby GT500 supercharged by Ford Racing to 750 horsepower.  Along with the Mustangs, Mr. Millard received $50,000 cash to help pay any taxes he might incur.
Mr. Millard along with his wife and son accepted the prize package at the award ceremony on Sunday, August 12, at Ford World Headquarters in Dearborn, Michigan during the annual Mustang Memories Car Show. Thousands of Mustang enthusiasts as well as key executives from Ford Motor Company, Henry Ford Health System, WorldCause Foundation, and Dream Giveaway Inc., were on hand to see Mr. Millard receive his two Shelby GT500s. The keys to the 1967 Shelby GT500 were personally handed to Mr. Millard by Kevin Marti, President of Marti Auto Works. The keys to the 2012 Shelby GT500 were personally handed to Mr. Millard by Michael Bannister, CEO Ford Motor Credit and Jamal Hameedi, Chief Engineer, Ford Special Vehicle Team.
Mr. Millard received the news that he won both Shelbys via phone on Monday, July 16. "I thought someone was pulling my leg," Mr. Millard said at the time, proclaiming he was both shocked and excited when he received the great news.
As excited as Mr. Millard was at the award ceremony, he didn't forget to acknowledge the important causes his donation went to support, "Back in May I recevied a brochure for the 2012 Mustang Dream Giveaway in NRA's American Rifleman Magazine," Mr. Millard said. "Being a former Air Force Veteran, I felt a connection to some of the wonderful charities this giveaway benefitted, which is why I decided to make a donation."
At the award ceremony, Robert Preston Jr., Executive Director of WorldCause Foundation, shared how thrilling it was for WorldCause to be part of such a rewarding initiative. Mr. Preston thanked everyone involved for their support. As a result of donations received from this event, WorldCause awarded grants to the Paralyzed Veterans Outdoor Recreation Heritage Fund, Henry Ford Health System, American Legion Post 173, and the Detroit Rescue Mission.
Dream Giveaway would like to thank the following companies for their generous support: Ford Motor Company, Ford Racing, Shelby American, Steeda, and a host of aftermarket suppliers.
WorldCause Foundation (WCF) is a humanitarian organization dedicated to improving the quality of life for all inhabitants of this planet. Thousands of entries were received over the course of the giveaway as a means of helping these important causes.
Source: Mustang Dream Giveaway