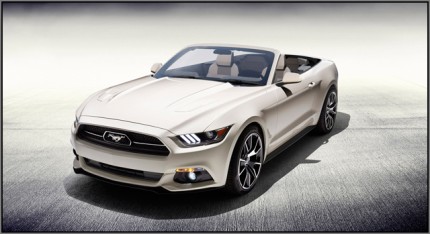 With the purchase of a $20 raffle ticket you can win a one-of-a-kind 50 Year Limited Edition 2015 Mustang GT convertible. The raffle was announced at one of the 50th anniversary celebration dinners by Dave Pericak, Chief Engineer of the Mustang. The Ford 4 MS raffle supports the National Multiple Sclerosis (MS) Society, Michigan Chapter who is partnering with Ford Motor Company on this truly unique celebration of 50 Years of the Mustang.
Ford will only build one 2015 Mustang GT convertible 50 Year Limited Edition vehicle and they are giving it away at the Woodward Dream Cruise in Mustang Alley on August 16th. The one-off Mustang will feature a unique VIN #00001, Wimbledon White paint, limited edition grille and tail lamps, 5.0-liter V8 w/six-speed transmission, black interior with white piping, 19″ premium wheels, 50 Years decklid applique and faux gas cap.
To get your raffle ticket head on over to Ford4MS.com. They are $20 each and Ford will sell a maximum of 100,000 tickets.