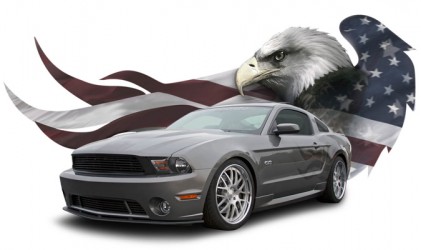 Another cool Mustang from the SEMA show this year was the Webasto Fallen and Wounded Soldiers Mustang.  Webasto teamed up with MRT Performance in Plymouth, Michigan to create one of the baddest street Mustangs we have ever seen.
Starting with a 2011 Mustang GT coupe, MRT added their MaxFlow h-pipe and interceptor axle-back exhaust for a deep low sound.  In the suspension department MRT installed their handling package and an H&R coil-over suspension system.  Other features found on the Webasto FWS Mustang include a 3d Carbon side skirts and rear fascia, Stainless Steel Performance brakes with 14-inch rotors and 8-piston calipers, and a Ford Racing gauge pod with Auto Meter boost, air/fuel, and oil pressure gauges.
In the horsepower department Webasto decided to go with a 2.3L TVS ROUSHcharger which bumps power up to 465 horsepower while retaining a 3-year/36K mile warranty.  Not satisfied with high-400 horsepower numbers, Webasto added a JLT Performance Air Intake system and had Justin Starkey of VMP Tuning massage the computer.  Adding a smaller pulley and a custom tune, Justin came away with 600 horsepower, not bad for a street driven car.
To handle all that power Webasto turned to McLeod Racing for their RXT twin disc clutch kit. It can take up to 1000 hp and still provides a stock-like pedal feel. Couple that with the Barton short throw shifter and you have a verified street monster. Getting the car to hook up is a challenge, but a set of sticky Toyo Proxes 4 tires wrapped around 20 inch, Modulare Forged, 3-piece wheels gets the job done.
Finally, a Webasto SEMA car wouldn't be complete without a sunroof. This Mustang sports a Hollandia 322L Power Sunroof. The top slider accents the body lines nicely and provides fresh air and ventilation. With the color matched sliding sunshade, programmable switch and soft-touch operation, the sunroof looks like it came from the factory.
Check out all the features below plus a gallery of photos.
Powertrain:
Roush supercharger w/JLT cold air intake
McLeod RXT twin disc clutch
Barton short throw shifter
VMP custom tune – boosting performance to over 700 hp
MRT MaxFlow™ H-pipe & Interceptor axle-back exhaust
Chassis:
H&R coil-over suspension
MRT rear handling package
SSBC performance brakes – 8 piston front, single piston rear
Modulare Forged 20 inch custom 3-piece wheels
Toyo Proxes 4 tires: 255/35/20 front, 295/30/20 rear
Exterior:
Webasto Hollandia 322L spoiler sunroof
Custom Fallen & Wounded Soldier graphics
3d Carbon side rockers & rear lower fascia
Roush front fascia and grille
Paint by MRT
MRT hood struts
Interior:
Katzkin leather interior
Auto Meter gauges – boost, air/fuel/oil pressure
Ford Racing gauge pod