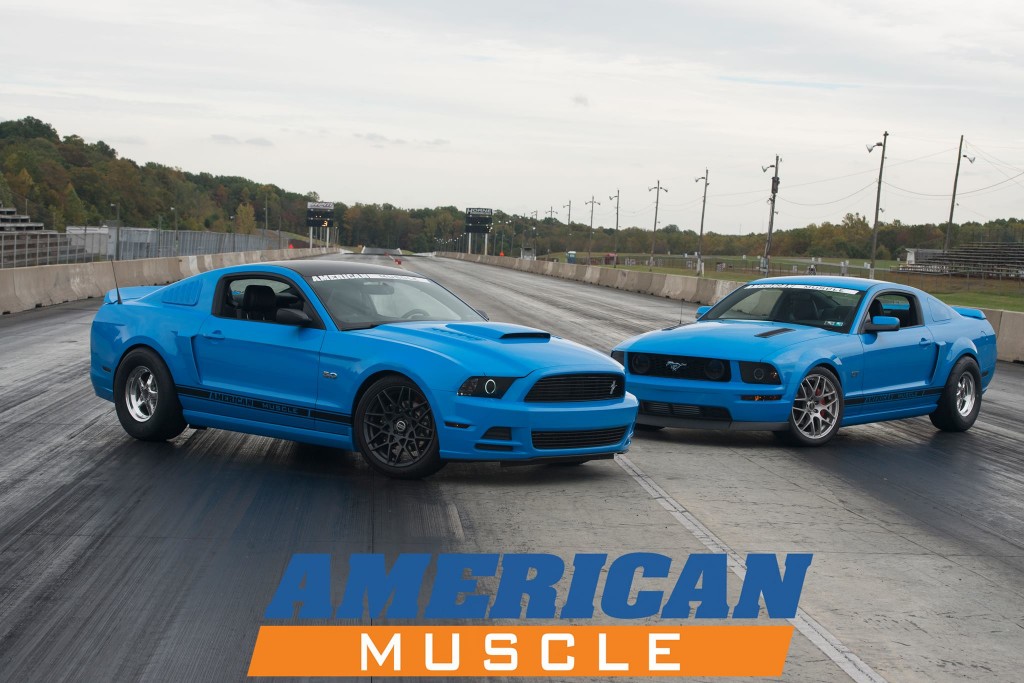 American Muscle is back with some Stage 2 suspension upgrades to their latest project cars, project Grabber Boost and project Coyote. This time around both Mustangs received a heavy dose of bolt-on suspension parts which should tighten up the stock suspension and increase quarter-mile times.
In addition to the suspension parts both Mustangs were given a much needed brake upgrade to increase stopping power for the future as more horsepower is sure to be added.
Check out the videos below of each project Mustang to see how the upgrades were added. For more head on over to American Muscle's Stage 2 post.
2006 Mustang GT – Grabber Boost
Eibach Pro-Damper Shock & Struts (05-10 All)
SR Performance Adjustable Sway Bar Kit (05-10 GT, V6)
Eibach Pro-Kit Springs – Coupe & Convertible (05-10 GT; 10 V6)
SR Performance Adjustable Rear Upper Control Arm (05-10 All)
SR Performance Adjustable Rear Lower Control Arms (05-14 All)
Whiteline Rear Lower Control Arm Relocation Brackets (05-14 All)
Whiteline Adjustable Front Strut Tower Brace (05-10 GT, V6)
Hawk Performance Ceramic Brake Pads – Front and Back (05-14 GT, V6)
DBA T2 Street Series Slotted Rotors – Front and Back Pair (05-10 GT; 11-14 V6)
J&M Stainless Steel Teflon Brake Lines – Front (05-14 GT, V6)
Maximum Motorsports Caster Camber Plates (05-10 All; 07-14 GT500)
SR Performance Adjustable Panhard Bar (05-14 All)

2014 Mustang GT – Project Coyote
KONI STR.T Front Struts (11-14 All; Excludes GT500)
KONI STR.T Rear Shocks (05-14 All)
Maximum Motorsports Caster Camber Plates (11-14 GT, V6)
Whiteline Adjustable Rear Lower Control Arms (05-14 All)
Whiteline Rear Lower Control Arm Relocation Brackets (05-14 All)
Whiteline Adjustable Rear Upper Control Arm (05-14 All)
SR Performance Sway Bar Kit – Front and Rear Adjustable (11-14 All)
SR Performance Lowering Springs – Coupe (05-14 GT, V6)
Russell Stainless Steel Braided Brake Line Kit – Front & Rear (05-14 GT, V6 w/ ABS)
Power Stop Brake Rotor & Pad Kit – Front & Rear (11-14 GT)
SR Performance Adjustable Panhard Bar (05-14 All)