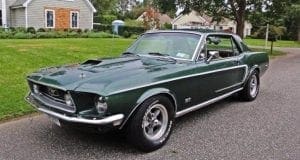 The World's Greatest Drag Race returns with nine of the world's best super cars, sports cars, and muscle cars for 2012.  The epic faceoff consists of a quarter-mile sprint for the ultimate bragging rights.  This year the 2013 Shelby GT500 with its 662 horsepower supercharged 5.8-liter V8 gets a spot to prove its not all about the price tag.
Competing this year are the Lamborghini Aventador, Nissan GT-R Black Edition, Ford Shelby GT500, McLaren MP4-12C, Jaguar XKR-S, Porsche 911 Carrera S, Subaru BRZ, Mercedes-Benz C63 AMG Black Series and Chevrolet Camaro ZL1.  All nine cars lined up on an abandoned airstrip at El Toro Marine Base to find out which car is the fastest.
In the end the Shelby GT500 held its own considering the price tags of its competitors.  Check below for the video and the top five list including the price tags.
Top 5 for World's Greatest Race 2
1. 2011 Lamborghini Aventador LP700-4 – $383,000
2. 2012 McLaren MP4-12C – $231,000
3. 2013 Nissan GT-R Black Edition – $98,000
4. 2013 Shelby GT500 – $55,000
5. 2012 Porsche Carrera S – $97,000