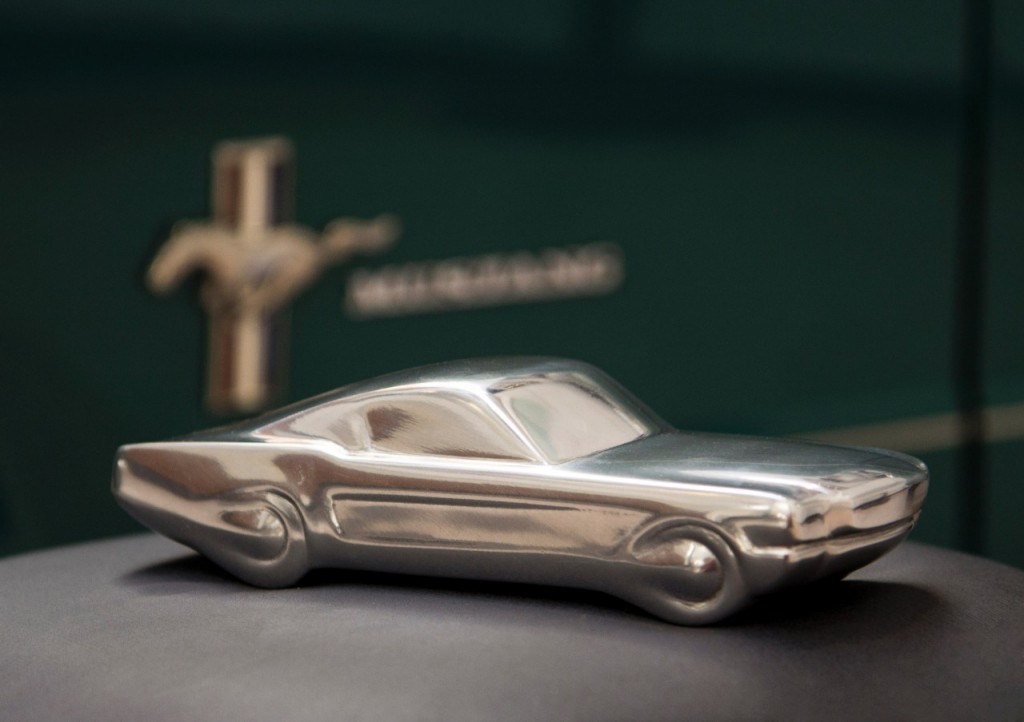 U.K. based sculptor Robin Bark has created a handcrafted solid aluminum sculpture of the iconic 1965 Ford Mustang fastback. Bark set out to capture the essence of the original pony car while in motion and it turned out to be a unique challenge for him. Only 500 individual works will be produced with a purchase price set at 350 euro or $479 US. For more on this beautiful work of art check out photos and the press release below.
Press Release:
For many fans of automotive design, the vintage Ford Mustang has long been considered a rolling work of art. Now, the iconic pony car has become a piece of fine art. As part of the 50 years of Mustang celebrations, U.K.-based artist Robin Bark has been licensed by Ford Motor Company to turn Mustang into a limited-edition collectible sculpture.
Bark is well versed in the arts, with experience in industrial design, graphic design ceramics and metalwork. He frequently blends his passion for automobiles with his love of art.
"I think I was drawing cars the moment I was born," said Bark. "Growing up in South Africa, I wanted to design cars, but there wasn't much call for it, so I switched from industrial design to graphics, which took me into advertising for a time."
Bark eventually returned to the U.K. and became an art teacher, where he experimented in new mediums including metal casting. He went on to develop a series of cast-aluminum sculptures of classic motorbikes and sports cars.
Bark starts a project with an extensive series of photos of the car, which he then translates into rough engineering drawings. As his first American car sculpture, Mustang came as a unique challenge for Bark.
"Mustang is a very different shape from the earlier cars I had done, which were more classically streamlined," he said. "I look for what the designers were trying to achieve with shapes, and try to capture the essence of the car while also imparting a sense of motion to a static object."
Bark shapes an initial model in clay. The fundamental shape is then transferred into a resin version, which polishes to work out how the light reflects off the contours. The resin model then becomes the pattern to cast an aluminum prototype. Bark stays true to Mustang's iconic design while using as little detail as possible, avoiding lines and features that distract from the fundamental shape of the car.
"I tried to reveal its story as it reflects in the light," he explained.
"From the shark-bite nose to the long, sweeping line of the fastback roof to the tri-bar taillamps, Mustang has a quintessential profile that makes it easily recognizable to everyone on the road," said Moray Callum, Ford vice president, global design. "Robin Bark has captured the essential nature of one of the greatest Mustangs in his sculpture, creating an object of art that appears to be fluid motion."
Shaped to the sculptor's satisfaction, the resin model is sent to a specialist casting pattern maker. Working with a traditional foundry based in Guildford, U.K., the raw aluminum castings are produced in batches of 10 at a time. The foundry specializes in small batch production of unique castings and regularly creates reproduction parts for vintage race cars such as cylinder heads and gearbox casings for vintage 1930s-era grand prix race cars.
Each casting is polished to a finished piece that is signed and numbered by the artist and placed in a commemorative wood box. No more than 500 of the 1965 Mustang fastback sculptures will be produced.
Bark has shown his prototype at Mustang Club events in France and the U.K., where fans responded with great enthusiasm to his interpretation of the original Ford Mustang, ordering several pieces.
The limited-edition sculptures are available through the artist's website, robinbark-motorart.com.