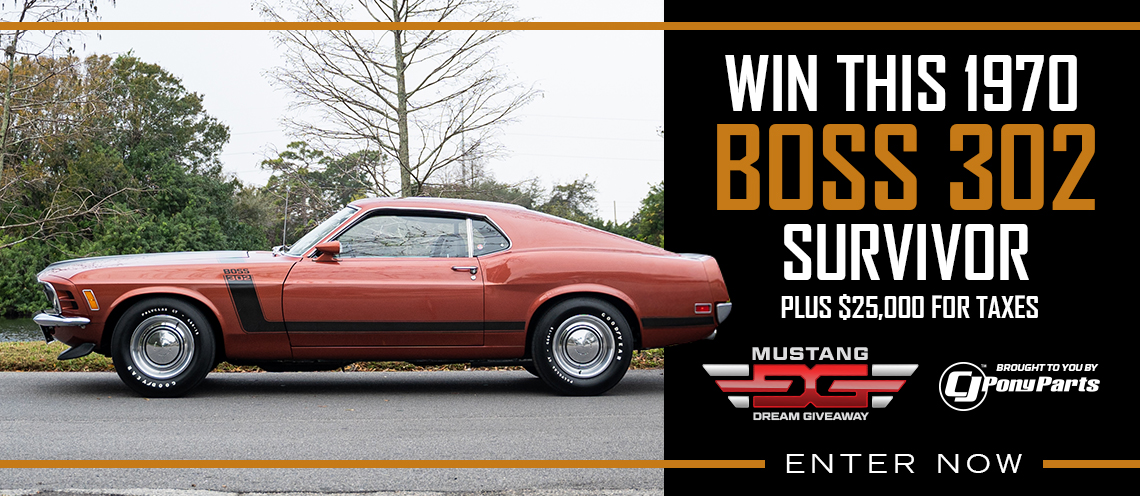 Last weekend at the 40th annual mid-america Ford and Shelby nationals event in Tulsa, Oklahoma two of the original three Shelby GT350 prototypes were back together again. Both vehicles share consecutive serial numbers (SFM5R002, SFM5S003) and both were restored to their original conditions.
More than three decades after taping a full-page ad ripped from a 1965 car magazine above his bunk on an Alaskan crab boat, Mark Hovander is touring the country this year with the same Ford Shelby GT350 Mustang pictured on that page.
Hovander and his crosstown friend John Atzbach are big fans of the first-generation Shelby Mustang, and between them they own two of the three original prototypes. As Mustang enthusiasts across the country and around the world celebrate 50 years of their favorite pony car, Hovander and Atzbach are bringing their cars to nine different events in 2014, including this weekend's 40th annual Mid America Ford and Shelby Nationals in Tulsa, Oklahoma.
Hovander's car bears Shelby serial number SFM5S003, while Atzbach owns SFM5R002. Those numbers identify the cars as two of the three original prototypes used by Shelby American to develop the road-going and racing versions of the GT350.
"In 1980, I went up to Alaska to work on a crab fishing boat to earn some money in order to buy a 1965 GT350," said Hovander. "Since space was limited, we were only allowed one duffel bag. I was a huge Shelby Mustang fan, so in addition to my clothes, I brought an ad for the GT350 that I had ripped out of an old Shelby American magazine.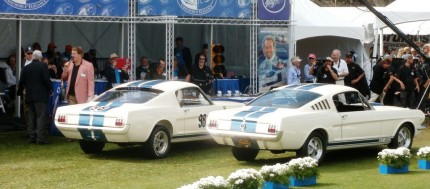 "I figured this would give me inspiration during the 20-hour workdays, but little did I know that nearly 30 years later I would own the very car pictured in that ad."
In mid-1964, about the time that the first of what would eventually be more than 9 million customers were driving away from Ford dealerships in the original Mustang, the home office called in Carroll Shelby and his team to help establish some serious performance credentials for the car. Shelby and Ford agreed to develop a high-performance version of Mustang that would compete in the Sports Car Club of America's B-production class beginning in 1965.
To qualify, Shelby would have to get at least 100 production street cars ready by Jan. 1, 1965, with chassis and suspension upgrades that could not be changed for the race cars.
Three white K-code 1965 Mustang fastbacks with the stock Hi-Po 271-horsepower, 289-cubic-inch V8 engine were delivered from the San Jose, California assembly plant to the Shelby American shop in Venice. One car was meant to be used for development of the street-legal GT350, while the other two were prototypes for the GT350 competition version. These R models, as they are referred to today, were set up to battle against the Jaguar XK-E and 327-cubic-inch V8-powered Chevrolet Corvette.
The street car was actually the first of the GT350 line, but a mix-up in stamping the VIN tags meant it actually got serial number 5S003 (S for street), while the race cars got 5R001 and 5R002 (R for racing). This would later cause more confusion and affect the history of 5S003.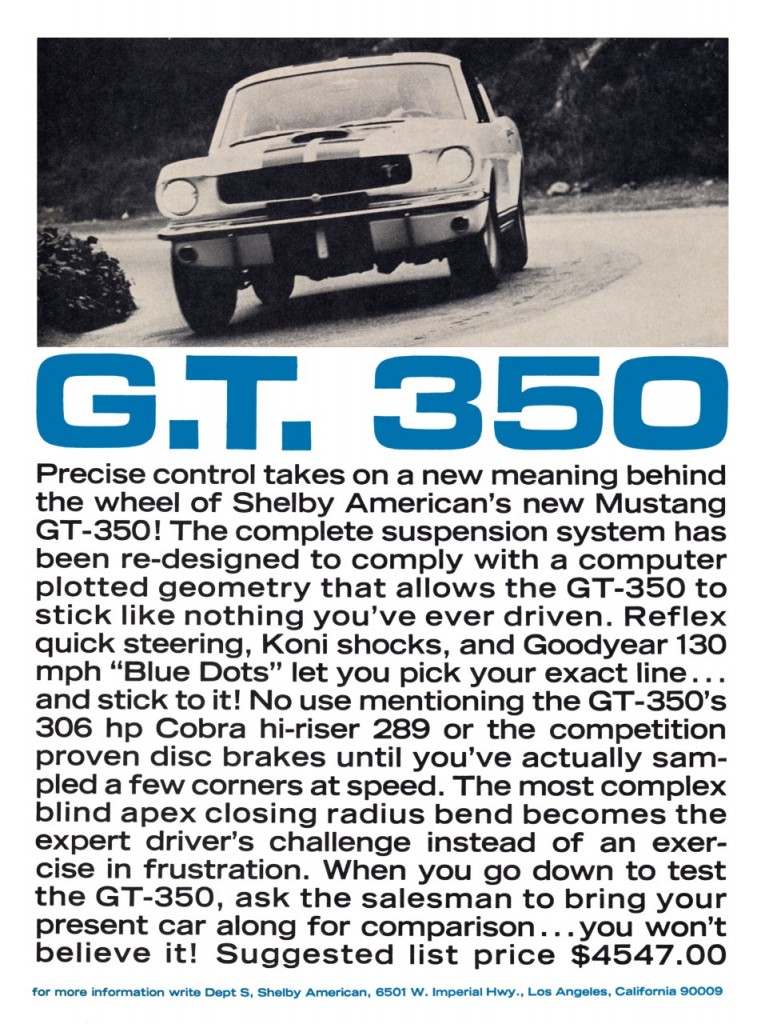 By the early 2000s, Hovander had owned several Boss 302 and Shelby Mustang models, while also helping the then-owner of 5S003 with some extensive research on the history of the car. It turned out that in 1979, because of modifications by the original owner in 1965, 5S003 was thought to have originally been a race car, and it was restored as an R model and used for vintage competition for the next 13 years.
"In part, the confusion was fueled by production records that were missing until they were discovered in Carroll Shelby's attic in the mid-1980s," said Hovander. "After 5R002 was rediscovered in Monterrey, Mexico, and the original Ford and Shelby serial numbers were verified from old records, we realized 5S003 was never supposed to be a factory R model."
After its successful racing career that included a debut victory in the hands of the late Ken Miles at Green Valley, Texas on Feb. 14, 1965, 5R002 eventually wound up in Monterrey. Following a two-year search, Mark Gillett of Dallas located the race car in 1989, purchased it and brought it back to Texas. Some years later, it was sold to Steve Volk, owner of the Shelby American Collection museum in Boulder, Colorado.
"I've owned 20 Mustangs including a variety of Boss and Shelby models over the years, but 5R002 was at the top of my wish list," said Atzbach. "I thought it was a pipe dream because it was in a museum, but when I heard Steve Volk was selling it in early 2010, I quickly made a deal and bought it."
Atzbach currently owns 11 Shelby Mustangs, a 1970 Boss 302 and 1970 Boss 429. He loves the Shelbys for the aesthetic design, the performance and the great early racing history.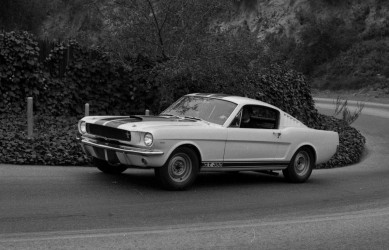 After determining 5S003 was in fact supposed to be the very first street-legal GT350, Hovander sold another restored GT350 to Atzbach and bought 5S003. He intended to eventually restore it to the condition it was in when it was first introduced to the public in early 1965 – the way it appeared in that factory ad.
After driving the car for about a year and putting more than 2,000 miles on it the first summer, Hovander decided it was time to start the restoration. Bringing it back to its original prototype condition meant tracking down a lot of nearly 50-year-old parts, and there were some interesting discoveries uncovered along the way.
Atzbach and Hovander decided they wanted to have the restoration of both SFM5R002 and 5S003 completed in time for the celebration of 50 years of Mustang in April 2014 so the cars could be displayed together. Jim Wicks, founder of the Mid America Ford and Shelby Nationals meet became involved in the restoration process of the two historic Shelbys.
Paint supplier PPG provided the actual formula for the white finish the cars were sprayed with in 1964, and both cars were refinished from the same batch, thus ensuring they would be identical when placed next to each other. John Brown of Thoroughbred Restorations in Oklahoma City performed the restoration of the R model, 5R002, and final assembly of the street prototype, 5S003. Both cars were finished side-by-side, to ensure consistency.
5R002 was restored back to the way it looked when Miles drove it to that first victory. Hovander's car looks just as it did when Shelby American designer Peter Brock drove it during the advertising photo shoot along Coldwater Canyon in Beverly Hills, California. To save time and give the appearance that more than one car had been built; 5S003 was equipped with the standard Kelsey-Hayes stamped-steel wheels on the driver's side and a pair of prototype Cragar cast-aluminum wheels on the passenger side.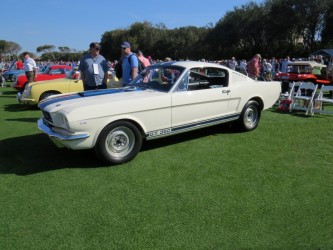 Only three of the original prototype Cragar wheels were located during restoration, and two of them are on the passenger side of 5S003 today, with a pair of steelies on the driver's side.
After an exhaustive search earlier this year, Atzbach reached out to Ford Motor Company Archives hoping to find original photos of the two prototypes. In early June, Archives Manager Dean Weber located a box of negatives from that 1965 advertising photo shoot of 5S003 that had previously been unidentified. Those historically significant photos have been scanned and shared with Hovander and Atzbach.
"I love the whole history of Shelby American – the cars that were built there, but most importantly, the people who created them," said Atzbach. "These were and are some of the brightest, most energetic, talented people out there. I've had the pleasure of getting to know many of the original Shelby American employees who are still with us today, and I can only say great things about them."
Atzbach and Hovander debuted their restored cars together in March 2014 at the Amelia Island Concours d'Elegance in Florida, then again at the Mustang 50-year celebration at Charlotte Motor Speedway in April. After the Mid America meet, they will appear at six more events this year.
After the tour, Hovander plans to remove some of the original parts like the 50-year-old Goodyear tires, spark plugs, radiator hoses and air filter, installing some modern reproduction equivalents. After breaking in the engine properly, he plans to carefully put a few miles on his GT350. Hovander has written extensively about the original development of the GT350 on his site, http://1965gt350mustang.com/history.html.
What about the other Shelby factory team GT350-R model, SFM5R001? It resides in a private, undisclosed location somewhere and has not been seen publicly in years. Ford and Mustang fans everywhere thank John Atzbach and Mark Hovander for sharing their passion with the world.