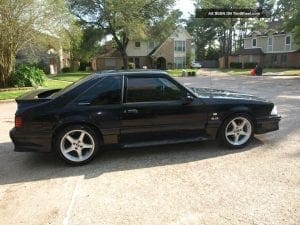 Well known Ford tuner Jon Lund has his hands full with his latest project, a twin turbo 2011 Mustang GT capable of running mid 9's. Early testing at the drag strip on the twin turbo setup has yielded a [email protected] on 8 psi, not bad for a first run with the stock 19″ wheels up front and 15″ drag radials out back. What is more mind blowing is these numbers are achieved with a bone stock Mustang GT with the exception of lowering springs and an off-road x-pipe. The twin turbo setup was designed and built by Jake Long and Ken Bjonnes.
More track runs and testing are expected this week with hopes of going into the 9's and than into the 8's with a built motor.
In the future this 2011 Mustang GT will be going to the Texas Mile in March of 2012 to see what kind of high speed numbers it can throw down. If all goes well with testing this twin turbo kit could be made available for sale with tuning by Jon Lund and Ken Bjonnes. Testing will also commence on the Boss 302 with some road course testing.
Check out a few videos below of the first run at the drag strip.
In Car Video: (Note how quiet the inside is)
Source: ProjectCars.com