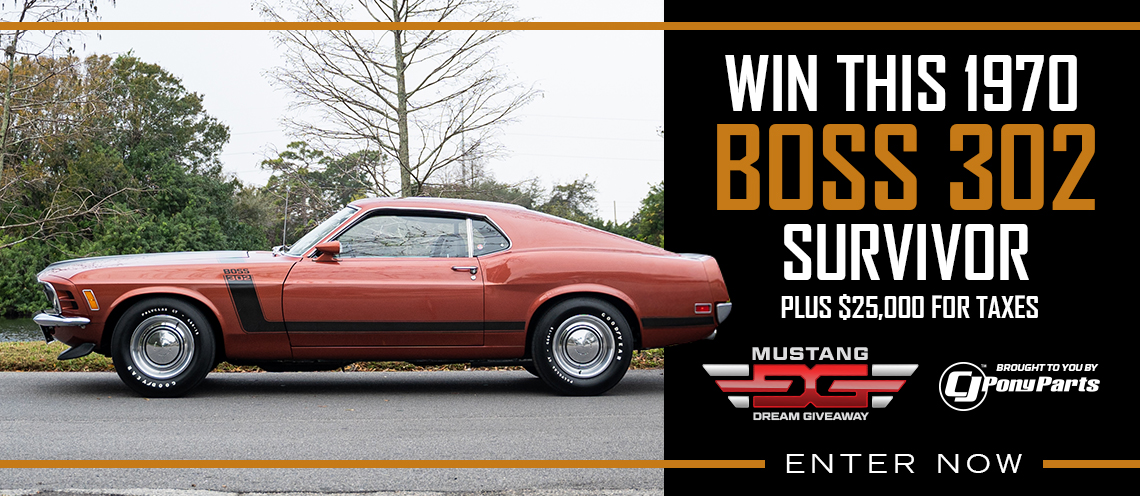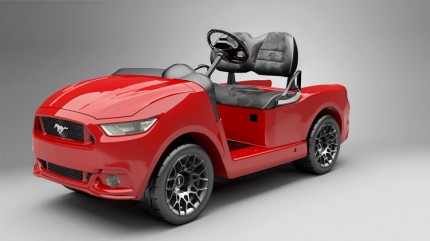 Ford Mustang enthusiasts can now race around the golf course or neighborhood in style thanks to Caddyshack Golf Cars of Palm Desert, California who have built a 2015 Mustang golf cart. The 2015 Mustang golf cart is an officially licensed product from Ford featuring a custom formed, hand-laid fiberglass body and a powerful 48v electric drivetrain that propels it to a top speed of 19.5 mph with a range of 35 miles. With custom touches throughout this spot on match recreation of the all-new 2015 Mustang is sure to turn some heads anywhere you take it.
Other goodies found on this 2015 Mustang golf cart include 12-inch Aluminum SVT wheels, PPG painted body and canopy, matching vinyl upholstered seats and carpeted floor mats. Optional accessories include 2-person, rear-facing fold-down set kit, 4-speaker ALPINE stereo system and custom painted body colors.
No prices were mentioned but we expect this custom golf cart to run you upwards of $15,000.
Check out a few photos and a complete list of the features below.
Standard Features:
Officially Licensed Ford Mustang Badging
Custom Formed, Hand-Laid Fiberglass Front and Rear Body
PPG Painted Body and Canopy
Carpeted Floor Mats – Front & Floor Compartment
Custom 12-inch Aluminum SVT Wheels
Matching Vinyl Upholstered Seats
Carbon-Fiber Styled Grill w/ Mustang "Pony" Emblem
Available in 48v AC Drive Electric or Gas Models
Four 12v Deep Cycle Batteries and 48-V Charger
Headlights, Tail lights, Brakelights, Turn Signals, Emergency Flashers, Horn
Locking Front Trunk for Additional Storage
Fold-down Windshield
Golf Bag Attachment, Sweater Basket
Interior Canopy Headliner
19.5 MPH Top Speed (level ground)
Three Year Limited Warranty
Specifications:
3 Phase AC Induction, 4.4 H.P. (3.3 kW) Continuous motor
230-amp solid state speed controller
Four, 12-volt deep cycle batteries
48 V Powerwise QE120VAC, UL and CSA battery charger
Single Reduction Rack & Pinion steering
Motor Shaft Driven Drive Train
Reverse helical geared transaxle, Rear Axle ratio 16.99:1
Front Suspension: Independent A-Arm Coil Springs over hydraulic shocks
Rear Suspension: Mono-Leaf springs w/ hydraulic shock absorbers
Brakes: Motor brake controlled by Speed Control unit & Service brake pedal
Automatic Electro-Magnetic Parking Brake
Ground Speed: 17.5 mph-19.5 mph (level ground)
Curb Weight w/ Batteries: 935 lb (425 kg)
19.2 ft (5.8m) turning circle
Tires: 215-50-12 F
Ground Clearance: 4.5 inches
Frame/Chassis: Welded tubular steel with DuraShield™ epoxy coating
Fiberglass Body with Base Coat/Clear Coat Paint
Seating Capacity: Operator plus one passenger
Options and Accessories:
2-Person, Rear-Facing Fold-down Seat Kit (w optional golf bag attachment)
4-Speaker ALPINE stereo system with Bluetooth, Installed in Headliner
Custom Painted Body Colors