A while ago I published an article on a bright orange 1970 Ford Mustang Boss that was listed for sale, that was a 302 version and she sold for $95,000 on March 20, 2022, but this time I found an even more impressive version, a 1970 Boss 429, the big boy, and while both were 1970 models, this 429ci numbers matching, four-barrel Holley one sold for a whopping $329,000 only six days later, for the casual onlooker both cars might look similar despite the latter being a Grabber Blue over white Corinthian vinyl one, but her value is over three times as high.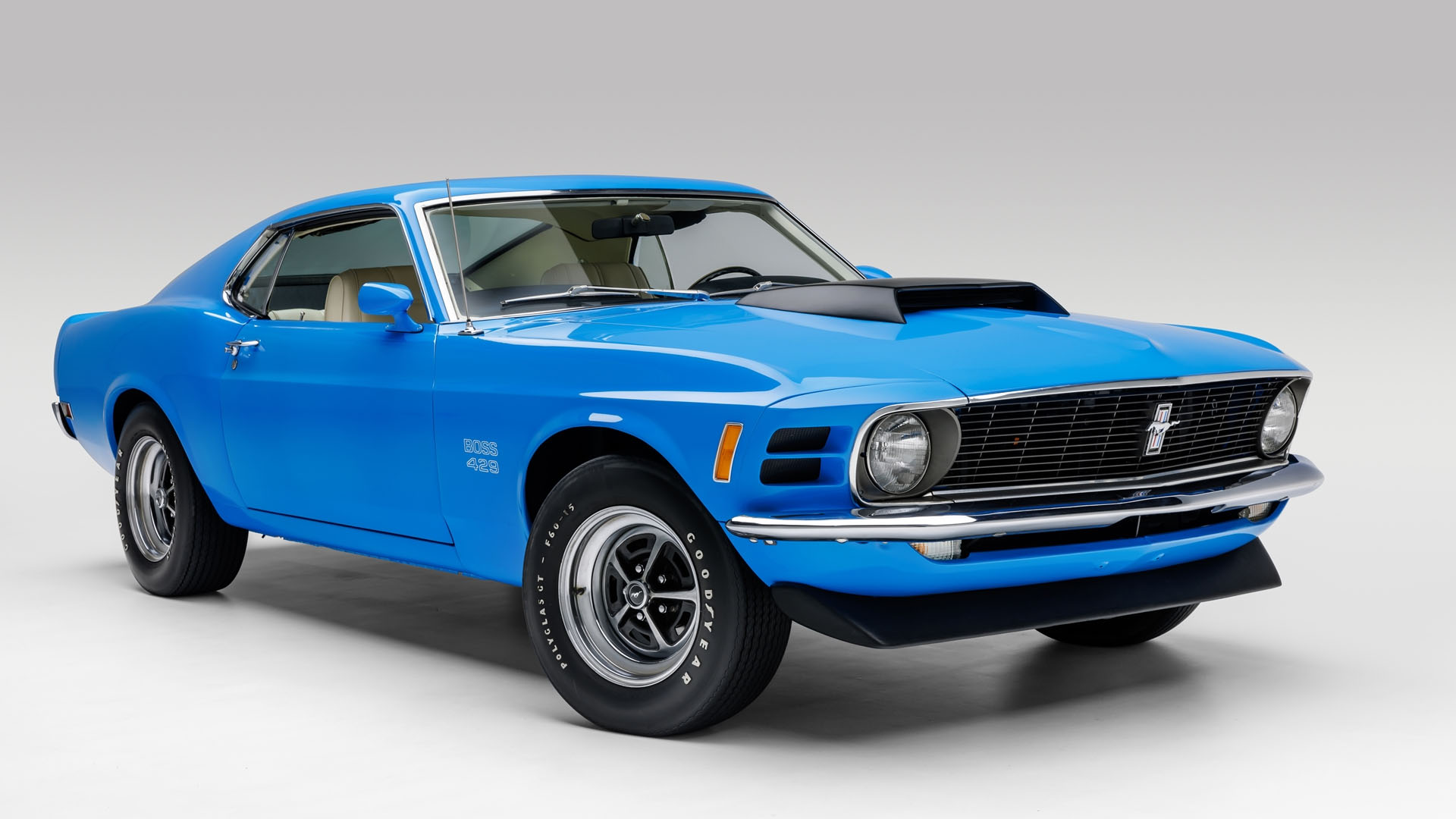 This blue car is a 1970 model, but she was built on September 16, 1969, delivered to Hunter Motor Company in Littleton, Massachusetts where she was picked up by the first owner, who would keep this lady until 1989, later the car underwent a complete refurbishment before ending up with the current owner back in 2014, the car went up for auction in May 2019, but the highest bid of $190,000 didn't secure a sale, and it seems the owner was right holding on this beauty three more years, today she sold for $329,000!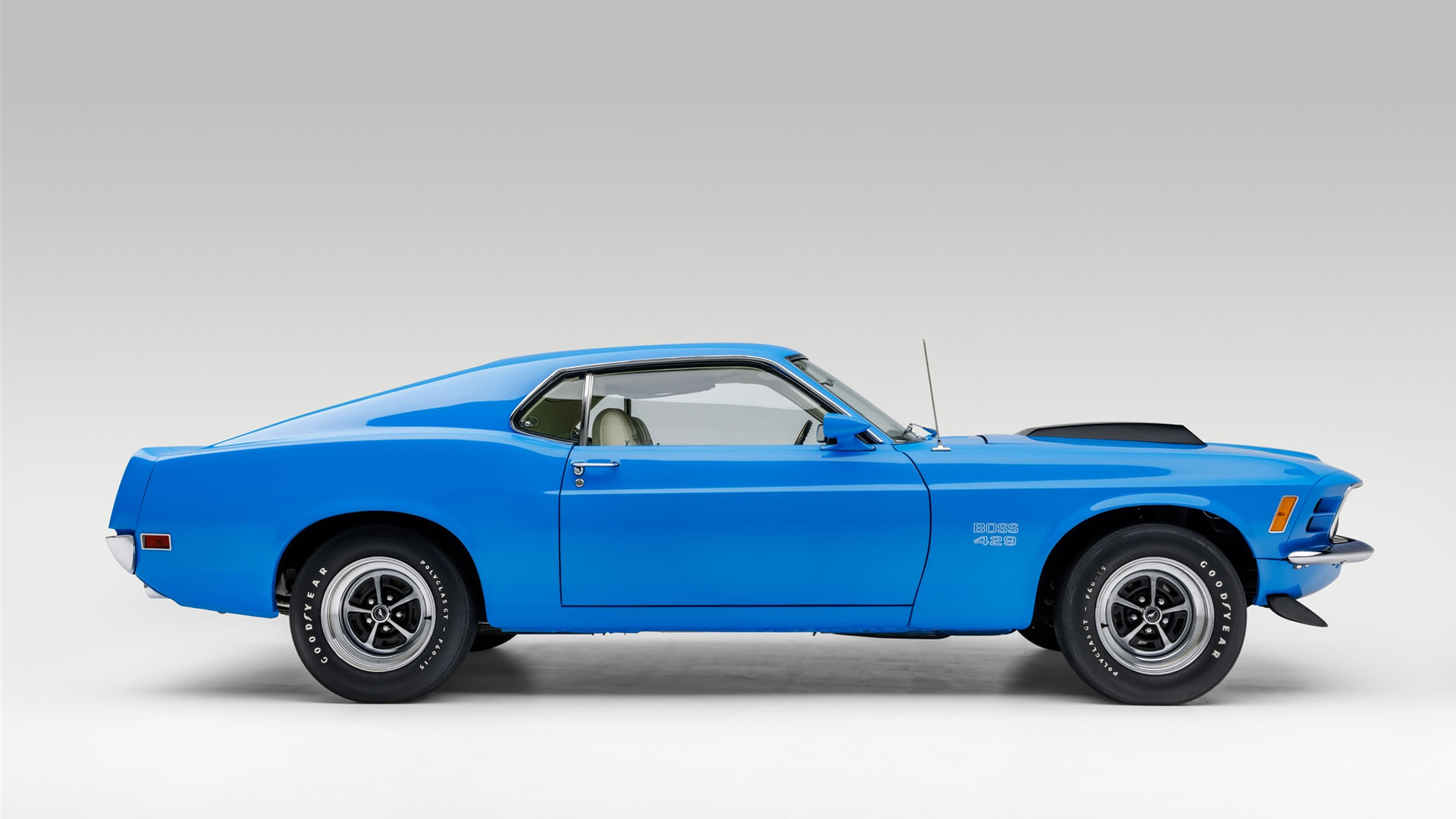 From the listing: "The car is finished in Grabber Blue over white Corinthian vinyl upholstery and powered by a numbers-matching 429ci V8 equipped with a four-barrel Holley carburetor and mated to a four-speed close-ratio manual transmission. Additional equipment includes the Competition Suspension and Drag Pack equipment along with 15″ Magnum 500 wheels, power-assisted front disc brakes, power steering, a center console, a front spoiler, a 3.91 Traction-Lok rear end, and a tachometer."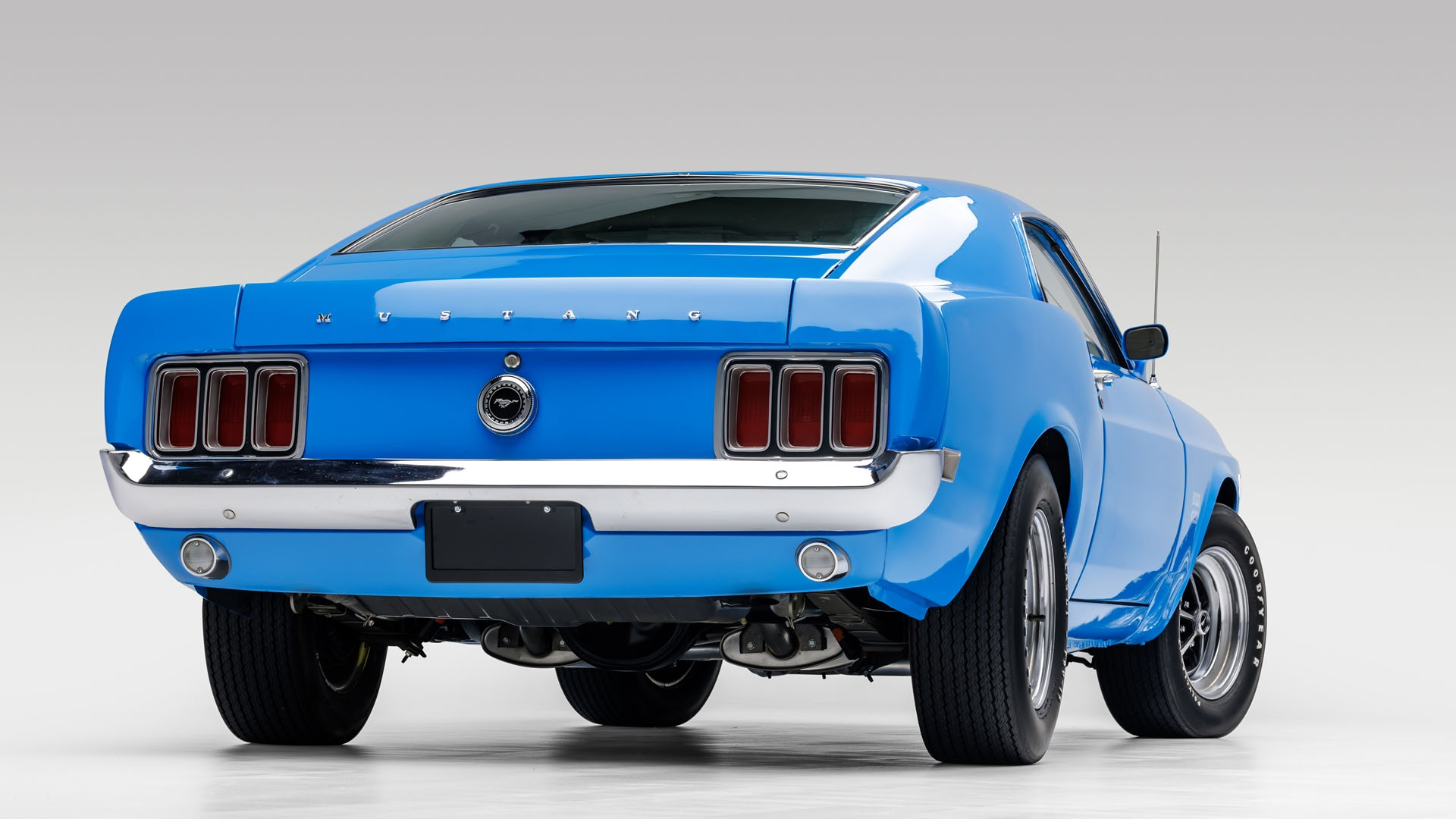 Note that the Boss 429 was only available for the MY1969 and MY1970, as a requirement to get the engine homologated for NASCAR racing, these rare cars were built by Kar Kraft in Dearborn, Michigan, and all units were individually serialized, this specific car was number KK2131, rolling on 15-inch Magnum 500 wheels with Goodyear Polyglas F60-15 tires, this one came with optional power-assisted steering, power-assisted front brakes, the competition Suspension set, and the Drag Pack.
On the interior, we find high-back bucket seats at the front in beautiful, white vinyl with knitted inserts, faux wood trim, a period-correct AM/FM radio, a center console, rubber floor mats, a magnificent looking Hurst shifter, and even a heater, the steering wheel is a rim-blow unit, behind it you'll find a speedometer that goes all the way to 120 mph, the tachometer will show up to 8,000 rpm while additional gauges show coolant temperature and fuel level, always interesting as this 429ci might be a little thirsty with her four-barrel carburetor.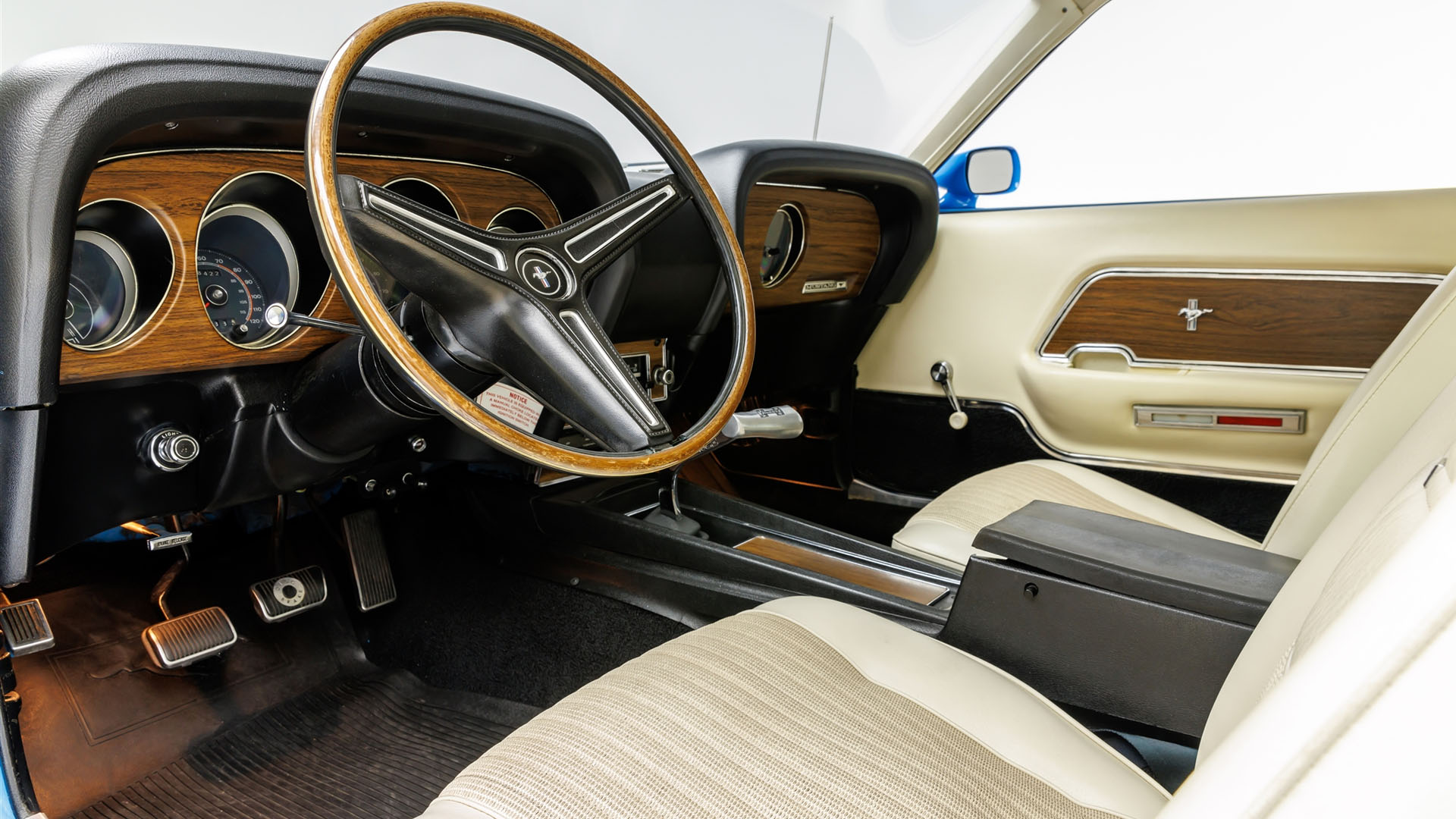 Being a 429ci V8, this brute comes complete with magnesium valve covers and aluminum cylinder heads, including partially hemispherical combustion chambers, back in 1970 this engine was factory rated at 375 horsepower and 450 lb-ft of torque, but this Grabber Blue Boss 429 comes with additional equipment like an aluminum intake manifold and a four-barrel Holley 735cfm carburetor, keep in mind the rocker arms were replaced during current ownership, and an oil change was recently performed according to the seller.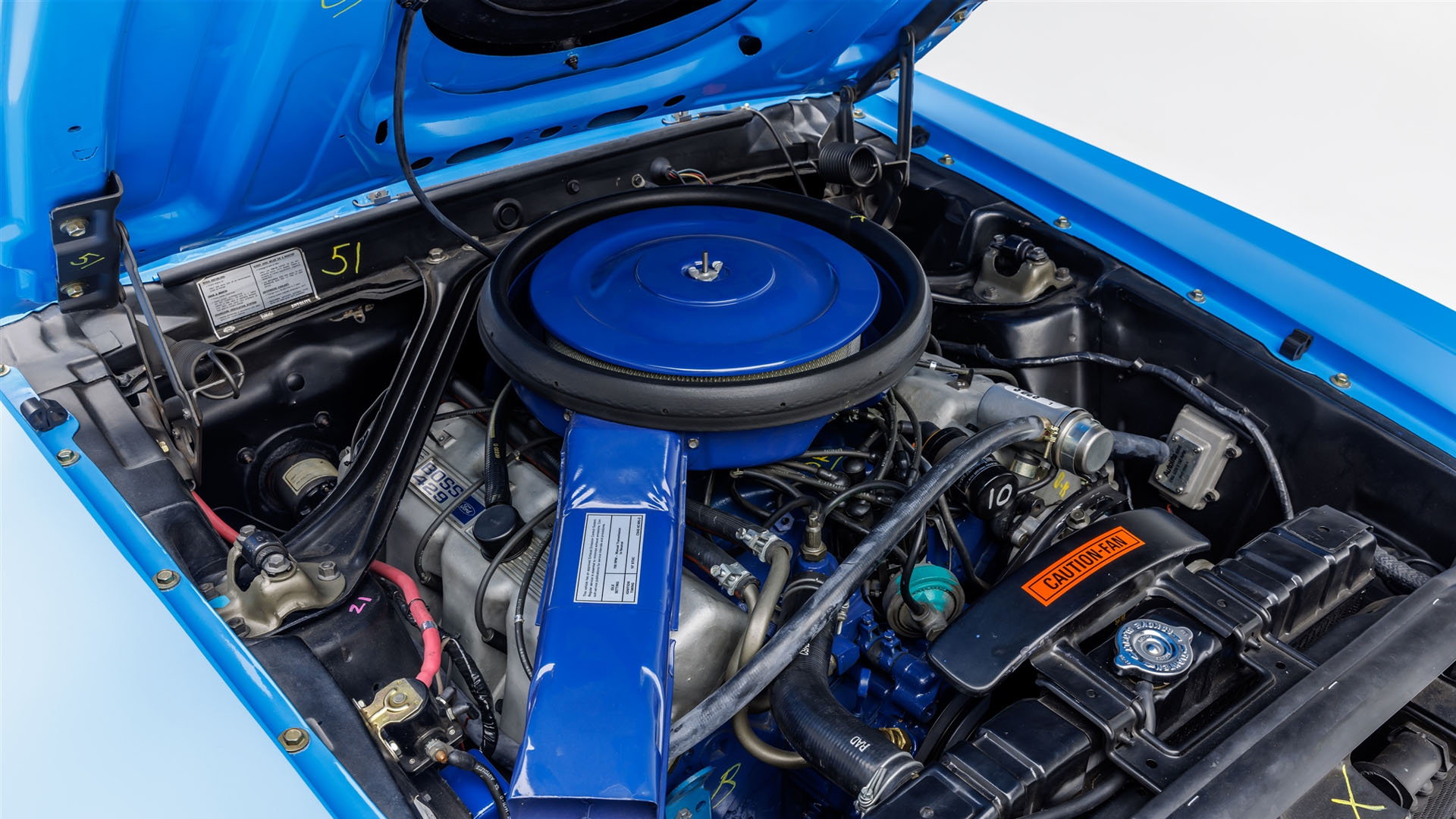 This specific KK2131 comes with chassis number 0F02Z109085, and the engine is stamped 0F109085, matching the end of the car's serial number as well as the number on the copy of the build sheet that is provided, this is a real numbers-matching Boss 429, which probably explains why this blue Mustang reached such an impressive high-bid, let's hope the new owner will drive this lady and won't keep her locked up in a garage as a queen, these cars are meant to be driven, and be driven hard.