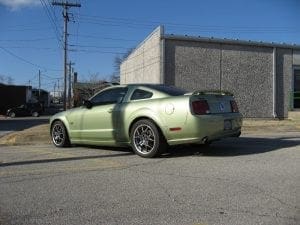 A simple bolt-on header system for your all-new 5.0-liter V-8 will net you an additional 32 horsepower according to American Racing Headers.  The new direct fit header system from ARH specifically designed for the new 2011 Mustang GT was bolted on a new 5-liter V-8 using the stock mufflers and mid pipes with no tune and it produced an additional 32 RWHP.  Its true says ARH who has the dyno numbers to prove it.
The direct fit header system from ARH is made in the USA using the finest 304 stainless steel.  The system features 3/8″ thick flanges with hand ported inlets, merge collectors with scavenger spkes, high-flow metallic cats, a direct fit H or X pipe and Grade 8 hardware for a trouble free installation.
The price for the direct fit header system from ARH is around $1,500.  Find out more over at AmericanRacingHeaders.com.